Alonso announcement Tuesday, leaves F1, is IndyCar next? (2nd Update)
Alonso back to Indy
UPDATE For anyone wondering, the 2019 FIA WEC race dates are:
March 15 Sebring
May 4 Spa
June 15-16 Le Mans
None of those weekend had an IndyCar date in 2018.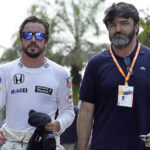 Alonso and his agent Abad decide it's time to kiss F1 goodbye
08/14/18 This rumor is now upgraded to 'fact' today. Fernando Alonso will not race in F1 in 2019 – McLaren announced Alonso's decision today. IndyCar here he comes?
08/11/18 Per this tweet today, Fernando Alonso will announce where he will drive in 2019.
The only places we can see Alonso in 2019 are:
Red Bull F1 to replace Ricciardo
Ferrari F1 to replace Raikkonen
McLaren-Andretti IndyCar Team
McLaren F1
Penske IndyCar Team as 4th car