Hamilton to sign $55M per year contract (2nd Update)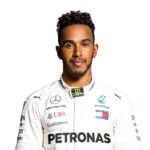 With Aldo Costa designing his cars, Hamilton will be an 8-time world champion by the time his new contract is up at the end of 2021. He will win the title this year and then all three years of his new contract, giving him a total of 8, one more than Michael Schumacher.
UPDATE With design genius Aldo Costa now stepping back into a consultant role with Mercedes, Lewis Hamilton's winning days could soon be coming to an end at Mercedes, and this may be why Hamilton delayed signing his new contract – probably thinking his winning days may be in jeopardy.
03/19/18 (GMM) A new deal between Lewis Hamilton and Mercedes could be delayed.
Earlier, team boss Toto Wolff said he hoped a contract to keep the quadruple world champion at Mercedes beyond 2018 would be agreed by Melbourne.
"We started talking about it but it's not really my priority at the moment," Hamilton said at a sponsor event, according to Spain's Diario Sport.
"I want to keep racing, so I have to renew it at some point, but I will not do it when others want me to. I'll do it when everything is ready," Hamilton added.
In the past couple of days, Wolff said Hamilton may be tempted by a move to Ferrari.
But Hamilton said "loyalty" is important to him.
"Red is my favorite color," he is quoted by Italy's La Repubblica. "But I'm fine where I am.
"Loyalty is a value my father taught me. I've changed teams only twice in my career so I'm not the type that jumps from here to there."
However, Hamilton admits he has received offers from Maranello.
"Yes, but they cannot have all the drivers they want," he said. "And I say that as a great Ferrari fan. It's a fantastic team and I love racing against them."
It is likely that Hamilton and Wolff are merely debating the details of his new contract, including the retainer and the duration.
Hamilton said: "I do not want to retire soon or prematurely. I could race up to 40 if I wanted, but I don't think I'm going to do that.
"I could stay another year or two, but if I'm going to be as excited as I am for a new season in two years time, I cannot really guess now," he added.
02/24/18 World champion Lewis Hamilton has confirmed that he is close to signing a new 3-year contract with Mercedes and that the agreement could be announced before the new season begins next month.
Britain's most successful racing driver is expected to commit to the team until the end of the 2021 season on a deal that would increase his salary to $55m a year.
Hamilton's current contract with Mercedes is believed to earn him around $45m a year and is due to expire at the end of the 2018 season, which gets under way in Australia on March 25th.
"We are comfortable and we are committed to each other. It's just about sorting out the details," said the 33-year-old.
"Hopefully we will have something done by the first race but we are in no rush. There is no reason to rush anything, no panic, I'm not feeling under any pressure of any other drivers in there and Toto [Wolff, team boss] and Mercedes have no reason to feel that I'm talking to anybody else. In the whole six years that I've been here, I haven't spoken to another team once and I think that shows my commitment."