Ford GT Takes Come-From-Behind Victory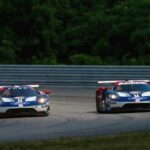 The two Ganassi Ford GTs run side-by-side at Lime Rock
Shortly after the race's final pit stops with just over an hour to go, Joey Hand was 12 seconds down to the race leader. But in the spirit of Ford Chip Ganassi Racing's "never say die" attitude, Hand charged to the front, passing the leading Corvette with 13 minutes left and taking his and Dirk Mueller's No. 66 Ford GT to an overall win in the Northeast Grand Prix at Lime Rock Park today.
It marked the third consecutive IMSA WeatherTech SportsCar Championship GTLM victory for Ford CGR, following a Hand-Mueller victory at Watkins Glen and a Ryan Briscoe-Richard Westbrook victory at Canadian Tire Motorsport Park.
"It's just amazing," said Hand. "We knew this race was going to be about being around at the end. We knew tire longevity was going to be key here, and you have to be impressed with Michelin and our tires. They went the distance when we needed them to because I was 12 seconds down there, and that set of tires, we were hard on them. I could see I was reeling him in (No. 3 Corvette). He was struggling in traffic and I was making some moves in traffic that were really aggressive, including getting in a full-on battle with the leading GTD cars. It's the last stint and you have no choice.
"But we just had the car at the end – this Ford GT. This team just keeps fighting. We worked on race set-up all the way including after qualifying this morning. That's why we're capable of winning races here. Today was about capitalizing on opportunity, and that's what this team is really great at overall. We got one with the 67 guys at Mosport, we got one with us at the Glen, and we got one today racing really hard for it."
[adinserter name="GOOGLE AD"]While five manufacturers took their turn atop the leaderboard throughout the race, the No. 48 Lamborghini proved to be the strongest of the day as they led the final 63 laps of the two-hour, 40-minute race. By the race's end, however, six different manufacturers made up the top six finishers.
"It was a great race," said Snow. "Anytime you end up on the podium, it's good, and when you win, it can't get any better. Bryan gave me the car in a position where there was nobody around, so I just sat there and did laps. That's a lot of pressure when you're handed the car like that. You do everything you can to keep the car there and stay ahead. No matter how big of a gap you have to the people behind you, it's never enough. You're always nervous."
The victory is the second of 2018 for Paul Miller Racing, which is based two hours down the road from Lime Rock in Parsippany, New Jersey. The team's previous win this season came at the Mobil 1 Twelve Hours of Sebring in March. With six podiums now on the season, Sellers and Snow widened their lead in the GTD championship standings to 10 points (218-208) over Katherine Legge, who finished fourth in the No. 86 Meyer Shank Racing Acura NSX GT3 with Alvaro Parente.
"It's so hard to find words in moments like this," added Sellers. "The wins don't come often, so this is great. There isn't a strong enough word to describe how today was. We had some issues early in the week, and the guys were able to fix it and get us moving to deliver a win to Paul in front of his home crowd at his home track.
Nabbing their second consecutive podium finish was Andy Lally and John Potter in the No. 44 Magnus Racing Audi R8 LMS GT3. Lally's drive to the front for second place was one of the more impressive performances of the race, in addition to that of Gunnar Jeannette, who overcame a spin during his stint to finish third with co-driver Cooper MacNeil in the No. 63 WeatherTech Racing Scuderia Corsa Ferrari 488 GT3.
The WeatherTech Championship returns to action in two weeks at Road America for the Continental Tire Road Race Showcase on Sunday, Aug. 5. The race signals the return of the Prototype class following Lime Rock's GT-only event and can be seen live on FS1 at 2:30 p.m. ET. The race will be carried live by IMSA Radio on IMSA.com, RadioLeMans.com and SiriusXM Radio (Sirius 138/XM 202/App 972).