IndyCar Road America Post-Qualifying Press Conference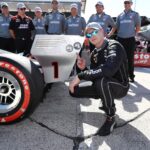 Newgarden on pole
Drivers:
1st – Josef Newgarden
2nd – Will Power
3rd – Ryan Hunter-Reay
4th – Alexander Rossi
5th – Robert Wickens
6th – Sebastien Bourdais
Press Conference
THE MODERATOR: We'll welcome our pole winner, Josef Newgarden, driving the No. 1 Verizon Team Penske Chevrolet for Team Penske this weekend here at Road America, the third straight year for a Team Penske pole ever since the IndyCars returned here to Road America. How excited are you to continue that team tradition here?
JOSEF NEWGARDEN: Yeah, very excited. I think we have good race cars around here. As you noted, all three years the Team Penske cars have been quick. I know from my experience last year, I felt really good about our car in qualifying and in the race, and I think that's transferred over. The Hondas were for sure putting up a good battle there. I think it tightened up yesterday compared to yesterday. I felt like we had sort of a gap yesterday. That was my feeling, and then it just really condensed — the field condensed up, and it just got difficult to get the most out of everything. You really, I think, prioritized getting everything out of it because of how tight the field was.
But team Chevy has done a good job. They've been working really hard this weekend and close with us to make sure that we had what we need for that moment in qualifying and then subsequently for tomorrow, too. And just to have, I think, a Team Penske one-two with Verizon cars is awesome. I think we're all pretty proud of that, and it was a good display of how the team works together and how we get the most out of everything. Super pleased for everyone involved.
THE MODERATOR: Looking at this individually, as well, it's been a tough past few races for you, and I know you haven't been quite where you wanted to be, but you came into the weekend, swept both practices yesterday. What's flipped? What's changed that has led to this sort of resurgence of momentum?
JOSEF NEWGARDEN: Well, I think it's early days. We were on the pole last week at Texas, too, so qualifying first doesn't really guarantee anything in this series. So I think we've had speed, we've just got to make sure we execute on race day, and we've not done that for a little while. It's been four or five weeks I feel like since we've put together a really good race weekend. Probably longer than that; two months maybe. So we've just got to make sure tomorrow is good. I think we have good speed in the car, it's just about putting the race together, making sure we're thinking about the right things and we manage it properly, and hopefully we finish with a podium or a win tomorrow. That's really our goal at this point.
Q. Josef, you hadn't had a lot of poles prior to this year. Has there been a switch you've flipped or something that's been able to help in qualifying this year more than others?
JOSEF NEWGARDEN: Yeah, I mean, I don't know. I thought last year there was probably two or three that we just didn't — we didn't get right, and Barber was a case of that. Here was a case of that last year. We just — we were just on the wrong tires at the wrong point. We were either used tires compared to our teammates or something was flipped between us. It was the same thing at — well, different at Watkins Glen, but Watkins Glen I thought we could have gotten a pole, too, so I think we're just getting it done now. I think we've got similar speed to last year, but it's just happening. We're not on a different tire strategy. We're not messing it up. I'm putting a lap together. So I think the speed is very similar, it just seems like we're able to execute now, and that's good because you need to do that.
Now that we're getting poles, we need to just execute on the race, and we'll be just fine.
[adinserter name="GOOGLE AD"]Q. You said yesterday or the day before you were not testing here. In the future, personally for you, it may be not necessary at all to test when you get pole anyway?
JOSEF NEWGARDEN: Well, I don't know about that. Will didn't test, either, and he about had the pole. I don't know if it's that; I think it's more down to our preparation. I think the Team Penske cars have been quick here, and it was not a place that we probably prioritized testing. I think we prioritized other places where we need work. And other teams, they choose their priorities, and some people chose this place as a priority. You know, but thankfully our cars were still just as good this year as they were last year, and it's just been tighter, the field is, so we've had to really maximize every little thing, but we're right there. We have the performance to challenge.
Yeah, I wouldn't say that's the case everywhere. There's places I'd like to test where I know we need it, so yeah, that's not a one-size-fits-all for sure.
Q. Josef, the performance kind of changed from yesterday. Was it all down to tires, because the guys on the radio were kind of commenting that you'd had a gear ratio change. Is that true?
JOSEF NEWGARDEN: Yeah, yeah, we changed gears mid-session.
Q. Mid-session?
JOSEF NEWGARDEN: Yeah. I mean, look, you've got to throw everything at it to get these poles now. I mean, we did everything — not everything, but we threw different gears at it, different downforce levels. We were trying stuff. We were tuning the car through the qualifying session, and you've got to do that. If you're just a tenth off here or there — we didn't do that gear change, maybe Will would have gotten pole. Those things add up, and the guys did a great job. Mike Strauss back there on the gearbox, he was quick. Actually we talked about maybe doing it before the session, and I said he needed to make sure he's ready to roll because he's got like five to minutes to do it, and he did a great job, and obviously the team did an awesome job to have both Will and me up there because it was — it wasn't looking straightforward in the middle of qualifying. I think we were really having to fight for it, so to get a one-two is pretty pleasing at the end of the day.
Q. Are there other places where you and Will — are you and Will fast at the same points or can you actually learn from each other?
JOSEF NEWGARDEN: Yeah, I mean, it goes back and forth. I think probably this weekend I've had the upper hand for the most part, particularly on Friday, but then even when you have the upper hand, there's always something to learn. Will has a good corner there and Simon has a good corner in another place. So for sure you're always learning, and that's why we always end up together most of the time is whether Will comes out hot or Simon comes out hot or it's me, we all pick each other up pretty quick, and it's hard to hide from your teammates. That's the tough thing, actually, like when you show up on a Friday and you're blazing quick, it's like you're showing your hand too early. It's your teammates so you want to help your teammates, but yeah, we help each other a lot, and it makes a difference.
So I think with Will, he's been studying me and Simon all weekend, and you see he put it to good use and about got the pole, so that's just how it works on our team.
Q. This track wasn't on the schedule when you came up in 2012 and then when you joined Team Penske you had teammates that had raced here before, you kept hearing about Elkhart Lake and Road America. Did you really not understand what this place meant until you got to drive a car around this place?
JOSEF NEWGARDEN: Oh, I've been here before. I thought it was a tragedy we weren't here before, to be honest with you, in an IndyCar. I mean, this is a place we should never not be going to. We should always be running IndyCars here. This is one of the best tracks in North America, and you ask any IndyCar driver that, they'll tell you the same thing. It's one of the most pleasing tracks you can drive. I think visually it's one of the most pleasing to watch at. If I wasn't driving an IndyCar here, I'd want to come watch.
Yeah, I'd been here before in junior cars. I knew how incredible it was, and I knew what it would probably be like in an IndyCar, so I thought it was so sad that we weren't here when I started my IndyCar career. To be back and to see the fan support and see how big this event is, I don't think it's a surprise to anybody. We just have awesome IndyCar fans, and they just fit the bill here for sure.
Q. Plus you've got your own garden?
JOSEF NEWGARDEN: Yeah, own garden, too. Someone set up a garden for me, so that just speaks to the support you get around this place. You've got that type of staff happening, you need to be racing here for sure.
Q. Josef, since they did that last-minute gear change probably for the last session that you went out, would that be the same gears that you would run do you think during the race, or is there a reason to modify that for race conditions over qualifying?
JOSEF NEWGARDEN: I'm confused. Would we run the gears we ran today for the race? Probably not, no, because we'll run a different race configuration on the car. I think we'll probably be more — I don't want to tell you what we're going to do, but we'll probably run something different in the race is what I would think. You could. I guess to answer your question, you could run the same gears. It's not that you don't have to, but I think our race car will be different than how we qualified. What we were doing, why we were changing the gears, was to better match what other components we were changing. We were changing aerodynamic parts throughout the qualifying session. We changed it before the qualifying even started. We already had a plan that we might have to change gears if they weren't just right, and that's what we had to do, so that's why we changed.
Q. You've got qualifying down, but in the race you've got a couple different manufacturers, different characteristics, tire wear is a concern, fuel. What are your concerns or thoughts about tomorrow? How is the race going to play out?
JOSEF NEWGARDEN: I'm confused a little — not confused, I'm concerned about tire degradation will probably be the first thing. I think we'll have more tire deg than last year, so then you've got to look at the weather. If it's cool or cooler than it is today, I think it'll be easier. If it stays this temperature, sort of the same track temp we had today, I think it will be harder than last year as far as looking after the tires for 13 or 14 laps. Whoever does the best job at that is I think going to have an upper hand.
And then fuel always plays into that mix. It seemed like last year whoever could go a lap further had a pretty nice advantage. So we'll work hard to get our fuel consumption where we want it, which will match hopefully the right downforce level and where we need it. So all those things are going to be factors we're looking at tonight. We've got to have the right trim level. We've got to have the right setup to look after the tires, and we've got to have good fuel mileage, which I'm confident we can have. We've got some of the best in the business at Team Chevy to do that.
Q. How much has this weekend been about — I don't want to say making up for last year, but going one better than last year?
JOSEF NEWGARDEN: Well, I'll tell you tomorrow. I mean, hopefully — I feel like last year we probably should have won that race. Scott did a great job, him and his team for sure did a good job, but I just — I think we should have capitalized better. That yellow really hurt us with the way our strategy was playing out. The yellow flag in the middle of the race just came at the wrong point for us, and I think that really hurt our race strategy at the end.
So I hope we can win the race this year. I don't know if we have enough yet. I feel pretty confident in our car and what we've got, but everyone got pretty fast today. It looks like the field tightened up a lot, so I don't know that we have enough to win, but we're going to do everything we can with our partners and our sponsors to try and put our best foot forward tomorrow. I think we've got a shot at it for sure, and we're starting at a good place for it.
Q. Has that been motivating for you?
JOSEF NEWGARDEN: Not really. Whether we won last year or we finished last, I would come to Road America wanting to win again just because it's Road America. Those thoughts of last year probably aren't — no, not a big motivator for it.
Press Conference
THE MODERATOR: Joined now by two further members of our Firestone Fast Six here for tomorrow's Kohler Grand Prix here at Road America, Alexander Rossi, driving the No. 27 NAPA Auto Parts Honda for Andretti Autosport starting fourth, and Will Power, driving the No. 12 Verizon Team Penske Chevrolet, starting second in tomorrow's race.
Will, we'll start with you. Another front-row start for you here at Road America, also starting next to your teammate. How are you feeling heading into tomorrow's race with your starting position?
WILL POWER: Yeah, pretty good. You know, we struggled in the first two rounds of qualifying, then got the car right at the end there. So yeah, happy with the front-row start. Obviously this year I've had plenty of front-row starts, missing out by hundredths of seconds, so I've got to change something. What do you do to find a hundredth? Or five hundredths?
THE MODERATOR: Joined also by Alexander Rossi, a new career-best start here at Road America. His previous best was 15th. Also starting next to his teammate Ryan Hunter-Reay, who will be starting third. Alex, you've shown some speed throughout the weekend it seems especially heading into this morning's practice session, and heading into qualifying you found even a little bit more. Did anything change overnight? Did your team work together to find a little extra speed heading into qualifying?
ALEXANDER ROSSI: Yeah, a lot has changed overnight. We were really struggling yesterday afternoon, really all day yesterday, so a huge hats off to the whole NAPA know-how team for the decisions they made overnight and gave me a car that I was a lot more comfortable with this morning, and again made an improvement this afternoon. We missed it a bit on the used Firestone reds there, so that's disappointing because we led our two groups, but at the end of the day, starting P4 has plenty of opportunity for a good result tomorrow.
Q. Will, can you describe the track? How was it? Was it much different compared to the last days?
WILL POWER: Yeah, it actually got quite hotter, so it was definitely more difficult, harder to get the balance right, sliding around more. It's basically a low-grip track and abrasive on tires. I mean, it's good because it's really hard to put a good lap together without a mistake.
Q. This track, as you said, it's more abrasive and low-grip. The red tires, the announcers during qualifying, said they seemed to get better the more laps that were put on them. Do you think the red tires would be the way to go because of the low grip?
WILL POWER: Yeah, I think in the race for sure the reds are going to be better. They'll probably degrade a bit more by the end, but I think overall your stint will be quicker, so yeah.
ALEXANDER ROSSI: I have no idea just because we were focusing so much on kind of single-lap pace all the way through these past two days without a warmup tomorrow, we're going to kind of be looking at other people's time progression that did longer runs as well as our teammates' and trying to find out. He probably knows more than I do.
Q. Are you going to have to pit for tires before you pit your fuel?
WILL POWER: I don't think so. Actually this car seems to be nicer on tires than last year. I think it's because with less downforce you're not leaning on them as hard. You're not — the actual force on the just driving in a straight line is worse when there's more downforce. So I think they won't wear as much as last year, so yeah, it will be a fuel deal.
Q. Alex, having no warmup tomorrow, do you think personally for you it will be a disadvantage?
ALEXANDER ROSSI: No, it's the same for everyone, right? No one has a warmup. It's not like I just don't get a warmup and everyone else does. No, it's the same for everyone. I don't think it'll disadvantage us, no.
Q. With Scott starting eighth and you guys both fighting for the championship, is it any more pressure to get a result better than him this time, take advantage of the starting spot?
ALEXANDER ROSSI: I think even if Scott was starting 23rd, he'd still be at the front at the end. Doesn't matter. Yeah, we'll just have to try and maximize what we have, but by no means is that any consolation.
Press Conference
THE MODERATOR: Joined now by Ryan Hunter-Reay, driving the No. 28 DHL Honda for Andretti Autosport, who will be starting third in tomorrow's Kohler Grand Prix. Ryan, you've mentioned that you're hoping to capitalize on the momentum that you and the team seem to be gathering over the past few races. With this qualifying position, do you feel like you've put yourself in a pretty good place tomorrow?
RYAN HUNTER-REAY: Yeah, it was a good start to the weekend, I think. We weren't here for the test last week, so we've been a little bit behind the 8-ball trying to figure out what this car needs here at Road America. But really thankful that the team has given me some good setup changes and it's given me what I needed to rally maximize the potential of the car.
Just came up a little short there. All of a sudden Josef and Will popped up in the top two out of nowhere. I thought I had a lap that was going to be close enough for pole at the end, and just had a bit of a bobble through 12, just a little bit light out there on the used reds, and just came up a bit short, but we can definitely work on it from third, and it's going to be interesting tomorrow with no warmup.
THE MODERATOR: Do you feel any more comfortable knowing that you're starting next to a teammate? I know this is not new, nothing that hasn't happened before, but especially at a track like this?
RYAN HUNTER-REAY: I think that everybody up there is aggressive. Everybody is going to be super aggressive, and if I've learned one thing over my career, it's you can't plan a start. You just kind of have to go with it and go on your instincts as things kind of develop in front of you. Yeah, it's good to start next to Alex, somebody who hopefully won't cross across your nose and take your wing off or something like that. Meanwhile, we've got a bunch of other guys who are racing in the championship up there, so it should be pretty interesting, that's for sure.
Q. Because on the long straights you have a lot of time to rest your arms, but yet you're going into the turns really hard, so does that make it physically strenuous here?
RYAN HUNTER-REAY: Yeah, I was talking to somebody else about this today. It's definitely physical. You would think this place would be nice and easy; you get down the straights, you can rest and all that stuff, and it ends up — as hectic of a lap as it is around here, it ends up feeling like a much smaller track because you're always turning, you're always doing something, and it's definitely — it's a hair-on-fire type of feel around here.
Q. We've got qualifying done, tomorrow you're dealing with tires and fuel and whatnot. What's tomorrow going to be like? What are the factors that are going to affect who's fast and who's not?
RYAN HUNTER-REAY: Yeah, that's a good question. I think it'll be interesting to see downforce levels. Tire degradation is going to be a factor, so you're going to have guys that maybe trim quite a bit thinking that they're going to keep guys behind them on the straights, and then you have guys that run downforce thinking it might be better on older tires, so I think that'll be the story line. Unfortunately it's not stickered on the side of everybody's car what downforce they're running, so it's hard to figure out who's who and what's what. But that'll be the key to the day, whoever figures that compromise out and gets through a full stint without as bad a degradation as some others. That'll be critical.
Q. As far as getting a tow is concerned, is it possible to pass up the front straight without hitting the Push-to-Pass?
RYAN HUNTER-REAY: I don't think so because I think if you're coming up behind somebody and you're that close, you're into their gearbox, they're going to be hitting it defensively. I think that's what's going to happen for sure. That's what usually happens. I don't see it happening. Yeah, I don't see that happening. I think you're going to have to use it to get around somebody.
Q. And have you worked out what the relative fuel consumption situation is between Honda and Chevy?
RYAN HUNTER-REAY: No, I don't even know. I'm not sure at all. So I think you're going to have to use it to get by no matter what. It's going to get pretty messy, I think, second half of the run on tires.
THE MODERATOR: We'll go ahead and get started with our Verizon IndyCar Series post-qualifying press conference. Joined now by Robert Wickens, driving the No. 6 Lucas Oil SPM Honda for Schmidt Peterson Motorsports and starting fifth in tomorrow's Kohler Grand Prix here at Road America.
Robert, what a difference a year makes. We talked to you earlier this weekend about making your IndyCar race weekend debut last year, now starting fifth in tomorrow's race. Your thoughts on the qualifying session and the performance of your car.
ROBERT WICKENS: I thought Q1 went well. The track was quite a bit different than it was in practice 3, but we made some small changes to the car to try to improve and try to keep changing the track, and I think maybe we should have just left the same car because I was a lot happier with the car in final practice than I was through qualifying. We just kind of never got the balance back to where I was fully confident to challenge for pole position.
Luckily we made it to the Fast Six. Starting fifth tomorrow, anything can happen, but I think it's hard to be like really happy with the result because I guess we've been fairly strong all weekend, and I think we all expected to be at least in the top three this afternoon. But nevertheless, fifth isn't the end of the world. I'd happily start here compared to sixth or seventh, so we'll see.
THE MODERATOR: What does that say about the strength of your team and the confidence you have in your team that you are starting fifth in tomorrow's race and I sense a slight disappointment in that result?
ROBERT WICKENS: Yeah, I mean, I think when you start a weekend as strongly as we have, you kind of have that confidence going in. You know, I like to think I'm always pushing the guys more and more even though we're quick and always trying to find ways to be better. But sometimes you've got that little bit of extra speed, sometimes you don't, and to be honest, this weekend I thought I had it, but then qualifying rolled around and now we're fifth. Just goes to show how strong the Verizon IndyCar Series is. But tomorrow is a long race, and I think we have a pretty good race car.
THE MODERATOR: Starting next to you will be Sebastien Bourdais, driving the No. 18 Team SealMaster Honda for Dale Coyne Racing with Vasser-Sullivan starting sixth in tomorrow's race, a former pole winner, a former winner here at the track. Sebastien, it's been a while, but it seems that you've gotten your car in a position to possibly challenge for a win tomorrow. Is that how you feel, as well?
SEBASTIEN BOURDAIS: Yeah, I don't know. I'd like to say so, but I'm not sure I believe it myself. It's been a bit of a tough day. I thought after yesterday we thought we had everything under control, and things were looking good, and this morning we rolled out and struggled with grip, and then we went into qualify and really struggled for good. I think I only did one good lap to be honest with you in Q2 on that new set of option tires.
Yeah, everything was really scrappy and really difficult to put anything together. In Q3 I really didn't get anything done properly. We tried one lap on both sets, but I'm not convinced it was the right thing to do, hindsight 20/20. Yeah, just one of those where you come out of the car and you're not quite sure what else you should or would have done, but not super happy with the way things have gone. The guys did a really good job, but I just — yeah, I'm struggling to read anything that's happening out there, it's up and down, making a lot of mistakes, so don't really feel great about it.
Q. Sebastien, will you do any changes or your engineers to the car? Is this maybe a question mark what will happen tomorrow in the race?
SEBASTIEN BOURDAIS: I mean, there's always a — you can always throw the kitchen sink at the car, but at the end of the day, it's not really a smart thing to do, especially, like you said, when there's no warmup. So I think we'll probably go for minor changes, things that we can have a good idea what they're going to do to the car that either we've done before during the weekend or things that are kind of for-sures. But honestly, it's not really that much about balance. I'm not really worried too much about the balance or anything. I'm just struggling for grip and predictability. It is what it is. We'll try and take a good look at everything we've done today and see if we can find out what ways we can make the car better.