Will NBC keep promise to cross-promote IndyCar?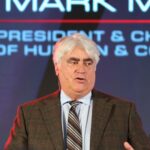 Did Miles get it in writing exactly what cross-promoting NBC will do? If not, your can bet they will do very little.
They have done zero in the last ten years, but NBC Sports and NBC's entertainment division promises to cross-promote IndyCar once it becomes the exclusive home for IndyCar in 2019.
Is it in writing? Words mean nothing. It has to be in the signed contract exactly what they will do, or they won't do anything – bank on it.
We will be believers when we see, but for now, here is what IndyCar and NBC had to say on this topic in the press conference yesterday.
"Since we've been together today, James Hinchcliffe has been lobbying me to get on 'The Voice,'" said Jon Miller, president of programming for NBC Sports and NBCSN, referring to one of the network's most popular shows. "One of the nice things we get to do is bring the entire company to the table and everybody brainstorms and raises their hands on what they can do to showcase a sports property.
"We announced this at 10 a.m., and at 11 a.m., Mark Miles (IndyCar CEO) and James Hinchcliffe were guests on CNBC from the New York Stock Exchange. We are already putting those things in place."
One of the advantages to NBC's sports coverage is the network's ability to have such iconic shows as "Today" and "The Tonight Show with Jimmy Fallon" televised from the venue of a major sporting event such as the Super Bowl or the Olympics.
When Autoweek asked Miller if that was a possibility in the week leading up to the Indianapolis 500, he was enthusiastic in his response.
"I absolutely see that as a possibility. I think that Hoda and Savannah would look great in Gasoline Alley," Miller said, referring to Today Show hosts Hoda Kotb and Savannah Guthrie. "Those are types of things we think makes us a little bit different and enhances our ability to grow a property."
"We are delighted by every aspect of this announcement today and these arrangements," IndyCar boss Mark Miles said. "The increase in number of races on broadcast is really important to the continued growth of the series. The continuity with one media partner that is committed to the sport and to IndyCar that can promote from race to race to race throughout the season. And having our first offering to fans in direct-to-consumer channel is important to us.
[adinserter name="GOOGLE AD"]"The most impressive thing to us is NBC started talking about the assets they can bring to bear to help promote the series and the Indy 500. Their assets and being a partner for growth is really impressive. We are delighted by this. It met our objectives of increasing the exposure of the sport and getting us into the over-the-top market. We couldn't be more pleased."
AR1.com said all the races need to be on network TV, not less than half.
8 is more than the current 5, but not much more. NBC threw IndyCar a small bone.
"To be able to do the crown jewel, the Indianapolis 500, on NBC really puts the icing on the cake for us and makes our championship season portfolio even stronger," Miller said. "This becomes one of the leading properties on our air, and it's one of the most iconic events in all of American sports. It's a great opportunity and honor for us to be a part of this, too."
Miller also stressed that NBC will do "everything we can" to minimize overlap between its NASCAR telecasts and the new portion of its IndyCar Series coverage.
"Sometimes it's unavoidable, but we will do everything we can to minimize those chances," Miller said.
IndyCar could move its races to avoid the conflict, but guaranteed NASCAR is not moving for IndyCar.
The Indianapolis 500 has been televised by ABC since 1965. It was part of "Wide World of Sports" from 1965-70 before ABC began to show the Indy 500 with "same day, primetime" coverage from 1971-85. ABC began to show the Indianapolis 500 live since 1986 and has broadcast it ever since.
It will conclude its Indy 500 coverage with the 102nd Indianapolis 500 on May 27 and end its long association with the sport that dates all the way back to the United States Auto Club days of the early 1960s with the Chevrolet Dual in Detroit doubleheader races at Belle Isle the following weekend (June 2-3).
It means an increase in over-the-air telecasts of the sport with NBC airing the Indianapolis 500 plus seven other events for a total of eight races on NBC. The remainder of the schedule will be shown on NBC Sports Network, which began its relationship with the series in 2009 on a cable channel known as "Versus."
ABC was offering the IndyCar Series 10 races over the air, more than 50%, and IndyCar turned them down! Imagine that!
Thursday's deal is separate from an international rights fee contract.
ABC International did it all for IndyCar in the past. IndyCar could use them again.
When AR1.com asked, Miles said,
"That's a good question. It [this deal] does not preclude an ongoing involvement by ESPN International. Although with any result, I think it will change. There may be countries where we go direct to broadcasters in any major country with IndyCar interests. I see us being at the table, even if we go with a distributor or packager like ESPN International.
"There are a number of agencies that would love to compete with ESPN International for whatever we're willing to license as part of a package, and there are a number of countries where we're already having direct conversations with broadcasters. It will be some kind of a mixed approach undoubtedly."
Mark C. reporting for AutoRacing1.com