Dale Earnhardt Jr.'s First Laps at Talladega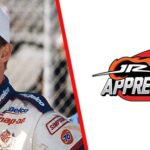 Dale Earnhardt Jr. in 1998
TALLADEGA, AL
– "Grab your helmet and your firesuit and be at the airport the next morning

.

"

T

hose were the instructions that Dale Earnhardt Jr. received one day in the mid-1990s

when he

answered the phone while changing the oil on a car at his father's Chevrolet dealership. The voice on the other end

of the line? None other than

his dad – the legend himself – Dale Earnhardt Sr. Where was Dale Jr.'s destination the following morning? None other than Talladega Superspeedway, where boys become men.
"Dad and Dave Marcis (former veteran driver and 1976 Talladega winner) were in Talladega, I think testing the V-8 engine (for the NASCAR XFINITY Series (NXS), which was moving away from the V-6," said Dale Jr., who will make his final Monster Energy NASCAR Cup Series (MENCS) start in Talladega Superspeedway's Sunday, Oct. 15 Alabama 500. "Dad called me at the dealership and I was changing oil in a car. He told me to get my helmet and my suit and be at the airport the next morning, and not to ask any questions or tell anybody where I was going. I mean, I knew I was going to Talladega, but I didn't know why."
This was the first step of the grooming process for Dale Jr. to make the jump into the NXS. He, along with his brother Kerry and sister Kelley, had raced for years in Late Model Divisions on short tracks in the Carolinas, but when it was time to consider transitioning to the higher tiers of NASCAR, Dale Sr. had one track in mind for Dale Jr. to make those initial practice laps. After all, Dale Sr. was the master of the biggest and baddest track on the planet, winning a record 10 times in the MENCS. The next day Earnhardt Jr. arrived at the 2.66-mile venue, and for the first time in his life, experienced a big-time track from behind the wheel of a NASCAR stock car.
[adinserter name="GOOGLE AD"]"We got to the track and he (Dale Sr.) told me to get my uniform on and get in the car and go out and run….and hold it wide-open, that it would stick (in the corners)," recalled Junior. "I remember going down the back straightaway in that car and wondering if it was really going to stick when I got in that corner because it just didn't seem like it was possible."
From that moment emerged Dale Jr.'s love affair with NASCAR's Most Competitive track. A few years later, in 1998, he was no longer just a kid testing his skill on Talladega's 33-degree high banks. In his first competitive event at Talladega in the NXS, things didn't go as planned as the 23 year-old finished 32nd after being caught up in a multi-car accident. He returned one year later with a much more impressive sixth place run. After winning two NXS championships in 1998 and '99, it was on to the MENCS at Talladega in 2000, where he would rewrite the track's history book in a short period of time. And, like his Dad, would too become a 'Dega legend.
Talladega's fall event weekend kicks off Friday, Oct. 13 with a full slate of on-track activity, including practice sessions for the Alabama 500 and fred's 250 Powered by Coca-Cola NASCAR Camping World Truck Series (NCWTS) event, both of which will play major roles in NASCAR's playoffs. Saturday's fred's 250 Powered by Coca-Cola, where the field of eligible championship contenders will be trimmed from eight to six at the checkered flag, is set for a 12 Noon (CDT) start. Sunday's Alabama 500, Dale Jr.'s final Talladega start, another stop on the #Appreci88ion tour and the "Wildcard" second race in the Round of 12 of the MENCS playoffs, will get underway at 1 p.m. (CDT).
To secure your tickets to Talladega's memorable race weekend and see Dale Jr.'s final start log on to www.talladegasuperspeedway.com or call the Talladega Ticket office at 855-518-RACE (7223). The track's ticket office is available daily during the week, and now on weekends from 9 a.m. – 1 p.m. (CDT).