Glen Wood Watched Ford Win Le Mans In 1966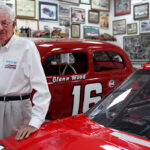 Glen Wood
Glen Wood, like other members of the Ford Performance family, will have a keen interest in this weekend's 24 Hours of Le Mans, as Ford will make its return to sports car racing's premier event on the 50th anniversary of its breakthrough Le Mans victory. Wood, whose family-owned team fields the No. 21 Motorcraft/Quick Lane Ford Fusion driven by Ryan Blaney on NASCAR's Sprint Cup circuit, was at Le Mans back in 1966 for that historic victory, which saw the Ford GT Mark II not only win the race, but sweep the top three finishing positions.
Wood was a part of the Ford contingent at that race. Even before the team left for Le Mans, Wood was aware of the intense preparation that went into the Mark II cars that would compete. Wood was aware of the leadership skills of John Cowley, who was manager of Ford's NASCAR efforts before being pressed into service to head up the Le Mans effort for 1966.
At Holman Moody's shops in Charlotte, mechanics meticulously prepared cars. At the same time, Ford's engine builders worked around the clock to ensure that the 427-cubic-inch engines could withstand the punishment of a 24-hour race. Engines ran on dynamometers for days at a time, with varying loads to simulate racing conditions.
"I knew how much time and effort went into preparing both the engines and the cars," Wood said.
The effort was second to none in 1966. They rented a huge shop when they in arrived in France just to work on the cars before the track actually opened. I can only imagine the work and preparation that has gone into this new Ford GT."
The world was a different place as well 50 years ago, and for Wood, a trip to Europe for a sports car race was a major culture shock. That was especially true for someone who grew up in the foothills of Virginia, running a sawmill before he embarked on a full-time racing career.
That 1966 trip ended a lot better for Wood than it started. On the way over the Atlantic, the plane he was riding had a problem with its heating system. "I about froze to death," Wood recalled. "I took a cold." He sought medical attention and got a shot that helped cure his cold when he arrived in France.
The return trip was noteworthy as well. Wood wound up having to buy a ticket for a fellow Ford crew member and long-time NASCAR fixture, Richie Barz, who lost his wallet. "Then he got on an earlier flight and beat me home," Wood said with a chuckle.
[adinserter name="GOOGLE AD"]Driving European style also took some adaption. "It was hard to get used to driving on the wrong side of the road," Wood recalled, adding that he picked up some tips from Jolanna Holman, the daughter of team owner John Holman, and Jake Elder, the long-time NASCAR crew chief who was part of the Ford GT team at Le Mans. But it was Wood who helped Elder get used to the French cuisine. Jake had been in England at some point and didn't like the food there either," Wood said. The two went to a restaurant, and Elder ordered a hamburger steak. When it arrived it was basically a mound of meat about six inches in diameter and two inches tall. Most of the ground meat inside was red and mostly rare, Wood recalled.
"Jake turned up his nose at it, but he needed to eat something, so I talked him into eating around the edges where it was cooked the most," Wood said with a smile. Wood, himself already leery of the foreign food, had a plan for his trip. Just to be on the safe side, he packed some snacks like he once carried to work when his main job was sawmilling. "I brought along some cans of Van Camp's Pork and Beans and some crackers," he said, adding that his sawmill snacks turned out to be quite popular with one of Ford's top drivers, Dick Hutcherson. "Dick saw me eating some one day and said: 'Can I have some of those during the race?' "I got a big bang out of that."
During the 24-hour race itself, Wood followed the racing and watched the pit stops. "The track was so long (8.3 miles) that the cars would go out of sight, and it seemed like forever before they came back around," he said.
Wood also noticed a youngster running around in the paddock apparently alone. He decided to babysit the young fellow until his parents showed up. That little boy grew up to become legendary Indy car driver and team owner Michael Andretti. "I took it on myself to look after him," Wood said. Michael's father, Mario Andretti, didn't get to share in the Ford celebration after the race. He was driving one of the Ford GTs fielded by Holman Moody and co-driven by Lucien Bianchi, but dropped out with mechanical issues.
Wood, whose NASCAR team was known for its quick pit stops, saw an entirely different type of pit service at Le Mans. "We just changed tires and added fuel and made adjustments on our stock cars, the guys over there did a lot more work on their race cars," he said. "If the brakes were worn out, they had quick-release pins so they could change the pads in a hurry. "Even the nose and the tail of the cars were fixed so they could be exchanged in a hurry in the event of damage."
When the 1966 race ended, the top three Fords crossed the finish line in a group with the Shelby-American Ford GT Mark II of Bruce McLaren and Chris Amon taking the victory over teammates Ken Miles and Deny Hulme, followed by the Holman-Moody Mark II of Ronnie Bucknum and Dick Hutcherson. It was the first win at Le Mans for the Ford GT and the first win for an American auto manufacturer.
"It was a really big deal for Ford," Wood recalled. "And it came just a year after they'd won Indy for the first time." Now Ford, which went on to win at Le Mans in 1967, 1968 and 1969, is back at Le Mans with a fleet of four Ford GTs.
Wood is hoping for another success story when the world's most prestigious around-the-clock endurance contest is over on Sunday. "The people at Ford Motor Company, as well as the members of the Ford family are our friends," Wood said, adding that the friendship has spanned generations. "We've been with them so long they're like family to us. They are the reason we're still racing today. "I know that the Ford leadership is really proud to be returning to Le Mans and I wish them all the luck in the world."
Photo credit Mike Teske Collection/Holman Moody, the legendary race team book