Lionheart – Remembering Dan Wheldon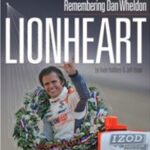 I was at Las Vegas Motor Speedway the day IndyCar driver Dan Wheldon lost his life. There wasn't a dry eye in the paddock and media center. It was a day I will, sadly, never forget. To say Dan was a 'character' would be an understatement. When he was in the vicinity you knew it. Dan touched a lot of people. But first and foremost Dan was a great race car driver.
Lionheart – Remembering Dan Wheldon is a book about the life of Dan Wheldon, a life that ended way too early on that October, 2011 afternoon in Las Vegas. Dan had the heart of a lion, hence the title.
The book, put together by Andy Hallbery and Jeff Olson, is a celebration of Dan's life from the perspective of the many people who Dan touched, each its own chapter.
Part #1: My Shining son starts with a section written by Clive Weldon, Dan's father, and talks about Dan's early days in go-karting and his drive to win at an early age.
Young, Gifted and Quick is written by Simon Wright, Dan's kart team owner, who says "He was one of the fastest, most naturally gifted drivers we've ever had – and that includes people like Jenson Button, David Coulthard and more"
The Wonder Years, written by F1 driver Jenson Button, talks about the battles the two had in the junior formulas in England on their way up to the top of their sport. During those years, Button's aim was just to be able to beat Dan Wheldon – he was his measure.
Old Sparring Partners, written by Marcos Ambrose, talks about the year the two went at it in Formula Ford as Van Diemen teammates in 1998.
The Pride of the Lionheart, written by his three brothers. Ashley Wheldon (brother #1) said "When I was younger I used to tell my friends that my brother is better than Schumacher. I was convinced he would be World Champion." Austen Wheldon (brother #2) said, "I once sprayed WD40 on his brakes so he had no brakes in the race!. I got into a lot of trouble for that and had to stay away." Elliott Wheldon (brother #3) was the youngest brother, 10 years younger than Dan who talks about growing up and karting with his older brother.
Part #2 Cars…and America starts with a section written by Clive Weldon, Dan's father, and talks about Dan's move to America after three years racing race cars in Europe and running low on money. "Dan didn't know anyone there, had no friends. He rang up one night and he was in tears, homesick" But he quickly made his mark. In 2000, Dan was runnerup to champion Buddy Rice in Toyota Atlantic and five years later his first Indy 500 win was the reward for making the move to America from Europe.
[adinserter name="GOOGLE AD"]I think by now you get the gist of how this book flows and so I won't spoil it for you by giving away all the best parts – parts written by the likes of Dario Franchitti, Michael Andretti, Tony Kanaan, Rubens Barrichello, Mark Webber, Casey Mears, Chip Ganassi, Marco Andretti, Sam Hornish Jr; Jimmie Johnson, Danica Patrick, Helio Castroneves, Scott Dixon, Dale Earnhardt Jr. Robin Miller, Holly Wheldon (younger sister), Bryan Herta, Jeremy Shaw, Sam Schmidt, James Hinchcliffe, Stefan Wilson and many more.
And of course there is a chapter written by his wife, Susie Wheldon titled "My Dan" which talks about Dan as a great husband and father. "He loved life and taught me how to live each day to the fullest, with no regrets."
Each has their own story to tell about Dan and what they remember most about him.
It is a unique book in the way it pulls together so many peoples accounts of Dan Wheldon and it is one of my top-3 racing books of all-time. I'm sure you will enjoy it.
Book available at Indianapolis Speedway
With the clock rapidly ticking down to the 100th running of the Indianapolis 500, the Lionheart Book team bring motorsport fans another great reason to be excited for the month of May. We are thrilled to announce that "Lionheart – Remembering Dan Wheldon" will be available to buy exclusively first at the Indianapolis Motor Speedway during the build up to the race.
Dan Wheldon loved Indy, a fact borne out by his extraordinary record there. As his life-long friend and three-time Indy 500 champion Dario Franchitti concurred, "Dan was 10 feet tall every time he walked through those gates; he loved that place."
So what better place for race fans to purchase their copy of this must-have book?
Throughout the month of May, the book, by highly respected motorsport journalists Andy Hallbery and Jeff Olson, will be on sale at the IMS Museum and any of the Legends stores at the track for $74.99 (£49.99). There will also be several promotional events on-site during the build up to the Indy 500, giving fans plenty of opportunity to meet the team and maybe even get their book signed by some of the motorsport legends involved in this very special project.
Consisting of 216 carefully crafted pages, "Lionheart – Remembering Dan Wheldon" is a comprehensive and fitting tribute to one of motorsports greatest, most charismatic and still hugely missed champions. Full of personal, poignant, emotional and humorous memories from the people who knew and loved Dan best, all complemented by stunning photography, this book tells the remarkable story of an extraordinary man and the legacy he has left behind in the many lives he touched throughout his career.
Proceeds from the publication will also benefit two charities close to the Wheldon family. The Dan Wheldon Foundation, which continues the charitable work Dan himself began, and the Alzheimer's Association – a particularly personal charity for Dan that he very proudly supported.
For those unable to attend the race and fans based overseas, the book will go on sale worldwide via Amazon straight after the Indy 500, again priced at $74.99 (£49.99).
To receive all the latest news on the book and its availability, as well as promotional events, fans can register for personal email updates at: www.lionheartbook.com They can also follow us on our social media sites – Facebook: www.facebook.com/LionheartDW and Twitter: @LionheartBook
For more information please contact: info@lionheartbook.com