Historic IndyCar Restorations with John Cummiskey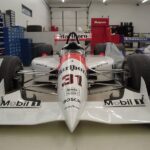 1994 Penske PC23
AutoRacing1 recently caught up with longtime IndyCar team principal and mechanic John Cummiskey. Cummiskey has been part of some very successful Indy Car teams over the past quarter century boasting resume includes stints at championship teams. He was with Team Penske (1988-1999) and spent three-years at Newman Haas (2004-2006). Dragon Racing, Chip Ganassi Racing, and Team Kool Green are amongst Cummiskey's other stops.
In 2014, Cummiskey started John Cummiskey Racing, which has competed in the U.S. F2000 series over the past three seasons. JCR enjoyed a successful 2015 campaign with Australian driver recording five podium finishes and placing fourth in the championship. This season the team is fielding cars for Ayla Agren and Lucas Kohl.
Aside from running JCR, Cummiskey also has a successful historic restorations business. Preparing Indy cars from the 1980s and 1990s for vintage racing. A few of Cummiskey's restoration gems include:
From inside the tub of Michael Andretti's championship winning 1991 Lola T9100

Mario Andretti's 1984 championship winning Lola/Cosworth

Emerson Fittipaldi's 1988 Patrick Racing March/Chevrolet Ilmor 88C 6 which scored dominating wins at Mid Ohio and Road America.
1992 Penske PC21 Chevrolet 265B also driven by Fittipaldi
Nigel Mansell's 1993 Lola T9300 Ford Cosworth which powered the-then CART rookie, and reigning F1 World Champion, to the 1993 PPG CART World Series title.
The two Fittipaldi cars are Cummiskey's foremost current project.
Now, Cummiskey notes that these powerful beasts of yesteryear are not for the faint of heart. Or "too much car" for some, as Cummiskey describes it.
One item, many are leery of is methanol fuel. As longtime followers of the sport know, methanol burns clear. "Methanol is easy to deal with if you're prepared. It can also be pickled with gasoline," to offset some of the potential issues with it.
[adinserter name="GOOGLE AD"]Another intimidating element is the massive turbo boost. The turbo combined with the fact the cars don't have on-board starters, and local marshals do not have all the different starters poses the undesirable possibility of a rather short day.
"If someone loops it on cold tires they're potentially done for the day." But Cummiskey essentially notes that is part of the appeal. "The cars are hard to drive, and you have to drive them fast. But if you know that, a competitive driver can turn decent lap times."
Speaking of tires, the vintage tires of the era are tough to come by. Of course, the 1990s was the heights of a fierce tire war between Goodyear and Firestone, which prompted both companies to produce quality compounds. Nowadays, however, Goodyear does not produce much if any of their IndyCar compound while Firestone tires can only be obtained by current teams. This leaves Avon, which Cummiskey says produces good tires, just not what the rubber ran during the period.
A benefit to racing vintage Indy cars is the relative price point of Formula One cars of the same era. While noting that F1 cars may have a little "more cool factor" the Indy cars with similar power are "way cheaper."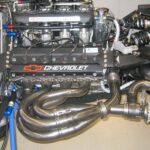 A 1991 Chevrolet/Ilmor A engine
Perhaps, the best reason for vintage racers to consider running these old Indy cars according to Cummiskey is the fact the opportunity to do might not exist much longer. "Think about the late 1990s or early 2000s Reynards. All the engines were leased, and Honda, Toyota, Mercedes-Benz all own those engines, which they don't necessarily want out there." Liability and other factors make obtaining the engines no small feat.
Cummiskey pointed to Ryan Hunter-Reay's Indy 500 winning car being sold without the engine as an example illustrating this.
Given that his passionate involvement in restoring the racers many associate with the golden age of the sport, you might think Cummiskey is a hopeless romantic for the days of yesteryear. Not so.
Yes, as Cummiskey notes the commercial backing isn't what it once was. "The tobacco money went away, and beer followed along with oil companies." Still, "the pure racing is competitive, maybe as good as ever." Cummiskey is also optimistic about the Mazda Road to Indy. "It has become more affordable, and the numbers are up. The question is how do we continue to make it more affordable, and get the drivers to keep moving up."
Whether he's helping nurture up and coming stars or breathing life back into the majestic machines of yesteryear, Cummiskey has created a successful venture in providing opportunities for racers. We here at AR1 wish him continued success.
Brian Carroccio is a senior columnist for AutoRacing1, and credentialed media member of both the Verizon IndyCar Series and NASCAR Sprint Cup Series. He can be contacted at BrianC@AutoRacing1.com
[adinserter name="GOOGLE AD"]