Barney Visser Happy To Be Back At Daytona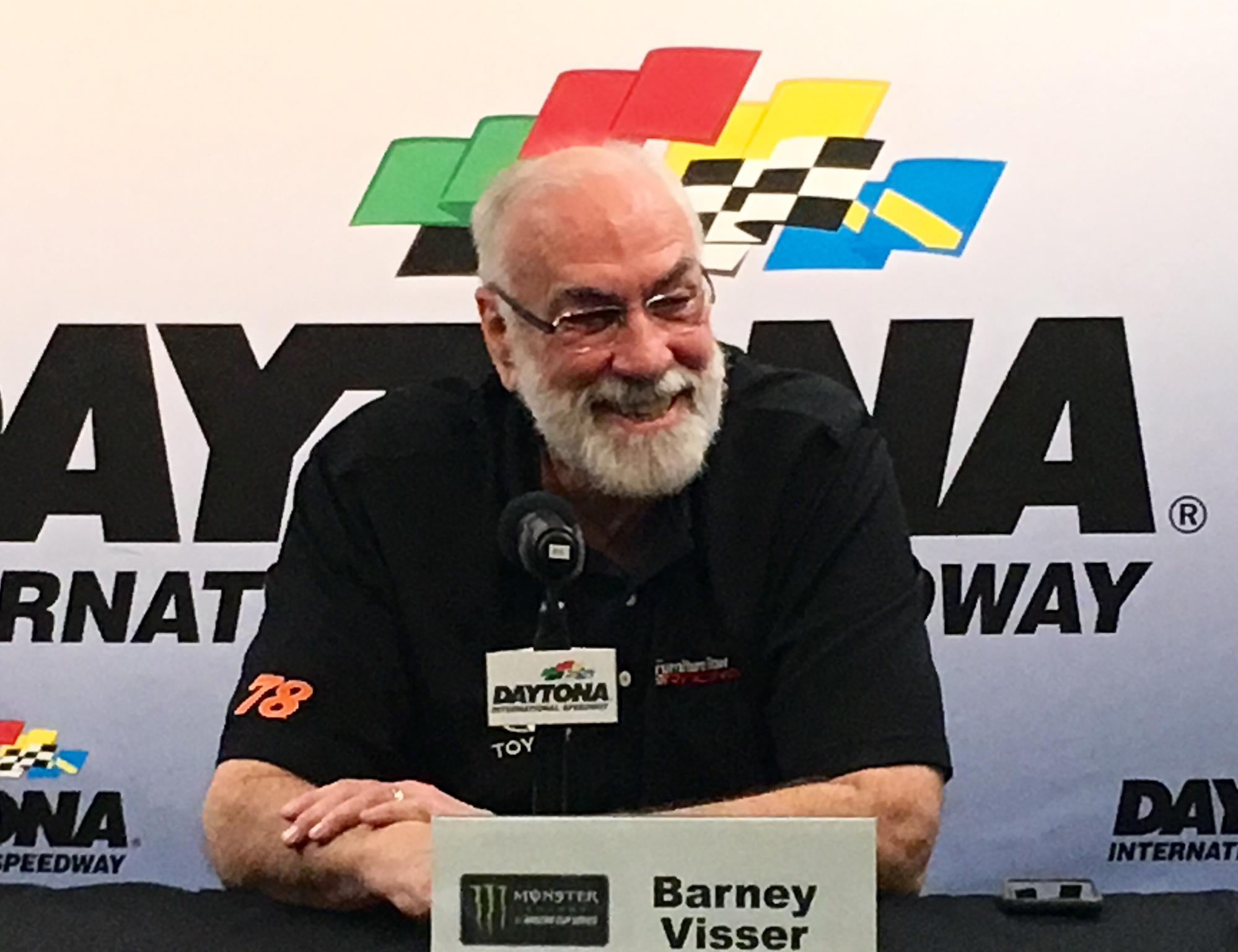 Barney Visser talks to the media about his new "pipes"
Pete McCole/AR1
Furniture Row Racing team owner Barney Visser – the defending Monster Energy NASCAR Cup Series champion car owner – made his return to the racetrack this weekend for the first time since undergoing heart bypass surgery back in November, just three weeks before his team that he built from the group up clinched their first Cup Series title.
And even though he missed being there in person to see his team finally reach the pinnacle of the sport, he's happy to be back, and glad he's been given a second chance.
"I'm feeling great. There's nothing like getting new pipes," said Visser. "I didn't realize how bad it was, but this has been really good. I'm told that I won't be 100 percent for another three months. As good as I feel now, this is a home run.
"I missed the people and the competitive spirit. But mostly the people. I heard the engines fire up the other day, and I realized how much I missed that."
[adinserter name="GOOGLE AD"]Visser, who made his fortune in the furniture business in his native Colorado beginning in the 1970's, started Furniture Row Racing in 2005 as a single-car team based in Denver – thousands of miles away from the hub of NASCAR teams stationed in North Carolina.
Furniture Row Racing started to make strides three years ago after striker a technical alliance with Richard Childress Racing that led to the team's first win in the 2011 Southern 500 at Darlington
Two years ago, the team entered into a partnership with Joe Gibbs Racing and Toyota, which turned the team into a championship contender that finally culminated with driver Martin Truex, Jr. bringing home the team's first NASCAR Cup Series title at the season-finale race at Homestead-Miami Speedway.
But Visser wasn't there.
Three weeks before that final race, Visser was laying in a hospital bed in Denver, Colorado, about to undergo surgery for a heart bypass after suffering chest pains.
"It just felt like somebody was ripping my chest open, and I started complaining about it, and they handed me a nitroglycerin, and I passed out at that point and don't remember much after that," Visser said. "I went into the hospital, and they started running tests and did an angiogram that afternoon, and they couldn't stent it after — they'll try to stent it if they can, and one of them was 99 percent blocked, and they just couldn't do it. I had to wait for a bypass on Monday."
Visser spent the next three weeks recuperating, and wasn't able to make the trip to Homestead to see his team win the championship. He watched from his home as Truex, Jr. took the team to victory.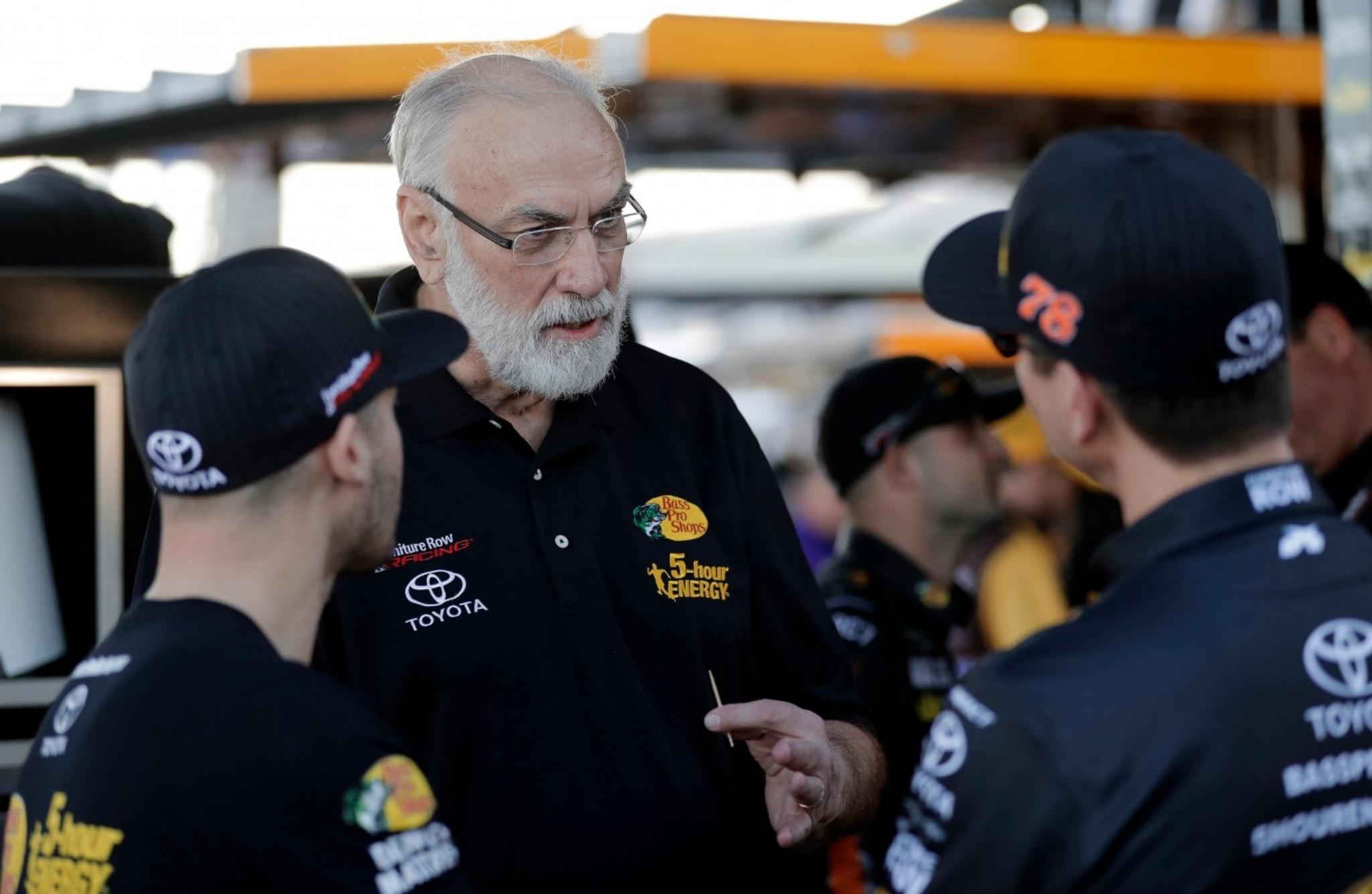 Barney Visser talks in the Daytona garage
NASCAR Media
"The doctor didn't tell me I couldn't watch it. That's a rumor going around," said Visser. "I don't remember Texas because that was right in the middle of it, and then I don't really remember Phoenix. So Homestead I got my heart rate slowed down, and I was able to watch it on TV with my wife."
Did his heart rate go up as the laps started winding down?
"You know, I was pretty heavily medicated," Visser said.
Looking back, Visser said the thought that he could have been facing the end of his life never really crossed his mind, and he's glad he has another chance to keep going.
"I don't think I was ever concerned about that," said Visser. "I was more concerned about — my dad had had a bypass 40 years ago or something at the same age, and it had been a real painful deal for him. So I was a little bit more concerned about that. I wasn't concerned that this could be it. That never even crossed my mind.
"I feel like I'll have a little more gas after the race now. I remember….a few times after wins, I just was almost dead. I didn't realize how tired I was. I think it'll be better now. I'm looking forward to that."
Now at age 69, Visser is among the elder statesmen among the current crop of car owners, but he says now that he's on the mend, he has no plans to slow down.
"I've watched (fellow car owner) Joe (Gibbs), and he's been an inspiration to me because he's about six years older than me, and he's one of the most competitive people I've ever met in my life, and he hasn't skipped a beat," said Visser. "That makes me realize I can just keep doing this thing. That makes it fun. There's no reason to step back."
[adinserter name="GOOGLE AD"]