Truex Jr. Pushed Through Adversity To The Top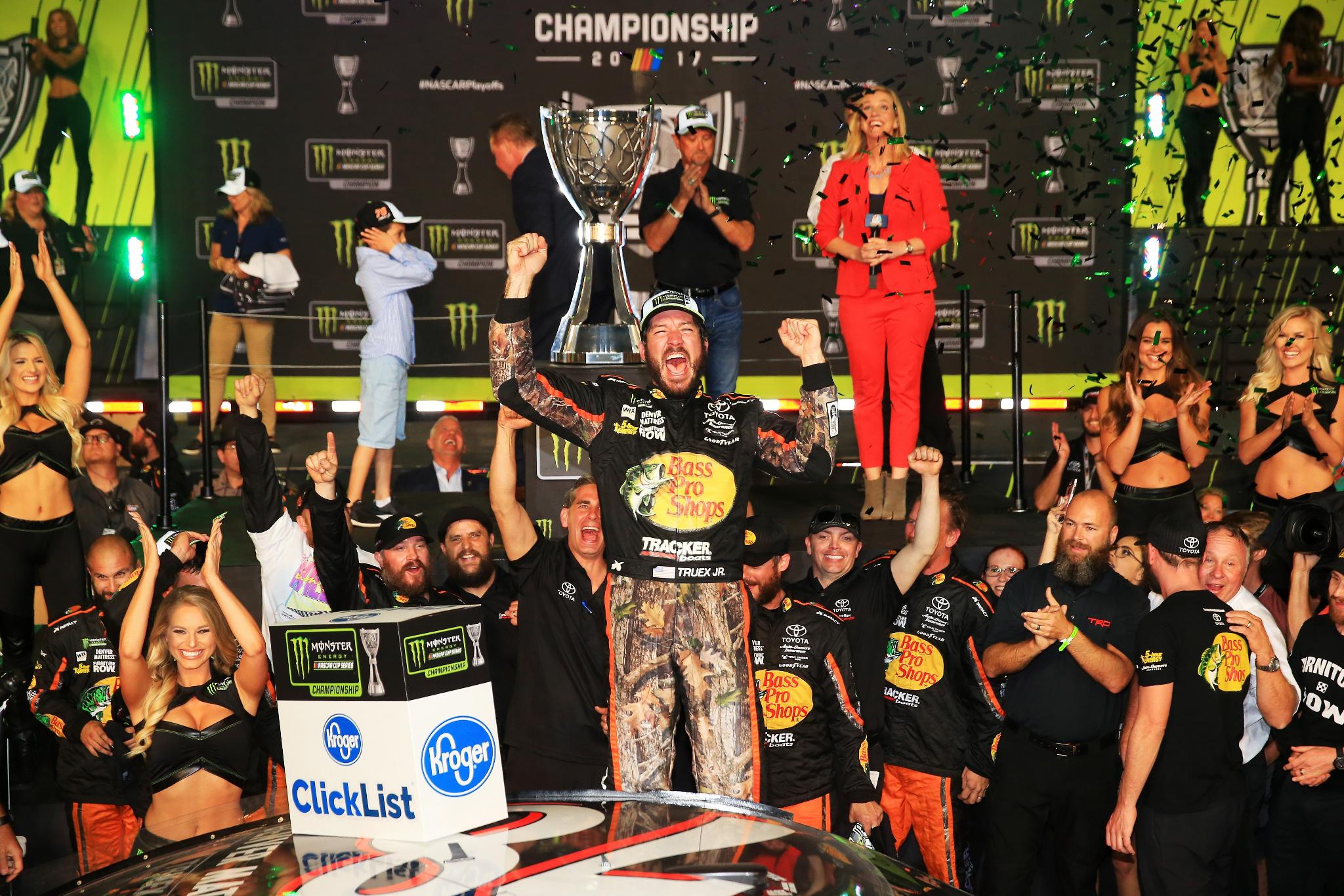 Martin Truex, Jr. celebrates in Victory Lane at Homestead
Chris Trotman/Getty Images
After 12 years in the Monster Energy NASCAR Cup Series, Martin Truex, Jr. broke through to score his first series championship, but the story of how this New Jersey native and the little team that could fought to make it to the top of the sport is one for the ages.
It wasn't too long ago that Truex, Jr. thought his racing career might be over, and now he's standing on the stage at Homestead-Miami Speedway as the 2017 Monster Energy NASCAR Cup Series Champion.
How things have come full circle.
From losing a championship-caliber ride on the cusp of running for a championship to facing the possibly of losing someone close to him to the ravages of cancer, Truex has gone from the lowest of lows to the highest of highs in the last four years.
But he never gave up. And those around him never gave up on him.
And now – here he is. A Cup Series Champion. Finally.
"It's just overwhelming," said Truex. "To think about all the rough days and bad days, the days that couldn't run 20th, to be here, I never thought this day would come and to be here is so unbelievable."
"I always gave it all I had no matter what, and I loved going to the track and working with a team to try to get somewhere. But this year definitely felt different. I feel like before we ever started this year, we knew we had this in us because we talked about it. We were like, let's go get that championship; we can do it.
"We led enough laps. We've led enough races. We won a few races. But we knew that there was a lot more there for us to get if we could do all the little things right.
Truex's title was a vindication of sorts after finishing fourth in the championship finale just two years ago, but it wasn't too long ago that Truex wasn't sure he'd every sit in a Cup Series car again.
After starting his Cup career with Dale Earnhardt, Inc. – where he won his two Xfinity Series titles – Truex moved on to Michael Waltrip Racing in 2010, and within a two years had moved his new team into championship contention.
Finishing out the 2013 regular season at Richmond International Raceway, Truex and MWR became embroiled in a controversy forever known as "Spingate" – where NASCAR determined MWR driver Clint Bowyer deliberately spun out during the race to manipulate the outcome, denying Ryan Newman a chance at making the Playoffs.
NASCAR fined the teams 50 points, effectively bumping Truex from the Playoffs. Truex's sponsor NAPA subsequently pulled their sponsorship, and within two months Truex was out of a ride.
It was at that moment that Truex truly thought he'd never race again.
"Sunday night when I found out after Richmond that NAPA was leaving, that I was losing my sponsor and that my contract would be gone, I truly didn't know if I would ever race competitively in the Cup Series again," said Truex. "I didn't know if I'd ever have a chance at winning. Hell, I didn't even know if I'd have chance of driving, period. So Sherry (Pollex) said, don't worry, it's going to be fine, things happen for a reason. I was like, yeah, whatever, you're damned crazy."
In the offseason, Truex found a home at Furniture Row Racing – then a fledgling single-car team that was aligned with Richard Childress Racing. But no sooner had Truex gotten his racing career back on track, his longtime girlfriend Sherry Pollex was diagnosed with ovarian cancer.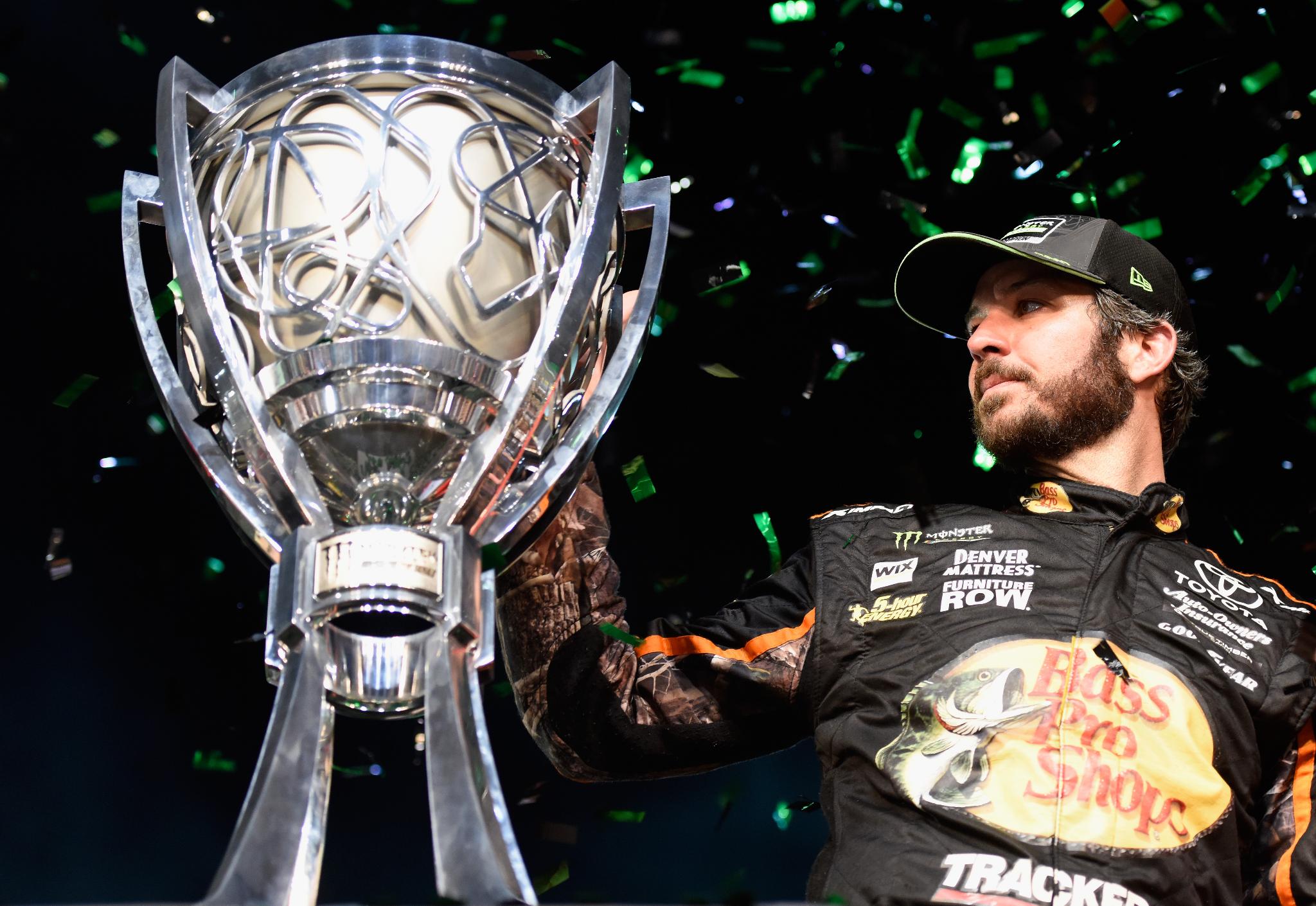 Martin Truex, Jr. poses with the Monster Energy NASCAR Cup
Jared C. Tilton/Getty Images
While Pollex underwent chemotherapy, Truex struggled on the track, tallying just a single top-five finish in what he described as a miserable year both on and off the track.
The following season – with Pollex completing her cancer treatments – Truex slowly began to regain his racing form – scoring FRR their second team victory with a win a Pocono and qualifying for the post-season for the first time in the team's history.
Although Truex and FRR finished last among the Championship 4 that season, it gave the team confidence to build on, and with a new technical alliance with Joe Gibbs Racing, FRR enjoyed their best year ever in 2016, although Truex was eliminated from championship contention in the third round.
At the start of the 2017 season, Truex emerged as a favorite to win the title, and indeed, Truex and his team won the "regular season" with the most wins in their team's history. And over the course of the 10-race playoffs, Truex won three more races and fought his way into the championship picture once again.
Now, the driver that almost gave up and the little team that refused to give up on him are champions.
It's been quite a ride.
"A lot of it was for (Pollex). A lot of it was for me. A lot of it was for this team," said Truex. "Some things are just meant to be, I guess. That's all you can say. Last year wasn't meant to be. We worked just as hard as we did this year, and this year just it all came together. It felt right. It was our time, and that's proof right there, there is a higher power.
"So some things are meant to be, and there is something to be said about luck and fate and putting yourself in the right position and being a good person, and I believe that that's what we've seen here tonight."
To say Pollex had been an inspiration to Truex would be an understatement, but throughout the ups and downs that Truex had gone through, she was there pushing him on.
"I told him that's why you never give up, because these guys (Furniture Row Racing) are so cool," said Pollex. "That's been our motto all along, ever since I started my cancer battle. We were never going to give up, and we didn't.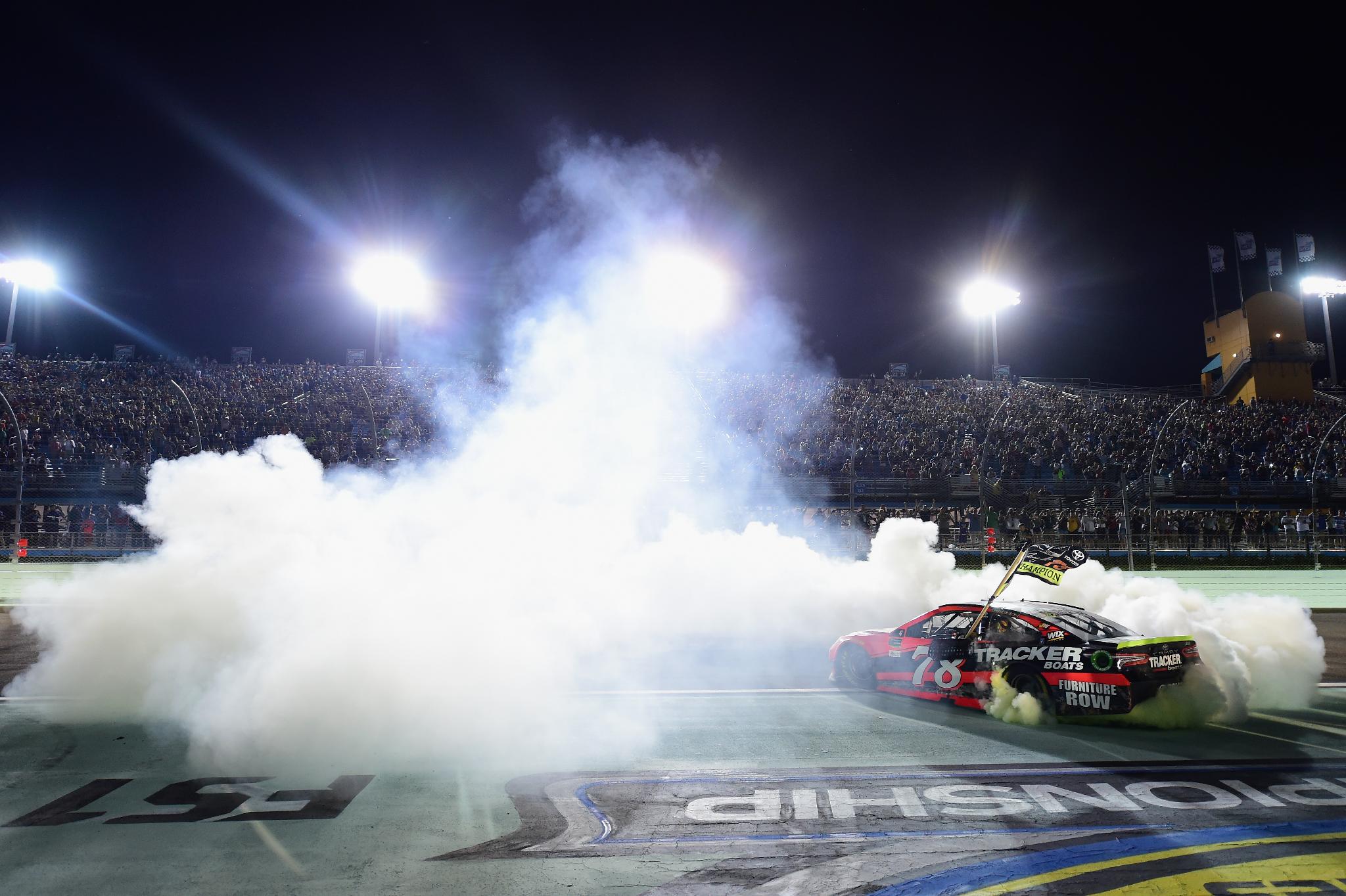 Martin Truex, Jr. does a victory burnout at Homestead-Miami Speedway
Jared C. Tilton/Getty Images
"We always say if you can fight a struggle with a positive attitude and just have a smile on your face and find the good and the silver lining in everything, in the end you'll come out and karma will pay you back and good things will happen to you. We try to do as much as we can with our foundation and Sherry Strong to help other people, and I keep telling Martin if we continue to do that, good things will happen to us, and this is the best thing that could happen."
And now, the best thing has happened, as Truex and his team have finally reached the top – despite the adversity they've faced over the last four years.
Or maybe, Truex says, because of it.
"That's just part of our story along the way. It's part of the things that we had to overcome," said Truex. "It's who we are. It's how we got here. It's part of the story. I can't think of it any other way."