Martin Truex, Jr. Clinches 2017 Cup Series Title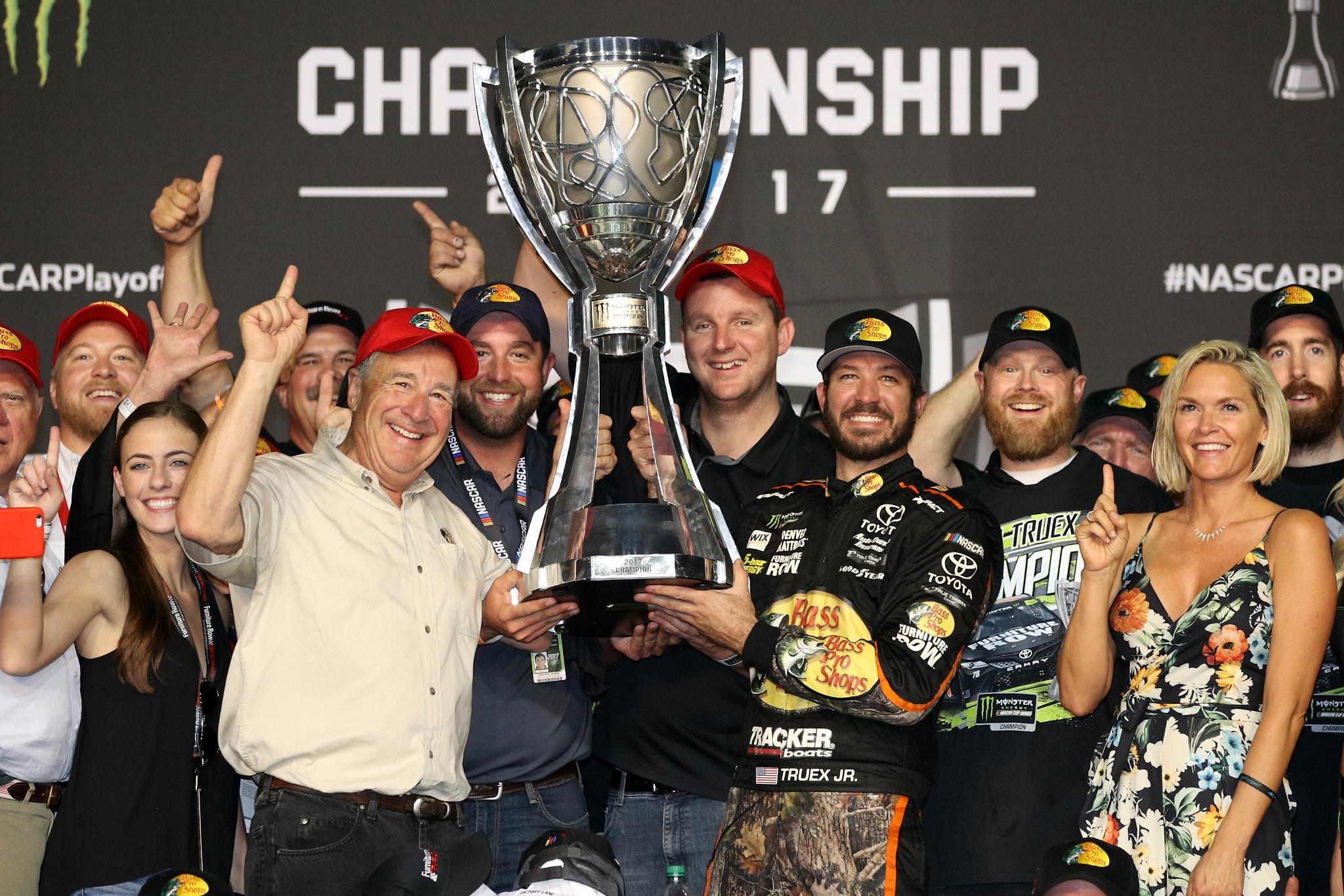 Martin Truex, Jr. won the 2017 Cup Series title
Chris Graythen/Getty Images
Martin Truex, Jr.'s racing career has finally come full circle.
Just four years removed from one of the lowest points in his life, Truex is now a Monster Energy NASCAR Cup Series Champion after beating out Kyle Busch in a thrilling 20-lap battle to win the Ford EcoBoost 400 Cup Series season finale at Homestead-Miami Speedway.
Truex led the final 51 laps and beat Busch to the line by 0.681 seconds to claim his first-career Cup Championship and his third NASCAR title overall after winning back to back Xfinity Series titles in 2004 and 2005.
Kyle Larson finished third, while championship contender Kevin Harvick finished fourth in the race and third in the title hunt. Chase Elliott rounded out the top five while Brad Keselowski – the fourth driver in the Championship 4 – finished seventh.
Truex's victory was his eighth win of the season – tops among all drivers this season.
"I don't even know what to say. We just never gave up all day long," said Truex, Jr. "We didn't have the best car. I don't know how we won that thing. Never give up. Dig deep. I told my guys we were going to dig dipper than we ever have today and 20 to go I thought I was done – they were all better than me on the long run all day long. I just found a way. I found a lane that I could use and I found a lane that was blocking enough of their air that they couldn't use it and just made it happen.
[adinserter name="GOOGLE AD"]"I can't believe it. I've wanted this since I was a little kid and just never give up. Just never give up on your dreams no matter what happens and what kind of crap you go through."
Truex's championship-winning moment was somewhat bittersweet and as tram owner Barney Visser – who had built the fledgling team from the ground up in 2005 – was at home recovering from a heart attacked he suffered earlier this month.
Truex had entered the playoffs as the "regular season" champion, having racked up four wins and a staggering 19 sage victories, securing the top seed for the post-season.
In the playoffs, Truex picked up victories in both of the opening rounds to advance to the third round, where he scored three-straight top-three finishes to advance to the Championship 4 along with Kyle Busch, Harvick and Keselowski.
All four drivers were on contention for much of the day, with Keselowski leading the championship battle for much of the early half of the race with some aggressive pit strategy.
In the final 107-lap stage, Kyle Busch moved to the race lead as he and crew chief Adam Stevens came up with a pit strategy of their own: stay out.
While the rest of the Championship 4 short-pitted, Busch and Stevens elected to stay out to the end of their fuel winder and try to make it to the end of the race on one more stop, putting the entire field a lap down to Busch.
Kyle Larson had the fastest car all day but backed off to let Truex Jr and Busch battle for title
Garry Eller/HHP and GM
Their strategy nearly paid off – if the race had stayed green. But a caution flag with 38 laps to go – brought out by a spin by Kyle's brother Kurt Busch – brought the entire field to pit road for a final round of stops.
Truex, Jr. beat everyone off pit road to take over the stop when the field went back to green with 34 laps to go, followed by Harvick, Kyle Busch and Joey Logano.
Back under green, Truex fended off any early challenge from Harvick and then began to pull away while Busch struggle to work his way past Logano to move into third.
With 18 laps to go, Busch got past Harvick to take second and began to cut into Truex's one-second lead.
Truex kept his no. 78 Toyota right up against the wall over the final 18 laps as Busch tried both the high side and low side of the track trying to find any speed he can, eventually closing to within three car lengths with five laps to go.
Although Busch had the speed to pull alongside Truex in the corners, Truex was able to pull away on exit, giving Truex enough of an advantage to hold off Busch over the remaining laps.
On the final lap, Truex was out in front by .3 second and held on to take the checkered flag to clinch the title.
After the race, Busch was critical of Logano for holding him up, but admitted "That's racing."
"Battling with the 22 (Joey Logano) there. Just wasting too much time with him. He held me up. He was there blocking every chance he got, so got a real buddy there, but that's racing. That's what happens," said Busch. "That's what happens when you lose in this format, but we gave it everything we had. We gave it our all, so congratulations to the 78 (Martin Truex Jr.). They deserved it probably on every other race but today. I thought we were better. Doesn't matter though. They were out front when it mattered the most.
"Just unfortunate for us that that caution came out. It kind of ruined our race strategy and we weren't able to get back to where we needed to be and then I had to fight way to hard with some other guys trying to get back up through there, but that's racing."
A happy Martin Truex Jr.
Jared C. Tilton/Getty Images
Truex's title was a vindication of sorts after finishing fourth in the championship finale just two years years ago, but it wasn't too long ago that Truex wasn't sure he'd every sit in a Cup Series car again.
After losing his ride with Michael Waltrip Racing at the end of the 2013 season, Truex signed with the single-car Furniture Row Racing for the 2014 season. However, a short time later, his longtime girlfriend Sherry Pollex was diagnosed with ovarian cancer.
But Pollex battled back with her cancer now in remission, and Truex battled back on the track – earning FRR their most wins in a single season in 2017, and now gaining the team their first title.
"What can I say about this team?" Truex said. "They work their guts out for me."
Harvick finished fourth in the event despite suffering same damage to the right-front valance of his no. 4 Ford Fusion mid-way through the race.
"We just got really loose and then got a hole in the nose and it started to get tight in," said Harvick. "It was great to have a chance. We were in the mix all day. Didn't quite have what we needed at the end."
Keselowski – who qualified for the Championship 4 on points following last weekend's race at Phoenix – lead the title fight early on, but faded in the second half of the event and came home ninth and last among the four contenders.
"We ran as hard as we could and put it all out there and just basically didn't have enough speed," Keselowski said. "Paul Wolfe (crew chief) and everybody and put ourselves in position every chance we could to make the most out of the opportunities that existed without just being lightning fast, but it wasn't there."
Results
| | | | | | | | | | |
| --- | --- | --- | --- | --- | --- | --- | --- | --- | --- |
| Pos | No. | Driver | Manu | St | Laps | Led | Status | Points | Playoff |
| 1 | 78 | Martin Truex Jr. | Toyota | 2 | 267 | 78 | Running | 40 | 74 |
| 2 | 18 | Kyle Busch | Toyota | 3 | 267 | 43 | Running | 35 | 42 |
| 3 | 42 | Kyle Larson | Chevy | 7 | 267 | 145 | Running | 54 | 2 |
| 4 | 4 | Kevin Harvick | Ford | 9 | 267 | 0 | Running | 33 | 17 |
| 5 | 24 | Chase Elliott | Chevy | 18 | 267 | 0 | Running | 39 | 0 |
| 6 | 22 | Joey Logano | Ford | 19 | 267 | 0 | Running | 36 | 0 |
| 7 | 2 | Brad Keselowski | Ford | 5 | 267 | 1 | Running | 30 | 26 |
| 8 | 20 | Matt Kenseth | Toyota | 4 | 267 | 0 | Running | 33 | 0 |
| 9 | 11 | Denny Hamlin | Toyota | 1 | 267 | 0 | Running | 32 | 0 |
| 10 | 31 | Ryan Newman | Chevy | 21 | 267 | 0 | Running | 27 | 0 |
| 11 | 3 | Austin Dillon | Chevy | 17 | 267 | 0 | Running | 26 | 0 |
| 12 | 14 | Clint Bowyer | Ford | 16 | 267 | 0 | Running | 26 | 0 |
| 13 | 1 | Jamie McMurray | Chevy | 13 | 266 | 0 | Running | 24 | 0 |
| 14 | 47 | AJ Allmendinger | Chevy | 26 | 266 | 0 | Running | 23 | 0 |
| 15 | 17 | Ricky Stenhouse Jr. | Ford | 6 | 266 | 0 | Running | 22 | 0 |
| 16 | 27 | Paul Menard | Chevy | 15 | 265 | 0 | Running | 21 | 0 |
| 17 | 38 | David Ragan | Ford | 30 | 265 | 0 | Running | 20 | 0 |
| 18 | 43 | Aric Almirola | Ford | 20 | 265 | 0 | Running | 19 | 0 |
| 19 | 6 | Trevor Bayne | Ford | 12 | 265 | 0 | Running | 18 | 0 |
| 20 | 37 | Chris Buescher | Chevy | 29 | 265 | 0 | Running | 17 | 0 |
| 21 | 77 | Erik Jones | Toyota | 14 | 265 | 0 | Running | 16 | 0 |
| 22 | 41 | Kurt Busch | Ford | 8 | 265 | 0 | Running | 24 | 0 |
| 23 | 34 | Landon Cassill | Ford | 28 | 265 | 0 | Running | 14 | 0 |
| 24 | 95 | Michael McDowell | Chevy | 23 | 265 | 0 | Running | 13 | 0 |
| 25 | 88 | Dale Earnhardt Jr. | Chevy | 24 | 264 | 0 | Running | 12 | 0 |
| 26 | 13 | Ty Dillon | Chevy | 32 | 264 | 0 | Running | 11 | 0 |
| 27 | 48 | Jimmie Johnson | Chevy | 22 | 264 | 0 | Running | 10 | 0 |
| 28 | 72 | Cole Whitt | Chevy | 33 | 264 | 0 | Running | 9 | 0 |
| 29 | 21 | Ryan Blaney | Ford | 11 | 264 | 0 | Running | 8 | 0 |
| 30 | 32 | Matt Dibenedetto | Ford | 31 | 263 | 0 | Running | 7 | 0 |
| 31 | 23 | Corey Lajoie | Toyota | 34 | 261 | 0 | Running | 0 | 0 |
| 32 | 33 | Jeffrey Earnhardt | Chevy | 36 | 259 | 0 | Running | 5 | 0 |
| 33 | 5 | KASEY KAHNE | Chevy | 27 | 234 | 0 | Accident | 4 | 0 |
| 34 | 19 | DANIEL SUAREZ | Toyota | 10 | 225 | 0 | Brakes | 3 | 0 |
| 35 | 15 | REED SORENSON | Chevy | 37 | 212 | 0 | Engine | 2 | 0 |
| 36 | 66 | David Starr | Chevy | 38 | 175 | 0 | Brakes | 0 | 0 |
| 37 | 10 | Danica Patrick | Ford | 25 | 139 | 0 | Accident | 1 | 0 |
| 38 | 51 | Ray Black Jr. | Chevy | 39 | 49 | 0 | Too Slow | 0 | 0 |
| 39 | 83 | Joey Gase | Toyota | 35 | 4 | 0 | Accident | 0 | 0 |