Cole Custer Wins Xfinity Finale, Byron Scores Title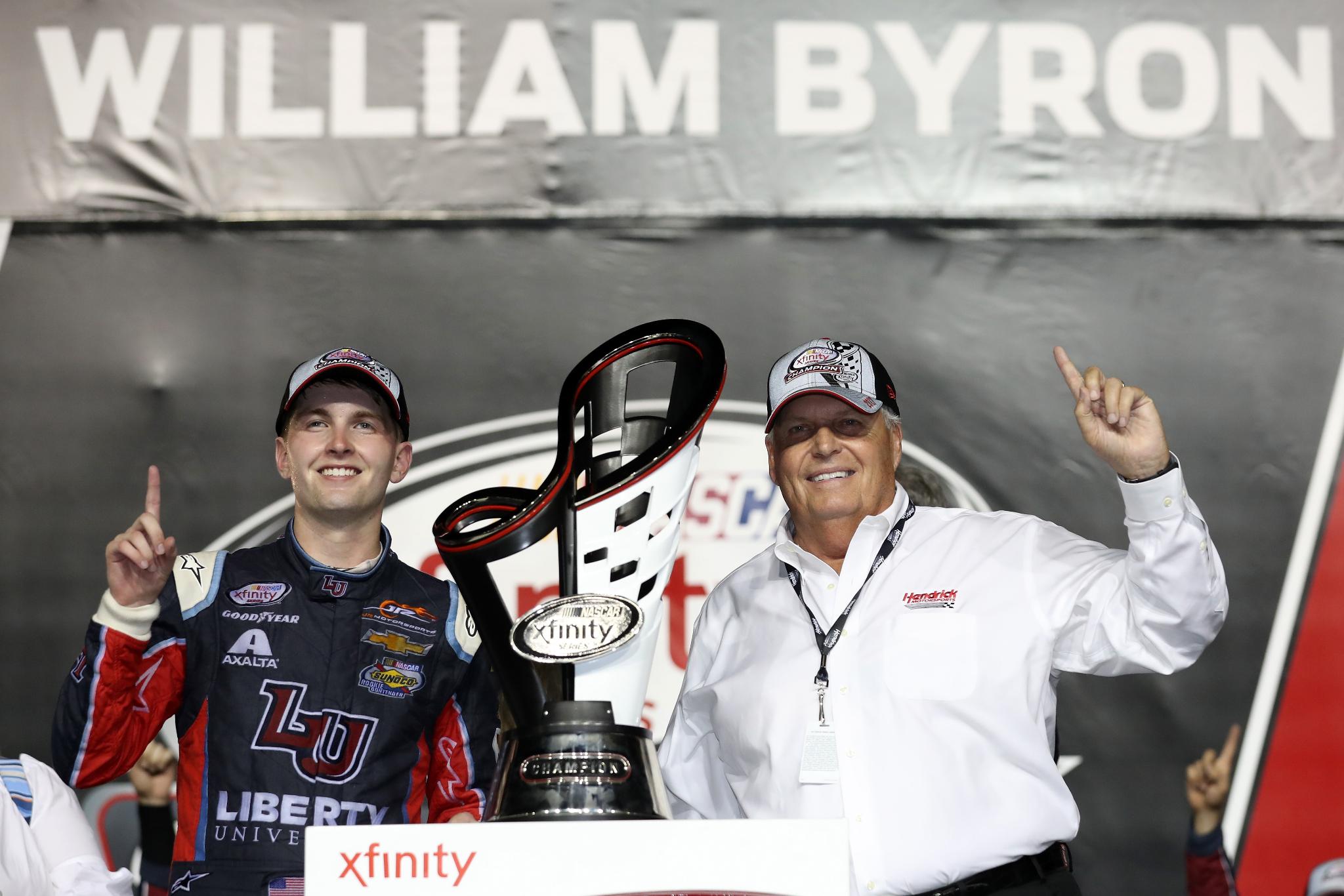 William Byron and team co-owner Rick Hendrick celebrate Byron's Xfinity title
Chris Graythen/Getty Images
The future stars of NASCAR were on full display in Saturday's NASCAR Xfinity Series season-finale at Homestead-Miami Speedway as a pair of 19-year-old drivers stole the show from the veteran racers in the field and walked away with the two biggest prizes of the day.
19-year-old rookie Cole Custer took the checkered flag in the Ford EcoBoost 300 to score his first-career Xfinity Series title, while fellow 19-year-old rookie William Byron was the top finisher among the Xfinity Series Championship 4 and claimed the 2017 Xfinity Series title over Elliott Sadler, Justin Allgaier and Daniel Hemric.
Byron came out on top of a spirited battle with Sadler over the final 20 laps that culminated in Sadler brushing the wall with nine laps to go that all but sealed the deal for Byron, who came home third in the race behind Custer and Sam Hornish, Jr. to clinch the championship.
"I don't know that I took a breath the last 20 laps," said Byron. "That was incredible. I just have to thank this team. This is awesome. Elliott (Sadler, teammate) raced me clean and we just raced hard for it. I just can't believe this. I've just got to thank God for giving me this platform to perform. I can't believe this. I'm tired, whew. Thanks to all the fans here this evening, this is an unbelievable crowd, I just can't believe it.
It was the second-career NASCAR title for Byron, who captured the NASCAR K&N Pro Series title back in 2015. He claimed Rookie of the Year honors in the Camping World Truck Series last season before moving up to the Xfinity Series with JRM this season.
Byron's title-winning run earned JR Motorsports their second driver's championship – a fitting parting gift for team co-owner Dale Earnhardt, Jr., who will retire from full-time competition as a driver after this season.
Byron, meanwhile, will move up to the Monster Energy NASCAR Cup Series next season driving the no. 5 Chevrolet for Hendrick Motorsports.
"I'm thrilled for William with the chance to win this championship knowing he's going to be moving on and out of the series. But I know there's so many people back home that are over the moon," said Earnhardt, Jr. "Our company, we work so hard to just make this work. I know a lot of people that are thrilled about this, so it's good to see, and I love being a part of it."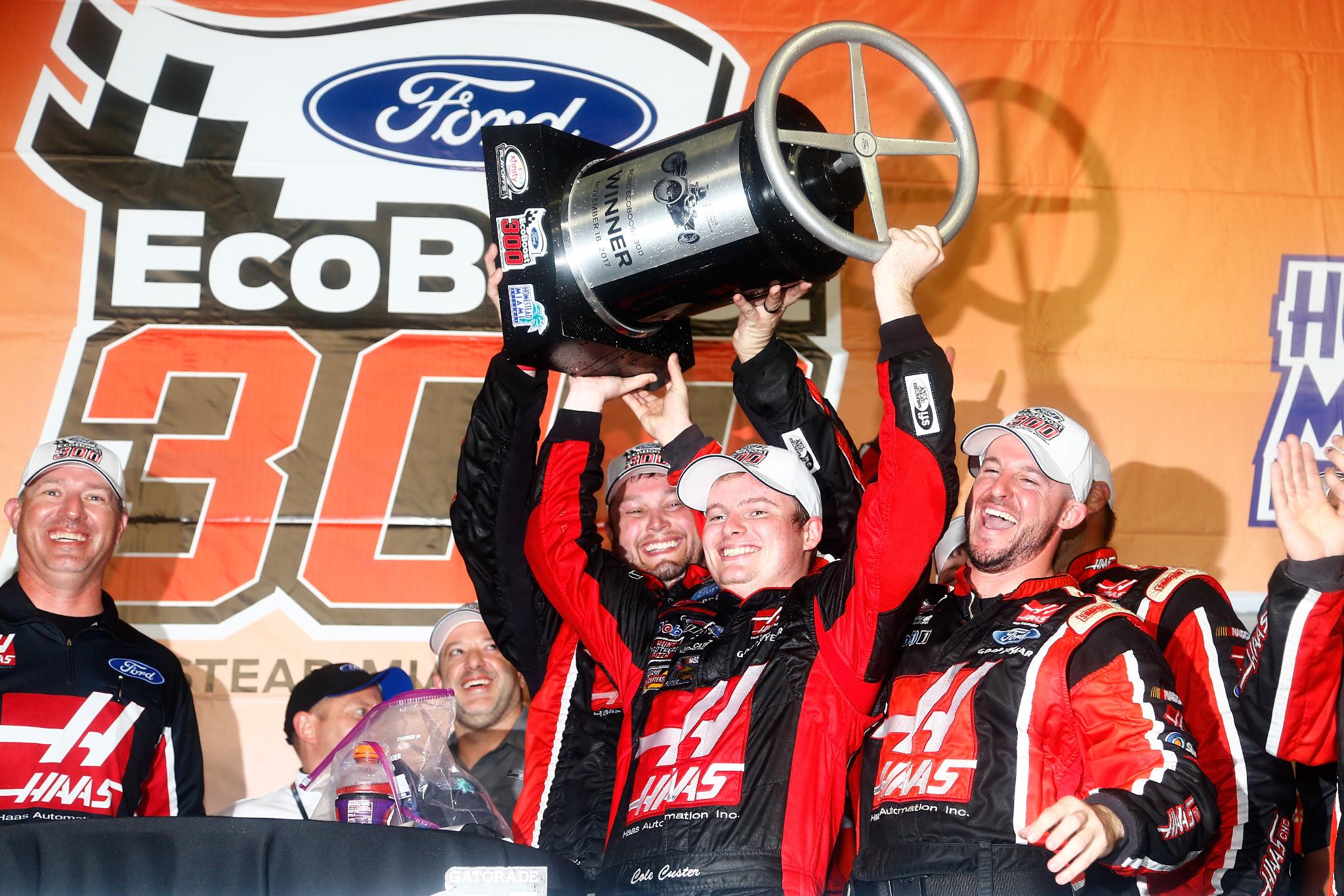 Cole Custer won his first-career Xfinity Series race in his 38th start
Matt Sullivan/Getty Images
Fellow rookie Cole Custer – the son of Stewart-Haas Racing Executive Vice-President Joe Custer – led a race high 182 out of 200 laps including the last 139 laps on route to his first-career series victory in his 38th-career series start.
"We knew we were gonna be really good this weekend, but our Haas Automation Mustang was unreal," said Custer. "We really wanted to have a good showing at Ford Championship Weekend. Even though we weren't in (the Championship 4), we wanted to win.
"Going into this year there were so many question marks, and to see how far we've come is really unbelievable."
Pole-sitter Tyler Reddick led the opening two laps of the race before Custer took over the top spot, the first of six lead changes between the two drivers who combined to lead every lap of the event.
Byron was one of three JR Motorsports drivers to qualify for the Championship 4 – coming into Saturday's finale as the top seed in the Championship 4 with four victories under his belt including a win last weekend at Phoenix.
From the start of the race, all three JRM drivers were right in the thick of it, on several occasions running nose to tail on the race track.
[adinserter name="GOOGLE AD"] Up front, Daniel Hemric was the top performer among the Championship 4, running close to the top five until a battery issue forced him to make an unscheduled stop on lap 62, all but ending his championship hopes.
At the halfway point of the race, Bryon and Sadler were battling side by side, moving up to third and fourth respectively, while Allgaier hovered around the top 10.
Byron held the top spot among the Championship 4 when the field began making their final pit stops around lap 146, but Sadler was able to win the race off pit road and began to open up a small cushion over Bryon.
With 40 laps to go, Byron had made up the distance on Sadler and moved to the outside of Sadler as the two once again duked it out side by side. With 38 laps to go, Sadler got loose running inside of Byron and the two made contact, but both drivers managed to keep their cars off the wall.
Sadler managed to get back in front of Byron as the laps clicked down to 10 to go, with Byron once again flowing closely in Sadler's tire tracks.
With nine laps to go, Sadler came up on the third-place cars of Ryan Preece, and attempted to pass the no. 18 Joe Gibbs Racing entry on the inside, but Preece – in contention for the owner's title for JGR – held his position, taking away Sadler's preferred line and forcing the no. 1 Chevrolet back in line.
With Sadler's momentum checked, Byron quickly closed the gap and pulled inside of Sadler, who tried to fight back on the outside and ended up brushing the inside wall, killing his momentum and allowing Byron to pull away clean.
Sadler valiantly fought his way back and tried to close the distance on again, but felt he might have a tire going down and started to fade.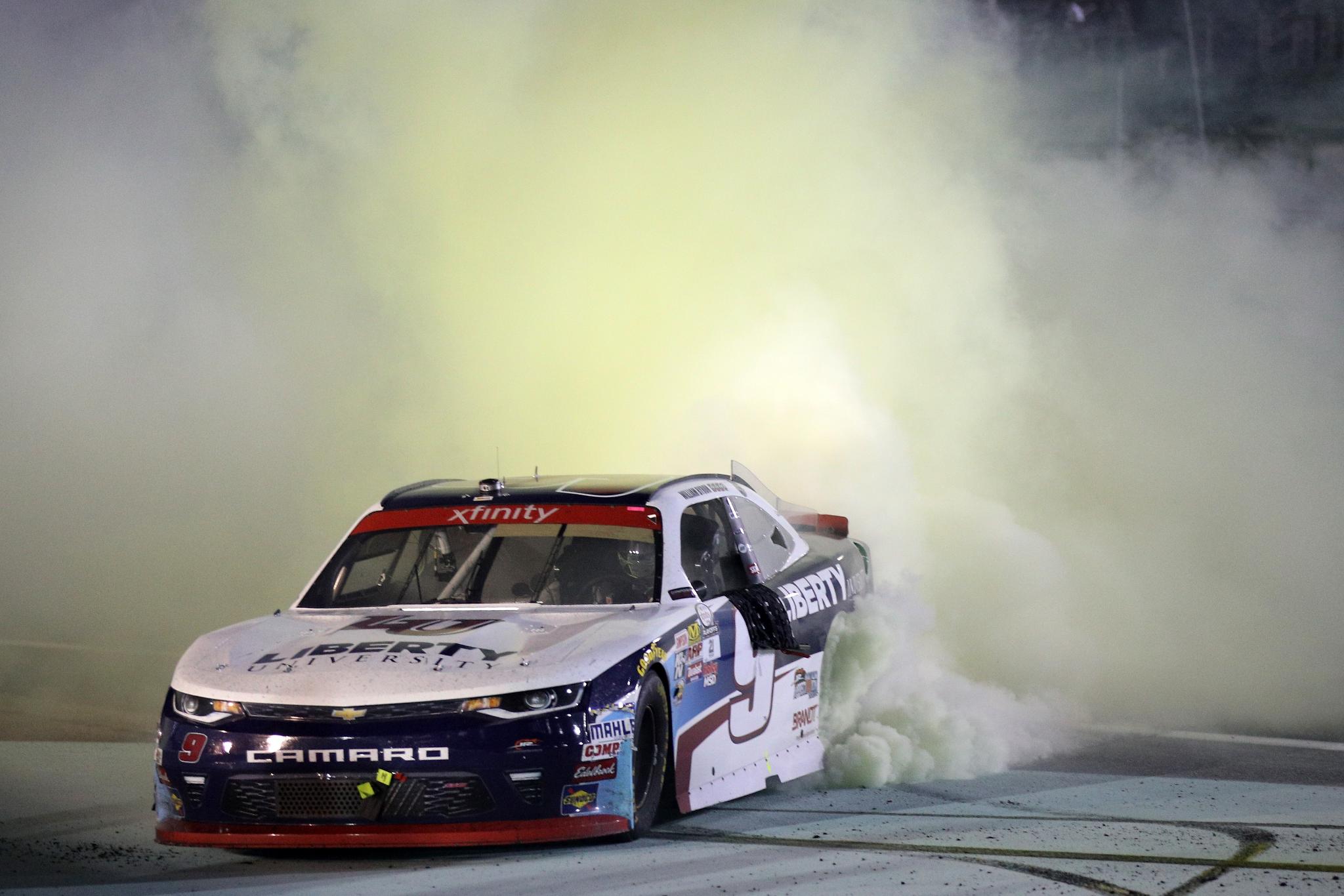 William Byron dies a burnout after finishing third to clinch the Xfinity Series title
Chris Graythen/Getty Images
Byron, meanwhile, passed Preece to take over the third spot, which is where he finished behind Custer and Sam Hornish, Jr.
After the race, a visibly upset Sadler had to be retrained from going after Preece, who he believed cost him a shot at the championship.
"Tonight is the closest I've ever been to winning a championship," Sadler said. "Having the lead against [Byron], the race is in my hands to win the championship, and when I dove down into Turn 1, we'd been running behind [Preece] for 10 laps. When I dove down into [Turn] 1, I thought he was going to give it to me, and I was going to slide in front of him, and he just gassed it and pinched me down, and that was it.
"[Preece] wasn't [racing for a championship] because the [Hornish Jr.] was a half a lap ahead of him. "He wasn't racing anybody. That's pretty hard to swallow. I've been racing a long time; y'all know that. But I would say tonight is the most devastating and down and out I've ever felt in my career."
Preece, who was making his fourth start of the season for JRM, defended himself, saying he was doing what he was hired to do –to help JGR race for the owner's title.
"We weren't anywhere near the 22 (Sam Hornish Jr.), but we were racing the 9 (William Byron). It's pretty much what I said. If it was the 7 (Justin Allgaier) and the 1 (Elliott Sadler) or anyone else that wasn't in for that owner championship, probably, I definitely would have just laid right over," said Preece. "I've been an Elliott Sadler fan growing up, so if I wanted somebody to win that owner championship, or driver championship, it would have been him.
"I can't not listen to my owner. I can't not listen to my, the guy who's paying you in the end, so it's just a tough deal. It's crappy in the end – but I hate controversy."
In the end, Hornish, Jr.'s second-place finish locked up the owner's title for Team Penske, followed by JR Motorsports, with Joe Gibbs racing finishing third.
RACE RESULTS
| | | | | | | | | | |
| --- | --- | --- | --- | --- | --- | --- | --- | --- | --- |
| Pos. | # | Driver | Make | Start | Laps | Led | Status | Points | Playoff Points |
| 1 | 00 | Cole Custer | Ford | 2 | 200 | 182 | Running | 60 | 7 |
| 2 | 22 | Sam Hornish Jr. | Ford | 8 | 200 | 0 | Running | 44 | 0 |
| 3 | 9 | William Byron | Chevy | 6 | 200 | 0 | Running | 34 | 0 |
| 4 | 42 | Tyler Reddick | Chevy | 1 | 200 | 18 | Running | 50 | 0 |
| 5 | 18 | Ryan Preece | Toyota | 5 | 200 | 0 | Running | 45 | 0 |
| 6 | 48 | Brennan Poole | Chevy | 7 | 200 | 0 | Running | 35 | 0 |
| 7 | 19 | Matt Tifft | Toyota | 10 | 200 | 0 | Running | 30 | 0 |
| 8 | 1 | Elliott Sadler | Chevy | 14 | 200 | 0 | Running | 29 | 0 |
| 9 | 5 | Michael Annett | Chevy | 18 | 199 | 0 | Running | 28 | 0 |
| 10 | 60 | Ty Majeski | Ford | 9 | 199 | 0 | Running | 35 | 0 |
| 11 | 98 | Casey Mears | Ford | 12 | 199 | 0 | Running | 26 | 0 |
| 12 | 7 | Justin Allgaier | Chevy | 16 | 199 | 0 | Running | 25 | 0 |
| 13 | 62 | Brendan Gaughan | Chevy | 23 | 199 | 0 | Running | 24 | 0 |
| 14 | 33 | Brandon Jones | Chevy | 20 | 199 | 0 | Running | 23 | 0 |
| 15 | 24 | Corey Lajoie | Toyota | 17 | 199 | 0 | Running | 23 | 0 |
| 16 | 11 | Blake Koch | Chevy | 11 | 199 | 0 | Running | 21 | 0 |
| 17 | 4 | Ross Chastain | Chevy | 19 | 198 | 0 | Running | 20 | 0 |
| 18 | 2 | Ben Kennedy | Chevy | 25 | 198 | 0 | Running | 19 | 0 |
| 19 | 23 | Spencer Gallagher | Chevy | 28 | 198 | 0 | Running | 26 | 0 |
| 20 | 16 | Ryan Reed | Ford | 15 | 198 | 0 | Running | 17 | 0 |
| 21 | 3 | Scott Lagasse Jr. | Chevy | 13 | 198 | 0 | Running | 23 | 0 |
| 22 | 14 | JJ Yeley | Toyota | 21 | 198 | 0 | Running | 17 | 0 |
| 23 | 51 | Jeremy Clements | Chevy | 29 | 197 | 0 | Running | 14 | 0 |
| 24 | 0 | Garrett Smithley | Chevy | 26 | 196 | 0 | Running | 13 | 0 |
| 25 | 07 | Ray Black Jr. | Chevy | 27 | 196 | 0 | Running | 12 | 0 |
| 26 | 93 | Ryan Sieg | Chevy | 24 | 196 | 0 | Running | 11 | 0 |
| 27 | 01 | Joe Nemechek | Chevy | 22 | 196 | 0 | Running | 0 | 0 |
| 28 | 90 | Josh Williams | Chevy | 33 | 196 | 0 | Running | 9 | 0 |
| 29 | 52 | Joey Gase | Chevy | 32 | 195 | 0 | Running | 8 | 0 |
| 30 | 40 | Chad Finchum | Toyota | 36 | 194 | 0 | Running | 7 | 0 |
| 31 | 8 | Caesar Bacarella | Chevy | 30 | 193 | 0 | Running | 6 | 0 |
| 32 | 99 | David Starr | Chevy | 38 | 192 | 0 | Running | 5 | 0 |
| 33 | 78 | BJ McLeod | Chevy | 35 | 191 | 0 | Running | 4 | 0 |
| 34 | 21 | Daniel Hemric | Chevy | 4 | 187 | 0 | Running | 3 | 0 |
| 35 | 39 | Stephen Leicht | Chevy | 37 | 102 | 0 | Brakes | 2 | 0 |
| 36 | 20 | Christopher Bell | Toyota | 3 | 78 | 0 | Engine | 0 | 0 |
| 37 | 13 | Timmy Hill | Dodge | 34 | 54 | 0 | Vibration | 1 | 0 |
| 38 | 74 | John Graham | Dodge | 39 | 31 | 0 | Parked | 1 | 0 |
| 39 | 15 | Harrison Rhodes | Chevy | 31 | 19 | 0 | Electrical | 1 | 0 |
| 40 | 38 | Jeff Green | Chevy | 40 | 10 | 0 | Clutch | 1 | 0 |