2017 NASCAR Cup Series Comes Down To Final Race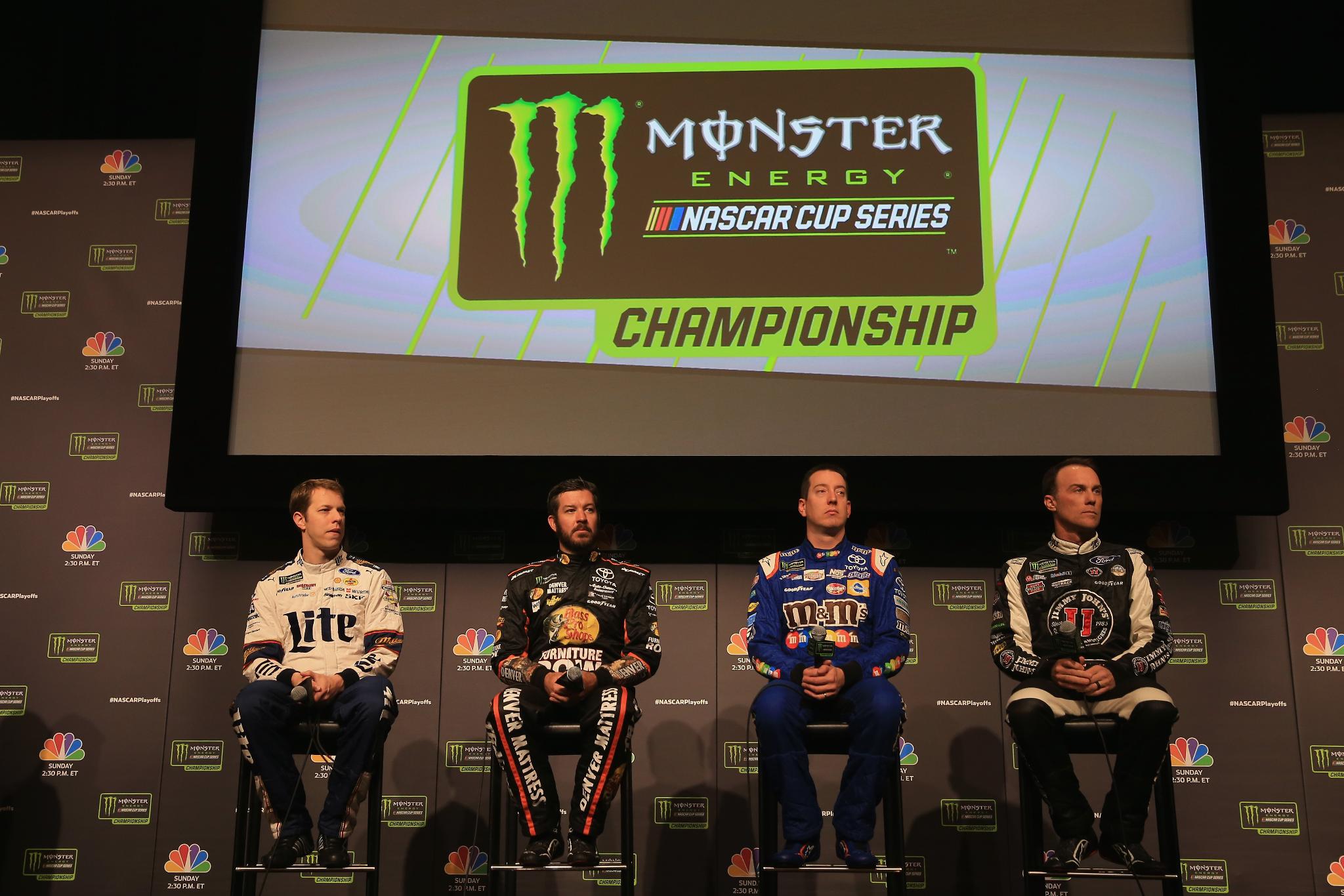 The Championship 4 (L-R): Brad Keselowski, Martin Truex, Jr., Kyle Busch and Kevin Harvick
Chris Trotman/Getty Images
Four drivers enter this Sunday's season finale for an equal shot at winning the Monster Energy NASCAR Cup Series title. Three of them are looking for their second title, while one hopes to capture his first. 36 races; 10,300 laps; 14,000 miles of racing – and it will all come down to one single race and maybe one single lap.
According to the metrics and the odds makers, Brad Keselowski is at the bottom of the totem pole entering Sunday's Ford Eco-Boost 400 at Homestead-Miami Speedway.
After all, he squeaked into the Championship 4 race on points, when Chase Elliott and Denny Hamlin renewed their burgeoning rivalry last Sunday at Phoenix Raceway to the detriment of Hamlin, whose charge toward the final four ended in a heap of bent sheet metal against the Turn 3 wall.
Keselowski was the beneficiary of Hamlin's demise. And though he had won at Talladega to advance to the Round of 8, Keselowski comes to Miami as a decided underdog. Conventional wisdom says it will probably take a victory at Homestead to win the Monster Energy NASCAR Cup Series title, and the Las Vegas betting odds for the 2012 champion to win the race average between 8- and 10-to-1.
Favorite Martin Truex Jr., on the other hand is priced at 5-to-2, and both Kevin Harvick and Kyle Busch are trending around 7-to-2.
Keselowski's underdog status is understandable, given that he hasn't won a race on an intermediate track since the second event of the season at Atlanta. And with a final four spot on the line at Phoenix, his car was a study in mediocrity on the one-mile oval.
But Keselowski says he won't really know if he's a long shot until the cars get on track on Friday.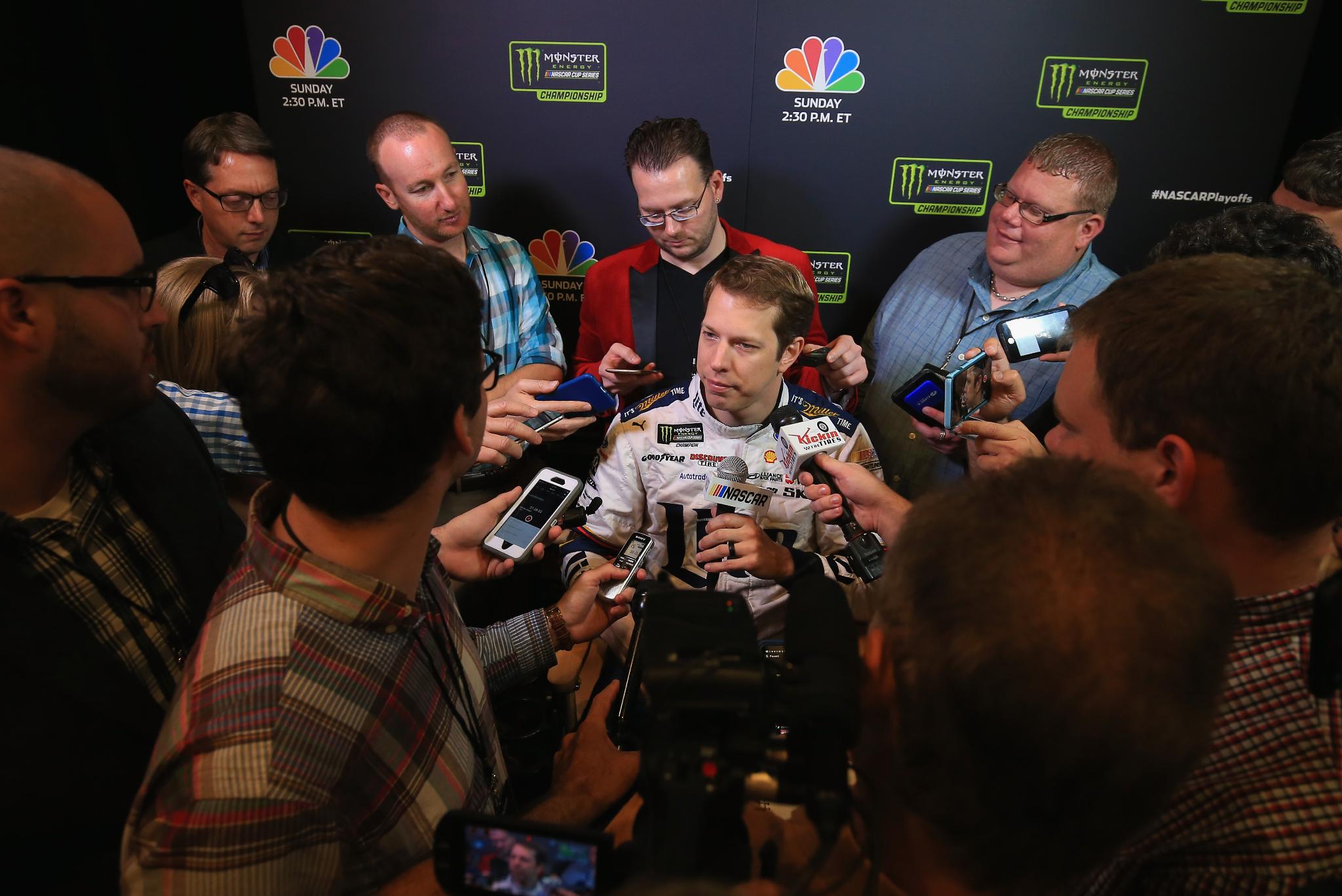 Brad Keselowski
Chris Trotman/Getty Images
"I'll have a much better answer for that Saturday after all the practice is done," Keselowski said on Thursday during Championship 4 media day at the Loews Hotel. "Sitting here at this moment right now, it's kind of like everybody's got a poker hand, and you haven't seen any cards.
"The cards will start to get played Friday, and then qualifying on Friday night, and again Saturday with race practices and Happy Hours and so forth. I need to see some more cards before I can tell you. I know Vegas likes to have odds and all that going into it, but this is a very dynamic sport. And although it may not seem like it until you step away from it, things change all the time…
"Who has speed and who doesn't have speed changes a lot."
Underdog or not, Keselowski is playing with house money, considering the way he slid into the Championship 4. After Hamlin scored 19 points in the first two stages at Phoenix and pulled even with the Team Penske driver in points, Hamlin was comfortably ahead of Keselowski and in apparent control until Elliott ran Hamlin into the outside wall late in the race.
When Elliott subsequently took the lead, he was threatening to eliminate Keselowski by winning the race, but Kenseth delivered a gift to the 2012 champion by passing Elliott for the win. Keselowski was in the final four by the skin of his teeth after living through a broad range of emotions during the race.
"I thought, 'If it's meant to be, it's going to happen; if it's not meant to be, it's not going to happen'—I'm just for damn sure not going to be the one that doesn't make it happen," Keselowski said. "I didn't want to be the guy that ran it into the wall, or ran the brakes off of it or blew a tire and screwed it up.
"When Denny blew a tire, I think I said, 'Oh, my goodness.' I couldn't believe it. Then it looked like Chase was going to win, and I was like, 'I guess, again, it wasn't meant to be.' And then he got passed there at the end… There was certainly some unease with all that, but I can't spend too much time looking in the mirror.
"I've got to look out the windshield at this weekend and just be thankful for what I have."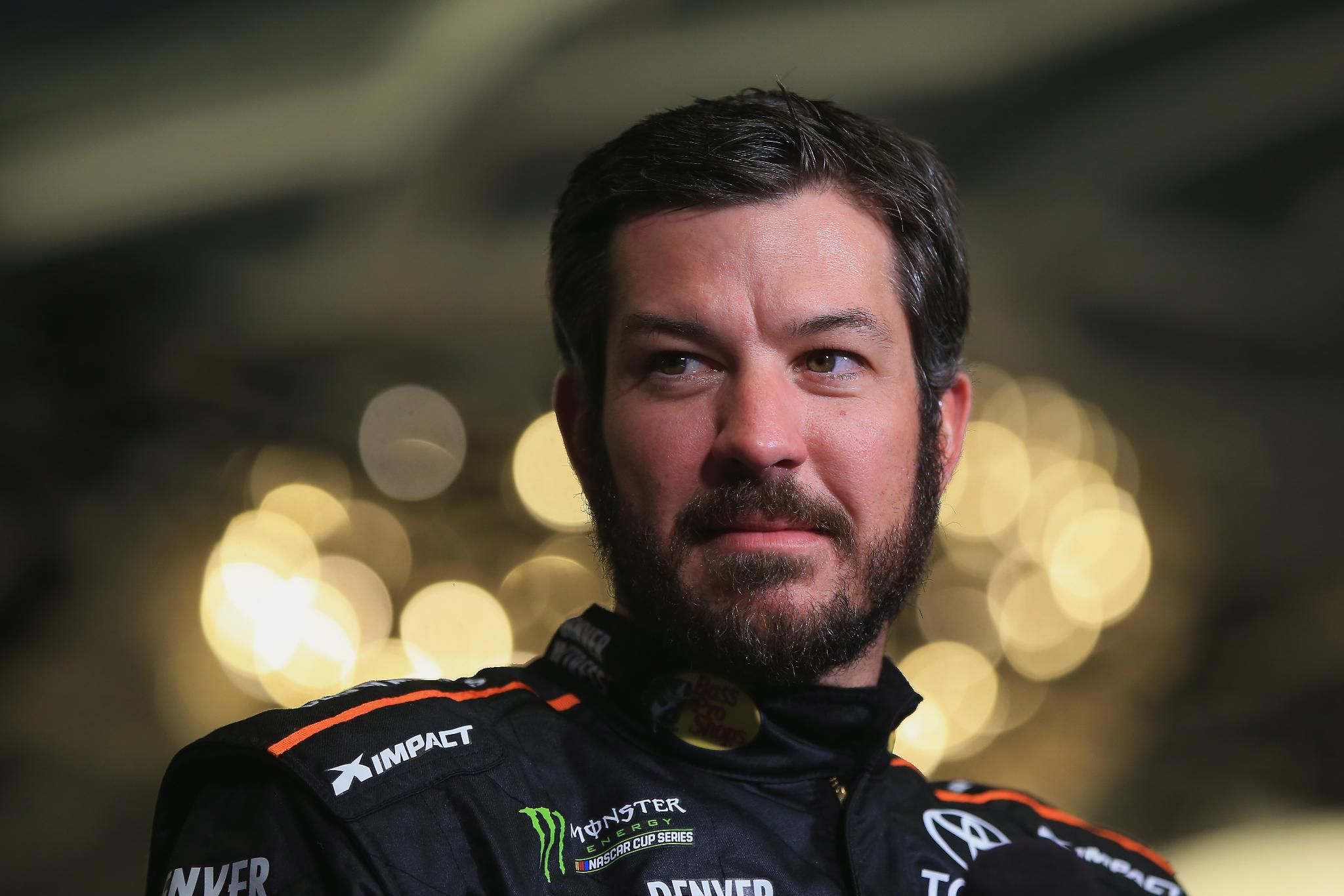 Martin Truex, Jr.
Chris Trotman/Getty Images
For his part, Truex embraces the favorite's role because it reflects the level of success he's had this season, a run that includes a series-best seven victories—six on 1.5-mile intermediate tracks.
Truex and his team won't let outside expectations influence his approach to Championship Weekend. Nevertheless, his confidence level is exponentially higher than it was in 2015, when he finished 12th in the season finale and fourth in the championship standings.
"It doesn't change the outcome in any way, so we don't even think about it," Truex said of his favorite's status. "Our focus is to come in here and do the best job we can do. I feel like the team's done a great job of preparing. I feel like we're in a lot better spot, obviously, than last time. Being the favorite is great from that standpoint.
[adinserter name="GOOGLE AD"] "We feel like we're in a lot better position now than when we came here in '15, when we were like, 'We don't have enough speed…' From that point of view, I feel like we're in the best position possible, but you've still got to execute. You've still got to bring the right stuff. It's a good position to be in, but it doesn't guarantee anything."
Kevin Harvick's two wins this season are fewer than any of the other three drivers eligible to win the Monster Energy NASCAR Cup Series title on Sunday at Homestead-Miami Speedway.
His Stewart-Haas Racing team needed half a season to finally find its footing after switching from Chevrolet to Ford. Martin Truex Jr. remains the most consistent, most consistently able to strong-arm a weekend for a Toyota contingent that has been the prime manufacturer of the season.
Harvick isn't concerned.
And with reason. He's in position for another epic close, and the title of undisputed master of this version of the points system. His record at Homestead and his performance under duress should further hearten the 2014 series champion as he readies himself for Sunday's race.
Since NASCAR made the final race a four-driver showdown for the title that season, Harvick has been title eligible three times.
Harvick struggled with much of his organization to find speed in the SHR's first two months with Ford, but was still able to maintain a slot inside the top 10 in points. His finishes began to improve markedly after winning the pole and finishing fourth at Texas Motor Speedway in June and five top-fives in eight races ensued.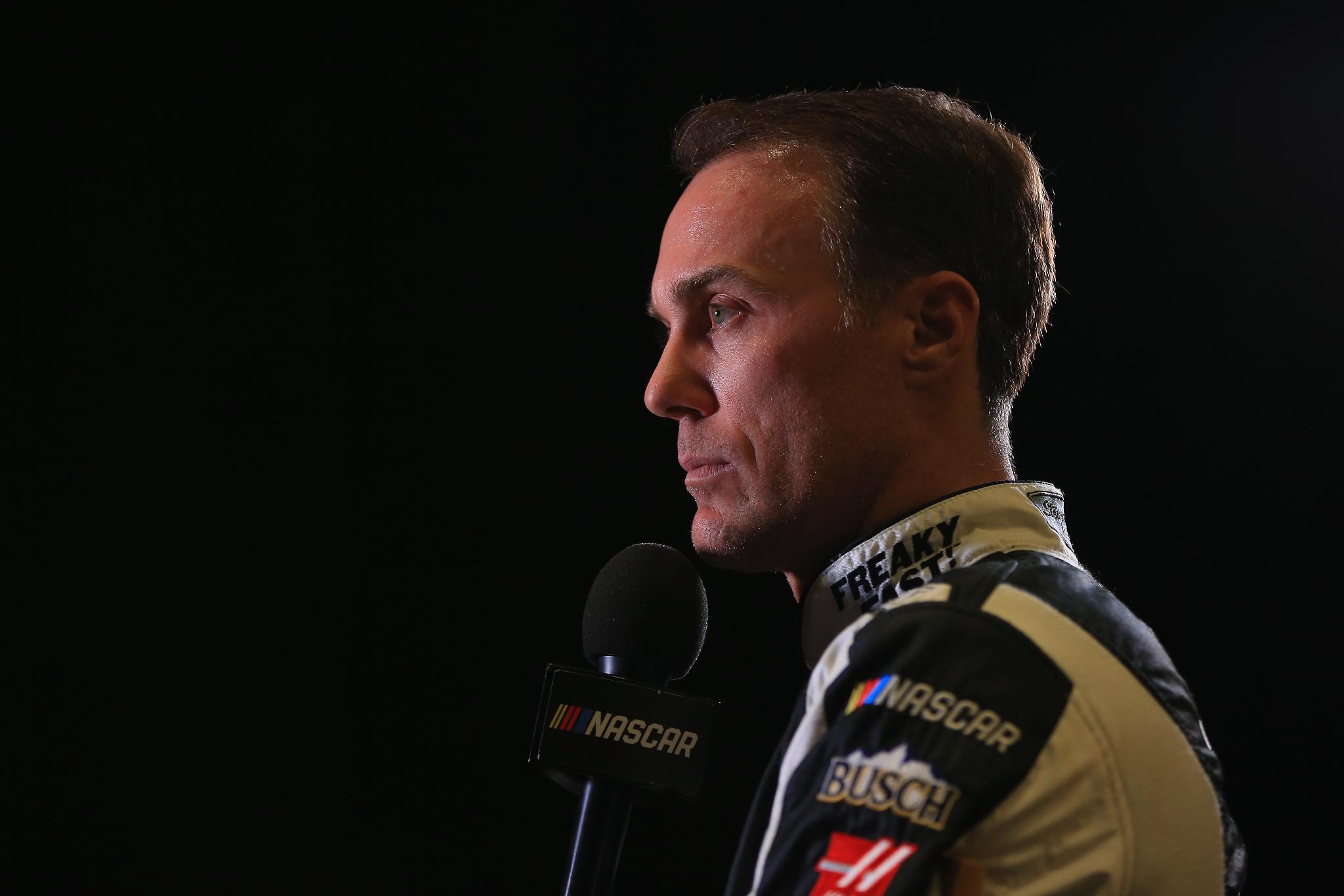 Kevin Harvick
Chris Trotman/Getty Images
"We were late bloomers to the party just from the fact we had a lot of work to do," Harvick said, referring to the manufacturer swap. "We had a lot of change. We had a lot of things we had to navigate and maneuver and get to the point of being competitive like we are right now. That isn't how we were in the middle of the year."
Harvick broke through for his first non-Chevrolet triumph at Sonoma Raceway but didn't win again until Texas two weeks ago. He was fourth in the driver standings and in possession of a points transfer spot until assuring his spot in the finale with the victory. The win bore additional value in how he was able to run down Truex who led a race-high 107 laps, has six wins this season on 1.5-mile tracks, and has been the most consistently excellent performer of the season.
"We had everything two weeks ago at Texas," Harvick said. "I don't have to say too much, just look back two weeks."
In 2014, Harvick exploited the new system in the penultimate race of the season at Phoenix Raceway to leap from eighth points position to a berth in the Championship Race with a victory. His win the next week sealed the title, beginning a streak in which every champion has won the last race of the season.
"I think having that experience from 2014 and 2015 was a big learning experience for us, definitely for me being the first-time racing for a championship," said crew chief Rodney Childers. "I think it has helped this year just being more prepared, knowing what you need to have done before you leave the shop, and just having all your ducks in a row before you get there."
Harvick finished second at Homestead in 2015 as his title fell short against Kyle Busch, and third last year although he wasn't title-eligible. His average finish of 6.9 in – with eight top fives – in 16 starts. Truex average there: 12.3; Brad Keselowski, 15.9; Kyle Busch, 19.8 with a win.
"I'm excited to be here," Harvick said.
In the place. In the situation.
[adinserter name="GOOGLE AD"]