Briscoe Scores First Truck Win As Bell Takes Title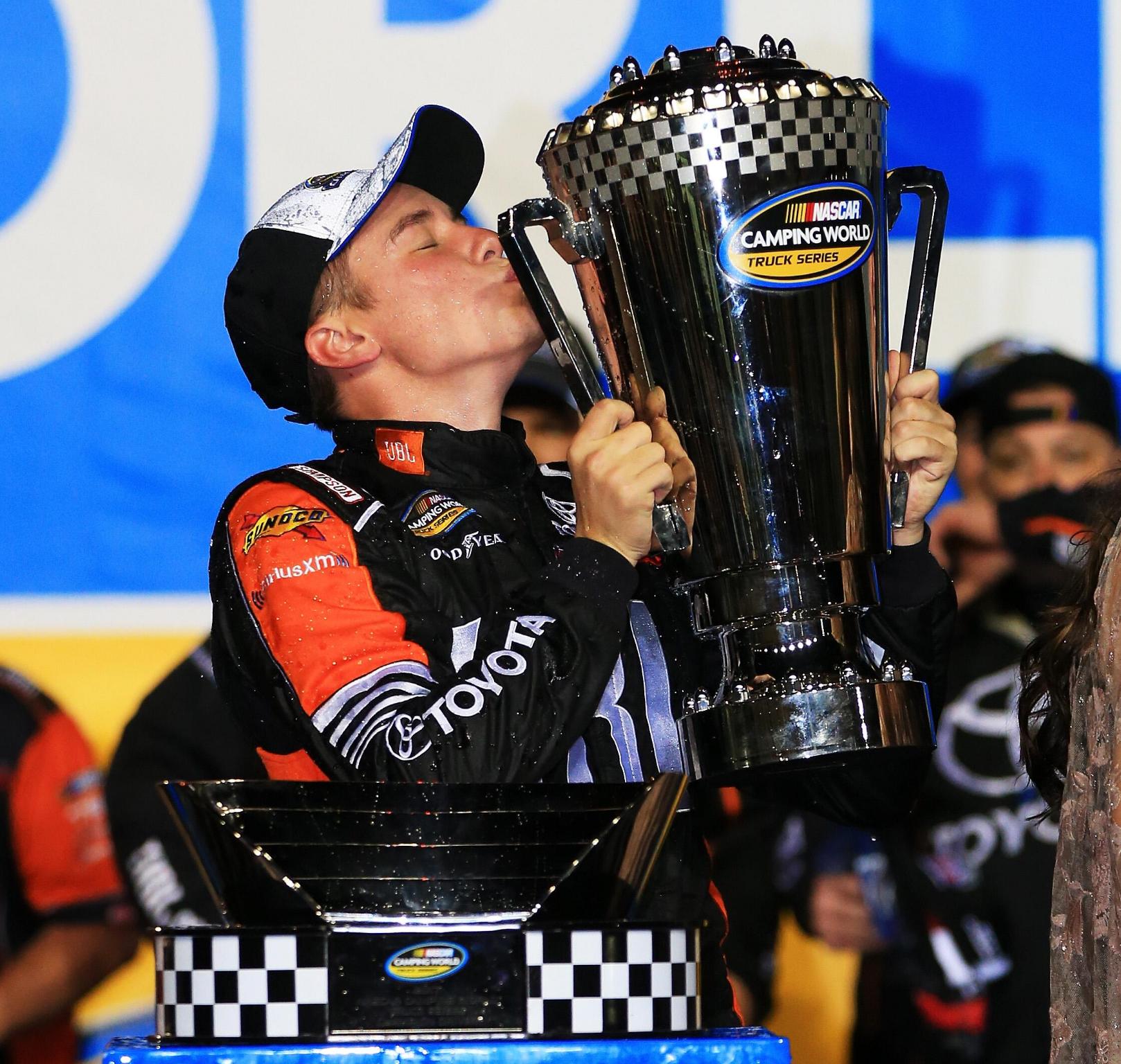 Christopher Bell wins the 2017 Truck Series title
Chris Trotman/Getty Images
Chase Briscoe closed out the 2017 NASCAR Camping World Truck Series season in the best way, as he scored his first career series win in what was the final race for his Brad Keselowski Racing team.
Meanwhile, Christopher Bell moved his way to second when Ben Rhodes ran out of fuel with five laps to go, scoring the series championship for his Kyle Busch Motorsports team.
Bell finished the best among the four Championship contenders to win his first series title, with his closest competition coming from defending champ Johnny Sauter, who came home 13 seconds behind in third.
"There are no words to describe what this means to me," said Bell. "To be able to be here and to finish out my career at Kyle Busch Motorsports with the championship is something that I'm going to cherish for the rest of my life and, man, to be able to do it with JBL on the truck – they've been with me since day one and the start of my career and were with me through last year and we had a struggle point there through the beginning and middle parts of last year and they stuck with me and believed in me and we were able to preserve and come away a champion a year later."
Bell topped off a successful season, with five wins and 21 top 10 finishes. He now moves on to the NASCAR Xfinity Series for the 2018 season with Joe Gibbs Racing.
It marked the second series title for team owner Kyle Busch, the first coming with Erik Jones in 2015.
In a race that ran wire-to-wire without a caution, other than the breaks after the first and second segments, Briscoe charged to the point on the drop of the green flag, and went on to win the first segment. Rhodes charged to the lead in the second segment, and drove to the win in that segment.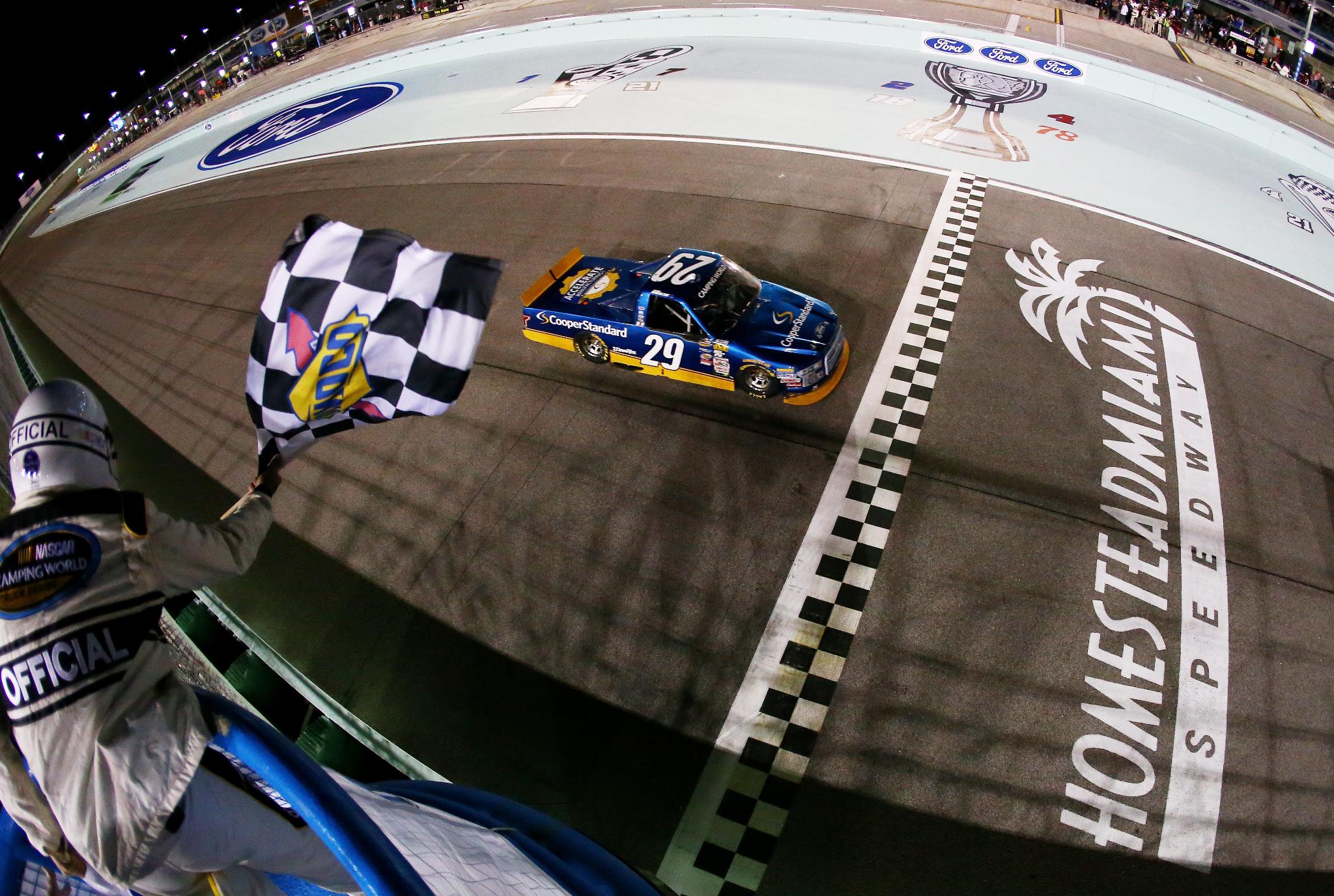 Chase Briscoe crosses the finish line to win the truck series finale at Homestead
Sarah Crabill/Getty Images
Briscoe took the lead for the final time on lap 87, but came under fire with less than 40 laps to go from Rhodes. Over the closing laps, Briscoe was able to move away en route to the victory.
Along with getting his first win, Briscoe locked up the series Rookie of the Year title.
"This is a long time coming," Briscoe said. "So proud of all these guys. To know that they're not going to have a job next year and we continued to bring really good trucks even though we were outside the playoffs, such a testament to how good these Brad Keselowski guys are. Thank you so much to Ford for believing in me. I know that this year, at least by my standards and what I felt like I could have done, for those guys to continue to believe in me makes me feel so blessed and thankful to be here. I know two years ago I was sleeping on couches and now to be a winner in NASCAR."
It was an especially sweet win considering that Brad Keselowski Racing announced earlier this year that they would cease operations at the end of the season.
Sauter finished third, leaving him second in the final points tally at the end of the night.
"This is hard," Sauter said. "This is tough. To come down to one race. They were just better than us tonight."
Ryan Truex finished in third, with Championship contender Austin Cindric finishing fifth, edging out fellow title contender and two-time series champ Matt Crafton, who finished sixth.
Stewart Friesen, Grant Enfinger, Justin Haley and Timothy Peters rounded out the top ten.
RACE RESULTS
| | | | | | | | | | |
| --- | --- | --- | --- | --- | --- | --- | --- | --- | --- |
| Pos. | # | Driver | Make | Start | Laps | Led | Status | Points | Playoff Points |
| 1 | 29 | Chase Briscoe | Ford | 1 | 134 | 81 | Running | 57 | 5 |
| 2 | 4 | Christopher Bell | Toyota | 13 | 134 | 10 | Running | 35 | 1 |
| 3 | 21 | Johnny Sauter | Chevy | 11 | 134 | 0 | Running | 34 | 0 |
| 4 | 16 | Ryan Truex | Toyota | 6 | 134 | 0 | Running | 46 | 0 |
| 5 | 19 | Austin Cindric | Ford | 3 | 134 | 0 | Running | 32 | 0 |
| 6 | 88 | Matt Crafton | Toyota | 8 | 134 | 0 | Running | 31 | 0 |
| 7 | 52 | Stewart Friesen | Chevy | 9 | 134 | 0 | Running | 30 | 0 |
| 8 | 98 | Grant Enfinger | Toyota | 4 | 134 | 0 | Running | 37 | 0 |
| 9 | 24 | Justin Haley | Chevy | 7 | 134 | 0 | Running | 31 | 0 |
| 10 | 02 | Timothy Peters | Chevy | 17 | 134 | 0 | Running | 32 | 0 |
| 11 | 92 | Regan Smith | Ford | 15 | 134 | 0 | Running | 26 | 0 |
| 12 | 51 | Myatt Snider | Toyota | 12 | 134 | 0 | Running | 25 | 0 |
| 13 | 33 | Kaz Grala | Chevy | 10 | 133 | 0 | Running | 24 | 0 |
| 14 | 13 | Cody Coughlin | Toyota | 16 | 133 | 0 | Running | 23 | 0 |
| 15 | 8 | John Hunter Nemechek | Chevy | 14 | 133 | 0 | Running | 22 | 0 |
| 16 | 45 | T.J. Bell | Chevy | 20 | 132 | 0 | Running | 21 | 0 |
| 17 | 44 | Austin Wayne Self | Chevy | 18 | 131 | 0 | Running | 20 | 0 |
| 18 | 18 | Noah Gragson | Toyota | 5 | 131 | 0 | Running | 21 | 0 |
| 19 | 27 | Ben Rhodes | Toyota | 2 | 130 | 43 | Running | 35 | 1 |
| 20 | 99 | Dalton Sargeant | Chevy | 19 | 129 | 0 | Running | 17 | 0 |
| 21 | 1 | Jordan Anderson | Chevy | 22 | 128 | 0 | Running | 16 | 0 |
| 22 | 50 | Josh Reaume | Chevy | 26 | 126 | 0 | Running | 15 | 0 |
| 23 | 15 | Wendell Chavous | Chevy | 24 | 125 | 0 | Running | 14 | 0 |
| 24 | 49 | Robby Lyons | Chevy | 23 | 125 | 0 | Running | 0 | 0 |
| 25 | 6 | Norm Benning | Chevy | 27 | 119 | 0 | Running | 12 | 0 |
| 26 | 63 | Chris Windom | Chevy | 21 | 71 | 0 | Electrical | 11 | 0 |
| 27 | 36 | Camden Murphy | Chevy | 25 | 9 | 0 | Suspension | 10 | 0 |
| 28 | 83 | Bayley Currey | Chevy | 30 | 8 | 0 | Engine | 9 | 0 |
| 29 | 87 | Joe Nemechek | Chevy | 28 | 7 | 0 | Electrical | 8 | 0 |
| 30 | 57 | Mike Senica | Chevy | 29 | 4 | 0 | Parked | 7 | 0 |
| 31 | 0 | Jennifer Jo Cobb | Chevy | 32 | 0 | 0 | Electrical | 6 | 0 |
| 32 | 10 | Ray Ciccarelli | Chevy | 31 | 0 | 0 | Engine | 5 | 0 |
[adinserter name="GOOGLE AD"]