Ryan Blaney Wins Pole at Phoenix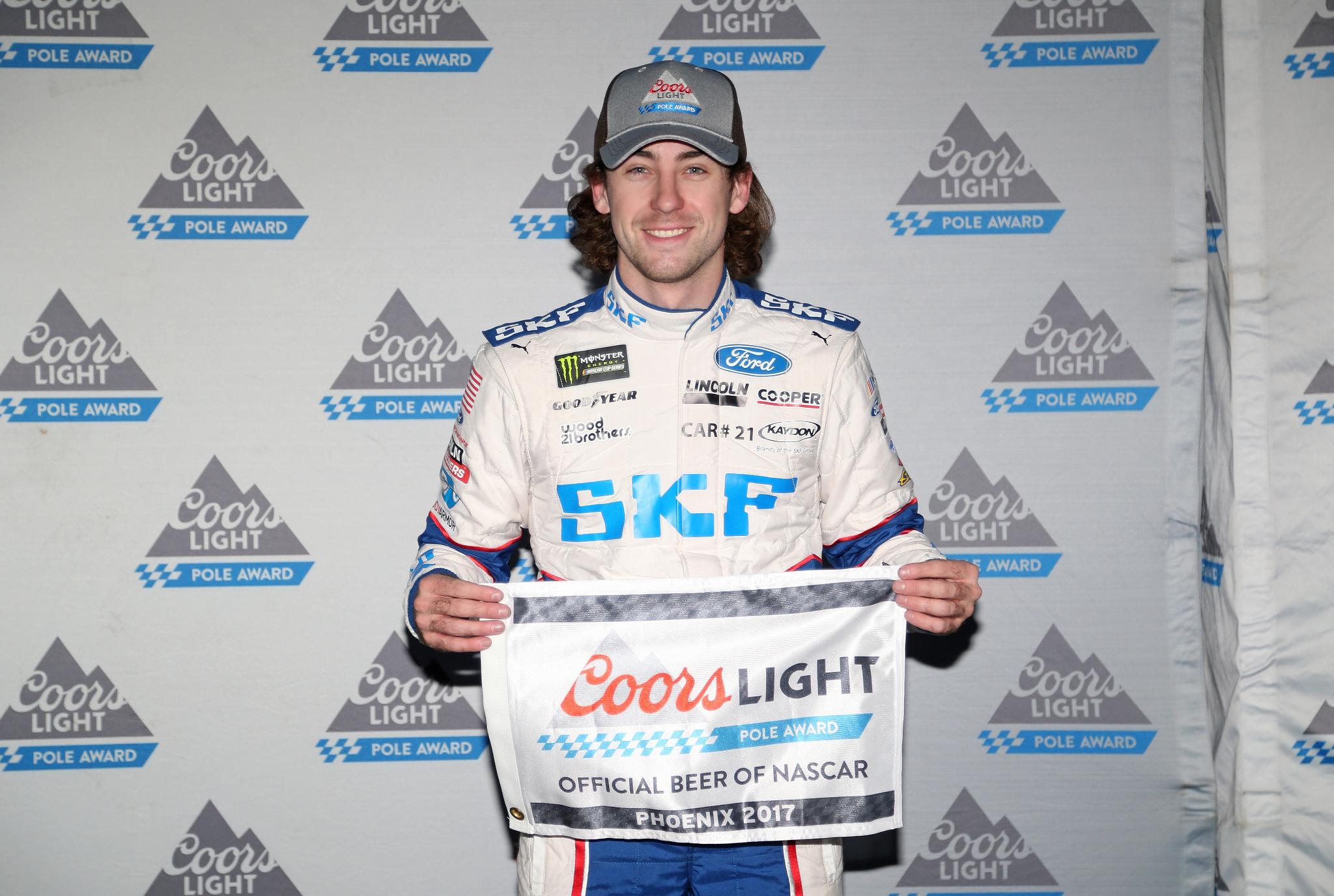 Ryan Blaney wins his second-career pole
Matt Sullivan/Getty Images
Ryan Blaney got what he needed in Friday's Monster Energy NASCAR Cup Series knockout qualifying session-but only by a thousandth of a second.
In the final round, Blaney covered the one-mile distance at Phoenix Raceway in 26.098 seconds (137.942 mph) to edge Denny Hamlin (137.936 mph) by 0.001 for the top starting spot in Sunday's Can-Am 500, the final race in the Playoff's Round of 8 (on NBC at 2:30 p.m. ET).
With the Playoff field set to be trimmed from eight drivers to four after the race at Phoenix, both Blaney and Hamlin are below the cut line. A victory for either driver would guarantee the final spot in the Nov. 19 Championship 4 race at Homestead-Miami Speedway.
The same is true for Chase Elliott, whose only realistic shot at the final four is to win on Sunday. Elliott qualified fourth at 137.641 mph, one position behind Kyle Larson (137.926 mph), who fell 0.003 seconds short of matching the pole-winning speed.
"We got better each round, which is all you can ask for, really," said Blaney, who won his second Coors Light Pole Award of the season, the second of his career and his first at Phoenix. "I thought the last round was our best. We ran our fastest time, and it was enough. That says something strong about this team.
"I think we started second here in the spring, and to back that up and better it at a big weekend like this, where we have to perform well, that's definitely encouraging, and it gets our weekend started off on a good foot. Hopefully, we can keep this momentum up and keep it going and see what we have for them on Sunday."
Brad Keselowski, fourth in the standings and 19 points ahead of Hamlin in fifth, was the only Playoff driver who failed to advance to the third round of time trials. Keselowski qualified 16th in his No. 2 Team Penske Ford, putting him in a disadvantaged position for accumulating points in the race's first two stages.
"It's a short race, and if there's a track to qualify well, this is one of them," Keselowski said. "It's not where we want to start, but when the track gets hot and slick, we seem to run better here than when it cools off at night.
"I don't know, maybe that's my style. I'm not sure, but we'll go race and see what we've got."
[adinserter name="GOOGLE AD"] Keselowski's lackluster qualifying effort, won't change Hamlin's approach to the race.
"It doesn't alter it much," said Hamlin, who cut the backstretch dogleg in the final round in an attempt to shorten the distance. "I didn't think they were going to qualify that great, but they typically race pretty well here.
"I'm not going to count on anything – not until we get to the end of the first stage and I see where we're at. I'm confident that starting right there, we should probably be up front all day."
Blaney in the #21 Ford
Elliott trails Keselowski by 49 points entering the final event in the Round of 8. Unlike Blaney and Hamlin, who could make the Championship 4 on points if Keselowski fades, Elliott is in a win-or-bust situation.
Getting the fourth pick of pit stalls should help.
"If we get our car driving good (in Saturday's practice), it's plenty good enough," Elliott said of his qualifying run. "So we'll see. It would have been nice to have that first pit box, but I think taking fourth, there are four good ones on pit road. We'll take advantage of that and try to go get 'em on Sunday."
Twelfth-place qualifier Jimmie Johnson is in the same position as Elliott, his Hendrick Motorsports teammate. If the seven-time champion hopes to preserve a shot at an eighth title this year, he'll have to win on Sunday.
"We made it to the third round, and I just got really aggressive in that round trying to run a flat (26 seconds)," Johnson said. "Just got in the corner too hard on both ends and I kind of pushed up.
"So, could have been better, but I don't know if we could have had the pole. I think we would have only been about fifth or sixth if I had got it right."
Blaney still looks at Sunday's race as a must-win situation.
"Our mindset coming into this weekend was really trying to win the race and sitting on the pole my mindset doesn't change," Blaney said. "I still want to go try to win the race, so that's the mindset we've had all week and hopefully we can keep that and I think that's our goal."
Asked what it will take to lead the race, Blaney responded, "Honestly, I don't really know. I've never really had the best races here. We've had moments of greatness here and then most of the moments we haven't been fantastic here."
The challenge, he said, is switching from qualifying trim in cool temperatures to race trim in higher temperatures.
"It's completely different," he explained. "One is q-trim and two it was really cool outside when we qualified here tonight and it will be really hot on Sunday. Just trying to make your car be able to last long. We usually see long green flag runs here and try to keep everything cool – brakes and tires and things like that.
"I thought we were okay today in race trim (during practice), he continued. "I didn't think we were great, but we'll have all of tomorrow to try to get that a little bit better. But just trying to keep the car under you on long runs, that's what we always see here and I felt like that's kind of been a struggle for us and hopefully we can change that come Sunday."
A key benefit of winning the pole is having the first pit box selection.
"I think it's really important no matter where you go," Blaney said. "Here, it's kind of nice to have this number one pit stall because you've got the curved ending to the pit road. That's kind of nice to have so you don't have to watch cars coming out of their stall if you're pitted way back here, and maybe here you can kind of see which cars do two tires and no tires if they're really far down pit road. Our spotter can relay that to my crew chief before we even get to our stall and they can make an audible call or whatever. It's important anywhere. I don't really think this place is more important than anywhere else to have the first pit stall."
In addition to being Blaney's second career pole, today's effort gives Wood Brothers Racing its 118th pole. Should he win Sunday's race, it will be the Wood Brothers' 100th in addition to putting Blaney in the Championship Four at Homestead.
QUALIFYING RESULTS
| | | | | | | | |
| --- | --- | --- | --- | --- | --- | --- | --- |
| Pos. | # | Driver | Make | Sponsor | Lap | Behind | Speed |
| 1 | 21 | Ryan Blaney | Ford | SKF / Quick Lane Tire & Auto Center | 26.098 | LEADER | 137.942 |
| 2 | 11 | Denny Hamlin | Toyota | FedEx Ground | 26.099 | -0.001 | 137.936 |
| 3 | 42 | Kyle Larson | Chevy | Refresh Your Car! | 26.101 | -0.003 | 137.926 |
| 4 | 24 | Chase Elliott | Chevy | Hooters | 26.155 | -0.057 | 137.641 |
| 5 | 78 | Martin Truex Jr. | Toyota | Auto-Owners Insurance | 26.166 | -0.068 | 137.583 |
| 6 | 4 | Kevin Harvick | Ford | Busch Light | 26.230 | -0.132 | 137.247 |
| 7 | 20 | Matt Kenseth | Toyota | Circle K | 26.241 | -0.143 | 137.190 |
| 8 | 18 | Kyle Busch | Toyota | M&M's Caramel | 26.263 | -0.165 | 137.075 |
| 9 | 22 | Joey Logano | Ford | Shell Pennzoil | 26.333 | -0.235 | 136.711 |
| 10 | 19 | Daniel Suarez | Toyota | Stanley | 26.380 | -0.282 | 136.467 |
| 11 | 77 | Erik Jones | Toyota | 5-hour ENERGY Extra Strength | 26.398 | -0.300 | 136.374 |
| 12 | 48 | Jimmie Johnson | Chevy | Lowe's | 26.427 | -0.329 | 136.224 |
| 13 | 1 | Jamie McMurray | Chevy | CESSNA | 26.308 | -0.210 | 136.841 |
| 14 | 88 | Dale Earnhardt Jr. | Chevy | Nationwide | 26.408 | -0.310 | 136.322 |
| 15 | 41 | Kurt Busch | Ford | Monster Energy / Haas Automation | 26.411 | -0.313 | 136.307 |
| 16 | 2 | Brad Keselowski | Ford | Miller Lite | 26.412 | -0.314 | 136.302 |
| 17 | 5 | Kasey Kahne | Chevy | Farmers Insurance | 26.416 | -0.318 | 136.281 |
| 18 | 31 | Ryan Newman | Chevy | Caterpillar | 26.462 | -0.364 | 136.044 |
| 19 | 27 | Paul Menard | Chevy | Duracell / Menards | 26.497 | -0.399 | 135.864 |
| 20 | 14 | Clint Bowyer | Ford | USA Network Damnation | 26.535 | -0.437 | 135.670 |
| 21 | 3 | Austin Dillon | Chevy | Realtree | 26.551 | -0.453 | 135.588 |
| 22 | 43 | Aric Almirola | Ford | United States Air Force | 26.606 | -0.508 | 135.308 |
| 23 | 47 | AJ Allmendinger | Chevy | Fry's ClickList | 26.622 | -0.524 | 135.227 |
| 24 | 10 | Danica Patrick | Ford | CODE 3 ASSOCIATES | 26.694 | -0.596 | 134.862 |
| 25 | 6 | Trevor Bayne | Ford | Ford EcoBoost | 26.542 | -0.444 | 135.634 |
| 26 | 38 | David Ragan | Ford | 1000Bulbs.Com | 26.597 | -0.499 | 135.354 |
| 27 | 17 | Ricky Stenhouse Jr. | Ford | Robert Yates Tribute | 26.604 | -0.506 | 135.318 |
| 28 | 95 | Michael McDowell | Chevy | Rohto Jolt Eyedrops | 26.609 | -0.511 | 135.293 |
| 29 | 13 | Ty Dillon | Chevy | GEICO Military | 26.664 | -0.566 | 135.014 |
| 30 | 32 | Matt DiBenedetto | Ford | Can-am / Kappa | 26.697 | -0.599 | 134.847 |
| 31 | 37 | Chris Buescher | Chevy | Clorox | 26.727 | -0.629 | 134.695 |
| 32 | 34 | Landon Cassill | Ford | Love's Travel Stops | 26.762 | -0.664 | 134.519 |
| 33 | 23 | Corey Lajoie | Toyota | Fresh Beards / Earthwater | 26.956 | -0.858 | 133.551 |
| 34 | 72 | Cole Whitt | Chevy | TriStar Motorsports | 26.957 | -0.859 | 133.546 |
| 35 | 7 | Joey Gase | Chevy | Eternal Fan | 26.970 | -0.872 | 133.482 |
| 36 | 66 | David Starr | Chevy | Eureka | 27.158 | -1.060 | 132.558 |
| 37 | 15 | D.J. Kennington | Toyota | Northern Provincial Pipelines | 27.221 | -1.123 | 132.251 |
| 38 | 33 | Jeffrey Earnhardt | Chevy | Hulu | 27.352 | -1.254 | 131.617 |
| 39 | 51 | Kyle Weatherman | Chevy | Rick Ware Racing | 28.337 | -2.239 | 127.042 |
| 40 | 00 | Derrike Cope | Chevy | StarCom Fiber, LLC | 0.000 | 26.098 | 0.000 |