Aric Almirola Joins Stewart-Haas Racing For 2018 Season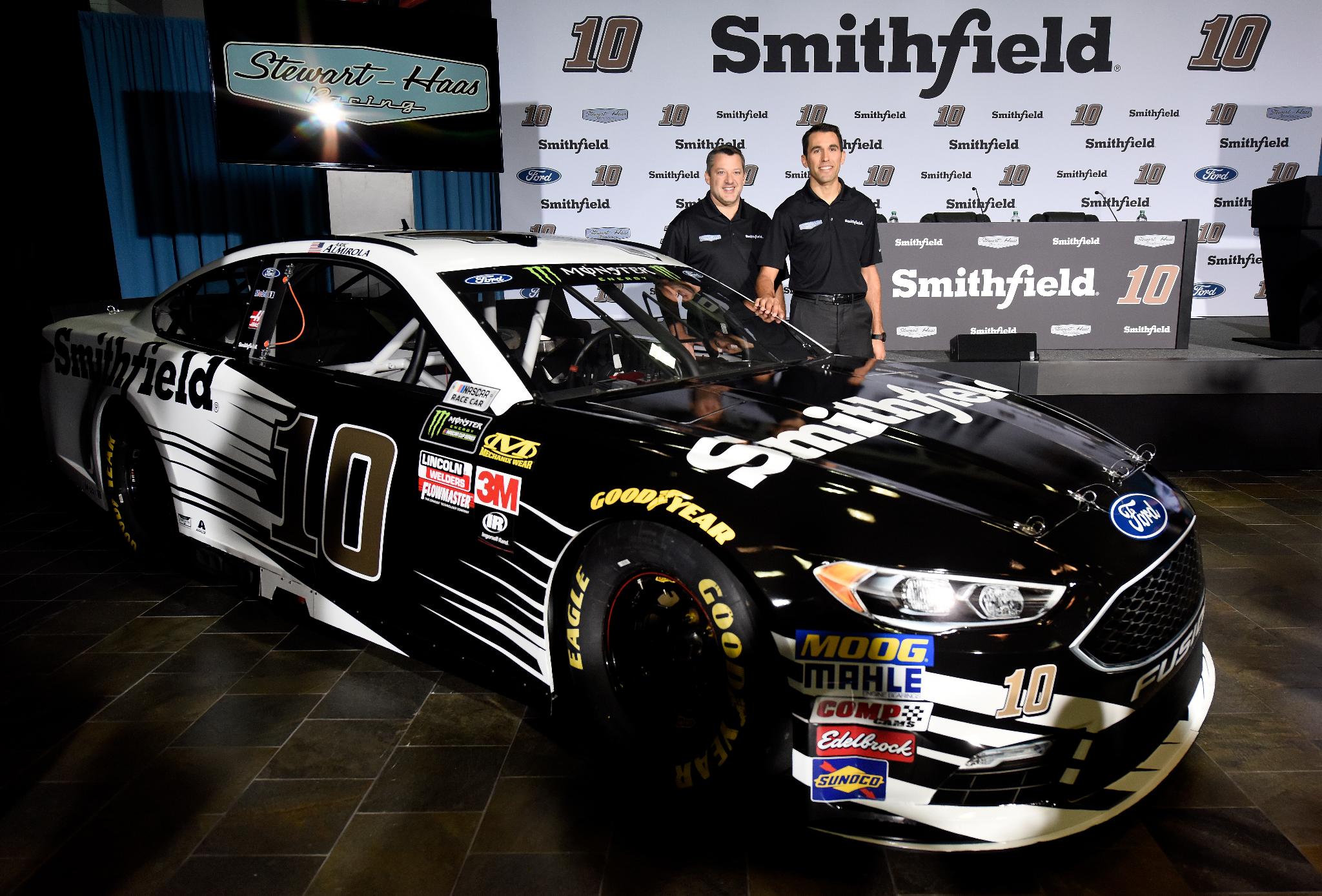 Tony Stewart (L) welcomes Aric Almirola to Stewart-Haas Racing
Jared C. Tilton/

Getty Images
Tony Stewart said it best today when he kicked off Wednesday's early morning press conference to announce the new driver of the no. 10 Smithfield Ford for the 2018 season: "Obviously, there are no secrets in our sport. There were spies everywhere."
Perhaps the worst-kept secret in NASCAR in the last few weeks was finally made official on Wednesday as Aric Almirola was named as Stewart-Haas Racing's latest addition to their Monster Energy NASCAR Cup Series driver lineup for next season – joining Clint Bowyer and former Cup Series Champion Kevin Harvick.
Almirola, a ten-year Cup Series veteran, will replace Danica Patrick behind the wheel, with Smithfield Foods coming on board as primary sponsor for the full season in 2018.
"First of all – surprise!" said Almirola, getting in on the joke as well. "This is so cool. Christmas came early for me. This is an unbelievable day for me to have this opportunity. I've worked my whole life, my whole career for an opportunity like this – to come and be a part of a championship organization.
"(SHR) has obviously proven that they can win races week in and week out and contend for championships and I couldn't be more excited. The news is out and I feel such a weight lifted off my shoulders and I'm ready to get to Daytona."
Almirola had spent the last six seasons driving the iconic no. 43 for Richard Petty Motorsports with backing from Smithfield Foods, but also sat out eight races this past summer recovering from back injuries suffered in a crash at Kansas on May 13.
Shortly after returning to the no. 43 car in July, Richard Petty told Almirola the team was looking to make a change, and ultimately replaced him for the 2018 season with Darrell "Bubba" Wallace, Jr., who served as a substitute driver in the no. 43 while Almirola recovered.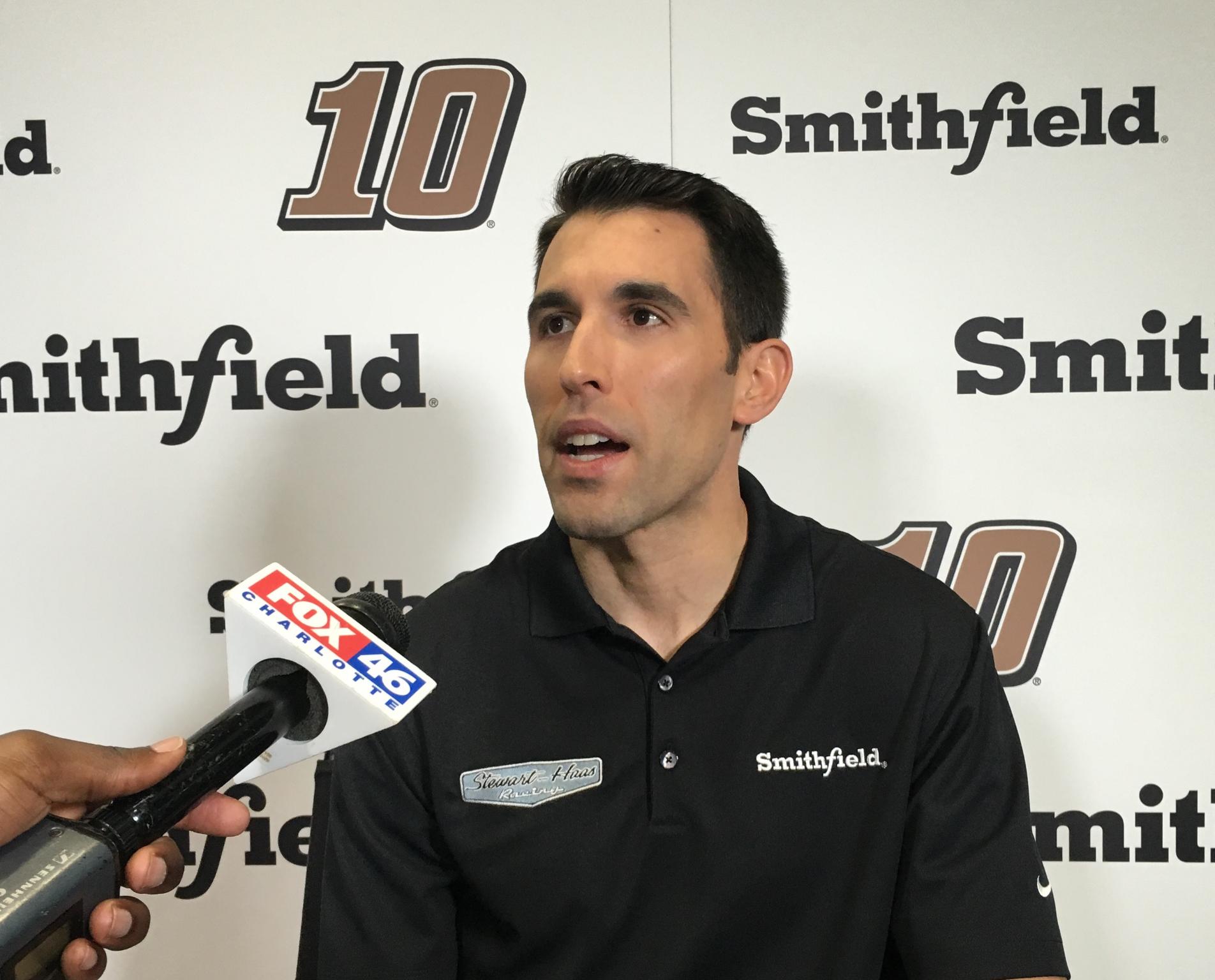 Aric Almirola
Pete McCole/AR1
"Back on the summertime, the King (Richard Petty) came to me and told me they were going to go in a different direction, but I had faith – I worked really hard to make sure I had an opportunity. The timing was right and things just came together," said Almirola.
"I want to win races. Look in that shop right there and look at all those banners hanging up. They have obviously proven that they can win races, they can win championships and I need to be in that mix. I've had success at every other level that I've ever been in. I am beyond excited and I think that we can go out and contend for wins and make the Playoffs."
Wednesday announcement was a culmination of nearly three months of back and forth between Smithfield Foods and the Petty organization, after Smithfield announced in September they were severing ties with the team, prompting a backlash from Richard Petty, who accused Smithfield Foods of reneging on a "handshake" agreement to extend their sponsorship of RPM.
[adinserter name="GOOGLE AD"] Smithfield resolved their dispute with RPM last week and announced they would continue as a marketing partner, but not as an on-track sponsor.
John Pauley, the Executive Vice-President of sales and marketing for Smithfield, would not go into details about their continued relationship with RPM, nor would Stewart discuss the specifics of SHR's deal with Smithfield.
"There are too many rats out there with the other teams that try to go after your sponsors when they know you're in a contract year," Stewart said, "so those are terms we like to keep in-house and not really disclose."
From outward appearances, the pairing of Smithfield and Almirola again at SHR might seem like it was planned all along, but Almirola reiterated it was all just good timing.
"They needed a driver and I was available," said Almirola.
"Honestly, Smithfield made their decision regardless of what I was going to do. I had been talking to Tony (Stewart) for many years about having an opportunity here (at SHR). Things just worked out and came together. It's crazy how things happen sometime – the timing couldn't have been more perfect."
The move also re-unites Almirola with Stewart, who were briefly teammates at Joe Gibbs Racing when Almirola was a development driver with the team back in 2006 & 2007.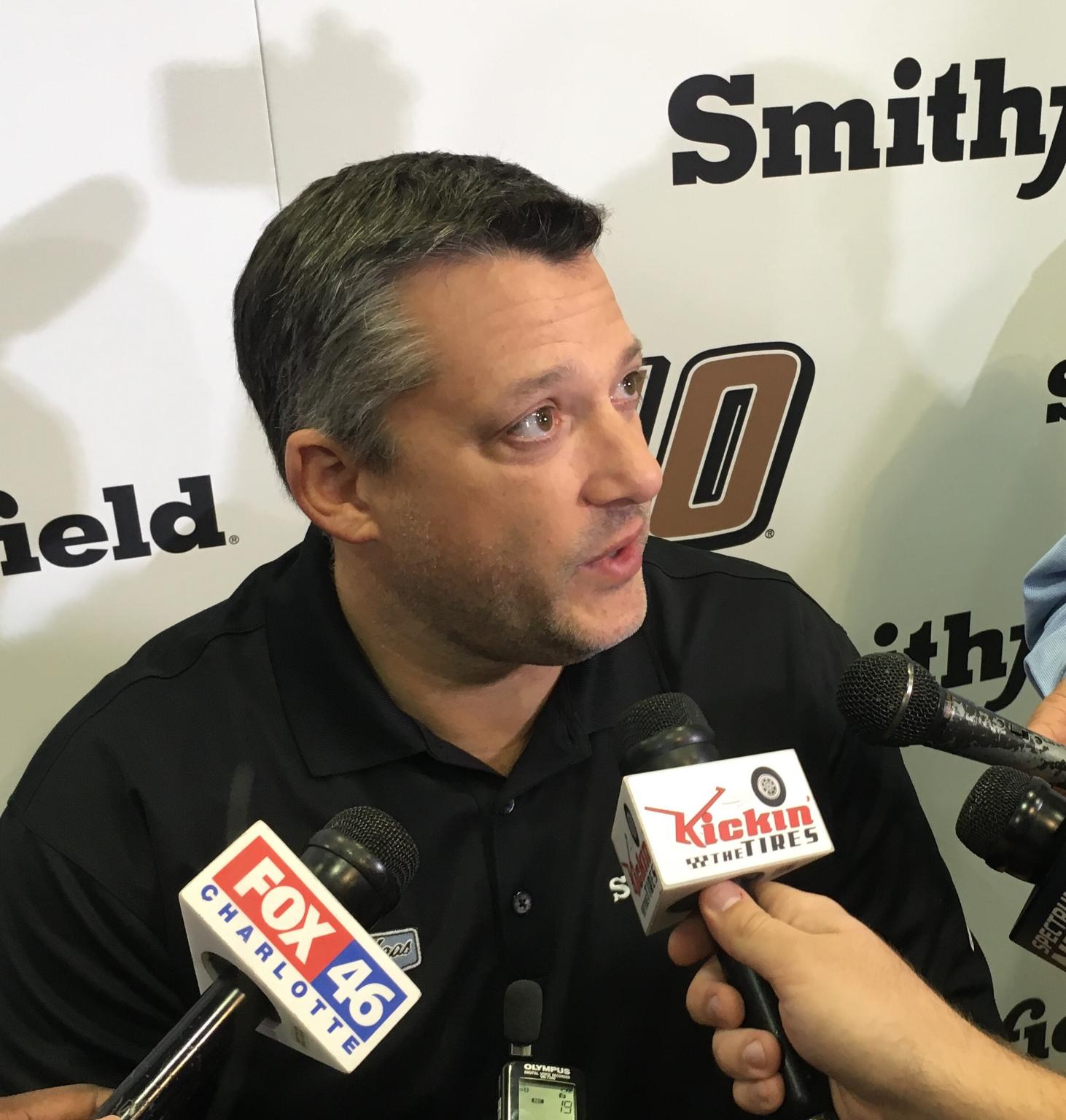 Tony Stewart
Pete McCole/AR1
"I've known Aric for a long time. We were teammates at Joe Gibbs Racing for a brief period and we're really good friends, too," said Stewart. "We go to dirt races together and hang out and I think this is an opportunity we've both been looking forward to for a very long time.
"I've raced with him and seen him mature into a really good racecar driver. He can compete for wins here at Stewart-Haas Racing and help our other drivers compete for wins. He's an excellent fit for this team."
Almirola, who has competed and won in all three of NASCAR's major touring series, saw the move to SHR as a natural progression in his career – moving from the truck series, to the NASCAR Xfinity Series, to the Cup Series, and now to SHR.
"When I was a kid I dreamed about just being a professional race car driver. And I actually got my first paycheck to drive a race car and I felt like I was at the top," said Almirola. "Well, I've made it all the way to the top level of my sport and this is that final step, to be at the top team at the top level of the sport and I couldn't be more excited."
[adinserter name="GOOGLE AD"]