Drivers Tackle Charlotte's New "Roval" Course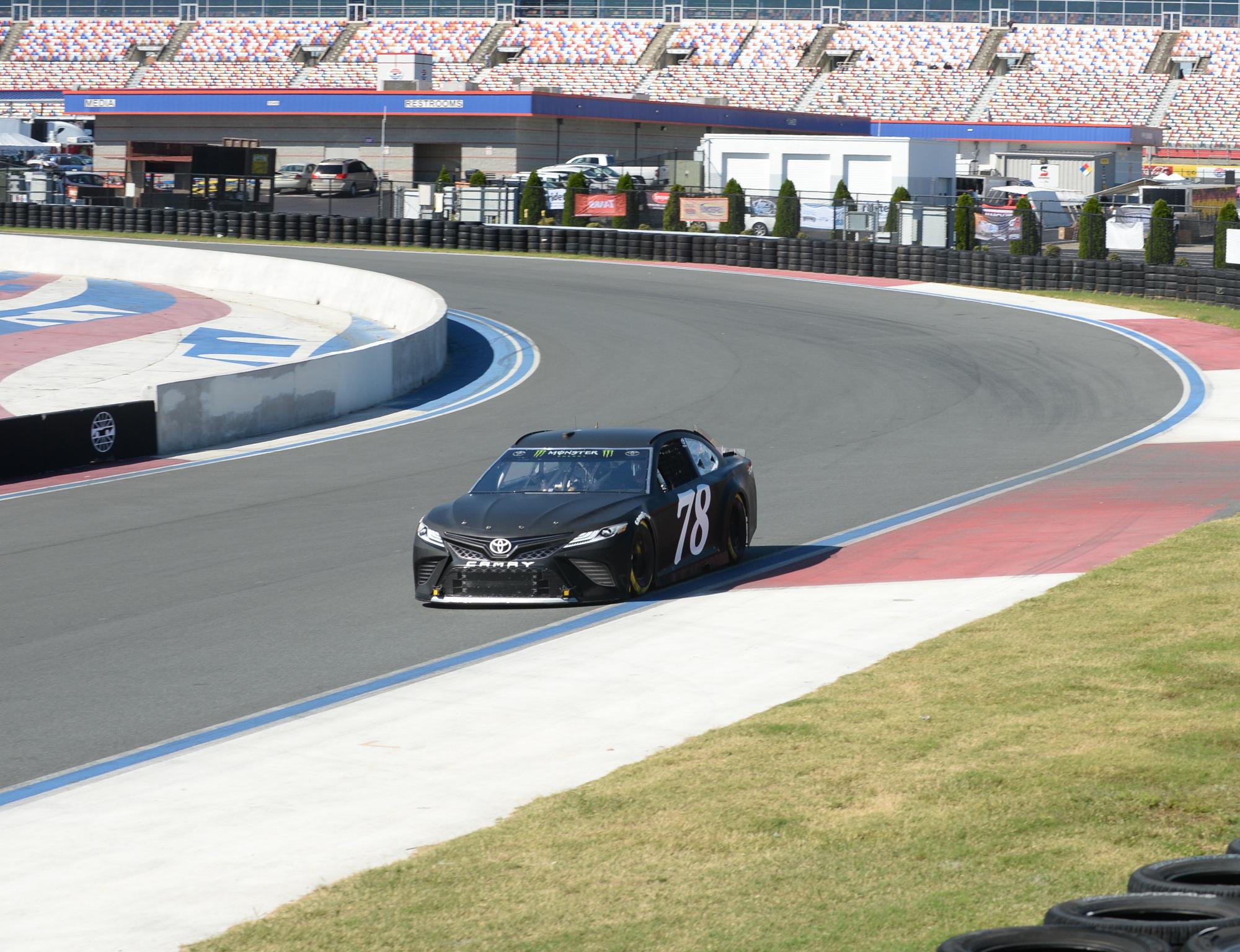 Martin Truex, Jr. tackles the new Roval
Pete McCole/AR1
Charlotte Motor Speedway's new road-course/oval race course got its first trial by fire this week as NASCAR and Goodyear conducted a tire test on the new configuration in preparation for the course's debut in next September's Bank of America 500.
All three manufacturers were represented during the two-day testing session, with Monster Energy NASCAR Cup Series drivers Martin Truex, Jr. (Toyota), Kurt Busch (Ford) and Jamie McMurray (Chevrolet) were on hand along with Xfinity Series driver Daniel Hemric who was testing a Cup Series Chevrolet for Richard Childress Racing.
The new road-course configuration – dubbed a "ROVAL" – utilizes nearly all of the 1.5-mile oval as well as an infield road course inside the track between turns one and two to create an 18-turn, 2.42-mile course.
Both the Cup Series and Xfinity Series cars will utilize the new road course in next September's event – which will serve as the cutoff race in the first round of the Cup Series playoffs.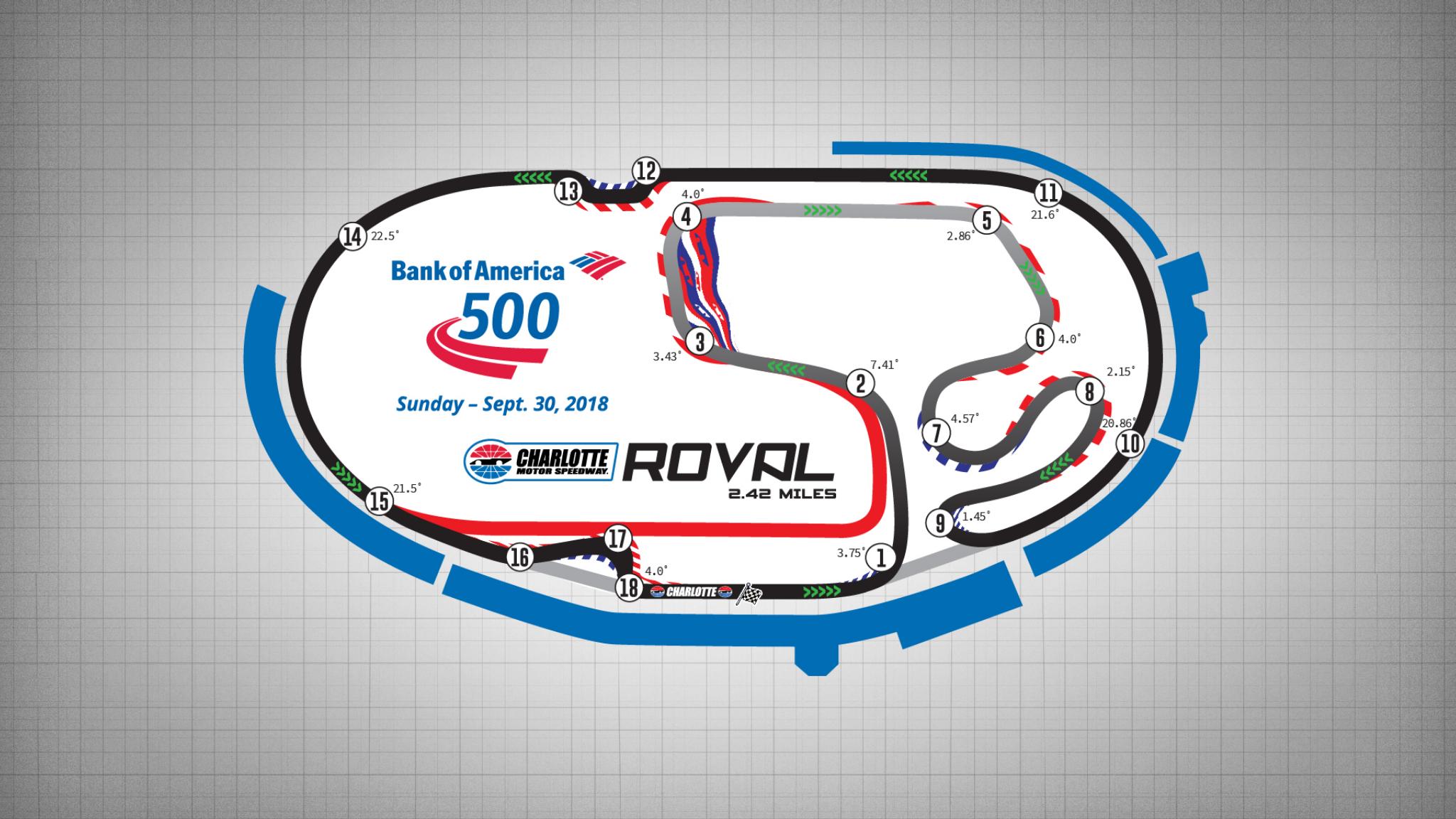 Charlotte Motor Speedway's new Roval configuration
The two-day testing session was largely conducted to get baseline data for Goodyear on the tire wear and overall loads being put on the tires due to the unique layout the features both left and right-hand turns as well as high-banked, high-speed turns.
Driving the "roval" requires drivers to cut a hard left just before turn one to enter the nine-turn road course before re-entering the oval in turn one. Cars will then continue through turn one and two before reaching a newly-installed chicane before entering turn three. Cars will come back onto the oval before entering another chicane coming off turn four as they enter the frontstretch.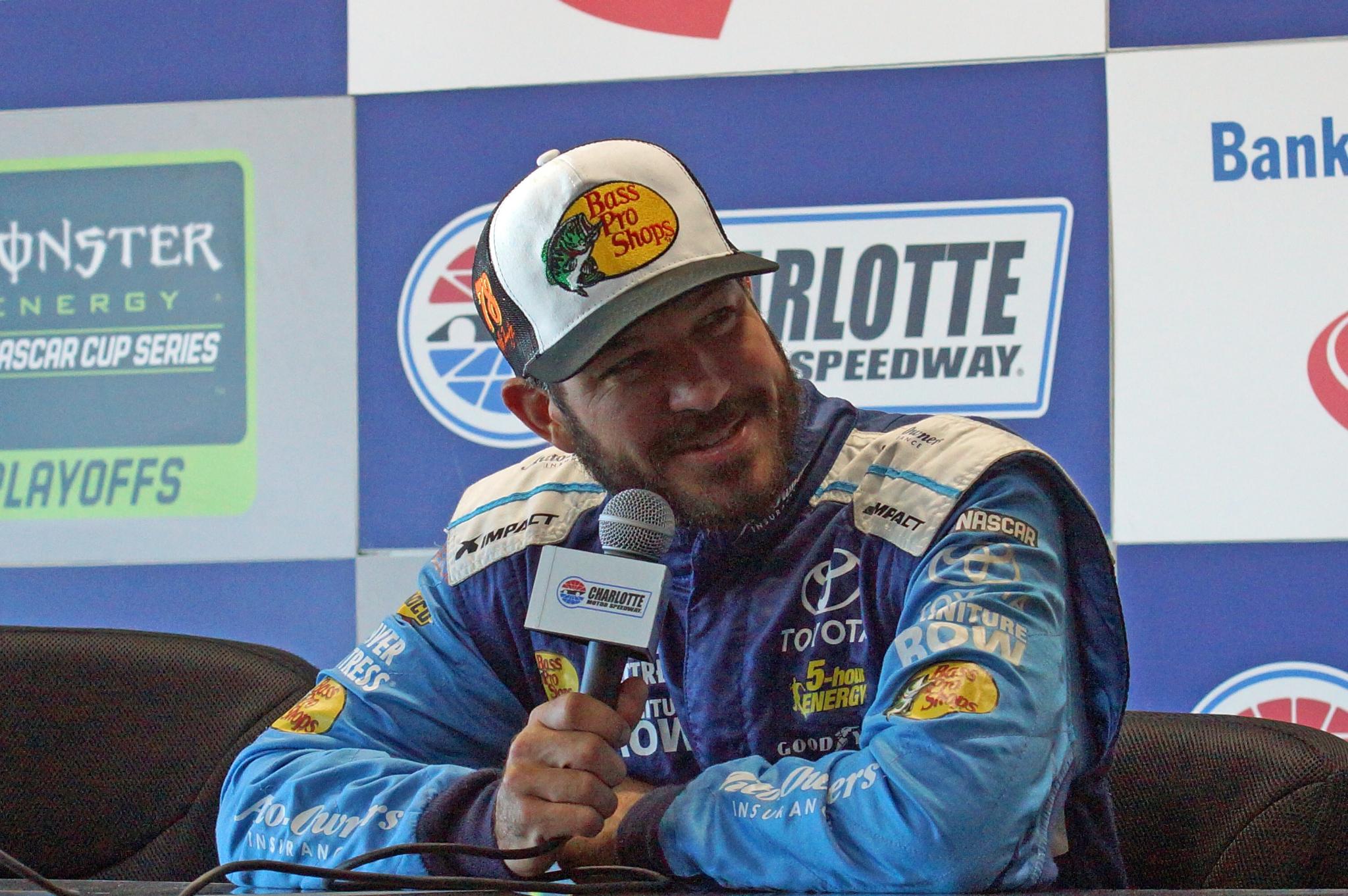 Martin Truex, Jr.
Jon Davison/RIS
"It's interesting. It's been growing on me a bit since we started yesterday," said Truex. "It's been a unique challenge here with the infield all being flat and the race track having the banking that it has. There's all kind of craziness going on.
"There are really a lot of spots that kind of made me nervous most of the day yesterday – definitely need look at some wall and tire-barrier options. Aside from that, just a unique track – I don't think I've ran on a road course that is anything like it. Obviously there's a lot of work to be done (on the track) before we race on this course next year."
Kurt Busch, who has three-career road-course victories at Watkins Glen and Sonoma, compared the new configuration favorably to the road-course/oval at Daytona Speedway, although Charlotte's smaller 1.5-mile configuration will present a unique challenge for the drivers.
"In the car, there is no room for taking a break or having a quick deep breath down the straightaway (like at Daytona)," said Busch. "As soon as you're in high gear off turn two, you're in a chicane, so it's a very busy track."
Racing the new configuration, says Busch "is going to be more about survival and being smart. That's what I see developing with this type of layout."
Among the other challenges Busch pointed out were some of the slow-speed corners through the infield section – one change in particular Busch suggested eliminating the hair-pin turn nine leading from the road course back onto the oval.
"It would create more of a speed feel as well as eliminate one of the super-slow corners," said Busch. "I mean, an 800-horsepower car going 35 miles-an-hour? Isn't all that exciting. So we need to maybe speed up the track a little bit."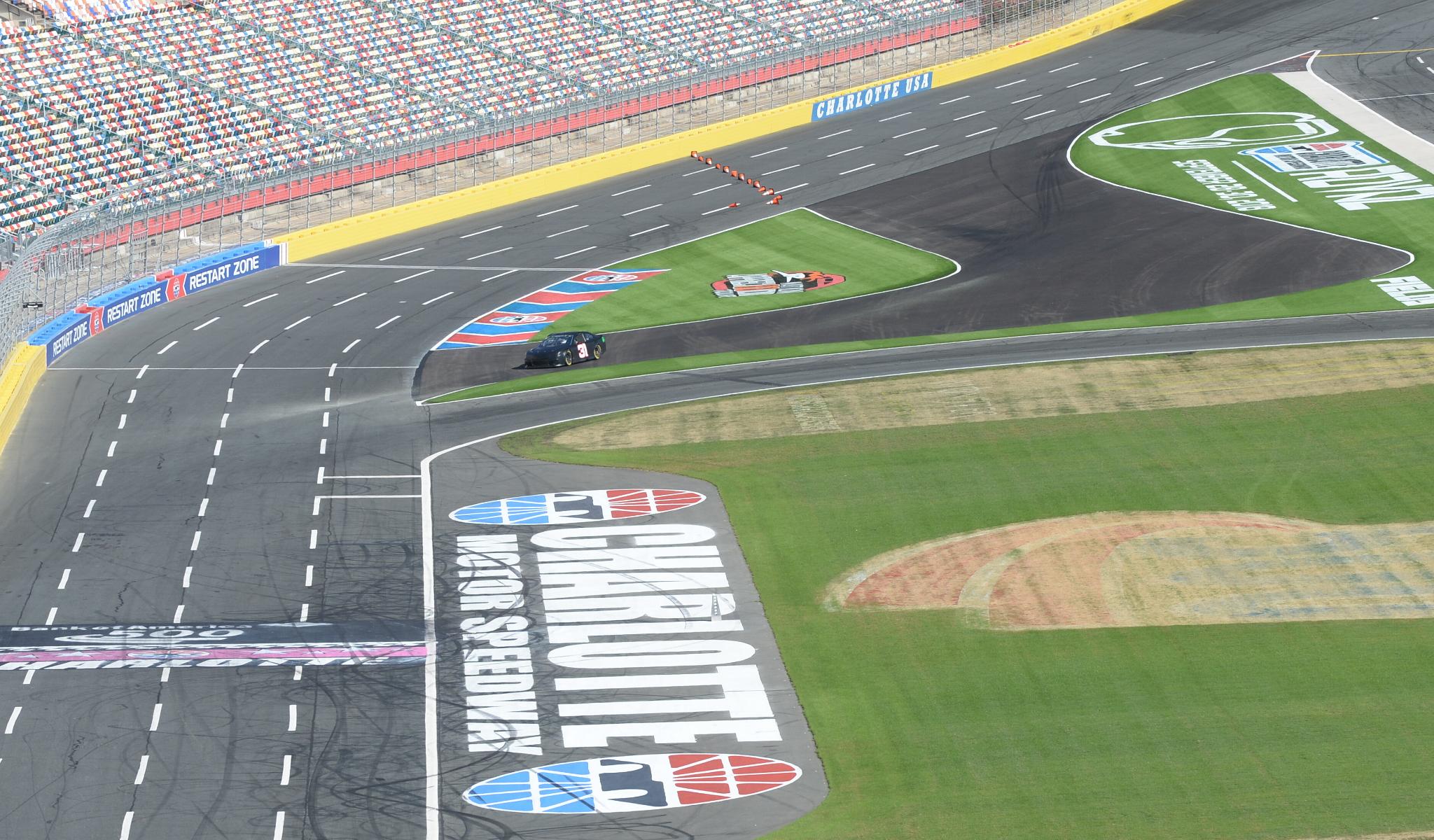 Daniel Hemric races through one of the newly-added chicanes
Pete McCole/AR1
One of the main focuses of the test was to evaluate the speeds the tires are subjected to with the additions of the new chicanes, which were added in hopes of reducing the speeds enough in turns three and four to allow the possibility of rain tires during the race.
The fall race at Charlotte has been plagued by inclement weather for the last three straight years.
Rain tires have been used on road courses in the Xfinity Series, but never on a "roval" course like the one at Charlotte.
"I think that (rain tires) would work," said Busch. "When we cross from the infield section across pit road, back onto the oval and then vice versa, that's three different sections of asphalt – and so there's three different levels of grip – I think the rain tires would do just fine through that section."
With only four cars on the track spread out over the 2.42-mile course, none of the drivers got much of a chance to figure one of the most important parts of any road course: places to pass.
"Good question. I can't tell you that," said Truex when asked about passing opportunities on the new "roval". "I know there's a lot of places we can crash, not sure about the passing yet."