B.Force, Capps, Butner, Krawiec Winners at Reading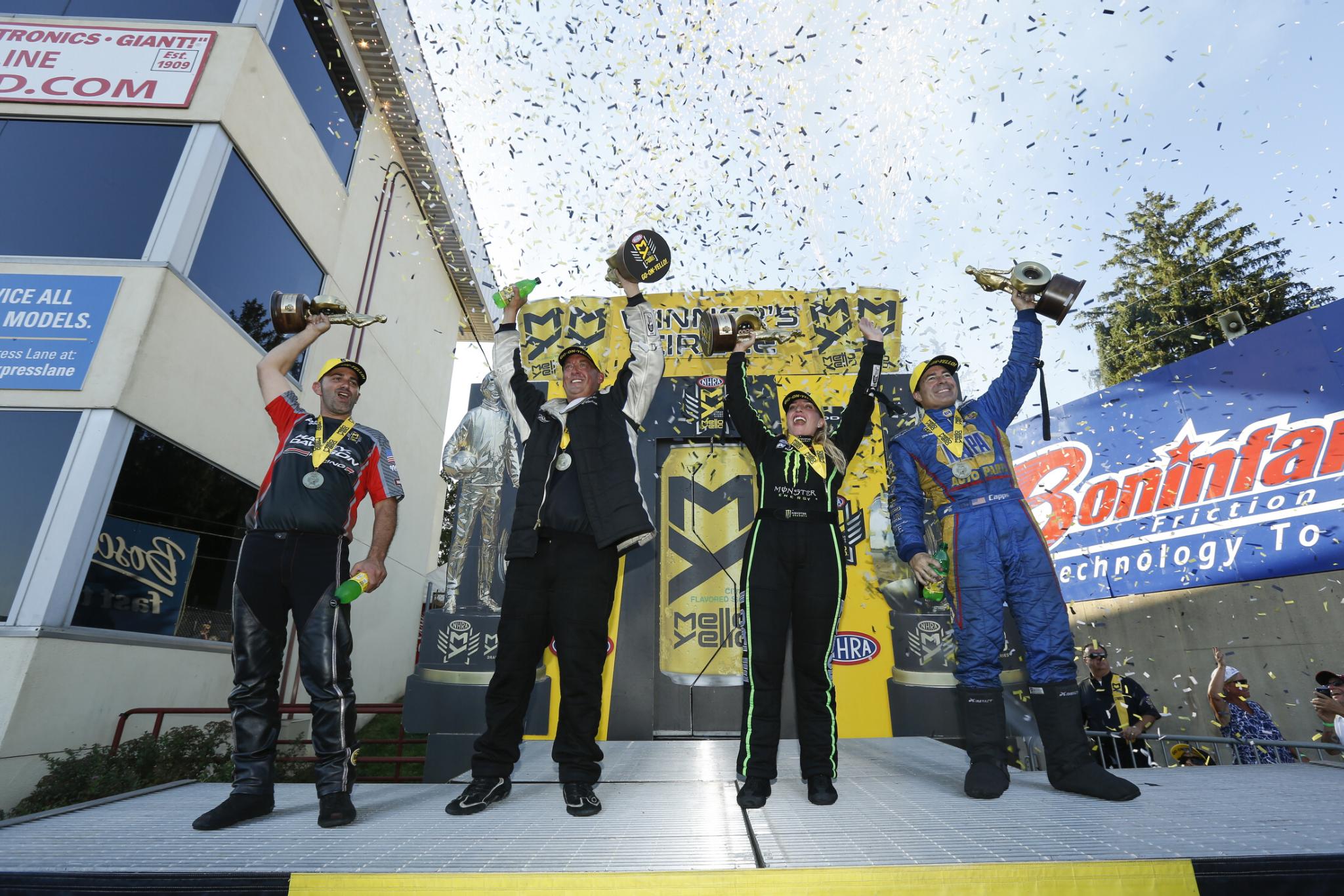 (L-R) Eddie Krawiec, Bo Butner, Brittany Force and Ron Capps
With two races down in the NHRA's Countdown to the Championship, don't count Don Schumacher Racing out the title fight just yet.
Just a week after the DSR cars were all but shut out of the money round in both Funny Car and Top Fuel in the Carolina Nationals, Ron Capps beat out Courtney Force in the final round to score his series-best seventh win of the season and take back the points lead from Force's teammate Robert Hight in Sunday's 33rd annual Dodge NHRA Nationals at Maple Grove Raceway.
Brittany Force (Top Fuel), Bo Butner (Pro Stock) and Eddie Krawiec (Pro Stock Motorcycle) also picked up victories in the second race of the six-race Countdown.
After a disappointing showing at zMax Dragway last weekend, DSR put three of their four entries into the Funny Car semi-finals, including Capps, Jack Beckman and Matt Hagan.
Capps bested Jim Campbell and fellow DSR teammates Tommy Johnson, Jr. Hagan to reach the finals against Force, who had advanced to the final round with victories over Bob Tasca III, Hight, and Beckman to face Capps for their third final-round matchup.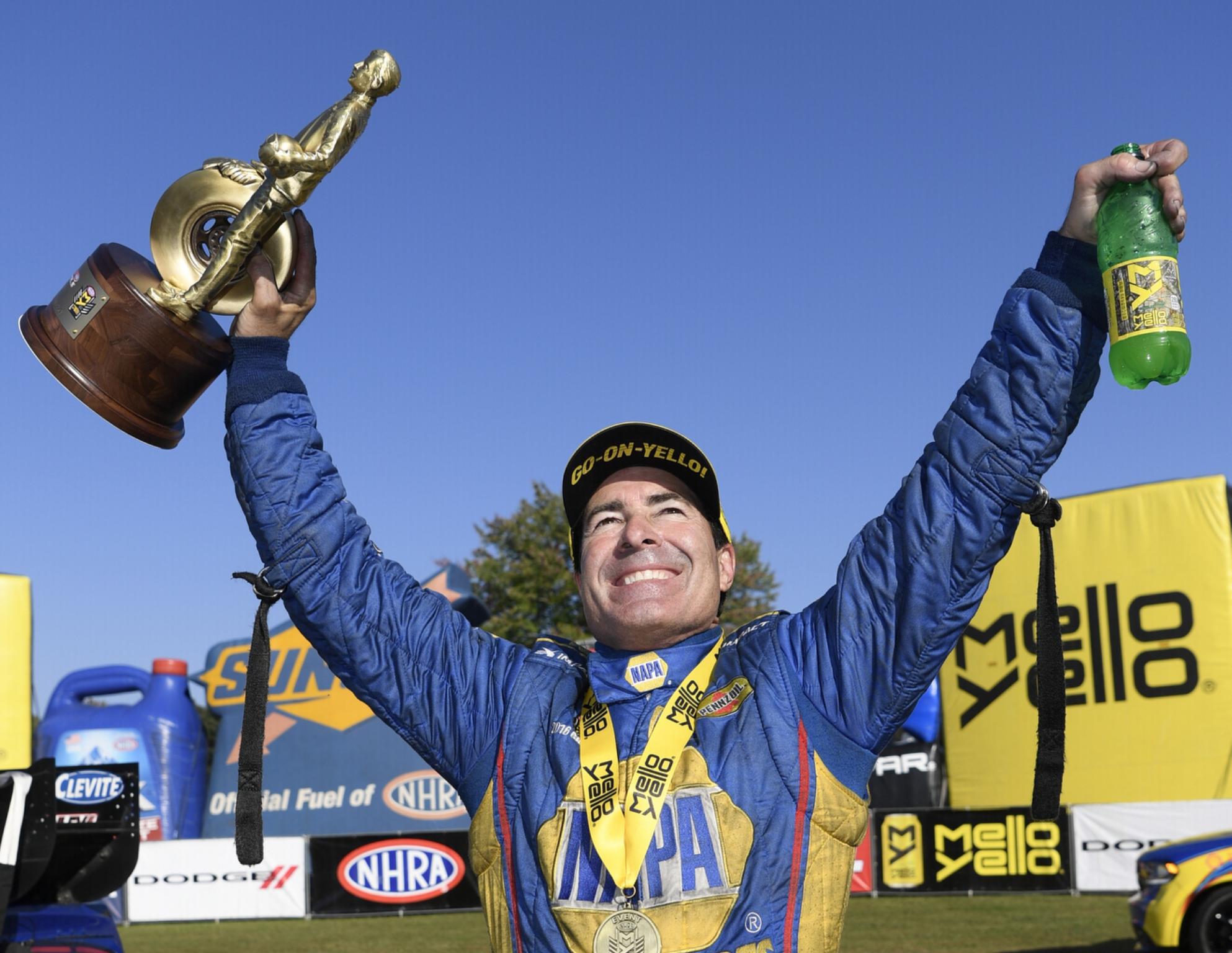 Ron Capps
In the final, Capps started out with a starting line advantage but Force began to close in at the halfway point before falling short at the line, giving the win light to Capps with a 3.698-second run at 326.48 mph over Force's 3.993 at 311.70, putting Force 0-4 on the season in the final round.
The victory was the 57th of Capps' career and his first-ever at Maple Grove, and allowed him to re-gain the Funny Car points lead by just eight points with four races left in the six-race playoff.
"We got lucky a little bit in the first round, but we feel like our hard work makes our own luck for us and we were fortunate to win it with consistency," Capps said. "We know this Funny Car class is as tough as it's ever been, so we know this won't be easy through the last four races of the year."
Courtney Force held onto her third-place position in the standings, while Hagan and Beckman took over fourth and fifth, respectively.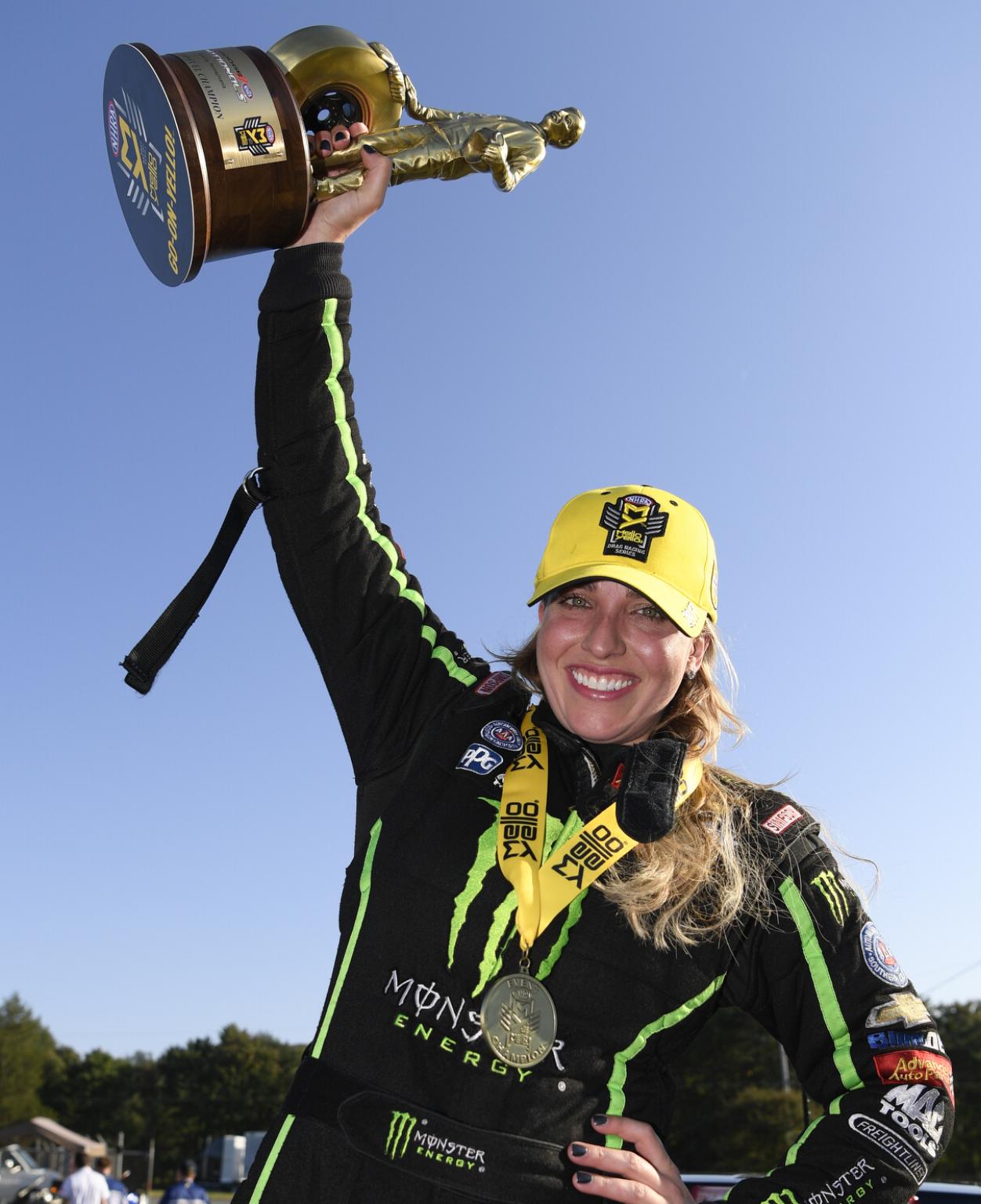 Brittanny Force
John Force Racing found some redemption in the Top Fuel final as older sister Brittany Force defended the family honor with a victory over Steve Torrence for her second win of the season and her first ever at Maple Grove
After round wins over Wayne Newby, Tony Schumacher and Antron Brown, Force made it to the final round to face Torrence, who defeated Terry Haddock, Leah Pritchett and Dom Lagana.
Meeting in the final round for the first time in their careers, Torrence was first out of the starting gate and held the advantage until the engine on his Capco dragster let go and Force chased him down to win by a car-length at the line, running 3.756 seconds at 326.24 mph over Torrence's 3.857, 258.76.
After four-straight final round appearances at Maple Grove, Force finally broke through with her first victory at the track and fifth of her NHRA career.
"I'm so glad to have this entire Monster Energy team and this car ran pretty consistent through qualifying and on race day, so it's because of my team that we got this win," Force said. "I've been to the final round here three times and got taken down in the first two, so this one was a big one for us."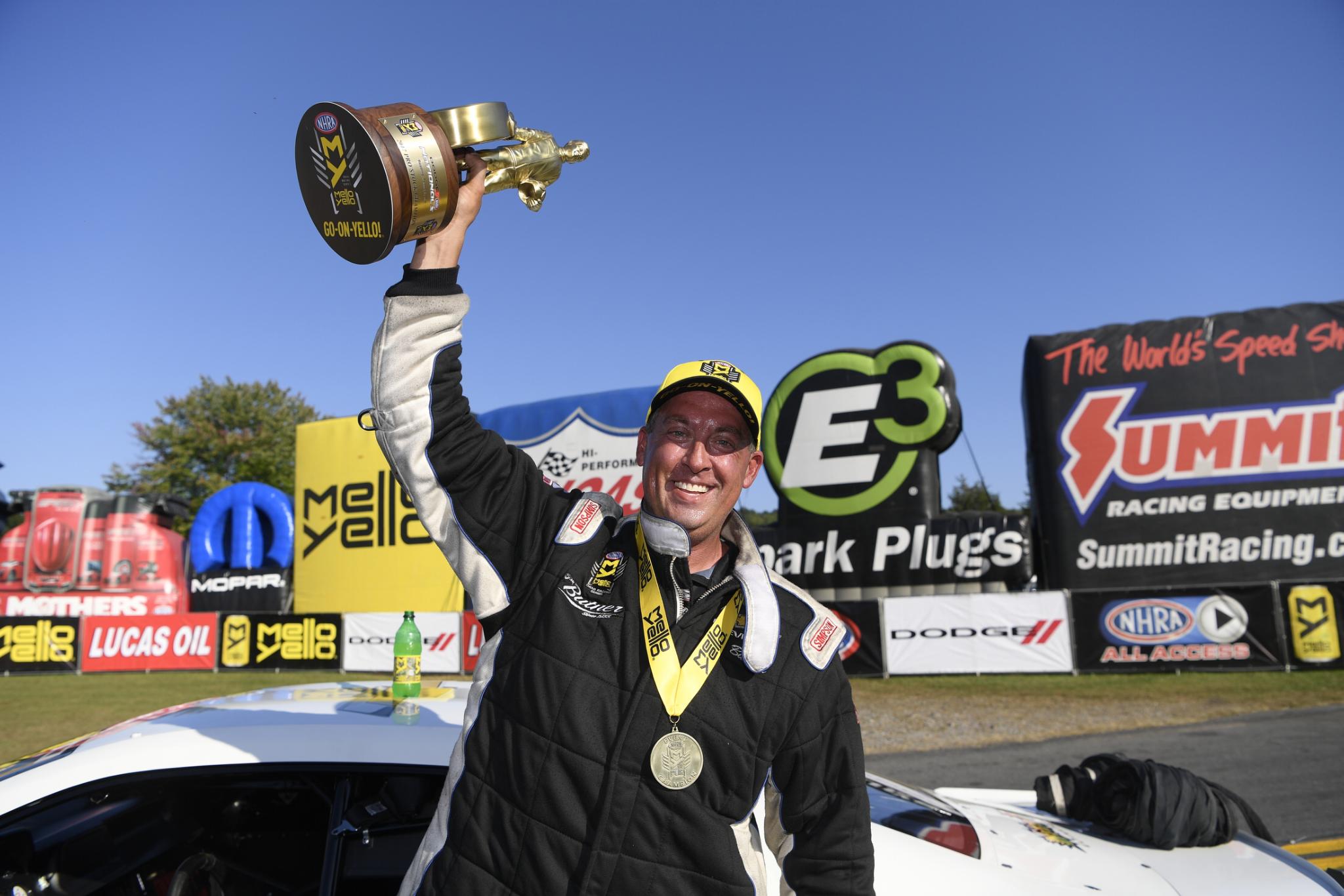 Bi Butner
In Pro Stock, Bo Butner put an exclamation point next to his name after a dominating performance while picking up his fourth win of the season in a match against Greg Anderson to reclaim the lead in the point standings.
Butner came into Sunday's eliminations as the top qualifier, topping two of the four qualifying sessions, and then claimed low ET in two of the opening three rounds with wins over Val Smeland, Erica Enders and Allen Johnson to advance to the finals for the ninth time.
In their fourth-career final round showdown, Anderson hit a near-perfect .008 light to gain the early advantage, but Butner pulled dead-even at the halfway mark and inched ahead to beat Anderson by less than two feet at the line – running 6.613 at 209.95 to Anderson's 6.660 at 206.95.
"I'm really excited about where we're at, but we know there are still four more races left so we just have to keep doing our jobs," Butner said. "We had eight good runs this weekend so things kind of worked in our favor this time around, and it shows how strong our team is."
Butner now leads Anderson in the standings by 41 points while last week's winner Tanner Gray falls to third ahead of Jason Line and Drew Skillman.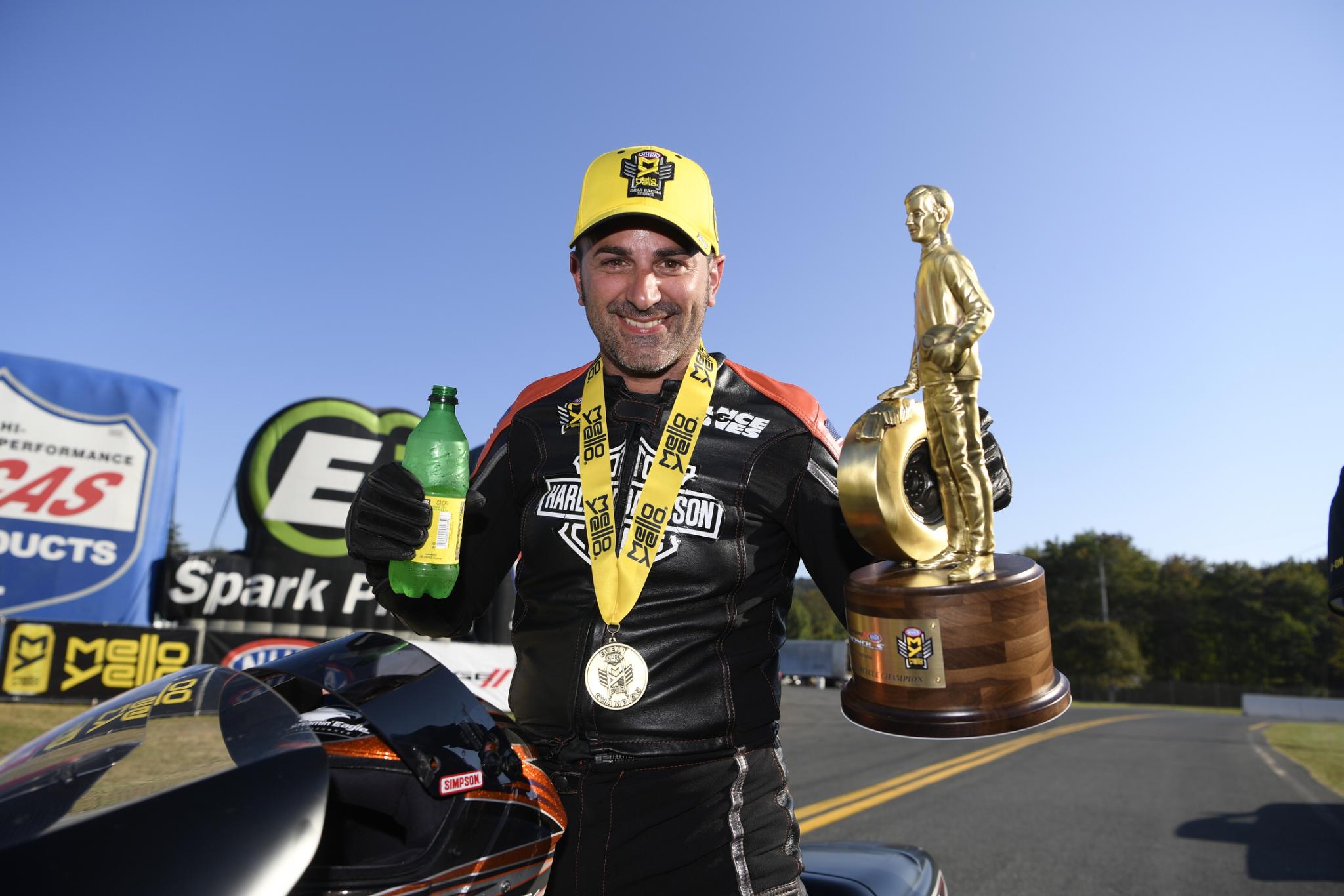 Eddie Krawiec
In Pro Stock Motorcycle, points leader Eddie Krawiec extended his lead with a win over second-place LE Tonglet for his third-straight win and fifth of the season.
Krawiec clocked in at 6.852 at 196.70 in the final and easily beat out Tonglet who stood up on the bike just past the 60-foot mark.
"Things are definitely on the upswing since we switched back to last year's chassis, it's been huge for me and my team at the exact right time," said Krawiec, who beat Kelly Clontz, teammate Andrew Hines and No. 1 qualifier Scott Pollacheck to reach the finals. "We didn't start out as strong as we had hoped in qualifying, but we put it all together today and we're pretty pleased with these results."
With his 41st-career victory, Krawiec padded his lead over Tonglet by 71 points. Hector Arana Jr, Jerry Savoie and Andrew Hines round out the top five in the standings.
[adinserter name="GOOGLE AD"]