Keselowski Uses Late Pass To Score Richmond Win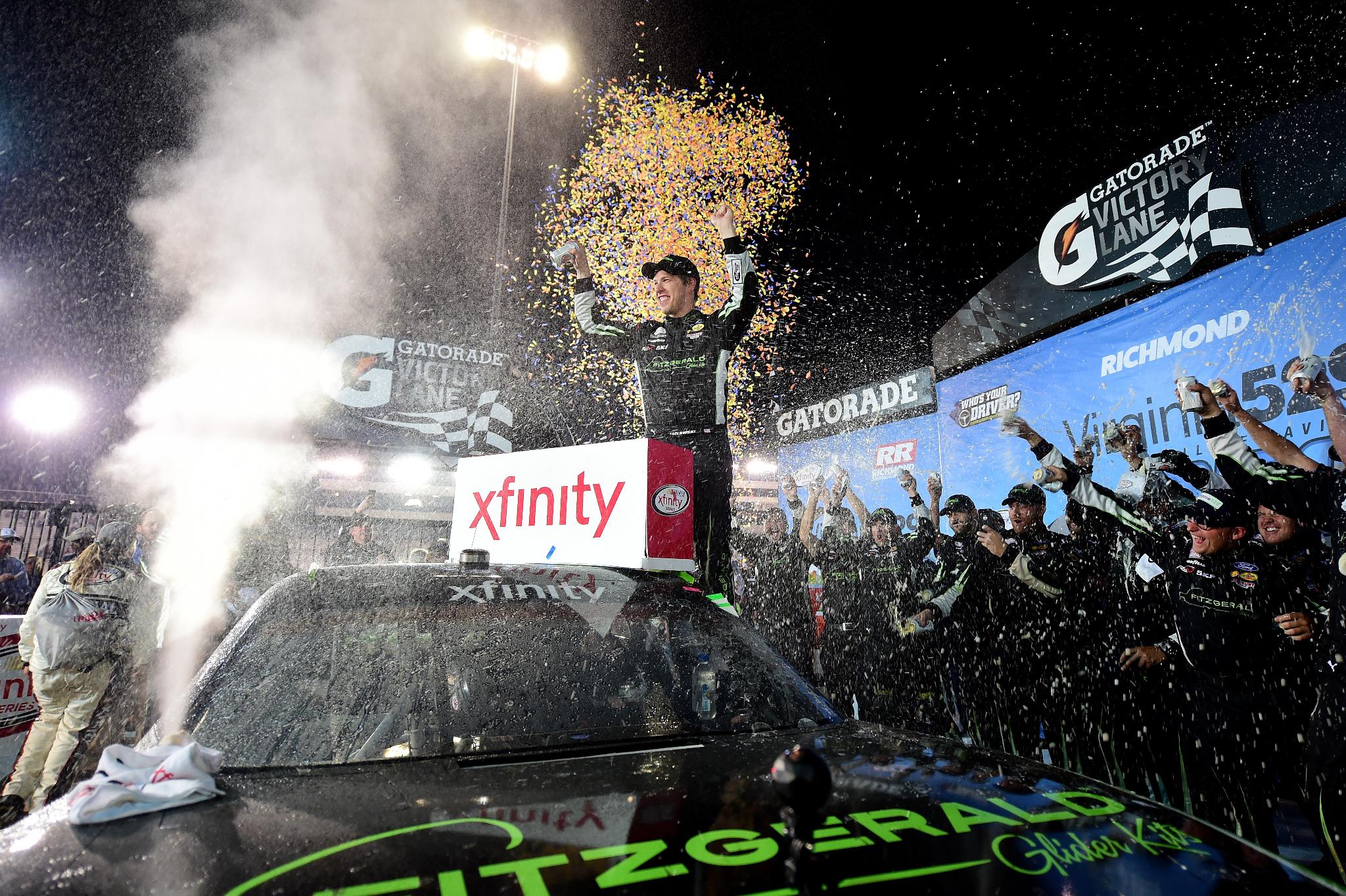 Brad Keselowski celebrates in Richmond
Jared C. Tilton/Getty Images
Over the final segment of Friday night's NASCAR Xfinity Series race at Richmond Raceway, it looked like Kyle Busch was on his way to another dominant win.
Brad Keselowski, however, had other ideas.
With Busch's tires fading, Keselowski closed in over the closing laps, and with 17 to go, caught the leader in heavy lap traffic.
Keselowski made the pass with 16 laps to go, stacking the leaders three-wide with a lap car on the low side. From there, he would move away to a 3.008 second advantage over the final laps to score the win in the Virginia529 College Savings 250.
It marks the 36th series career win for Keselowski, and came on a night when the series debuted a new composite style body.
"Kyle (Busch) is a great racer," Keselowski said. "When you can race with him you know you are having a good day, especially in this series. The Fitzgerald Glider Parts Ford Mustang had a lot of speed on the long runs. We weren't quite where we wanted to be on the short runs but good enough to be right there. We just hung with him and got the long runs and we were able to pounce.
"That is a testament to the team. (NBC Sports analyst Jeff) Burton was asking me if it was the set up or the driver. I think it was both. I am happy to get another win in this series, it is a lot of fun and the first one in these new bodies. At least you know it isn't an aero advantage. A great night at Richmond. I am proud of my whole team."
Keselowski had tried earlier to challenge Busch for the lead, but settled back into a long run, as the final segment ran 89 laps caution free. Keselowski's car worked better than Busch's on long runs, setting him up to score the win.
"I knew Kyle wasn't going to just let me have it so I had to force something there," Keselowski said. "Whenever you make a pass for the lead and the win by going three-wide it is really damn cool. I am glad to be able to do that with the Fitzgerald Ford. It is good to be back in victory lane."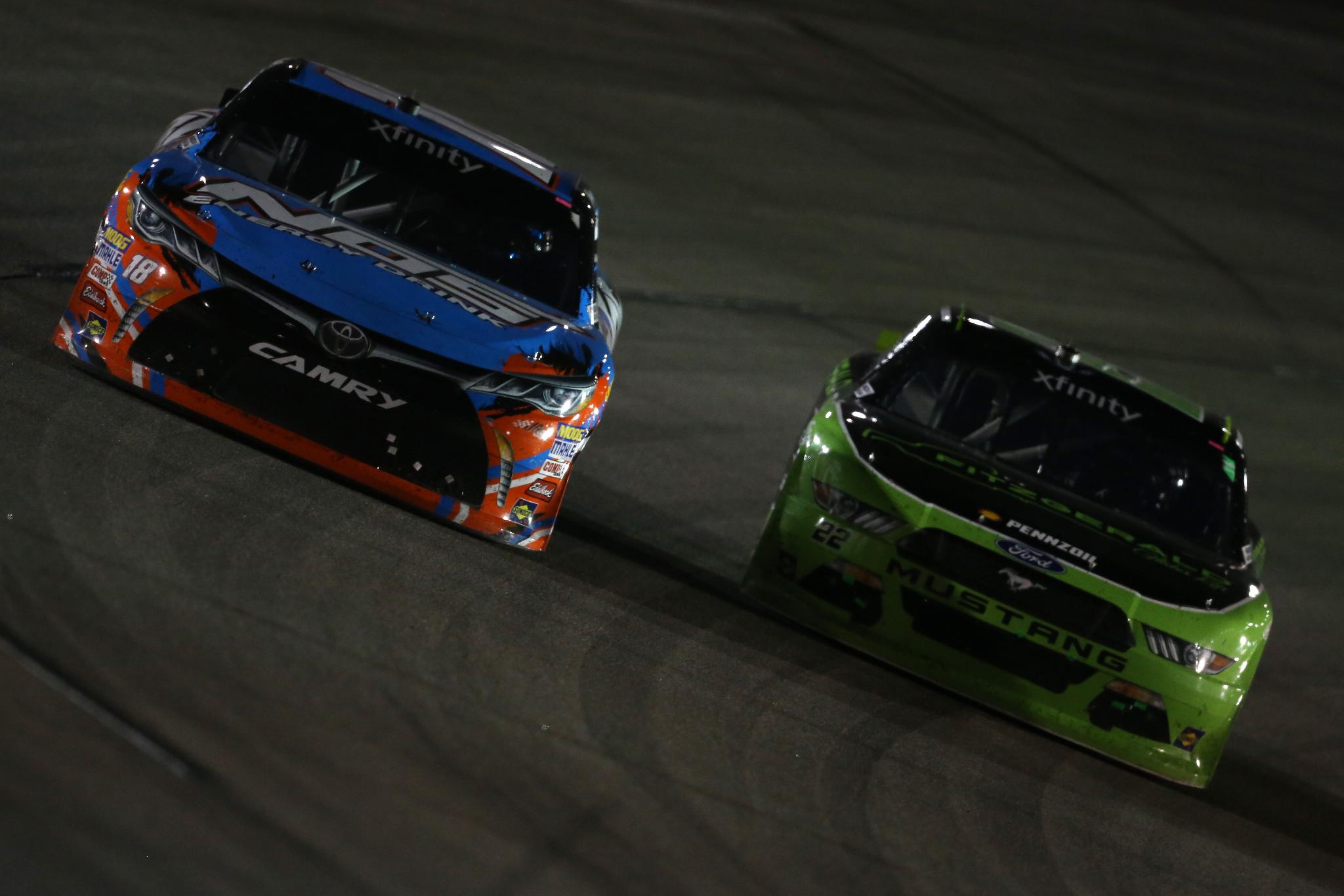 Brad Keselowski (R) chases down Kyle Busch
Sean Gardner/Getty Images
Busch seemingly had his 92nd career series win in hand, only to see it go away as the leaders raced in heavy lap traffic.
"He just had a better long run car every time," said Busch. "Every run we had, he was able to get by us there after about 50 – 45, 50 laps or whatever it was – so I was just trying to get out there a little bit and we were working each other pretty hard there early in the run. I thought I beat his tires up and he was just able to come back through, so oh well."
Using tire strategy, Ty Dillon was able to win the first segment of the race after making a pit stop with a handful of laps to go for fresh tires. Dillon then worked his way forward during the second and final segments, and would finish third.
"We're getting better for sure," Dillon said. "I think these new bodies are definitely helping. I think everybody is coming back down to earth a little bit. I'm proud of the guys, I'm proud of the effort to get these cars made from RCR. We're slowly getting better."
[adinserter name="GOOGLE AD"] With the cutoff race for the Xfinity Series looming next week, Daniel Hemric was the highest finishing series regular, and finds himself sitting fourth going into Chicagoland Speedway.
Meanwhile, Elliott Sadler finished in fifth, locking up the regular season series championship, giving him 15 bonus points going into the playoffs and – perhaps more importantly – giving him a free pass in next week's season finale.
"Man, I'm so proud of my guys, everybody at JR Motorsports," Sadler said. "We've had a really good, strong program this year. The last month or so, we've really run really good, especially on the ovals. So to come here to Richmond, get a top five, secure the regular season championship – 15 bonus points is a lot for this OneMain Financial team. We're ready to go. We're getting ourselves in Playoff form."
Meanwhile, Michael Annett and Brendan Gaughan find themselves on the bubble for the final playoff spot. Annett has a 26 point advantage over Dakoda Armstrong, who is hoping to find a way into the playoffs, while Gaughan sits 25 points ahead.
In a surprising turn for a short track event, the race was slowed only three times by cautions, and saw long, green flag runs during the night.
Christopher Bell finished in sixth, with William Byron seventh and Justin Allgaier eighth.
Dale Earnhardt, Jr., in what is likely to be one of his last Xfinity Series starts, finished in ninth, the last car on the lead lap.
Brennan Poole rounded out the top ten.
RACE RESULTS
| | | | | | | | | | |
| --- | --- | --- | --- | --- | --- | --- | --- | --- | --- |
| Pos. | # | Driver | Make | Start | Laps | Led | Status | Points | Playoff Points |
| 1 | 22 | Brad Keselowski | Ford | 3 | 250 | 34 | Running | 0 | 0 |
| 2 | 18 | Kyle Busch | Toyota | 1 | 250 | 182 | Running | 0 | 0 |
| 3 | 3 | Ty Dillon | Chevy | 16 | 250 | 16 | Running | 0 | 0 |
| 4 | 21 | Daniel Hemric | Chevy | 8 | 250 | 13 | Running | 48 | 2 |
| 5 | 1 | Elliott Sadler | Chevy | 11 | 250 | 0 | Running | 36 | 5 |
| 6 | 20 | Christopher Bell | Toyota | 14 | 250 | 0 | Running | 0 | 0 |
| 7 | 9 | William Byron | Chevy | 6 | 250 | 0 | Running | 32 | 17 |
| 8 | 7 | Justin Allgaier | Chevy | 9 | 250 | 0 | Running | 35 | 8 |
| 9 | 88 | Dale Earnhardt Jr. | Chevy | 5 | 250 | 0 | Running | 0 | 0 |
| 10 | 48 | Brennan Poole | Chevy | 2 | 249 | 0 | Running | 27 | 0 |
| 11 | 11 | Blake Koch | Chevy | 7 | 249 | 0 | Running | 26 | 2 |
| 12 | 16 | Ryan Reed | Ford | 12 | 249 | 0 | Running | 25 | 5 |
| 13 | 19 | Matt Tifft | Toyota | 13 | 249 | 0 | Running | 24 | 0 |
| 14 | 00 | Cole Custer | Ford | 4 | 249 | 0 | Running | 27 | 0 |
| 15 | 5 | Michael Annett | Chevy | 18 | 249 | 0 | Running | 22 | 0 |
| 16 | 51 | Jeremy Clements | Chevy | 15 | 249 | 0 | Running | 21 | 5 |
| 17 | 42 | Tyler Reddick | Chevy | 25 | 249 | 0 | Running | 20 | 0 |
| 18 | 28 | Dakoda Armstrong | Toyota | 31 | 249 | 0 | Running | 19 | 0 |
| 19 | 2 | Paul Menard | Chevy | 10 | 248 | 0 | Running | 0 | 0 |
| 20 | 14 | JJ Yeley | Toyota | 30 | 248 | 0 | Running | 17 | 0 |
| 21 | 62 | Brendan Gaughan | Chevy | 17 | 248 | 5 | Running | 24 | 1 |
| 22 | 23 | Spencer Gallagher | Chevy | 23 | 247 | 0 | Running | 15 | 0 |
| 23 | 33 | Brandon Jones | Chevy | 26 | 247 | 0 | Running | 14 | 0 |
| 24 | 24 | Dylan Lupton | Toyota | 20 | 247 | 0 | Running | 13 | 0 |
| 25 | 98 | Casey Mears | Ford | 22 | 246 | 0 | Running | 12 | 0 |
| 26 | 39 | Ryan Sieg | Chevy | 19 | 246 | 0 | Running | 11 | 0 |
| 27 | 90 | Brandon Brown | Chevy | 24 | 246 | 0 | Running | 10 | 0 |
| 28 | 4 | Ross Chastain | Chevy | 21 | 245 | 0 | Running | 9 | 0 |
| 29 | 8 | Tommy Joe Martins | Chevy | 35 | 244 | 0 | Running | 8 | 0 |
| 30 | 01 | Harrison Rhodes | Chevy | 38 | 243 | 0 | Running | 7 | 0 |
| 31 | 07 | Spencer Boyd | Chevy | 34 | 242 | 0 | Running | 6 | 0 |
| 32 | 0 | Garrett Smithley | Chevy | 39 | 241 | 0 | Running | 5 | 0 |
| 33 | 74 | Mike Harmon | Dodge | 36 | 233 | 0 | Running | 4 | 0 |
| 34 | 40 | Bobby Earnhardt | Chevy | 40 | 229 | 0 | Running | 3 | 0 |
| 35 | 99 | David Starr | Chevy | 29 | 216 | 0 | Clutch | 2 | 0 |
| 36 | 52 | Joey Gase | Chevy | 28 | 164 | 0 | Rear Gear | 1 | 0 |
| 37 | 78 | John Graham | Chevy | 37 | 78 | 0 | Rear Gear | 1 | 0 |
| 38 | 13 | Timmy Hill | Dodge | 32 | 33 | 0 | Overheating | 1 | 0 |
| 39 | 15 | Reed Sorenson | Chevy | 33 | 17 | 0 | Vibration | 0 | 0 |
| 40 | 93 | Jeff Green | Chevy | 27 | 8 | 0 | Electrical | 1 | 0 |
[adinserter name="GOOGLE AD"]