Denny Hamlin Rallies To Score Second Southern 500 Win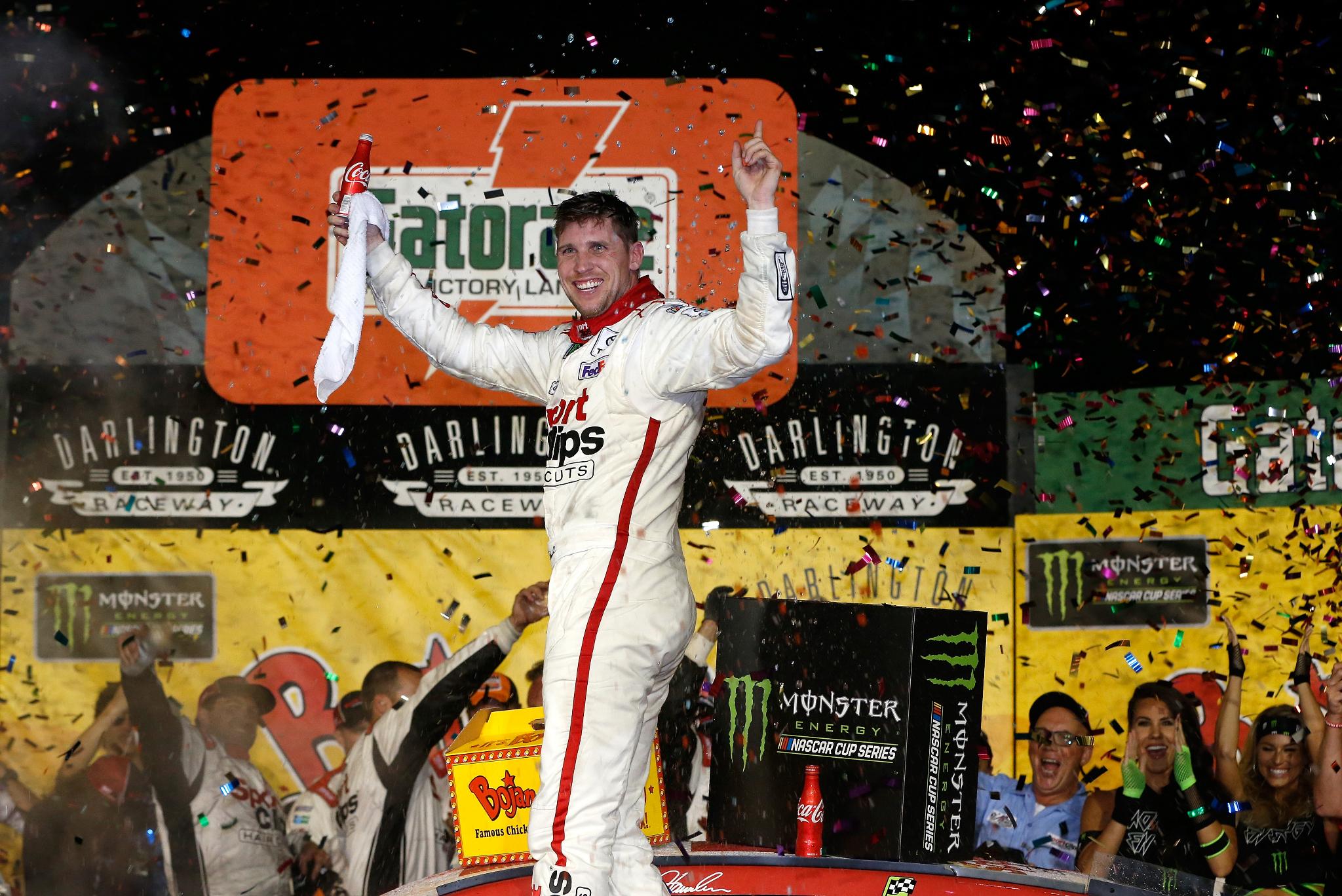 Denny Hamlin celebrates his second Southern 500 win
Brian Lawdermilk/Getty Images
After nearly giving the race away with a pit road miscue on the final round of pit stops, Denny Hamlin rallied to erase a 20-second deficit over race leader Martin Truex, Jr. and inherited the lead when Truex cut a tire and hit the wall with two laps to go, completing a remarkable comeback to win Saturday night's Bojangles Southern 500 at Darlington Raceway for the second time in his career.
Kyle Busch finished second, followed by Kurt Busch, Austin Dillon and Erik Jones.
Hamlin had nearly a full-lap lead over the field with 55 laps to go when he missed the pit entrance and fell all the way back to 15th, and watched his chance to win one of NASCAR's most prestigious races slip away.
"I looked at my dash and I gave up about 10 to 12 seconds and I was like, 'I don't know if I can,' you know? 'Were we going to win this race by 10 or 12 seconds? I doubt it,' and so we just had to put on a heck of a drive," said Hamlin. "My crew chief, Wheels (Mike Wheeler), was motivating me every lap to push, push, push and that's all I had."
Hamlin, driving a throwback paint scheme honoring modified driver Ray Hendrick on his no. 11 Toyota, notched his second Monster Energy NASCAR Cup Series victory of the season and 19th of his career, and swept Darlington weekend following his victory in Saturday's NASCAR Xfinity Series race.
"This is a throwback to my history – this is for Roy Hendrick, Bugs Hairfield, Wayne Patterson, Eddie Johnson, the short track guys that I grew up watching. This was a throwback to them," said Hamlin. "Back in 1985 and 1989, I was at Southside Speedway in the stands watching them race and learning everything I could from them and this is a throwback to them and their history."
Hamlin's throwback glory came at the expense of Truex, Jr., who up until the last lap had been the driver to beat after sweeping the opening two 100-lap stages.
[adinserter name="GOOGLE AD"] Truex seemed to be able to chase down anyone now matter how much of a lead they had on him. At the end of the first stage, Truex erased Kyle Larson's half-second lead and made the pass for the lead in the final corner to win the stage.
In the second stage, Truex restarted second and chased down Hamlin on lap 179 and held on to collect his 17th stage win and clinch the regular season championship.
Hamlin won the race off pit road and led the field to the start of the final segment, leading 100 of the next 112 laps
By lap 300, the field began to hit pit road for tires and fuel but Hamlin and crew chief Mike Wheeler elected to stay out – hoping to pit within their fuel window so they could make it to the end of the race without making another pit stop.
As the pit stops cycled around, Hamlin had nearly a full lap on the field when he finally came to pit road on lap 313, but overshot the entrance to pit road and had to come around again, losing falling behind by more than 20 seconds by the time he finally made it off pit road.
With his teammate Kyle Busch running a similar strategy, Hamlin and Busch rejoined the race in 14th and 15th, respectively, with Harvick, Kurt Busch and Truex, Jr. leading the way up front.
With less than 10 laps on their tires than the rest of the cars in front of them, Hamlin and Kyle Busch methodically picked their way through the field, breaking back into the top 10 with 40 laps to go and into the top five by 20 laps to go.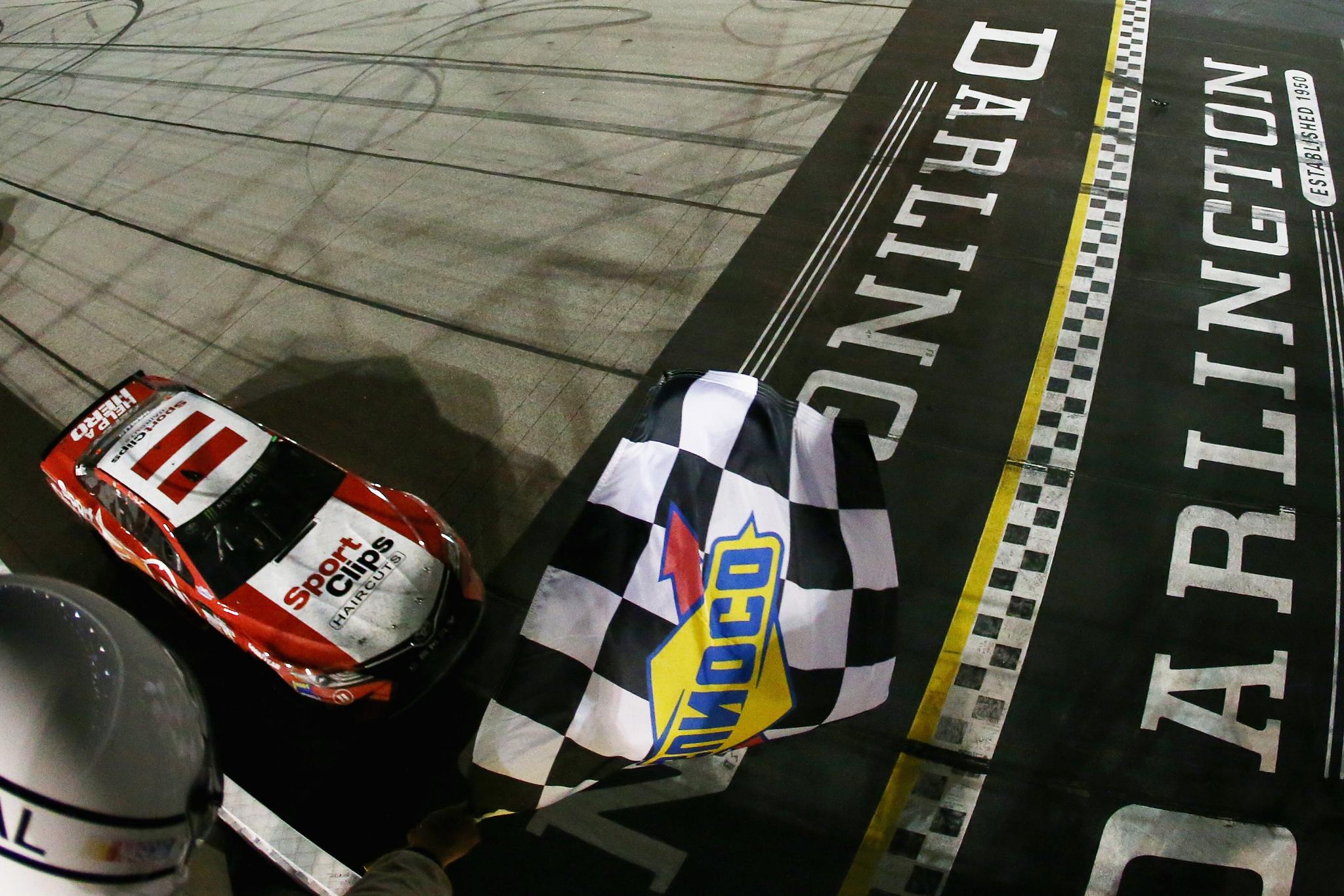 Denny Hamlin takes the checkered flag at Darlington
Sarah Crabill/Getty Images
Up front, Truex, Jr. had worked his way back to the lead on lap 326 and opened up a six second lead by the time Hamlin moved into second place with 19 laps to go.
With five to go, Hamlin had caught Truex and was trailing but just four car lengths.
Coming to two to go, Truex, Jr. brushed the wall on the backstretch and cut down his right-front tire going into turn three, allowing Hamlin to duck to the low side in turn four and take the lead. Hamlin held on from there and crossed the line by 2.6 seconds over Kyle Busch.
Truex, Jr., the defending race winner of the event, collected 15 playoff points by virtue of clinching the regular-season championship – a small consolation after missing out on a second-straight Southern 500 victory.
"It was definitely a bittersweet night for us, to come up just two laps short there, blow a tire at the end after having no issues with tires all night and having such a good race car," said Truex, Jr. "Wish we could have won, but that's the breaks. Sometimes they go your way, sometimes they don't, and tonight we come up a little short. But definitely a lot to be proud of.
"You just never know how these things are going to play out. Had we had a late caution, we might have been in really good shape, but we might have also got beat on a restart. You never know, so it just didn't work out tonight. Like I said, two laps, man. Two laps."
Kyle Busch had quite a rally of his own – coming back from 14th after his final pit stop to finish second for his second-straight top two finish.
"I certainly wish that we could have kept pace with the 11 (Denny Hamlin) a little bit longer. We were right there with him for a long time – longer than we had all night long in that final stint – but he got through a couple lap cars a little quicker than I did and then they got side by side and then I got sucked into the fence and after that it just wasn't the same."
Dale Earnhardt, Jr. finished 22nd in his final Southern 500, but in post-race inspection was found to have two loose lug nuts on his no. 88 Chevrolet, which will likely result in a fine and one race suspension for crew chief Greg Ives going into the critical final regular-season race next weekend at Richmond.
RACE RESULTS
| | | | | | | | | | |
| --- | --- | --- | --- | --- | --- | --- | --- | --- | --- |
| Pos. | # | Driver | Make | Start | Laps | Led | Status | Points | Playoff Points |
| 1 | 11 | Denny Hamlin | Toyota | 9 | 367 | 124 | Running | 57 | 12 |
| 2 | 18 | Kyle Busch | Toyota | 3 | 367 | 6 | Running | 43 | 20 |
| 3 | 41 | Kurt Busch | Ford | 7 | 367 | 7 | Running | 38 | 5 |
| 4 | 3 | Austin Dillon | Chevy | 13 | 367 | 0 | Running | 36 | 5 |
| 5 | 77 | Erik Jones | Toyota | 10 | 367 | 0 | Running | 37 | 0 |
| 6 | 20 | Matt Kenseth | Toyota | 11 | 367 | 0 | Running | 32 | 3 |
| 7 | 31 | Ryan Newman | Chevy | 17 | 367 | 0 | Running | 30 | 5 |
| 8 | 78 | Martin Truex Jr. | Toyota | 2 | 367 | 76 | Running | 49 | 37 |
| 9 | 4 | Kevin Harvick | Ford | 1 | 366 | 22 | Running | 43 | 8 |
| 10 | 1 | Jamie McMurray | Chevy | 5 | 366 | 0 | Running | 34 | 0 |
| 11 | 24 | Chase Elliott | Chevy | 20 | 366 | 0 | Running | 26 | 2 |
| 12 | 48 | Jimmie Johnson | Chevy | 18 | 366 | 0 | Running | 25 | 16 |
| 13 | 13 | Ty Dillon | Chevy | 25 | 366 | 0 | Running | 24 | 0 |
| 14 | 42 | Kyle Larson | Chevy | 4 | 366 | 124 | Running | 39 | 18 |
| 15 | 2 | Brad Keselowski | Ford | 6 | 366 | 3 | Running | 33 | 14 |
| 16 | 27 | Paul Menard | Chevy | 21 | 366 | 0 | Running | 21 | 0 |
| 17 | 37 | Chris Buescher | Chevy | 27 | 366 | 0 | Running | 20 | 0 |
| 18 | 22 | Joey Logano | Ford | 8 | 366 | 0 | Running | 22 | 1 |
| 19 | 95 | Michael McDowell | Chevy | 30 | 365 | 0 | Running | 18 | 0 |
| 20 | 43 | Aric Almirola | Ford | 15 | 365 | 0 | Running | 17 | 0 |
| 21 | 34 | Landon Cassill | Ford | 31 | 365 | 5 | Running | 16 | 0 |
| 22 | 88 | Dale Earnhardt Jr. | Chevy | 22 | 365 | 0 | Running | 15 | 0 |
| 23 | 72 | Cole Whitt | Chevy | 34 | 364 | 0 | Running | 14 | 0 |
| 24 | 5 | Kasey Kahne | Chevy | 23 | 364 | 0 | Running | 13 | 5 |
| 25 | 38 | David Ragan | Ford | 26 | 363 | 0 | Running | 12 | 0 |
| 26 | 10 | Danica Patrick | Ford | 33 | 363 | 0 | Running | 11 | 0 |
| 27 | 32 | Matt DiBenedetto | Ford | 28 | 362 | 0 | Running | 10 | 0 |
| 28 | 23 | Corey Lajoie | Toyota | 35 | 360 | 0 | Running | 9 | 0 |
| 29 | 17 | Ricky Stenhouse Jr. | Ford | 14 | 358 | 0 | Running | 8 | 10 |
| 30 | 33 | Jeffrey Earnhardt | Chevy | 37 | 356 | 0 | Running | 7 | 0 |
| 31 | 21 | Ryan Blaney | Ford | 12 | 356 | 0 | Running | 6 | 8 |
| 32 | 55 | Derrike Cope | Toyota | 38 | 351 | 0 | Running | 5 | 0 |
| 33 | 66 | Carl Long | Chevy | 40 | 350 | 0 | Running | 0 | 0 |
| 34 | 47 | AJ Allmendinger | Chevy | 29 | 340 | 0 | Running | 3 | 0 |
| 35 | 6 | Trevor Bayne | Ford | 24 | 336 | 0 | Running | 2 | 0 |
| 36 | 83 | Gray Gaulding | Toyota | 36 | 202 | 0 | Accident | 1 | 0 |
| 37 | 51 | Cody Ware | Chevy | 39 | 144 | 0 | Accident | 1 | 0 |
| 38 | 19 | Daniel Suarez | Toyota | 19 | 125 | 0 | Accident | 1 | 1 |
| 39 | 15 | Reed Sorenson | Toyota | 32 | 104 | 0 | Clutch | 1 | 0 |
| 40 | 14 | Clint Bowyer | Ford | 16 | 18 | 0 | Engine | 1 | 1 |
[adinserter name="GOOGLE AD"]