Erik Jones First-Time Pole Winner at Bristol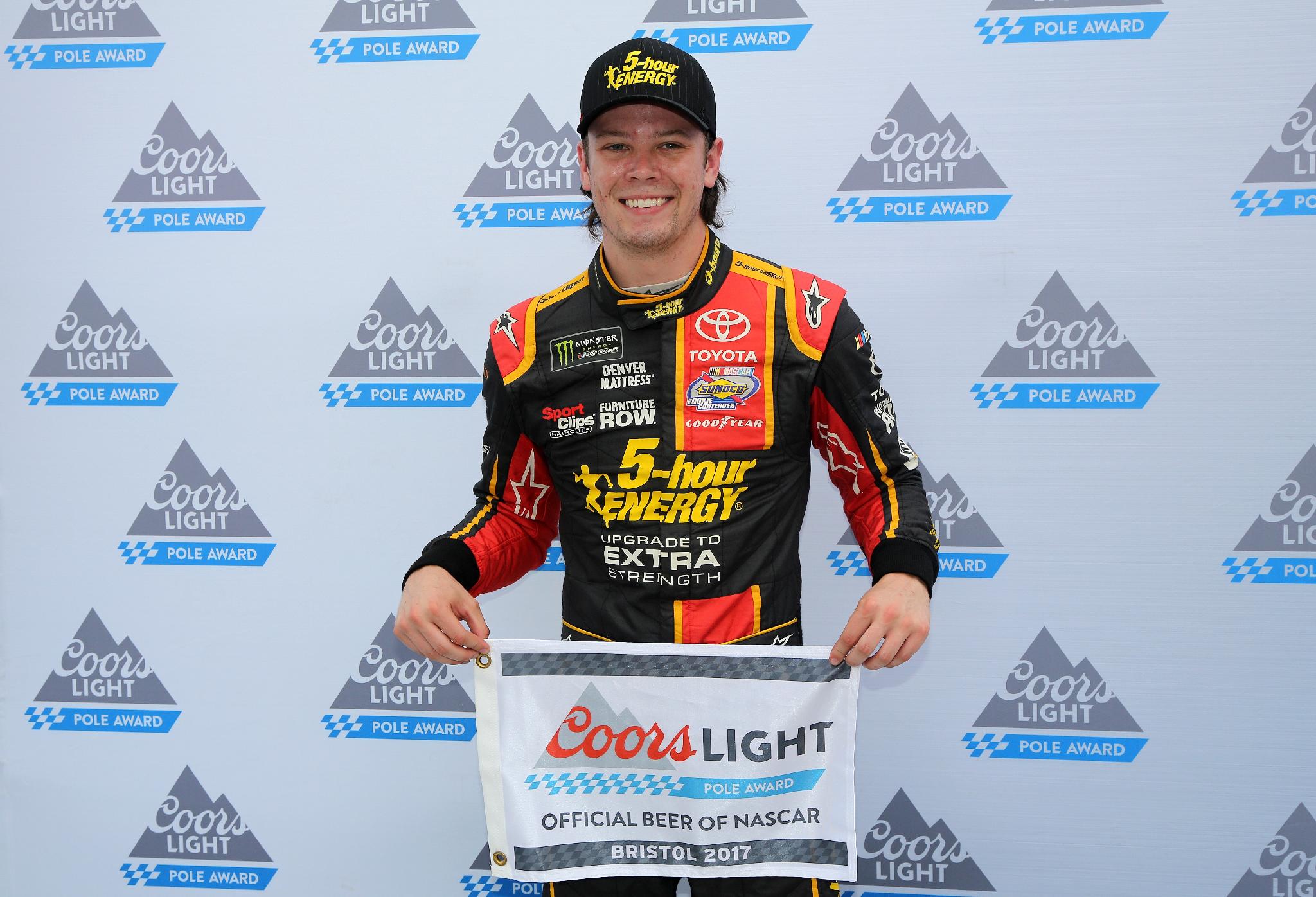 Erik Jones
Jerry Markland/Getty Images
After 27 starts in the Monster Energy NASCAR Cup Series, rookie Erik Jones capture his first-career Coors Light Pole Award after taking the top spot in Friday's qualifying session for Saturday night's Bass Pro Shops NRA Night Race at Bristol Motor Speedway.
Jones turned in a lap of 128.082 mph in his Furniture Row Racing Toyota Camry to claim the top spot from last weekend's winner Kyle Larson, who will start second ahead of Kasey Kahne, Chase Elliott and Matt Kenseth.
The pole beats his previous career-best start of fifth earlier this season in the Coca Cola 600 at Charlotte Motor Speedway, and comes just a week coming within a few positions of winning his first-ever Cup Series race at Michigan.
[adinserter name="GOOGLE AD"]"It's awesome. It's cool any time you get your first pole in a series, but to do it at Bristol, that's pretty cool. I'm just excited," said Jones, who started 14th and finished 17th in his only Bristol start back in April. "I wasn't sure if that lap was going to hold out, but I knew it was a pretty good lap time for us. I knew it was all I had so just cool to be coming off a good week at Michigan and then coming back here, started off right.
"I was hoping we were going to be able to accomplish a few things this year and this was one of our goals – at least one of my goals for sure. Pretty awesome you know, especially at Bristol. It's a cool place to get your first pole."
Jones helped lead a Toyota rush in the opening two rounds of qualifying, finishing sixth in the opeing round behind Kyle Busch and ending up third behind Hamlin and Kenseth at the end of the second round.
He was one of the last drivers to take to the track in the third and final round before motoring to top of the speed charts. Among the drivers Jones shuffled down the line after taking the pole was Matt Kenseth, the driver he will be replacing at Joe Gibbs Racing in 2018.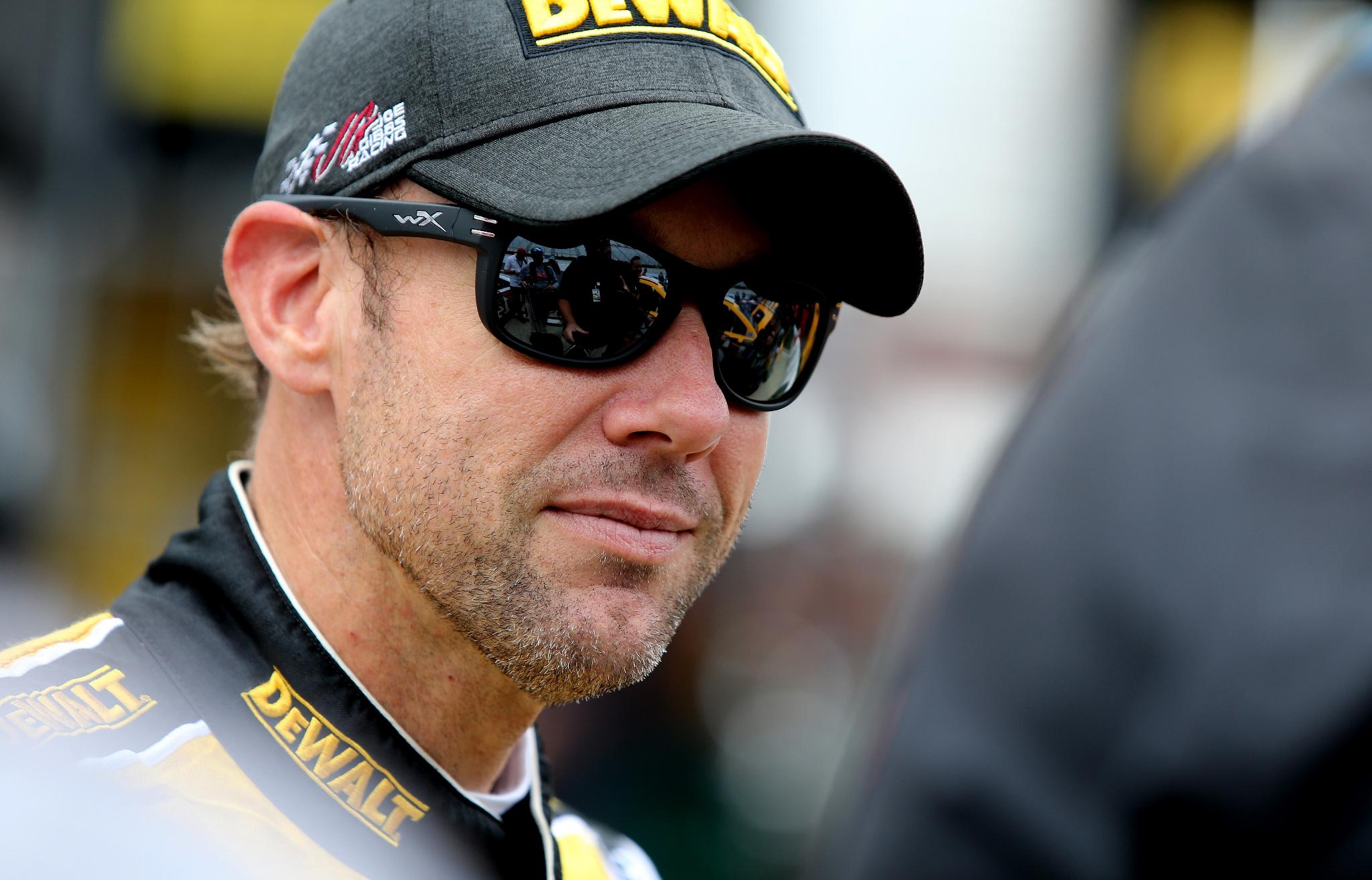 Matt Kenseth
Jerry Markland/Getty Images
Kenseth, who is still without a ride for 2018, will roll off fifth in his Toyota Camry in his 18th-career start in the Bristol night race, where he's posted two straight DNF's.
"(The lap) was pretty good. The balance wasn't bad," said Kenseth. "We were just a little off on speed there. Everybody is so close together, but it was pretty good."
Kasey Kahne might not have a ride lined up for next season, either, but that doesn't mean he's going to go away quietly.
Already with a victory this season at Indianapolis and a guaranteed spot in the playoffs in his back pocket, Kahne recorded his best Bristol start since 2013 and will looking to rebound after crashing out last weekend at Michigan.
"The (Indianapolis) win was kind of out of nowhere and pretty awesome and ever since I feel like we have been a little bit better," said Kahne, who has one career victory at this track. "We still have some work to do, but you know it's not really time yet. Hopefully, we can get it before those final 10 (races)."
Martin Truex Jr. qualified sixth, followed by Hamlin, Joey Logano, Clint Bowyer and Ryan Blaney.
Among the surprising names who failed to advance past the first round were Kevin Harvick, Kurt Busch, and Dale Earnhardt, Jr., while spring race winner Jimmie Johnson didn't make it through the second round.
Saturday night's race will mark the third Bristol race weekend where the track has applied a traction compound racing surface. The compound, called "PJ1 TrackBite" has also been used at Charlotte and New Hamshire Motor Speedways to varying degrees of success, the idea being the enhanced traction will lead to multiple racing grooves and increased passing.
Over the last few days, the track surface has been subjected to several torrential downpours – including one rain shower prior to qualifying – which means the track official may have to re-apply more of the compound before tomorrow night's race.
"The one thing that has hindered us the last two races here with the top not coming in quick enough is all the rain we've had," said Jamie McMurray, who qualified 11th. "Once the top gets rubbered in that will be the fastest groove"
"They are not putting the 'sticky stuff' quite as wide around the bottom this time as the spring (race), so that is going to make the pace down there a little bit slower already," said second-place qualifier Kyle Larson. "I think the top is going to be really good. It's going to be racy as always."
RACE LINEUP
| | | | | | | | |
| --- | --- | --- | --- | --- | --- | --- | --- |
| Pos. | # | Driver | Make | Sponsor | Lap | Behind | Speed |
| 1 | 77 | Erik Jones | Toyota | 5-hour ENERGY | 14.981 | LEADER | 128.082 |
| 2 | 42 | Kyle Larson | Chevy | Huggies Little Movers | 14.984 | -0.003 | 128.057 |
| 3 | 5 | Kasey Kahne | Chevy | Rated Red | 15.005 | -0.024 | 127.877 |
| 4 | 24 | Chase Elliott | Chevy | NAPA | 15.031 | -0.050 | 127.656 |
| 5 | 20 | Matt Kenseth | Toyota | DeWalt Flexvolt | 15.042 | -0.061 | 127.563 |
| 6 | 78 | Martin Truex Jr | Toyota | Bass Pro Shop | 15.046 | -0.065 | 127.529 |
| 7 | 11 | Denny Hamlin | Toyota | FedEx Ground | 15.062 | -0.081 | 127.393 |
| 8 | 22 | Joey Logano | Ford | Shell Pennzoil | 15.108 | -0.127 | 127.006 |
| 9 | 14 | Clint Bowyer | Ford | Rush Truck Centers | 15.117 | -0.136 | 126.930 |
| 10 | 21 | Ryan Blaney | Ford | Motorcraft | 15.126 | 0.145 | 126.854 |
| 11 | 1 | Jamie McMurray | Chevy | McDonalds/Cessna | 15.225 | -0.244 | 126.030 |
| 12 | 19 | Daniel Suarez | Toyota | Irwin / Lenox | 15.244 | -0.263 | 125.872 |
| 13 | 31 | Ryan Newman | Chevy | Caterpillar | 15.100 | -0.119 | 127.073 |
| 14 | 17 | Ricky Stenhouse Jr | Ford | Fastenal | 15.108 | -0.127 | 127.006 |
| 15 | 37 | Chris Buescher | Chevy | Bush's Grillin' Beans | 15.120 | -0.139 | 126.905 |
| 16 | 3 | Austin Dillon | Chevy | Dow Energy & Water | 15.121 | -0.140 | 126.896 |
| 17 | 2 | Brad Keselowski | Ford | AutoTrader | 15.133 | -0.152 | 126.796 |
| 18 | 18 | Kyle Busch | Toyota | M&M's Caramel | 15.143 | -0.162 | 126.712 |
| 19 | 38 | David Ragan | Ford | Juice Battery | 15.146 | -0.165 | 126.687 |
| 20 | 6 | Trevor Bayne | Ford | Tim Duerr EcoBoost | 15.179 | -0.198 | 126.411 |
| 21 | 48 | Jimmie Johnson | Chevy | Lowe's | 15.181 | -0.200 | 126.395 |
| 22 | 13 | Ty Dillon | Chevy | GEICO | 15.230 | -0.249 | 125.988 |
| 23 | 47 | AJ Allmendinger | Chevy | Kroger Click List | 15.337 | -0.356 | 125.109 |
| 24 | 10 | Danica Patrick | Ford | One Cure | 15.403 | -0.422 | 124.573 |
| 25 | 41 | Kurt Busch | Ford | Monster Energy | 15.194 | -0.213 | 126.287 |
| 26 | 95 | Michael McDowell | Chevy | TBD | 15.212 | -0.231 | 126.137 |
| 27 | 27 | Paul Menard | Chevy | Knauf / Menards | 15.255 | -0.274 | 125.782 |
| 28 | 43 | Aric Almirola | Ford | Smithfield | 15.255 | -0.274 | 125.782 |
| 29 | 4 | Kevin Harvick | Ford | Busch Outdoors | 15.259 | -0.278 | 125.749 |
| 30 | 7 | JJ Yeley | Chevy | TBD | 15.282 | -0.301 | 125.559 |
| 31 | 88 | Dale Earnhardt Jr | Chevy | Axalta-Ducks Unlimited | 15.287 | -0.306 | 125.518 |
| 32 | 72 | Cole Whitt | Chevy | Bad Boy Mowers | 15.329 | -0.348 | 125.175 |
| 33 | 34 | Landon Cassill | Ford | Love's Travel Stops | 15.376 | -0.395 | 124.792 |
| 34 | 32 | Matt DiBenedetto | Ford | E.J. Wade Construction | 15.406 | -0.425 | 124.549 |
| 35 | 83 | Corey Lajoie | Toyota | HMS Motorsport | 15.453 | -0.472 | 124.170 |
| 36 | 51 | BJ McLeod | Chevy | NEX Transportation | 15.503 | -0.522 | 123.770 |
| 37 | 55 | Gray Gaulding | Toyota | LaColombe Draft Latte | 15.531 | -0.550 | 123.546 |
| 38 | 33 | Jeffrey Earnhardt | Chevy | Hulu | 15.554 | -0.573 | 123.364 |
| 39 | 15 | Reed Sorenson | Toyota | Low T Centers | 15.623 | -0.642 | 122.819 |
| 40 | 23 | Joey Gase | Toyota | Best Home Furnishings | 15.777 | -0.796 | 121.620 |
[adinserter name="GOOGLE AD"]