Earnhardt, Jr. Reflects On Talking Racing With His Dad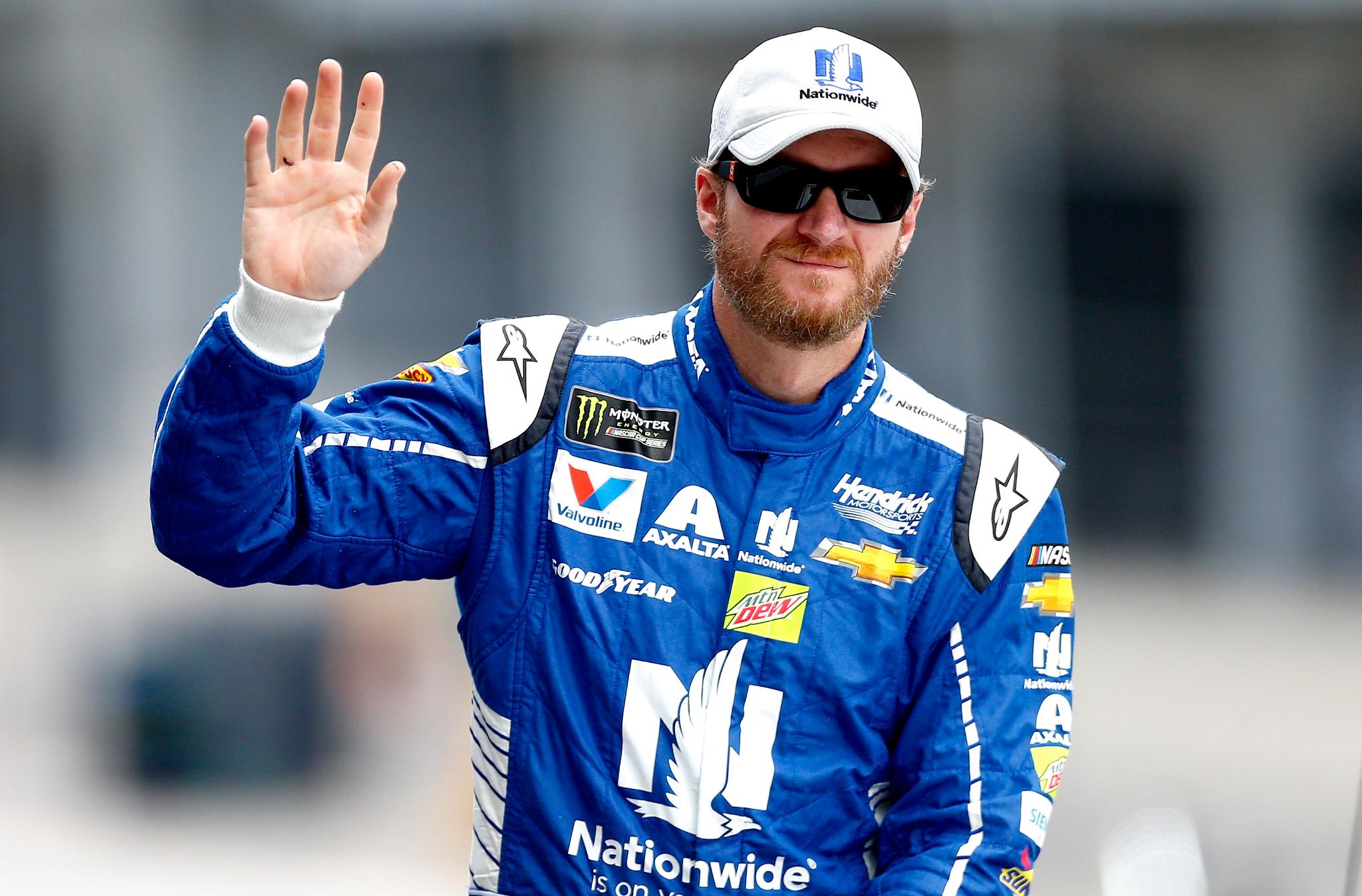 Dale Earnhardt, Jr.
Sean Gardner/Getty Images
It certain hasn't been easy for Dale Earnhardt, Jr. to live in the shadow of his famous seven-time championship-winning father, but it turns out it wasn't easy for Junior just to talk to his dad – especially about anything related to racing, and definitely not after a bad day of racing.
In his comments to the media leading up to making his final Pocono start on Sunday, Earnhardt, Jr. revealed that he and his dad didn't get a lot of time to talk about racing at all, including whenever the elder Earnhardt had a bad day at the track.
"We didn't talk," said Earnhardt, Jr. "Me and my dad never talked racing. We just didn't."
Dale Earnhardt, Sr. surely made his mark at Pocono during his career, including two victories and 22 top-10 finishes. He also had nine DNF's – the most famous coming in July 1982 where he wound up upside down after a crash with Tim Richmond.
But of all of Earnhardt, Sr.'s Pocono finishes, one of the most memorable was one where he finished fourth.
It was the June Pocono race back in 2000, where Jeremy Mayfield put the bumper to "the Intimidator" in the final turn to push his way to his second-career Cup Series victory, drawing the ire of Earnhardt fans everywhere.
It was a moment etched in the minds of many NASCAR fans, including Earnhardt, Jr., who finished 19th in the event, and was definitely not a topic of conversation between the two.
[adinserter name="GOOGLE AD"] "I wouldn't go up and ask him about that unless I wanted to upset him," said Earnhardt, Jr. "I hated it. It was something you were used to seeing Dad doing, and I didn't like seeing nobody do it to him. He was my hero and I didn't like seeing my hero getting moved out of the way like that. So, it's not a race that I like to think about.
"But I certainly, knowing my dad, it's nothing I would have brought up in conversation in the rental car on the ride back to the airport, for sure."
Although Earnhardt, Sr. was around to see some of his son's greatest moments – his first Xfinity Series title, his first Cup win, his first win in the NASCAR All Star Race – Earnhardt, Jr. says there just wasn't a lot of time for them to actually talk about racing.
"We didn't talk racing a lot. We just didn't. There wasn't a lot of opportunity," said Earnhardt, Jr. "I was running Late Models for four years and I don't think he ever saw me race Late Models during the '90's. And then when we got in the Xfinity Series I had two years of that and one year in Cup and then he was gone. So, we had three years of just not really any conversation about driving or advice about it."
Earnhardt, Jr. said his dad's main concern was for Junior to keep as much a level head off the track as he did on the track, advice that has served the younger Earnhardt well as he prepares to retire at the end of the 2017 Cup season.
"He was more worried about me keeping my head on straight and keeping focused than how to get into the corner," said Earnhardt, Jr. "He was more about how to be outside of the car and keeping your head on.
"Everything was happening so fast and we were having so much success I think he was just making sure that I wasn't going to be careless or be an idiot outside the car. We talked about that all the time; getting up on time and not sleeping until noon and being on time for appearances and all that stuff."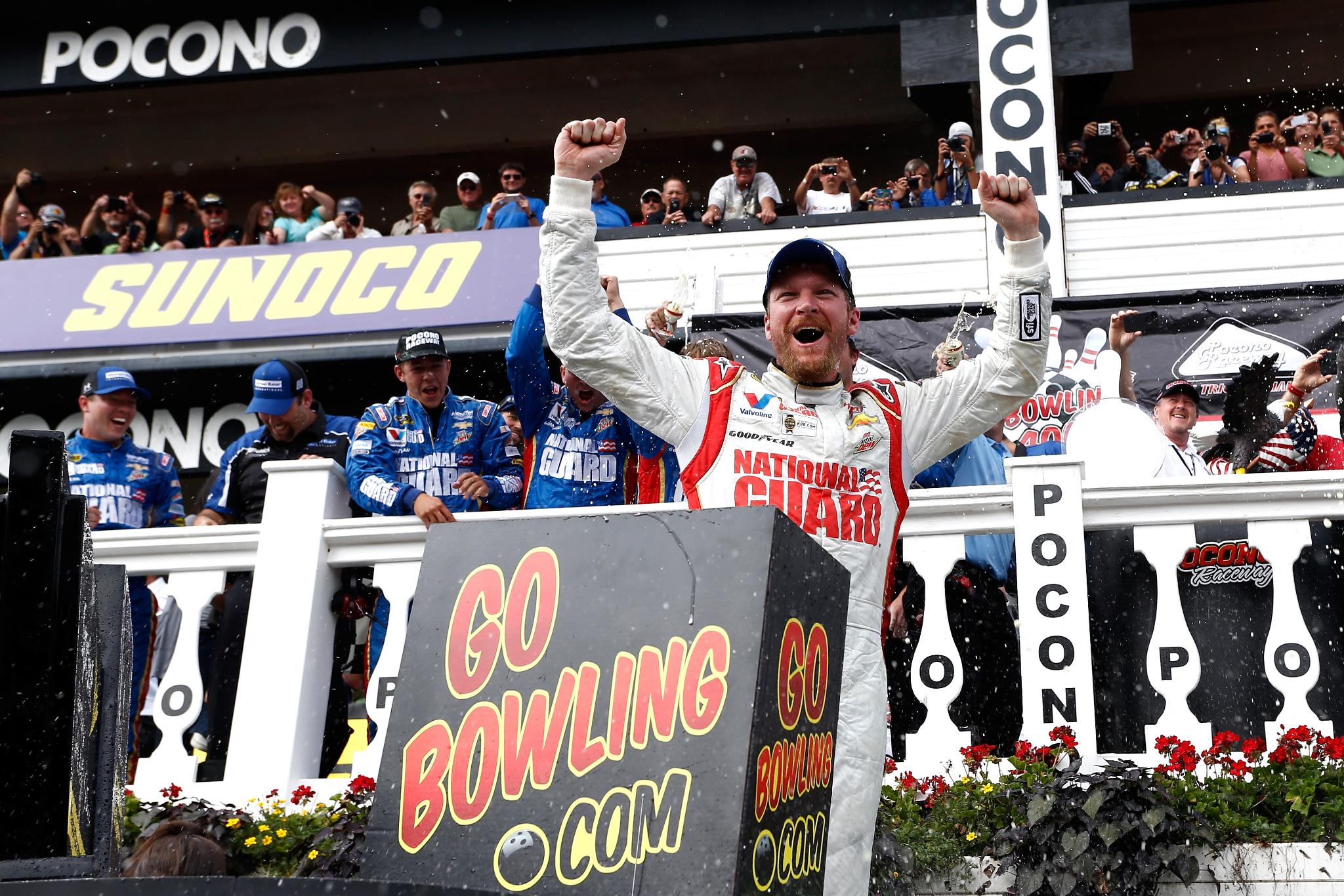 Earnhardt, Jr. celebrated after sweeping both Pocono races in 2014
J

eff Zelevansky/Getty Images
Earnhardt, Jr. himself has left his mark on Pocono, most notably watching his father's win total at the track with his back-to-back victories here in 2014.
He finished 38th after losing an engine in the Cup Series' first visit of the season at Pocono back in June, but he still hopes to make one last trip to Victory Lane before finishing out his final race at the "Tricky Triangle".
"This track offers so much character," said Earnhardt, Jr. "The Tunnel Turn was one of the more terrifying corners to try to get used to in this sport. It' such a challenge. We go through there so fast. It was one of the more intimidating corners in our series. I'm going to miss how unique it is.
"I have really enjoyed racing here. It took a while for me to sort of figure that out or understand how to enjoy the track itself, but the racing here is pretty fun."
[adinserter name="GOOGLE AD"]