Ryan Preece A First-Time Winner in Xfinity Series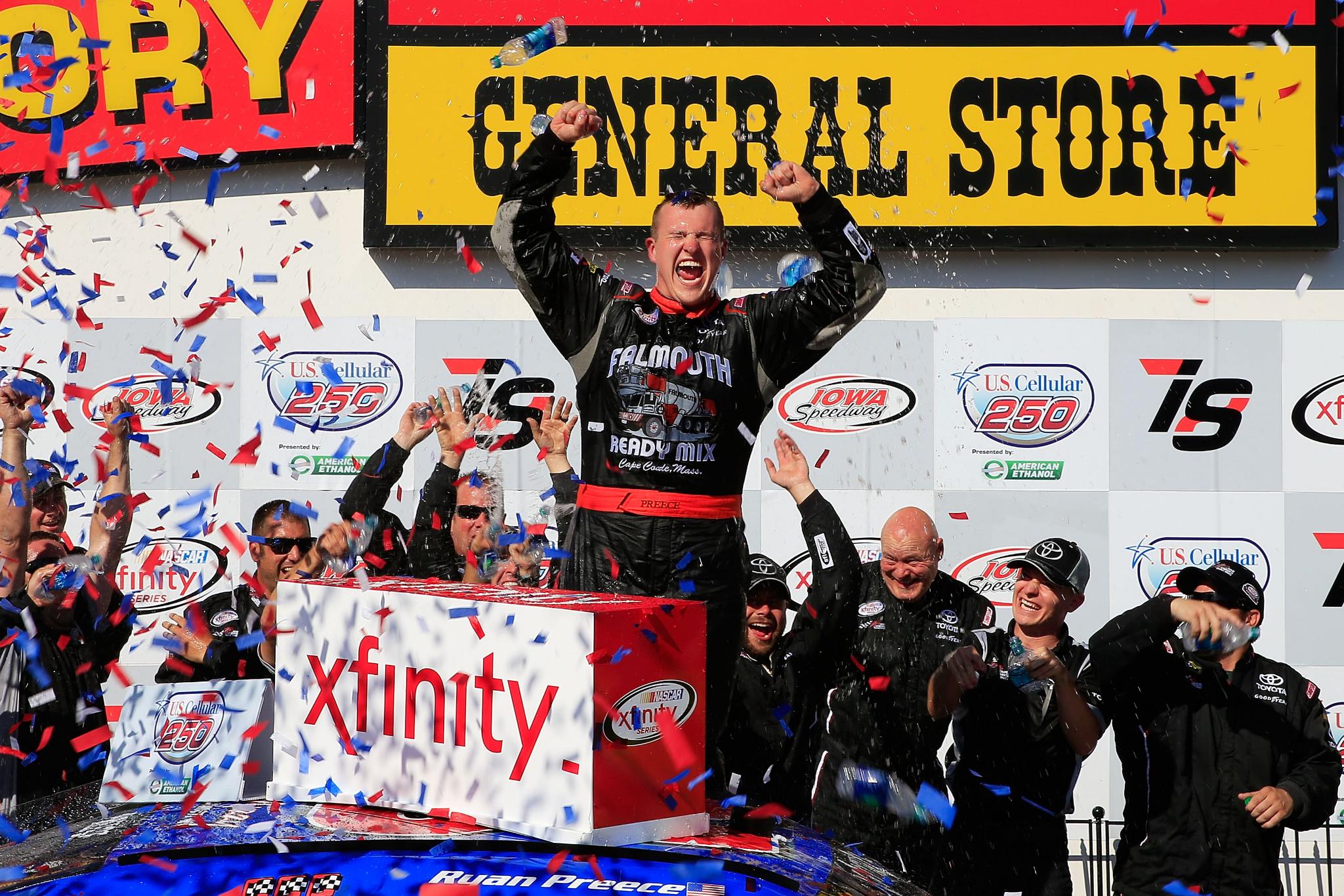 Ryan Preece wins at Iowa Speedway
Daniel Shirey/Getty Images
Ryan Preece's short-lived, but ambitious 2017 NASCAR XFINITY Series schedule began three weeks ago at his de facto home track, New Hampshire Motor Speedway.
It ended Saturday in the U.S. Cellular 250 at Iowa Speedway – as confetti swirled and soared to highlight his first career series triumph in Victory Lane.
Preece, held off a hard-charging Kyle Benjamin in a green-white checkered finish that came after the third restart in the race's final 17 pulse-quickening laps.
"I thought this race would never end, that's for sure," an emotional Preece told the NBCSN after finally slowing his fast Joe Gibbs Racing No. 20 car to a stop. "But man, nothing's going to beat today."
No one could beat Preece, who ran full-time in 2016, but chose to funnel his 2017 XFINITY Series resources into this two-race stint with JGR.
That high-stakes gamble clearly paid off – as Preece beamed and raised his arms, his season over, but his future visibly brighter.
"I don't even know what to say," said Preece, who owns 17 career NASCAR Whelan All-American Modified Tour wins, including two this season. "I've got to thank everybody."
So he did.
Benjamin settled for second, which also is his best career finish. Veteran Brian Scott took third in his first start of the season.
"I was very nervous," said Benjamin, who also runs part-time for JGR. "I wanted to make it happen right there."
Preece did just that, from start to finish, with a slight hiccup in between.
He earned his first career Coors Light Pole Award earlier Saturday, powering to a lap of 24.072 seconds at a top speed of 130.857 mph. That dominance carried over into the first stage, which Preece led in its entirety.
[adinserter name="GOOGLE AD"] He dropped to sixth off pit road, however, which allowed Justin Allgaier to surge to the front. Allgaier would narrowly hold off Preece to win the second stage and gain a coveted playoff point, but a later gamble would reap misfortune instead of reward.
Drivers faced a dilemma when Spencer Gallagher hit the wall, drawing the caution flag with 80 laps to go. Every top contender eventually dove onto pit road. Everyone except Allgaier, that is, whose team hoped another caution would help the decision pay off.
That didn't happen, as Allgaier swiftly dropped from first to seventh, then to 15th – and finally, to a green flag pit stop that came with 25 laps to go. That longed-for caution finally flew shortly after Allgaier returned to the track when Sam Hornish Jr.'s No. 22 Ford hit the wall.
Allgaier's second bad break in as many weeks preceded that nerve-fraying – and caution-filled – finish.
Points leader Elliott Sadler raced near the front most of the day, but ended up 12th. He maintains a 54-point lead over William Byron, who finished ninth.
Preece clearly wasn't racing for points. Only a win.
And he edged Benjamin by a mere .054 seconds – a fitting margin to conclude a sprint-sized season that ended in happy incredulity.
"I'm so at a loss of words right now," Preece said. "I don't know what to say. This is what emotion is, I can tell you that."
RACE RESULTS
| | | | | | | | | | |
| --- | --- | --- | --- | --- | --- | --- | --- | --- | --- |
| Pos. | # | Driver | Make | Start | Laps | Led | Status | Points | Playoff Points |
| 1 | 20 | Ryan Preece | Toyota | 1 | 254 | 141 | Running | 59 | 0 |
| 2 | 18 | Kyle Benjamin | Toyota | 2 | 254 | 5 | Running | 49 | 0 |
| 3 | 3 | Brian Scott | Chevy | 11 | 254 | 0 | Running | 34 | 0 |
| 4 | 48 | Brennan Poole | Chevy | 8 | 254 | 0 | Running | 45 | 0 |
| 5 | 00 | Cole Custer | Ford | 5 | 254 | 0 | Running | 39 | 0 |
| 6 | 14 | JJ Yeley | Toyota | 28 | 254 | 0 | Running | 31 | 0 |
| 7 | 21 | Daniel Hemric | Chevy | 3 | 254 | 0 | Running | 30 | 0 |
| 8 | 11 | Blake Koch | Chevy | 7 | 254 | 0 | Running | 30 | 0 |
| 9 | 9 | William Byron | Chevy | 17 | 254 | 0 | Running | 28 | 0 |
| 10 | 33 | Brandon Jones | Chevy | 19 | 254 | 0 | Running | 27 | 0 |
| 11 | 96 | Brett Moffitt | Chevy | 21 | 254 | 0 | Running | 0 | 0 |
| 12 | 1 | Elliott Sadler | Chevy | 6 | 254 | 2 | Running | 42 | 0 |
| 13 | 62 | Brendan Gaughan | Chevy | 16 | 254 | 0 | Running | 24 | 0 |
| 14 | 39 | Ryan Sieg | Chevy | 25 | 254 | 0 | Running | 23 | 0 |
| 15 | 01 | Harrison Rhodes | Chevy | 26 | 254 | 0 | Running | 22 | 0 |
| 16 | 60 | Ty Majeski | Ford | 9 | 254 | 0 | Running | 23 | 0 |
| 17 | 28 | Dakoda Armstrong | Toyota | 20 | 254 | 0 | Running | 20 | 0 |
| 18 | 4 | Ross Chastain | Chevy | 22 | 254 | 0 | Running | 19 | 0 |
| 19 | 19 | Matt Tifft | Toyota | 10 | 253 | 0 | Running | 22 | 0 |
| 20 | 7 | Justin Allgaier | Chevy | 14 | 252 | 106 | Running | 32 | 0 |
| 21 | 16 | Ryan Reed | Ford | 18 | 252 | 0 | Running | 16 | 0 |
| 22 | 8 | BJ McLeod | Chevy | 31 | 252 | 0 | Running | 15 | 0 |
| 23 | 2 | Ben Kennedy | Chevy | 13 | 251 | 0 | Running | 23 | 0 |
| 24 | 52 | Joey Gase | Chevy | 30 | 249 | 0 | Running | 13 | 0 |
| 25 | 24 | Dylan Lupton | Toyota | 32 | 249 | 0 | Running | 12 | 0 |
| 26 | 99 | David Starr | Chevy | 36 | 249 | 0 | Running | 11 | 0 |
| 27 | 78 | Tommy Joe Martins | Chevy | 35 | 249 | 0 | Running | 10 | 0 |
| 28 | 51 | Jeremy Clements | Chevy | 27 | 249 | 0 | Running | 9 | 0 |
| 29 | 90 | Brandon Brown | Chevy | 38 | 248 | 0 | Running | 8 | 0 |
| 30 | 07 | Ray Black Jr | Chevy | 37 | 247 | 0 | Running | 7 | 0 |
| 31 | 74 | Mike Harmon | Dodge | 40 | 243 | 0 | Running | 6 | 0 |
| 32 | 40 | Stan Mullis | Chevy | 39 | 241 | 0 | Running | 5 | 0 |
| 33 | 5 | Michael Annett | Chevy | 23 | 233 | 0 | Running | 4 | 0 |
| 34 | 22 | Sam Hornish Jr | Ford | 4 | 229 | 0 | Accident | 13 | 0 |
| 35 | 0 | Garrett Smithley | Chevy | 34 | 218 | 0 | Accident | 2 | 0 |
| 36 | 42 | Tyler Reddick | Chevy | 15 | 218 | 0 | Running | 1 | 0 |
| 37 | 23 | Spencer Gallagher | Chevy | 12 | 170 | 0 | Accident | 1 | 0 |
| 38 | 89 | Morgan Shepherd | Chevy | 33 | 46 | 0 | Handling | 1 | 0 |
| 39 | 15 | Reed Sorenson | Chevy | 29 | 9 | 0 | Transmission | 0 | 0 |
| 40 | 93 | Jeff Green | Chevy | 24 | 3 | 0 | Vibration | 1 | 0 |

[adinserter name="GOOGLE AD"]