Kasey Kahne Wins Wild Race at Indy
Kasey Kahne wins at the Brickyard
All Kasey Kahne needed to snap a 102-race winless streak was one last good restart and hope that he could make it to the finish before another calamity broke out. He got what he needed – with maybe a little help from NASCAR – to beat out Brad Keselowski and win Sunday's wreck-filled Brickyard 400 at Indianapolis Motor Speedway to win his 18th-career Monster Energy NASCAR Cup Series race and his first since 2014.
Kahne beat Keselowski in a three-lap overtime dash to the finish after outracing him to into turn one on the opening lap and making it to the overtime line just as the 14-caution flag of the day waved for another multi-car crash on the backstretch, effectively ending the race under caution.
Keselowski was credited with second, followed by Ryan Newman, Joey Logano and Matt Kenseth.
It was the end to a wild race that began just after 3pm and ended well into twilight after a two-hour rain delay, two red flags and several fiery crashes that put nearly the entire top ten in points in the garage.
All the while Kasey Kahne was in the safest place to be: out in front, and all thanks to some good timing and a lot of luck.
"Today's strategy got us here," said Kahne. "The career is big, for sure; but the win and the history here. To win at this track is unreal. We used to always be really close. We lost to Jeff (Gordon) and we lost to Tony (Stewart); just some fast cars back then.
"I'm exhausted. It was pretty crazy."
Kyle Busch crashes on lap 112
The attrition started really taking its toll on lap 112, when Martin Truex, Jr. and Kyle Busch – clearly the two best cars on the track on Sunday – crashed on a restart while battling for the lead, marking yet another frustrating race for Busch, who led the most laps up until the crash.
"That's the way it goes, just chalk it up to another one that we figure out how to lose these things by," said Busch. "Had wanted to go out there and put ourselves in the record books for three in a row, but not happening."
With the top two contenders out of the event, the race became anyone's game, as drivers like Kenseth and Trevor Bayne rolled the dice on a fuel mileage strategy.
Kahne and his crew chief Keith Rodden, meanwhile, decided not to gamble and rolled onto pit road with 10 laps to go – just when all hell broke loose.
Battling for 14th coming off turn four, Clint Bowyer got loose and spun – hitting the inside wall before bouncing back across the track right in front of Erik Jones and Kurt Busch, who had nowhere to go.
The crash brought out the red flag and left Kahne sitting pretty with four fresh tires and full load of fuel. Once the field was back under caution, Kahne inherited the lead as the rest of the field pitted.
[adinserter name="GOOGLE AD"]But the wreckfest was just getting started.
Shortly after the restart with seven laps to go, Kyle Larson got turned coming through the frontstretch, setting up yet another restart, only this time, Kahne's teammate Jimmie Johnson added himself to the mix.
Coming through turns three and four looking for the white flag, Johnson dived down low to make it three wide for the lead before spinning out to bring out the yellow flag once again – and set up a three-lap overtime shootout to the finish.
On the first attempt at a green-white-checkered finish, the green flag wasn't in the air for more than a few seconds when Bayne got turned off the bumper of Michael McDowell, touching off an eight-car crash that blocked the entire track and brought out another red flag.
On the second attempt, Kahne surged ahead of Keselowski going into turn one and was clear out in front by the time the field made it to turn two.
Once the field came onto the backstretch, Denny Hamlin spun into the outside wall, collecting Paul Menard and Ty Dillon, while Kahne and Keselowski raced to the overtime line in the middle of the backstretch.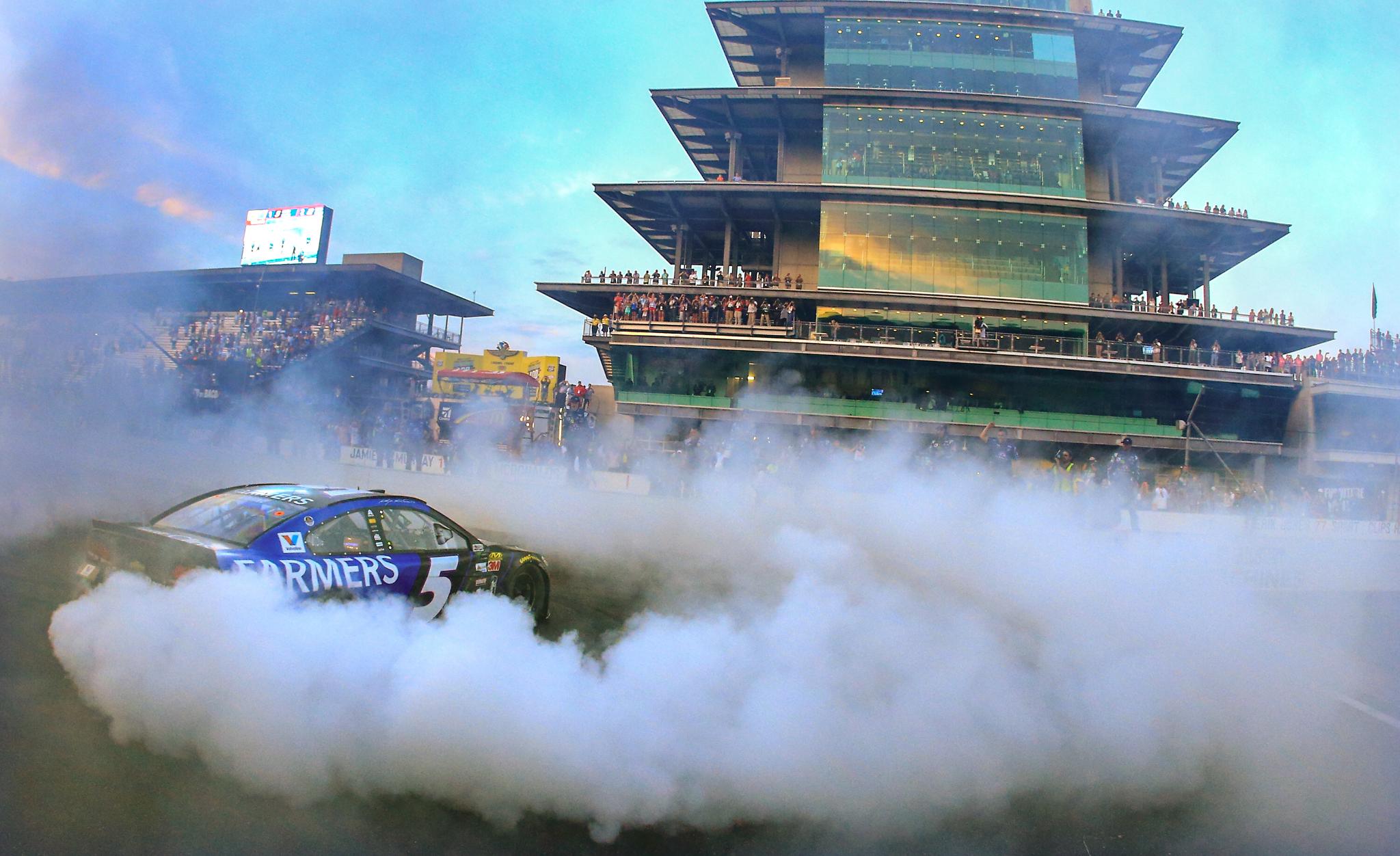 Kasey Kahne does a victory burnout after winning at Indy
Jim Fluharty for Chevy Racing
Kahne made the line just seconds before the caution flag waved, holding the top spot as the race ended under caution.
There were questions after the race on whether NASCAR had held off throwing the caution flag until Kahne had made it to the overtime line, since the clean-up would have taken too long to complete the race before darkness set in.
When asked about it after the race, Keselowski took the high road.
"I haven't seen any replays of the last yellow to have any kind of articulate answer that I think would be fair to give," said Keselowski.
The runner-up finish was his career-best at Indianapolis for Keselowski, who had no qualms about racing three-wide with Johnson and Kahne with just two laps to go.
"It was just a tin cup moment. I didn't want to lose by laying up," said Keselowski. " I thought if we all wrecked, I could go home and feel good about that. But if I laid up, they all drove on, I finished second, I would have been mad about that forever.
"(Finishing) second sucks, but there's 38 other spots worse than that, so… I guess it's a glass half full, glass half empty question. You know, it's got its ups and its downs."
QUOTES
KASEY KAHNE, NO. 5 FARMERS INSURANCE CHEVROLET SS – Race Winner
WHAT IS BIGGER, A VICTORY FOR YOUR CAREER OR TO WIN THE BRICKYARD 400?
"The career is big, for sure; but the win and the history here. To win at this track is unreal. We used to always be really close. We lost to Jeff (Gordon) and we lost to Tony (Stewart); just some fast cars back then. Today's strategy got us here. This Farmers Insurance Chevrolet was great once I got out front. I just had to get there. I'm exhausted. But, an unbelievable win. The team just kept working. We had great pit stops. Farmers Insurance, Great Clips, and Chevrolet have been huge to us. To win at Indy is unbelievable. I wish my son, Tanner, was here."
ON THAT FINAL RESTART, IT WAS A GREAT RESTART. HOW DID YOU PULL OFF THAT PASS ON BRAD KESELOWSKI?
"Well, the one before just didn't work. Everything went wrong. On the final one, everything went right. And once I got to Turn 1, I had good power and was able to clear him off (Turn) 1. I'm exhausted. And, it's pretty crazy. I wish my little boy was here."
WHAT'S THE EMOTION WITH ALL THE TALK GOING ON ABOUT YOUR CAREER? WHAT'S THE EMOTION WHEN YOU FINALLY GET BACK TO VICTORY LANE LIKE THIS?
"It feels good to win, you know? For all these people that work so hard, it feels good to get into Victory Lane and show that we can do it if things go our way."
KYLE BUSCH, No. 18 Skittles Toyota Camry, Joe Gibbs Racing
Was there any other choice in that situation than to race the 78 on that restart?
"I guess we could have continued to play the teammate game and try to settle it on a green flag pit stop, but he could be that much faster than me and yard me by three seconds on a run with the clean air then I would never be able to get the opportunity to pass him back even if we had to settle it on a pit stop. That's the way it goes, just chalk it up to another one that we figure out how to lose these things by. It's very frustrating and I hate it for my guys, they build such fast Toyota Camrys and the Skittles Camry was really good again today. Had wanted to go out there and put ourselves in the record books for three in a row, but not happening."
Did Martin Truex Jr. just get loose underneath you going into the corner?
"I would guess, I don't know. I was on his (Martin Truex Jr.) outside and got hit, got blindsided and into the fence so I would imagine that's what it was."
Do you feel you had the fastest car today?
"Yes."
MARTIN TRUEX JR., No. 78 Auto-Owners Insurance Toyota Camry, Furniture Row Racing
What happened on the restart between yourself and Kyle Busch?
"I just got loose and wrecked him (Kyle Busch) I guess, totally my fault. Didn't really know what to expect in that position and didn't really realize that he was going to drive in that deep and suck me around. I will take the blame for that and obviously it was my fault. I hate it for Kyle (Busch), he had a great car and we did as well, but that's racing. Glad I was able to get out, fire was bad. I had no brakes and I had to run into the wall a second time just to get it to stop so I could get out. Fortunately I'm okay and we'll live to race another day."
Did you feel you had no other choice than to race Kyle Busch on that restart?
"We worked well together and that's the hard part about this stuff is when it's time to go. I feel awful and just made a mistake. Definitely should have picked the outside and it would have been fine I guess. Just the way it goes. Hate it for Auto Owners and everyone involved at Furniture Row. We had an awesome car today and we got out front, I don't think they were going to be able to beat us. A mistake on my part took us out of it, but we'll get them next week."
Results
| | | | | | | | |
| --- | --- | --- | --- | --- | --- | --- | --- |
| POS | NO. | DRIVER | MANU | BEHIND | DELTA | LED | LAPS |
| 1 | 5 | Kasey Kahne | Chevy | LEADER | LEADER | 12 | 167 |
| 2 | 2 | Brad Keselowski | Ford | 0.689 | 0.689 | 23 | 167 |
| 3 | 31 | Ryan Newman | Chevy | 0.804 | 0.115 | 0 | 167 |
| 4 | 22 | Joey Logano | Ford | 1.355 | 0.551 | 0 | 167 |
| 5 | 20 | Matt Kenseth | Toyota | 2.068 | 0.713 | 21 | 167 |
| 6 | 4 | Kevin Harvick | Ford | 2.465 | 0.397 | 0 | 167 |
| 7 | 19 | Daniel Suarez | Toyota | 2.940 | 0.475 | 0 | 167 |
| 8 | 32 | Matt Dibenedetto | Ford | 3.427 | 0.487 | 0 | 167 |
| 9 | 37 | Chris Buescher | Chevy | 3.846 | 0.419 | 0 | 167 |
| 10 | 47 | AJ Allmendinger | Chevy | 4.282 | 0.436 | 0 | 167 |
| 11 | 10 | Danica Patrick | Ford | 5.166 | 0.884 | 0 | 167 |
| 12 | 72 | Cole Whitt | Chevy | 5.834 | 0.668 | 0 | 167 |
| 13 | 43 | Aric Almirola | Ford | 6.482 | 0.648 | 0 | 167 |
| 14 | 66 | Timmy Hill | Chevy | 6.931 | 0.449 | 0 | 167 |
| 15 | 1 | Jamie McMurray | Chevy | 8.595 | 1.664 | 0 | 167 |
| 16 | 27 | Paul Menard | Chevy | 18.009 | 9.414 | 0 | 167 |
| 17 | 11 | Denny Hamlin | Toyota | 10.259 | -7.750 | 0 | 166 |
| 18 | 95 | Michael Mcdowell | Chevy | -1.000 | -11.259 | 0 | 166 |
| 19 | 13 | Ty Dillon | Chevy | 0.760 | 1.760 | 0 | 165 |
| 20 | 6 | Trevor Bayne | Ford | -5.000 | -5.760 | 0 | 162 |
| 21 | 3 | Austin Dillon | Chevy | -5.000 | 0.000 | 0 | 162 |
| 22 | 34 | Landon Cassill | Ford | -5.000 | 0.000 | 0 | 162 |
| 23 | 21 | Ryan Blaney | Ford | -5.000 | 0.000 | 6 | 162 |
| 24 | 55 | Gray Gaulding | Chevy | -5.000 | 0.000 | 0 | 162 |
| 25 | 15 | Joey Gase | Chevy | -4.000 | 1.000 | 0 | 162 |
| 26 | 33 | Jeffrey Earnhardt | Chevy | -5.000 | -1.000 | 0 | 162 |
| 27 | 48 | Jimmie Johnson | Chevy | -9.000 | -4.000 | 0 | 158 |
| 28 | 42 | Kyle Larson | Chevy | -13.000 | -4.000 | 0 | 154 |
| 29 | 41 | Kurt Busch | Ford | -18.000 | -5.000 | 0 | 149 |
| 30 | 14 | Clint Bowyer | Ford | -19.000 | -1.000 | 0 | 148 |
| 31 | 77 | Erik Jones | Toyota | -19.000 | 0.000 | 10 | 148 |
| 32 | 51 | BJ Mcleod | Chevy | -32.000 | -13.000 | 0 | 135 |
| 33 | 78 | Martin Truex Jr | Toyota | -57.000 | -25.000 | 8 | 110 |
| 34 | 18 | Kyle Busch | Toyota | -57.000 | 0.000 | 87 | 110 |
| 35 | 17 | Ricky Stenhouse Jr | Ford | -61.000 | -4.000 | 0 | 106 |
| 36 | 88 | Dale Earnhardt Jr | Chevy | -91.000 | -30.000 | 0 | 76 |
| 37 | 7 | JJ Yeley | Chevy | -97.000 | -6.000 | 0 | 70 |
| 38 | 38 | David Ragan | Ford | -111.000 | -14.000 | 0 | 56 |
| 39 | 24 | Chase Elliott | Chevy | -124.000 | -13.000 | 0 | 43 |
| 40 | 23 | Corey Lajoie | Toyota | -158.000 | -34.000 | 0 | 9 |