Matt Crafton Wins at Eldora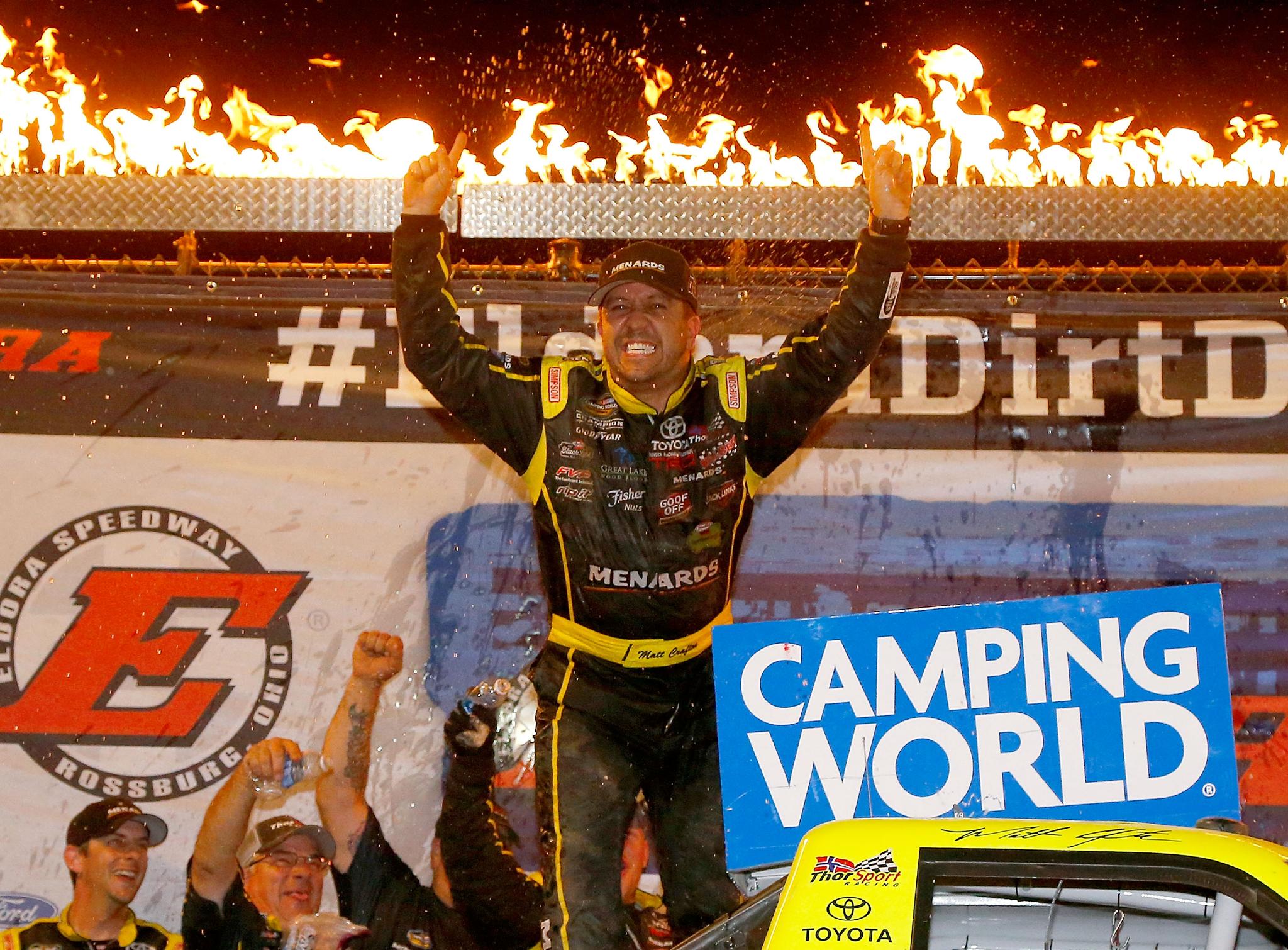 Matt Crafton snapped a 27-win winless streak
Sean Gardner/Getty Images
Using a late-race restart 18 laps from the finish and a strategy to 'go where the others aren't,' Matt Crafton muscled past veteran dirt racer Stewart Friesen to win Wednesday night's fifth annual Eldora Dirt Derby 150 NASCAR Camping World Truck Series race at Eldora Speedway.
Over the last forty laps of the race, Crafton patiently worked his way from the bottom of the top-10 and took advantage of a Lap 127 caution to position himself to challenge a dominant Friesen for his first win since Charlotte (N.C.) Motor Speedway last May.
"My first dirt win – a lot of fun," said Crafton, who picked up his 14th career win. "In the second part of that race we down-right just stunk. It was my fault. We over-tightened it a little bit in the first run. It got free and we just went back to the way we started the race.
"I knew I was getting beat down low. Finally, at the end, I said, 'Well, we may have to tear the right side off to get the win.' I started doing it and this truck became a rocket ship."
Friesen, who finished second to earn his career-best finish in the Truck Series, accepted defeat with dignity.
"Congrats to Matt, he's been doing his homework on the dirt and it paid off," said Friesen who led a race high 93 laps.
"We didn't come here to run second that's for damn sure, but I'm proud of these guys. They worked hard to get this truck dialed in. We had a great truck, he (Crafton) just got rolling on the top, it cleaned up, I was so committed to the bottom and go there in the middle and he just found a line and got us. It burns."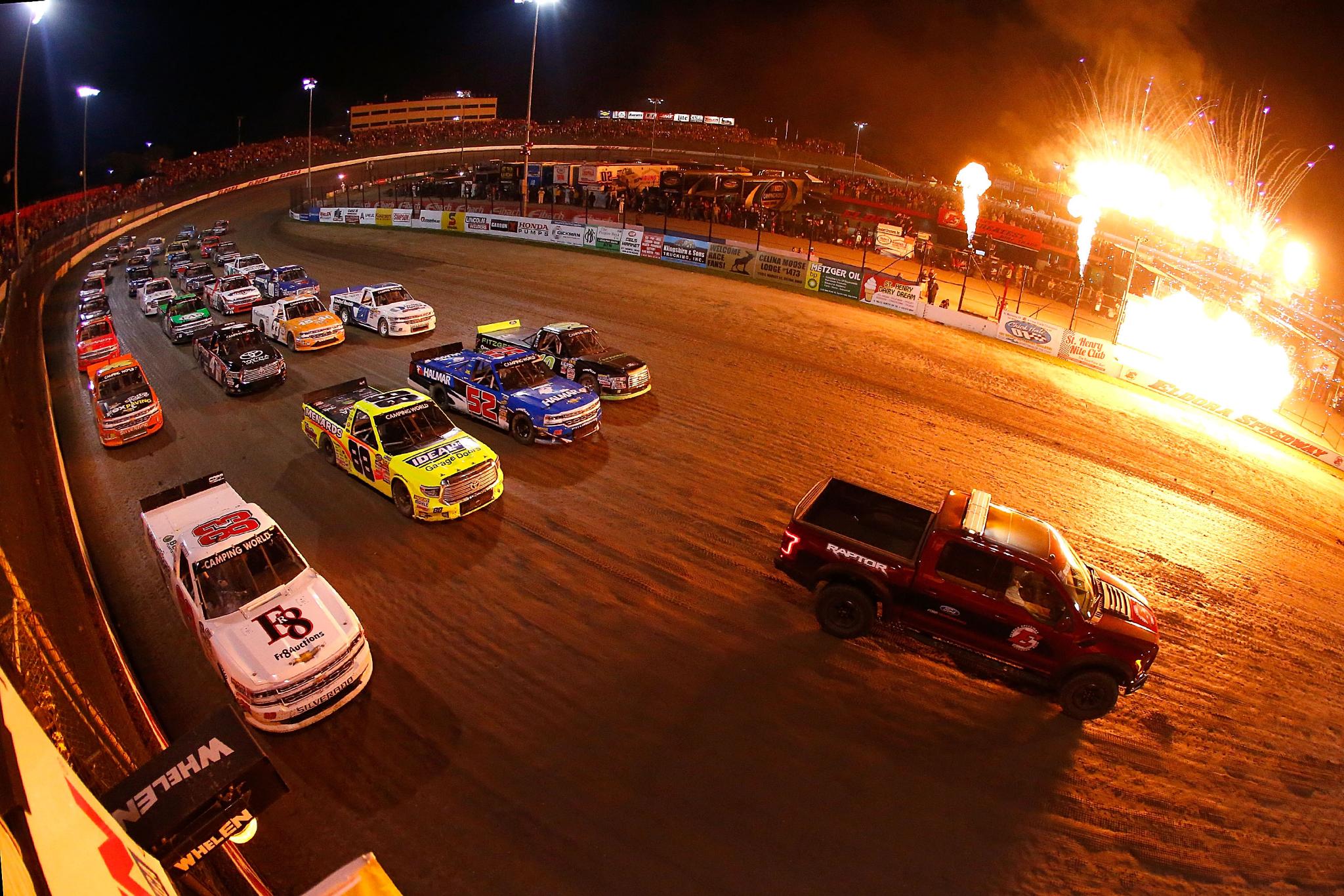 Matt Crafton (88) started second alongside first-time pole sitter Stewart Friesen (52)
Sean Gardner/Getty Images
Pole-sitter Friesen led his first career NASCAR Camping World Truck Series laps and extended his lead to nearly two seconds when a multi-truck accident ignited in Turn 3 on Lap 19 after Sheldon Creed spun and collected at least six other trucks in the process.
With a competition caution set at Lap 20 to allow teams to clean their windshields and grilles of the mud and dirt sprayed during the first run, NASCAR utilized the second yellow flag of the night to serve as the competition caution.
On the Lap 33 restart, Friesen found himself under attack from two-time series champion Crafton who swiped the lead away on Lap 34 and held it through the conclusion of Stage 1 which ended under caution after pre-race favorite Christopher Bell spun and was t-boned by Kaz Grala.
The start of Stage 2 saw the lead exchange twice in a period of three laps as Friesen grabbed the lead back from Crafton only to be passed by John Hunter Nemechek two laps later. Friesen, however, proved that he had one of the strongest trucks in the field by reassuming the lead on Lap 53 and collecting the Stage 2 victory.
Under yellow for the Stage 2 break, Friesen's spotter noticed that he had a right-front tire going down forcing the No. 52 Halmar International Chevrolet down pit road for four tires and fuel. The unexpected stop handed the lead to 2015 Eldora winner Bell for the Lap 93 restart.
Restarting sixth, Friesen stormed back though the field and eventually caught the heavily damaged truck of Bell on Lap 115 to reassume command at the front.
When it seemed that Friesen was settling into his comfort zone and potentially sailing towards his first career victory, Crafton using a quicker top lane overpowered him on Lap 133, with the pass setting the tone for the final lead change of the night.
Behind Crafton and Friesen, Chase Briscoe in a backup truck finished third ahead of Grant Enfinger and John Hunter Nemechek. Late model dirt specialist Bobby Pierce finished sixth while Noah Gragson, Justin Haley, Bell and Austin Cindric comprised the remainder of the top-10.
MATT CRAFTON, No. 88 Ideal Door / Menards Toyota Tundra, Thorsport Racing
Finishing Position: 1st
A lot of emotion for this victory, where does this win stack up for you?
[adinserter name="GOOGLE AD"]"Our first dirt win. A lot of fun. In the second part of the race we downright just stunk. It was my fault. We overtightened it. On the first we were pretty good and I thought we were a little bit too free. We tightened it up and then we just went back to exactly where we started the race and Rico (Abreu) and them guys drove by me up top and I'm like 'Crafton, you got to put this thing on the fence down there'. I knew I was getting beat down there and then I found something in the middle over here in 1 and 2. Finally at the end I'm like 'well, we ought to tear the right side off this thing or take it to victory lane'."
You've done more dirt racing this past year, how much did that help you tonight?
"It helped a lot. Just learning what the track does and seeing what spots on the race track – in the years past I didn't know what I was looking at to be totally honest. Just kept studying and kept studying. Had a lot of great people here. Nick Coffman came here and helped me during the test. They were telling me 'go down here in the dirt and spin the tires' and I'm like why? But I started doing it and this thing was just a rocket ship – this Menards Toyota Tundra."
Talk about your race tonight.
"This definitely wasn't the one that I thought was going to put us in the playoffs without a doubt. I was looking to come in here and have a top five – a good solid top-five run. Yesterday was just good, it was really good, so we kept tuning on it and first run it was really good. Second run we tightened it up too much and Junior (Joiner, crew chief) was mad and throwing one of the Juniors, so we came in and made some adjustments and I made some adjustments out there on the race track. Kept searching and finally found something at the end."
Talk us through your race this evening.
"Started off the beginning of the race – we were pretty good. Then I started searching for different spots on the race track when we won the first segment and I thought we were just a little bit too free at that point and had Junior (Joiner, crew chief) and then the second segment we were way way too tight and we fell back quite a ways. Junior was pissed off at me because I had him overtighten the truck. I guess I had to make up there for it at the end. We basically went right back exactly where we started the race and I just learned how to drive it. Rico (Abreu) and Christopher (Bell) went by me up top and I just had to save my stuff and just had to have something to race there at the end. I knew I just couldn't put it up top like Rico – just kept pounding the fence. He was putting on a heck of a show without a doubt. I just kept saying I can't do that yet. I got to have something here at the end to race these guys and when it was – the pay window opened, I finally put it up there and took advantage of it."
What does this mean to you considering you don't have much experience on dirt?
"It's huge. Since I was a kid I've always heard about Eldora and then watching all these guys the last few years put this thing on the fence and I ran the bottom and I would run in the top five and then I would fade at the end because the bottom would go away. I just came committed that I'm going to run the top and we're going to give up our bottom of the race track and not going to be quite as good down there, but I'm going to run the top when it matters. That's what we did tonight. It was huge. It definitely ranks up there amongst one of the greatest wins I've had so far just because it's something so out of the ordinary."
Describe the journey of learning dirt as you built your own dirt car with your dad and does this feel like the ultimate reward for all that effort?
"Yeah, the last five years now I've been driving other people's dirt modifieds and you never know what you're going to get in. I wanted to control my own fate in it and be able to work on it and understand it and learn it a little bit better and go to the races that I wanted to go to. I bought a car and it needed a lot of work so me and my dad tore it completely apart. We went down and ran Florida. It was seven nights down in Florida. Last night we were there we finished second and then we got where we kind of sucked for a little while and then we made it a little bit better. The last race we were at we were a top five car and that's big going to these local shows and these guys really really good at this stuff. I know I kept getting better and understanding it. And just the little bit I did run it in the past, I would gain 10 percent on it. I just made a big commitment this year. I'm going to buy it and I'm going to figure this stuff out and be able to have a shot at winning this golden trophy right here in front of me."
Is there ever any point where you get on a winless streak and you wonder if a win is going to come again?
"Without a doubt. You always go 'dang, is it going to come again. What am I doing wrong? What are we doing wrong? What do I have to change?' I knew we would because there was spots this season where we had speed and then there was spots this season where we have been really bad as well. Me and Junior just keep working really really hard week in and week out and every one of these guys just keep digging really hard trying to make these trucks better on the half mile to the mile-and-a-halfs. I mean our superspeedway program has been one of our weaker programs in the past and we had a shot to win at Daytona this year until the middle of the back straightaway."
JUNIOR JOINER, crew chief, No. 88 Ideal Door / Menards Toyota Tundra, Thorsport Racing
Talk about what this win means to you and the team.
"He (Crafton) even talks like a dirt racer now. How 'bout that. The pay window, huh? I'm not sure that's true. Gosh. I
can't even thank everybody enough at Thorsport – Duke and Rhonda Thorson, everybody that works so hard. I felt like
we put a lot of effort into this deal. We helped Goodyear kind of come up with this tire. They selected us to come do the tire test and we had a really good three hours of start today and then it was just atrocious after that. I mean we struggled so bad after lunch and we came home – come up with some new ideas. Had some dirt – or had a little help from a few dirt friends which I never agreed with the whole time. I just kept telling them this is still a truck. It's not a dirt car. We're going to Martinsville with dirt. But a lot of the changes we made really helped us and man he just did a heck of a job. I was mad at the end of that second stage. I was pissed. But that's pretty normal for me. That's what makes our relationship special.
What does it mean to you to win here?
"I'm not even sure it's sunk in yet. I can't even believe it. It means a lot. It means a lot to win any time you win in the truck series. It's so tough to win on any given weekend. To just shut up all the critics per say and put us back in victory lane after a year, it means a lot to this team because we need to get on a roll right now and that's what I told the guys before the race started. We're going to turn this year around right now today and low and behold he did. I think that we're going to head on an upward climb now and we'll keep digging like we always do."
RACE RESULTS
| | | | | | | | | | |
| --- | --- | --- | --- | --- | --- | --- | --- | --- | --- |
| Pos. | # | Driver | Make | Start | Laps | Led | Status | Points | Playoff Points |
| 1 | 88 | Matt Crafton | Toyota | 2 | 150 | 24 | Running | 52 | 7 |
| 2 | 52 | Stewart Friesen | Chevy | 1 | 150 | 93 | Running | 54 | 1 |
| 3 | 29 | Chase Briscoe | Ford | 12 | 150 | 0 | Running | 41 | 1 |
| 4 | 98 | Grant Enfinger | Toyota | 11 | 150 | 0 | Running | 40 | 0 |
| 5 | 8 | John Hunter Nemechek | Chevy | 6 | 150 | 11 | Running | 48 | 11 |
| 6 | 63 | Bobby Pierce | Chevy | 26 | 150 | 0 | Running | 31 | 0 |
| 7 | 18 | Noah Gragson | Toyota | 10 | 150 | 0 | Running | 30 | 1 |
| 8 | 24 | Justin Haley | Chevy | 13 | 150 | 0 | Running | 33 | 0 |
| 9 | 4 | Christopher Bell | Toyota | 4 | 150 | 22 | Running | 35 | 19 |
| 10 | 19 | Austin Cindric | Ford | 17 | 150 | 0 | Running | 38 | 0 |
| 11 | 13 | Cody Coughlin | Toyota | 27 | 150 | 0 | Running | 26 | 0 |
| 12 | 99 | Ty Dillon | Chevy | 5 | 150 | 0 | Running | 0 | 0 |
| 13 | 6 | Norm Benning | Chevy | 29 | 150 | 0 | Running | 24 | 0 |
| 14 | 45 | Jeffrey Abbey | Chevy | 16 | 150 | 0 | Running | 23 | 0 |
| 15 | 51 | Harrison Burton | Toyota | 23 | 150 | 0 | Running | 22 | 0 |
| 16 | 49 | Wendell Chavous | Chevy | 28 | 149 | 0 | Running | 21 | 0 |
| 17 | 66 | Ken Schrader | Chevy | 24 | 149 | 0 | Running | 20 | 0 |
| 18 | 50 | Mike Harmon | Chevy | 31 | 147 | 0 | Running | 0 | 0 |
| 19 | 36 | Chris Windom | Chevy | 20 | 146 | 0 | Running | 18 | 0 |
| 20 | 16 | Ryan Truex | Toyota | 8 | 146 | 0 | Running | 21 | 1 |
| 21 | 83 | JJ Yeley | Chevy | 18 | 146 | 0 | Running | 0 | 0 |
| 22 | 10 | Ray Ciccarelli | Chevy | 32 | 146 | 0 | Running | 15 | 0 |
| 23 | 21 | Johnny Sauter | Chevy | 14 | 143 | 0 | Running | 14 | 10 |
| 24 | 1 | Brandon Hightower | Chevy | 25 | 138 | 0 | Running | 13 | 0 |
| 25 | 80 | Justin Shipley | Ford | 21 | 121 | 0 | Engine | 17 | 0 |
| 26 | 89 | Rico Abreu | Toyota | 15 | 117 | 0 | Accident | 14 | 0 |
| 27 | 20 | Sheldon Creed | Chevy | 19 | 80 | 0 | Overheating | 0 | 0 |
| 28 | 0 | Korbin Forrister | Chevy | 30 | 44 | 0 | Accident | 9 | 0 |
| 29 | 02 | Max Johnston | Chevy | 22 | 41 | 0 | Accident | 8 | 0 |
| 30 | 27 | Ben Rhodes | Toyota | 7 | 40 | 0 | Accident | 7 | 1 |
| 31 | 33 | Kaz Grala | Chevy | 3 | 34 | 0 | Accident | 6 | 5 |
| 32 | 75 | Caleb Holman | Chevy | 9 | 12 | 0 | Transmission | 5 | 0 |