Kyle Busch Takes Record-Breaking Pole at Kentucky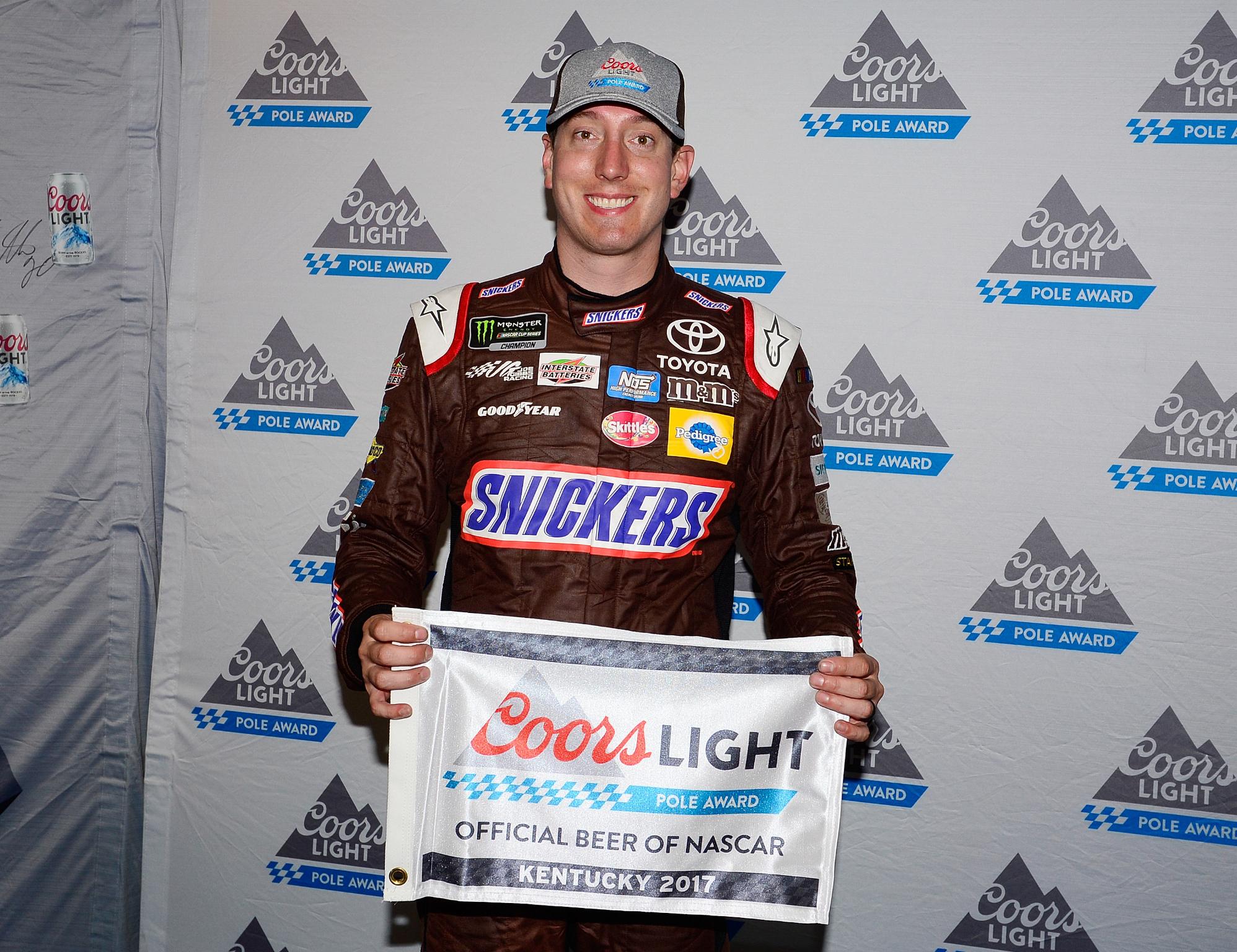 Kyle Busch won his third Coors Light Pole Award of the season
Robert Laberge/Getty Images
For Kyle Busch, the second time was the charm on Friday at Kentucky Speedway – because there was no third time.
With the threat of a lightning storm imminent at the 1.5-mile track, NASCAR shortened knockout qualifying from three rounds to two, putting Busch on the pole for Saturday's Quaker State 400 Monster Energy NASCAR Cup Series race (7:30 p.m. ET on NBCSN).
By the time NASCAR opted to cancel the final round, Busch had already run a track-record lap, touring the repaved speedway in 28.379 seconds (190.282 mph). That put him .013 seconds ahead of Martin Truex Jr, who will start second for the fifth time in 18 races this season and second to Busch for the third time.
The Coors Light Pole Award was Busch's third of the season, his second in seven tries at Kentucky and the 22nd of his career. A two-time race winner at the track, Busch collected one of his victories from the pole in the inaugural Monster Energy race at Kentucky in 2011.
And with stronger runs as the season has progressed, Busch feels he's on the verge of a breakthrough victory.
"The guys have done an amazing job this year at building faster race cars as we've gone on this year," said Busch, who also won the pole for the NASCAR XFINITY Series race, which was postponed from Friday until noon Saturday because of the same storm.
"We started out a little behind. Just right there so close having an opportunity to win each and every week, we just need to bust through and get it to happen. The Snickers car this weekend has been fast, and we're looking forward to taking this Toyota Camry to Victory Lane here in Kentucky."
Matt Kenseth, the 2013 Kentucky winner, was third fastest in the decisive second round, followed by Jamie McMurray and Denny Hamlin, as Joe Gibbs Racing – winless through the first 17 races – garnered three of the top five starting spots. With Truex second on the grid, Toyotas hold four of the top five positions.
Ryan Blaney, Kevin Harvick, Jimmie Johnson, Daniel Suarez and three-time Kentucky winner Brad Keselowski will take the green flag from positions six through 10, respectively.
Series leader Kyle Larson, who was fastest in qualifying trim during final practice, will start 40th, after his No. 42 Chip Ganassi Racing Chevrolet failed to clear pre-qualifying inspection in time to run a lap in the first round.
"We will be fine from the back," Larson said. "Our Target Chevy was really good today, I thought, in race trim – better than I've ever felt at Kentucky.
"Obviously, it will be hard to pass, but we also thought the same thing at Texas, and we didn't get to qualify there, and I cruised right to the front, no problem. So, we will see."
Dale Earnhardt Jr. will start 13th in his final race at Kentucky Speedway in the No. 88 Hendrick Motorsports Chevrolet. Earnhardt failed to crack the top 12 by .011 seconds, but his performance was an improvement over two lackluster practice sessions.
"Compared to where we were when we unloaded, it was a great improvement," Earnhardt said. "I didn't expect too much. I don't qualify that well, especially without a mock run, and I didn't anticipate doing well.
"But they worked on the car, and they made a lot of adjustments, and we kept going out there and making runs and ended up in the top 15. So I'm pretty happy with that; we almost made it into the top 12 without even making a mock run in practice. The guys are working real hard."
QUALIFYING RESULTS

| | | | | | | | |
| --- | --- | --- | --- | --- | --- | --- | --- |
| Pos. | # | Driver | Make | Sponsor | Lap | Behind | Speed |
| 1 | 18 | Kyle Busch | Toyota | Snickers | 28.379 | 0.000 | 190.282 |
| 2 | 78 | Martin Truex Jr | Toyota | Furniture Row | 28.392 | -0.013 | 190.194 |
| 3 | 20 | Matt Kenseth | Toyota | Circle K | 28.460 | -0.081 | 189.740 |
| 4 | 1 | Jamie McMurray | Chevy | CESSNA | 28.464 | -0.085 | 189.713 |
| 5 | 11 | Denny Hamlin | Toyota | FedEx Freight | 28.468 | -0.089 | 189.687 |
| 6 | 21 | Ryan Blaney | Ford | Motorcraft | 28.487 | -0.108 | 189.560 |
| 7 | 4 | Kevin Harvick | Ford | Busch Light | 28.488 | -0.109 | 189.553 |
| 8 | 48 | Jimmie Johnson | Chevy | Lowe's | 28.523 | -0.144 | 189.321 |
| 9 | 19 | Daniel Suarez | Toyota | ARRIS | 28.528 | -0.149 | 189.288 |
| 10 | 2 | Brad Keselowski | Ford | Miller Lite | 28.539 | -0.160 | 189.215 |
| 11 | 22 | Joey Logano | Ford | Shell Pennzoil | 28.555 | -0.176 | 189.109 |
| 12 | 24 | Chase Elliott | Chevy | NAPA | 28.595 | -0.216 | 188.844 |
| 13 | 88 | Dale Earnhardt Jr | Chevy | Nationwide | 28.606 | -0.227 | 188.772 |
| 14 | 77 | Erik Jones | Toyota | SiriusXM | 28.609 | -0.230 | 188.752 |
| 15 | 41 | Kurt Busch | Ford | Haas Automation | 28.619 | -0.240 | 188.686 |
| 16 | 14 | Clint Bowyer | Ford | Rush Truck Centers | 28.634 | -0.255 | 188.587 |
| 17 | 43 | Darrell Wallace Jr | Ford | Smithfield | 28.656 | -0.277 | 188.442 |
| 18 | 17 | Ricky Stenhouse Jr | Ford | Fifth Third Bank | 28.676 | -0.297 | 188.311 |
| 19 | 6 | Trevor Bayne | Ford | Roush Performance | 28.676 | -0.297 | 188.311 |
| 20 | 10 | Danica Patrick | Ford | Nature's Bakery | 28.797 | -0.418 | 187.520 |
| 21 | 95 | Michael McDowell | Chevy | WRL General Contractors | 28.991 | -0.612 | 186.265 |
| 22 | 37 | Chris Buescher | Chevy | Breyers | 29.002 | -0.623 | 186.194 |
| 23 | 5 | Kasey Kahne | Chevy | Mountain Dew | 29.013 | -0.634 | 186.123 |
| 24 | 27 | Paul Menard | Chevy | Sylvania / Menards | 29.048 | -0.669 | 185.899 |
| 25 | 3 | Austin Dillon | Chevy | Dow | 29.101 | -0.722 | 185.561 |
| 26 | 38 | David Ragan | Ford | Dockside Logistics | 29.129 | -0.750 | 185.382 |
| 27 | 13 | Ty Dillon | Chevy | GEICO | 29.221 | -0.842 | 184.799 |
| 28 | 47 | AJ Allmendinger | Chevy | Kroger Click List | 29.228 | -0.849 | 184.754 |
| 29 | 31 | Ryan Newman | Chevy | Caterpillar | 29.247 | -0.868 | 184.634 |
| 30 | 32 | Matt DiBenedetto | Ford | TBD | 29.367 | -0.988 | 183.880 |
| 31 | 83 | Ryan Sieg | Toyota | JAS Expedited Trucking | 29.728 | -1.349 | 181.647 |
| 32 | 72 | Cole Whitt | Chevy | RTIC Coolers | 29.790 | -1.411 | 181.269 |
| 33 | 15 | Reed Sorenson | Toyota | Losers Bar & Grill | 29.921 | -1.542 | 180.475 |
| 34 | 23 | Joey Gase | Toyota | Best Home Furnishings | 30.063 | -1.684 | 179.623 |
| 35 | 34 | Landon Cassill | Ford | Love's Travel Stops | 30.193 | -1.814 | 178.849 |
| 36 | 33 | Jeffrey Earnhardt | Chevy | Hulu | 30.338 | -1.959 | 177.995 |
| 37 | 51 | BJ McLeod | Chevy | TBD | 30.490 | -2.111 | 177.107 |
| 38 | 66 | Timmy Hill | Chevy | TBD | 30.544 | -2.165 | 176.794 |
| 39 | 55 | Gray Gaulding | Toyota | Checkit4Andretti | 30.603 | -2.224 | 176.453 |
| 40 | 42 | Kyle Larson | Chevy | Target | 0.000 | 28.379 | 0.000 |