Ricky Stenhouse, Jr. Wins at Daytona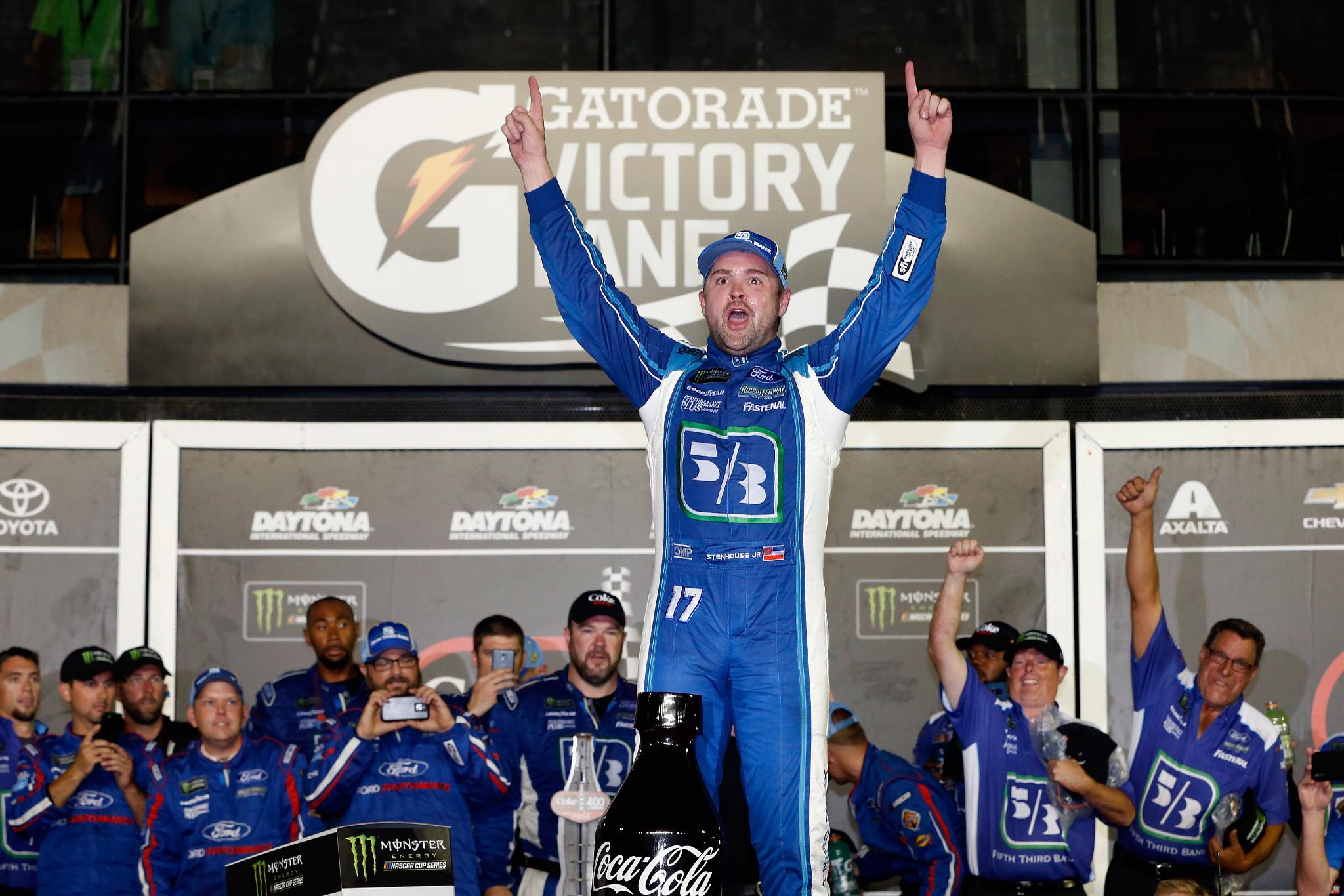 Ricky Stenhouse, Jr.
Brian Lawdermilk/Getty Images
Ricky Stenhouse, Jr. survived a wild, wreck-filled race to collect his second-career Monster Energy NASCAR Cup Series victory with a win in Saturday night's Coke Zero 400 at Daytona International Speedway.
Stenhouse powered past race leader David Ragan with one lap to go in a final three-lap shootout for the win, holding off Clint Bowyer and Paul Menard at the stripe for his second victory of the season.
Michael McDowell and Ryan Newman made up the rest of the top five finishers.
Stenhouse's win comes just two months after he scored his first-career victory at Talladega back in May, giving him two-straight restrictor-plate victories and moving him into tie with Larson, Brad Keselowski and Martin Truex, Jr. for second in the playoff standings.
"We won the Firecracker 400! This is awesome!" Stenhouse said. "I have been coming here since 2008. I actually came in 2006 one time with Bobby Hamilton Jr. and it is cool to put it in victory lane and get our second win this year. I love it! Thank you to the fans for coming out here. Everyone at NASCAR. What a great weekend.
"This validates what we did at Talladega. I kept my Talladega car and told (my team) to build a new one. They built a Fifth Third Ford that was really fast."
[adinserter name="GOOGLE AD"] Saturday night's race was a battle of survival with a record 14 caution flags over the 163-lap distance, claiming many of the top contenders including Kevin Harvick, Kyle Larson, Daytona 500 winner Kurt Busch and Dale Earnhardt, Jr.
The biggest crash of the night came with just six laps to go after Larson got turned coming through the tri-oval and nearly flipped over, touching off a seven-car crash that brought out the red flag.
The crash set the stage for what was shaping up to be a five-lap dash to the checkered flag with Ty Dillon leading over Ragan, A.J. Allmendinger and Stenhouse.
On the restart, Allmendinger pushed Ragan just far enough ahead of Dillon for Ragan to slide up and take the top spot coming out of turn two, but almost as soon as the field made it to the backstretch, Erik Jones and Denny Hamlin spun to bring out the 14th and final caution – and bunched up the field for a green-white-checkered overtime finish.
Ragan lined up in the inside ahead of Stenhouse and McDowell for the restart while Dillon led the outside line with Allmendinger and Menard in tow. Ragan Dillon restarted side by side before Ragan pulled out by a car length on the backstraight.
With Dillon mounting a charge on the high side, Ragan moved up to block coming into turn three, opening the door for on the inside for Stenhouse who race to the front, pulling McDowell with him.
As the field took the white flag, it was Stenhouse out front ahead of McDowell and Dillon, but Dillon got shuffled out of line and Menard and Bowyer ducked under McDowell as they made the backstretch.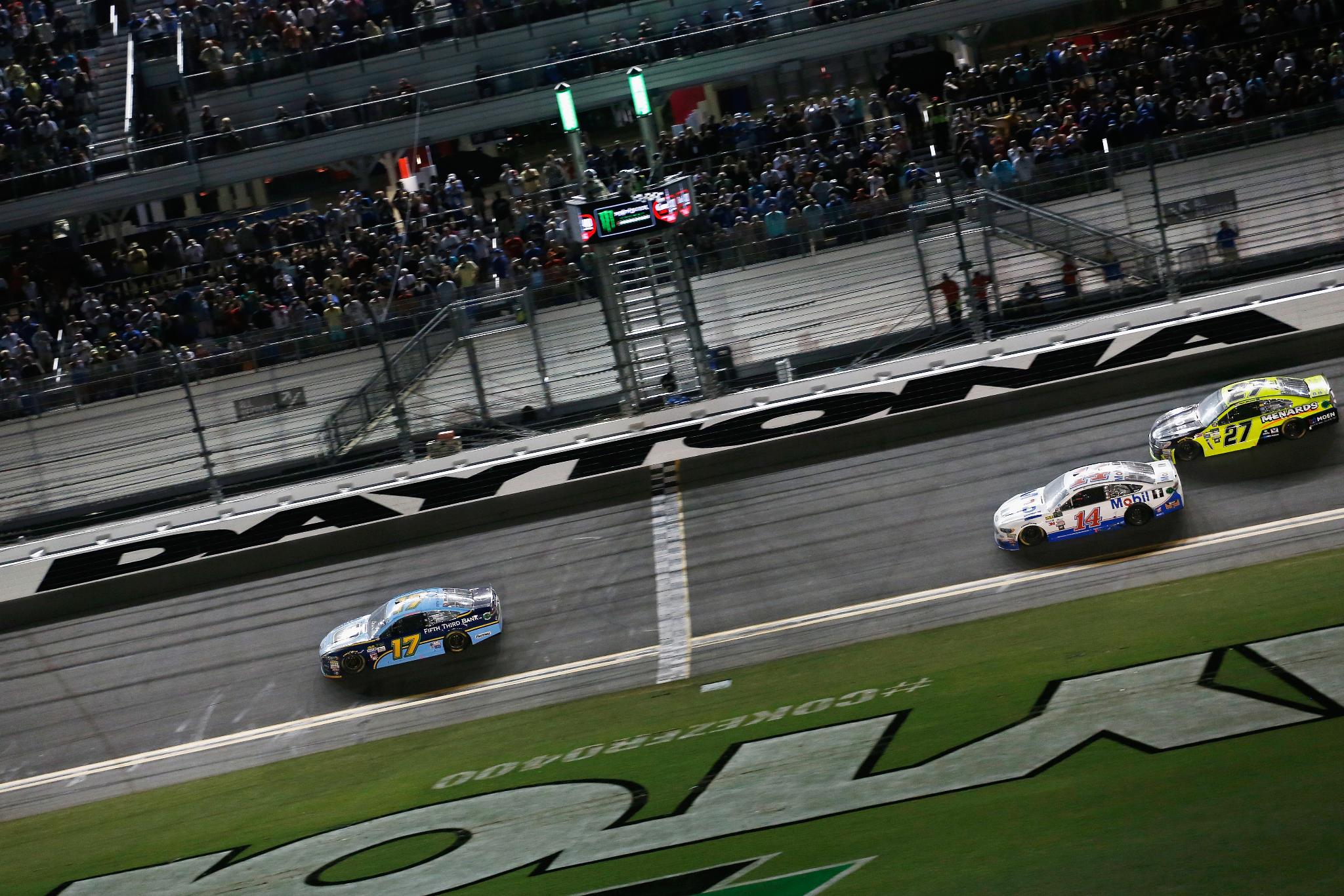 Stenhouse, Jr. (17) beats out Clint Bowyer (14) and Paul Menard (27) at Daytona
Matt Sullivan/Getty Images
From there, Stenhouse hugged the bottom line and held off Menard through the final turn before Menard himself got edged by Bowyer for second at the stripe.
It was the second runner-up finish in a row for Bowyer, who came home second behind teammate Kevin Harvick last weekend at Sonoma.
"Second sucks, but it's better than third," Bowyer said. "We finished second two weeks in a row, so that's a huge confidence booster for our team. You hope you keep riding this wave and turn one of those seconds into a win."
Earnhardt, Jr., who was making what could be his final start at Daytona, started on the pole but cut a tire down on lap 52 and wound up a lap down.
Earnhardt, Jr. managed to battle back and re-claim his lap, but got caught up in a multi-car crash on lap 107 along with Harvick and Daniel Suarez, which brought his night to an end.
"I just didn't expect all that attention all week," said Earnhardt, Jr. "My phone buzzing all day long with social media going crazy. Everybody talking about this being my last Daytona race. I hope every weekend isn't like this as far as that goes. The attention and the reaction from the fans makes me feel great. Hopefully we are able to turn that around and back on them for the rest of the season and thank them for all they had done.
"I wish we had had a good finish tonight if not a win. We were working up in there and having a good time and being aggressive and wearing out the sides of that race car. It just wasn't to be."
In the points standings, Larson holds the top spot by 18 points over Truex, Jr., followed by Kyle Busch, Harvick and Keselowski.
Results
| | | | | | | |
| --- | --- | --- | --- | --- | --- | --- |
| Fin | Str | No. | Driver | Team | Laps | Status |
| 1 | 6 | 17 | Ricky Stenhouse Jr. | Fifth Thrid Bank Ford | 163 | Running |
| 2 | 11 | 14 | Clint Bowyer | Mobil 1 Ford | 163 | Running |
| 3 | 24 | 27 | Paul Menard | Moen/Menards Chevrolet | 163 | Running |
| 4 | 23 | 95 | Michael McDowell | WRL General Contractors Chevrolet | 163 | Running |
| 5 | 22 | 31 | Ryan Newman | Velveeta Shells & Cheese Chevrolet | 163 | Running |
| 6 | 30 | 38 | David Ragan | Shriners Hospital for Children 95th Anniversary Ford | 163 | Running |
| 7 | 32 | 75 | Brendan Gaughan | Beard Oil Distributing Chevrolet | 163 | Running |
| 8 | 27 | 47 | AJ Allmendinger | Kroger ClickList Chevrolet | 163 | Running |
| 9 | 17 | 77 | Erik Jones | Sport Clips Toyota | 163 | Running |
| 10 | 29 | 37 | Chris Buescher | Coffee Mate Chevrolet | 163 | Running |
| 11 | 36 | 23 | Corey LaJoie | Dr Pepper Toyota | 163 | Running |
| 12 | 12 | 48 | Jimmie Johnson | Lowe's Chevrolet | 163 | Running |
| 13 | 28 | 32 | Matt DiBenedetto | Incredible Bank Ford | 163 | Running |
| 14 | 8 | 1 | Jamie McMurray | McDonald's $1 Any Size Soft Drink Chevrolet | 163 | Running |
| 15 | 31 | 43 | Darrell Wallace Jr.(i) | Smithfield Ford | 163 | Running |
| 16 | 34 | 13 | Ty Dillon | GEICO Military Chevrolet | 163 | Running |
| 17 | 20 | 19 | Daniel Suarez | Subway Toyota | 163 | Running |
| 18 | 4 | 5 | Kasey Kahne | UniFirst Chevrolet | 163 | Running |
| 19 | 26 | 34 | Landon Cassill | Love's Travel Stops Hnrng the Qt Prfssnl Ford | 163 | Running |
| 20 | 16 | 18 | Kyle Busch | Interstate Batteries Toyota | 163 | Running |
| 21 | 33 | 7 | Elliott Sadler(i) | Golden Corral Chevrolet | 163 | Running |
| 22 | 2 | 24 | Chase Elliott | NAPA Patriotic Chevrolet | 162 | Running |
| 23 | 14 | 6 | Trevor Bayne | Liberty National Life Insurance Company Ford | 160 | Running |
| 24 | 18 | 11 | Denny Hamlin | FedEx Express Toyota | 157 | Accident |
| 25 | 10 | 10 | Danica Patrick | Aspen Dental Ford | 154 | Accident |
| 26 | 9 | 21 | Ryan Blaney | Motorcraft/Quick Lane Tire & Auto Center Ford | 154 | Accident |
| 27 | 13 | 20 | Matt Kenseth | DEWALT Flexvolt Toyota | 154 | Accident |
| 28 | 15 | 41 | Kurt Busch | Monster Energy/Haas Automation Ford | 153 | Accident |
| 29 | 21 | 42 | Kyle Larson | Credit One Bank Chevrolet | 153 | Accident |
| 30 | 37 | 55 | Reed Sorenson | RoyalTeakCollection.com Toyota | 147 | Running |
| 31 | 3 | 2 | Brad Keselowski | Detroit Genuine Parts Ford | 113 | Accident |
| 32 | 1 | 88 | Dale Earnhardt Jr. | Nationwide Chevrolet | 106 | Accident |
| 33 | 5 | 4 | Kevin Harvick | Jimmy John's Ford | 105 | Accident |
| 34 | 25 | 78 | Martin Truex Jr. | Bass Pros Shops/TRACKER BOATS Toyota | 73 | Accident |
| 35 | 7 | 22 | Joey Logano | Shell Pennzoil Ford | 71 | Accident |
| 36 | 19 | 3 | Austin Dillon | American Ethanol Chevrolet | 70 | Accident |
| 37 | 39 | 33 | Jeffrey Earnhardt | hulu Chevrolet | 57 | Engine |
| 38 | 40 | 15 | DJ Kennington | Xchange of America/LordCo Toyota | 14 | Engine |
| 39 | 35 | 72 | Cole Whitt | RTIC Coolers Chevrolet | 9 | Engine |
| 40 | 38 | 83 | Ryan Sieg(i) | Dustless Blasting Toyota | 7 | Engine |
[adinserter name="GOOGLE AD"]