Force India Sale to Brabham, Ecclestone involved? (3rd Update)
UPDATE
Even though Mallya denies it this rumor won't go away. Now, if the rumors are to be believed, it appears as though a savior could be on the horizon in the form of former Brabham team boss and F1 boss Bernie Ecclestone, who could be in the market to purchase the Force India team and rebrand it to revive the historic name.
When Autoweek asked Brabham about the rumor, he said, "Brabham is a brand with over 69 years of racing heritage and it is our intention to see the name back on track.
"Since Project Brabham was launched, we have received a lot of inquiries from different parties who have expressed an interest in licensing the name and we are evaluating a number of options. We have no further comment."
Ocon holds off Raikkonen in Canada
06/11/17 This rumor is downgraded to 'false' today. Formula 1 team Force India co-Owner Vijay Mallya "dismissed speculation of a possible sale of his team to Australian David Brabham" or former F1 CEO Bernie Ecclestone, according to Alan Baldwin of REUTERS.
Mallya said that he remained in it "for the long haul despite his legal problems with the Indian government."
He said, "There have been no conversations with Brabham, I haven't even met them. Bernie and me are good friends, will always continue to be good friends and there is absolutely no talk whatsoever on a sale of this team."
Britain's Autocar magazine reported last month that the champion's son David, an ex-F1 driver, "could buy Force India as part of a project to bring Brabham back to the sport" for the first time since '92.
REUTERS
,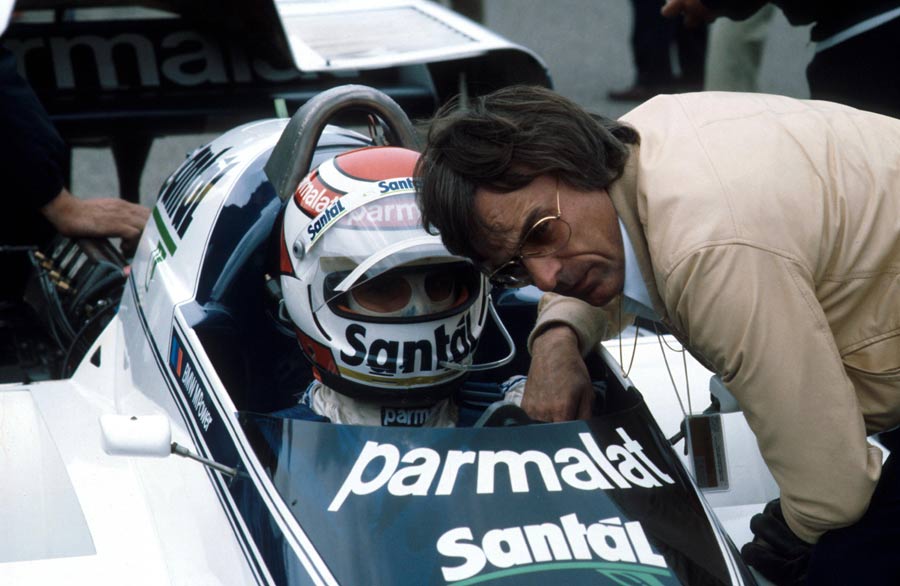 1982 Brabham Team Owner Bernie Ecclestone and his driver Nelson Piquet Sr.
05/08/17 (GMM) Bernie Ecclestone could be involved with a reported move to buy Force India.
That is the claim of one of the most experienced veteran journalists in the F1 paddock, Roger Benoit.
The long-time correspondent for the Swiss newspaper Blick referred to recent claims that Force India's controversial owners, Vijay Mallya and Subrata Roy, could be looking to sell.
Benoit said one rumored plan is that Force India could become the "new Brabham team," which Ecclestone owned back in the 1970s and 80s.
He said: "The big question is whether Bernie Ecclestone is behind it."
The reports suggest the bid is actually being fronted by the late Sir Jack Brabham's son David and a US consortium.
Will Force India be sold?
05/04/17 It been reported that David Brabham, backed by a group of U.S. based investors, is making a serious move to buy the Force India Formula One team. Their business model would be similar to that of McLaren. The rumor is that the Brabham F1 team would be used to help promote a supercar produced under the same name.
This was originally reported by Autocar, though there were no real sources cited to substantiate some of the details. So where the rumor got started is anyone's guess. Autocar did get a nice "We have no further comment" from David Brabham.
Rumors in Formula One have an interesting life. The more something gets denied by the parties involved, the more likely it is to be true. But this particular rumor is interesting. All of the pieces are there for the makings of a great comeback to Formula One for the Brabham name.
Brabham has been looking to get a team back in to top-level motorsports for several years. There was supposed to be a Project Brabham LMP2 program in the WEC in 2015. But that never materialized.
The situation at Force India is unique. The team isn't in dire straights and about to fold. The owners don't want to sell; they have to.
Subrata Roy, who owns Sahara India, which owns 42.5% of the Force India F1 team, is currently in legal trouble relating to some financial dealing and monies, about $3.7 billion, owed to investors. The short of it is that he needs a large amount of money very quickly. On April 17th, he missed a deadline to make a payment to the court related to this.
The day after Roy missed that deadline, the other half of Force India's ownership got in a bit of a jam. Vijay Mallya was arrested in London on an extradition warrant from India. He has his own financial issues totaling about $1.35 billion to answer for.
Force India is a smart buy right now for someone with the money to pull it off. They are doing well in the Championship. This will net them decent prize money over the next several years. With the teams and F1's new owners all pushing for reduced spending in the coming years, Force India, who already operate on a show-string budget, will be in a prime position to maybe even turn a profit.
Because of their legal troubles, the owners of Force India have little choice but to sell the team. With Roy needing cash fast, and Mallya's pending extradition, one would guess that a sale is coming sooner rather than later. This also means they will be forced to take what they can get, rather than a holding out for a much money as possible.
Without going in to the nuance of corporate structures and subsidiaries, it's likely Force India is safe from being seized by the Indian government. The team is based in the U.K. which further protects it from having some Indian court officer showing up to chain the doors.
Liberty Media, the new owners of F1, should be doing everything in their power to help facilitate a sale. They don't need Force India to go down in flames. That would look very bad for Formula One and Liberty Media.
Now enter David Brabham into the equation. If you know racing, you know the Brabham family. David isn't just some guy who wants to own a big racing team. He's a racer, and a damn fine one, too. His father, Sir Jack Brabham, was pretty good as well. David's bothers also race, as do his sons.
It's known that Project Brabham is looking to race. Even with outside investors, jumping into Formula One isn't cheap. When the fourth place team in the Championship is coming up for sale at a bargain-basement price and the sport is looking to cap spending very soon, it all starts to look very enticing. Getting the Brabham name back in Formula One would be amazing.
Liberty Media wants the sport to get back to it's roots. They'd rather not build a track in the middle of a swamp, only to race there for a few years before moving on to plunder another country (Sorry, South Korea, it was a good track). Liberty wants to honor Formula One's history while they strengthen the sport. Having Brabham back would fall in line with that plan.
In researching this rumor, I was looking for any clues that a sale might actually be happening. I found nothing. I did however find a document with David Brabham's email address on it. So, I reached out, asking if there was any truth to the rumor. His reply was similar to what he told Autocar, but not exactly the same.
An interesting story…!! The Drive