Sunday Overheard at Mid-Ohio (Update)
Sebastien Bourdais seems to be itching to get back behind the wheel
UPDATE
I bumped into Dale Coyne following the IndyCar morning warm up. Given, that it was the first time I had seen Coyne since the Indianapolis 500, I asked him how close Ed Jones was to winning the race. You might remember, the Dubai native ran over a piece of debris from the Jay Howard-Scott Dixon accident on lap 53. This put a hole in the floor of the No. 19 Dale Coyne Racing Honda, and also damaged the rear wing.
While Jones still finished the race third, Coyne believes that without the damage, Jones would have battled with Helio Castroneves and eventual winner Takuma Sato for the victory. "He just didn't have the straightaway speed," said Coyne, referring to the drag the accident caused.
I also asked Coyne about Sebastien Bourdais, who of course, was injured during qualifying for the 500. Coyne believes Bourdais will be back in time for the Sonoma race. If so, Coyne nodded when I asked if he would run three cars.
My colleague Tim Wohlford also bumped into Bourdais independent of my discussion with Coyne. Bourdais looks very fit and had a firm handshake as usual. He confirmed what we had heard earlier that he will test tomorrow here at Mid-Ohio.
I had the pleasure of meeting Art Wilmes founder and director of Rising Star Racing earlier today. Wilmes founded Rising Star, which represents Neil Alberico, Oliver Askew, Spencer Pigot and Josef Newgarden, to assist young talented drivers without major funding reach the top levels of the sport. I will likely share Wilmes' story in the coming days and weeks.
Another thing: in the previous thread below, I noted that the pit window may open as early as lap 11. One owner told me that estimate was a bit of a stretch. "You'll need a lot of yellow to make lap 11 work," said the owner.
That said, don't be surprised if someone comes in super-early, banking on the inevitable caution period, as strategy will be king this afternoon.
Throw another check in the plus column for the new car. Owners we've spoken with have said the new car will be more cost efficient when it comes to repairs. As we understand it, the fewer parts and accessories adorning to the chassis, will mean fewer parts to replace in the case of an accident.
To conclude: Tim and I cannot recall a change in IndyCar that has been as well received as this new car.
Brian Carroccio reporting from Mid-Ohio
Gabby Chaves practicing for this year's Indianapolis 500
07/30/17
I bumped into Harding Racing driver Gabby Chaves in the IndyCar Paddock Club this morning. In his only two starts of 2017 at Indianapolis and Texas, the 2014 Indy Lights champion, has scored top-10 finishes. He will also run the Pocono race in three weeks. And while Chaves anticipates Pocono will be his only other race of 2017, he was very optimistic about the possibility of 2018.
"Great," was Chaves' very simple response when I asked him how things were looking for him and Harding to be in IndyCar next season. Perhaps, more telling, I him if the team planned to run with Chevrolet as they did in their two races this season, and Chaves said he could not comment on that.
Of course, when a driver does not comment on a matter that usually implies that there is well, a matter to comment on; or at the very least, some sort of spirited conversation has taken place that one would not want to compromise with any public comment. Anyway, if I had to guess, I think will see Chaves and Harding Racing in 2018, if not full-time, then likely in an expanded capacity.
Another Lights Champion…
We're hearing that Ed Carpenter Racing driver Spencer Pigot is close to landing a full-time IndyCar ride in 2018, with ECR being the most likely destination. The Orlando native has been part-time with the team the last two seasons, driving the road and street course races. He has struggled somewhat in qualifying having yet make the Fast 12, but as we saw two weeks ago in Toronto has shown speed during the races.
Of more immediate concern, is the 2015 Indy Lights Champion just crashed exiting the final turn during the morning warm-up. It appears, Pigot hit the curb exiting the corner and lost the car attempting to over correct. He was walking somewhat gingerly, as he hit a hard wall feet first. However, Pigot did get out of the car on his own power.
We'll check with the team on the status of Pigot and the car; but first glance indicates it will not be a major repair.
"Damn near impossible"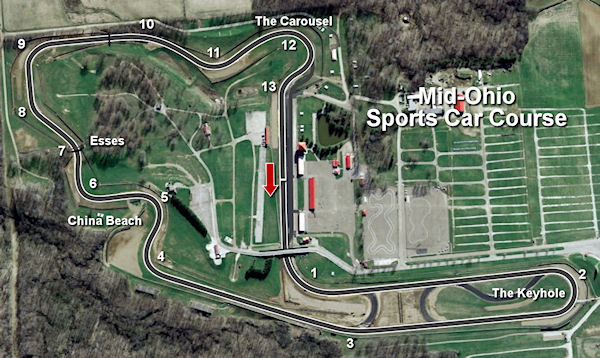 Mid-Ohio needed to be widened 20 years ago. Someone should buy the track that can afford to make the needed improvements
I'm not one to put words in anyone's mouths. However, having watched the support series races, and listened to the general comments of teams and drivers, I feel safe in saying: "damn near impossible," is the overwhelming sentiment regarding the ability to pass here at Mid-Ohio.
This brings me to my next point. With the race length having expanded 85 to 90 laps three years ago, Mid-Ohio is now a certain three-stop race. Working the race backwards, teams are going to aim to make their final pit stop on or around lap 66. Furthermore, to get track position you can expect teams to pit early in the first windows. By our math, teams can pit as early as lap 11 and safely make it on three stops.
A team strategist told us also, that Mid-Ohio is historically a race with a full-course yellow. And the trick is going to be not get caught out on the yellow flag.
Anyway, if you're playing drinking games during today's race (not that we encourage this), "strategy" might be your word.
Franzoni
We've pointed out the talent of Pro Mazda driver Victor Franzoni in these pages before. Simply put, the Brazilian is Kanaan-esque on restarts, and always a guarantee to raise the quality of entertainment. And courtesy of Chris DeHarde from Motorsports Tribune, Franzoni's second-place finish in this morning's Pro Mazda race was his 21st consecutive Mazda Road to Indy top-5 finish dating back to a U.S. F2000 race last year at Indy. Impressive stuff!
I'll have more later.
Brian Carroccio reporting from Mid-Ohio