Long Beach GP to become F1 race starting in 2019 (7th Update)
UPDATE
This rumor is downgraded to 'false' with this
report
.
05/23/17
While we don't expect it will happen, if IndyCar loses their 2nd biggest race on their schedule to F1 they will have no one to blame but themselves because they put Long Beach on NBCSN every year, which delivers near zero exposure to sponsors and the city compared to F1's worldwide TV audience of 300 million.
Long Beach City Council is expected to make a decision between continuing its long-standing agreement with IndyCar, or allowing Formula 1 to return to its city streets in 2019.
The California city has hired the services of consultancy firm KPMG to analyse the economic impact and viability of two proposals put forward during a tender process. They came from Grand Prix Association of Long Beach, which currently organizes the IndyCar race in the city, and another from World Automobile Championship of California LLC, headed up by Chris Pook.
The latter wants to see F1 return for the first time since 1983 and has put forward a deal that won't cost the taxpayer anything, as it will be funded by sponsors and investors.
Pook is confident the economic impact of F1 will be recognized by KPMG's analysis and will sway city council members to vote for F1 over IndyCar.
"The gross economic impact [for IndyCar] was $30 million [during the latest study]," Pook told the Long Beach Business Journal.
"My $100 million [for F1] is based upon the [chamber of commerce] document, even though it's dated July 2013. It's four years old. I haven't pushed this up with economic increase and what have you."
Pook added that this figure didn't include the promotional value gained from a worldwide television audience that would eclipse that of IndyCar: "The television value, the $192 million, comes out of this document. Those television viewers, 300 million (per race), is from F1's viewership numbers that they publish every year."
KPMG will deliver its recommendation on July 11 and it's expected city council members will then vote on the matter, with a final decision in late-July or early-August.
Zak Brown says F1 at Long Beach not financially feasible
04/27/17 Long Beach has often been mentioned as a potential new race but it seems that McLaren chief, Zak Brown says that Long Beach may be a long shot.
"But the economics that Formula 1 requires would need heavy subsidy from government, and from what I understand, I don't believe Long Beach is prepared to pay that type of rights fee.
"The other very significant part is that to host an F1 race, the track would need to be FIA Grade 1, and that would need a longer track with much more run-off and a substantial pit complex. Well, the track is up against the harbor so you're not really dealing with an environment that is easy to modify! Plus, the entire circuit resides within the jurisdiction of the California Coastal Commission so any circuit improvements such as the necessary pit/garage complex would be subject to their review and approval.
"So even from the construction point of view, the amount of capital expenditure that would be needed is tens and tens and tens of millions of dollars. On top of that, like I say, the rights fee for Formula 1 is infinitely more than IndyCar demands.
"Combine those two costs together and there is no economic model where private investors can get any return on that investment, so therefore it all comes back to the state of California and the City of Long Beach coming up with the funding. I know KPMG has been hired to conduct a study, but that study is going to say it will cost hundreds of millions in commitment."
It's an interesting comment from a guy who knows F1 and also knows the American racing scene and circuit economics needed to survive. What's more interesting is that the new owners were mumbling something about race fees and ticket prices and more and while I think those platitudes are nice, the entire F1 revenue stream is based on these healthy fees. They say they are thinking long-term and that's great but reducing sanctioning fees in the hopes it reduces ticket prices is not something I'm confident they will make as their first move as new owners. I hope I'm wrong but the economics have to work.
"Right," said Brown," and the fact is that if you look at every single Formula 1 race – the Circuit of The Americas included – that gets a government subsidy, they are still financially challenged. So I don't see any economic model that would make F1 at Long Beach work.
"That's not a negative towards Formula 1 nor a negative towards Long Beach. They're just incompatible and suggesting that isn't the case is very much trying to fit a square peg into a round hole."
04/20/17 Less than two weeks after completion of the 43rd annual Toyota Grand Prix of Long Beach, the City Council approved a contract for a consultant to study whether the city should keep IndyCar or move to Formula 1 racing for the Grand Prix.
Representatives of Formula 1 first approached the city in 2015 to gauge interest in hosting a Formula 1 street race. Formula 1 was the headline race for the first few years of the Long Beach Grand Prix before costs convinced organizers to move to the America-based IndyCar series.
Council members decided in 2015 to ask both groups to present plans to continue the Grand Prix. Those proposals were returned in late 2016 by the Grand Prix Association of Long Beach and World Automobile Championship of California, LLC, proposing the Formula 1 affiliation.
Also in 2015, the city signed a three-year contract with GPALB, keeping IndyCar in the city through 2018.
Now the council wants an expert comparison of the two bids, and Tuesday signed a contract worth $150,000 with KPMG Corporate Finance, LLC for the work. KPMG consultants will focus on the technical aspects of the proposal, both in terms of the ability of either promoter to fulfill the contract and the potential financial advantages to the city.
04/14/17 Well it appears F1 might still have a chance in Long Beach, though we doubt it. The Long Beach City Council will vote on Tuesday to authorize the hiring of an independent auditor to assist the city in the evaluation and selection process for the operator of the Grand Prix of Long Beach, in an amount not to exceed $150,000 over a one-year term.
This has been dragging on for a few years, the city's hankering to bring back the glory years of Formula One racing on the streets of Long Beach, despite the phenomenal string of successful years of IndyCar racing in the Toyota Grand Prix of Long Beach.
Long Beach doesn't need Formula One racing. And, more to the point, Long Beach can't afford Formula One racing.
To pay the F1 sanction fee, you'd need to pack in about three times the crowd the Grand Prix gets now (which is not doable), or charge about $450 for a three-day pass. With that said, you know Chris Pook is probably going to make another strong run to try and wrestle the race away from IndyCar for F1. But in the end we expect the race to be renewed with the Grand Prix Association of Long Beach owned by Kevin Kalkoven
04/09/17 We are downgrading this rumor to 'false' today. We spoke to Kevin Kalkhoven who owns this event on Saturday. They did a study and to bring the street circuit up to F1 specifications would require an investment of about $100 million. Add to that the annual F1 sanction fee of $25 million per year and that simply makes the economics not viable. His comment to AR1.com was "we'll see what happens to the USGP race at COTA when the $20 million annual state subsidy for the race goes away."
03/26/17
Bratches, Carey and Brawn held court in Melbourne
Liberty Media took full advantage of the season opener to make its presence felt just weeks after buying the sport in a deal worth around $8bn. All the team was in town, Chase Carey, Sean Bratches and Ross Brawn, as Liberty Media sets out it stall and new management policy from the outset.
Saturday morning, Bratches, who is charged with heading the commercial side of the sport, held a media briefing along with Ross Brawn, a familiar face in the paddock who has now jumped ship, intent on taking all he has learned over the course of his long, successful career and using it to the advantage of the sport's new owners.
From the outset, Liberty has made it clear that while it intends to expand the sport, the initial focus will be in its homeland.
"Our interest is in expanding the number of circuits in that marketplace, leveraging Austin, our incumbent and the benchmark in terms of what we're doing in the States," he said.
"We're excited about all markets around the world," he added, "but the United States is going to be a focus."
"There's no dearth of interest in bringing Formula One to circuits, both track and street, around the world," insisted the American who revealed that he has already had "a number of inquiries from cities, states, municipalities and countries around the world that are interested".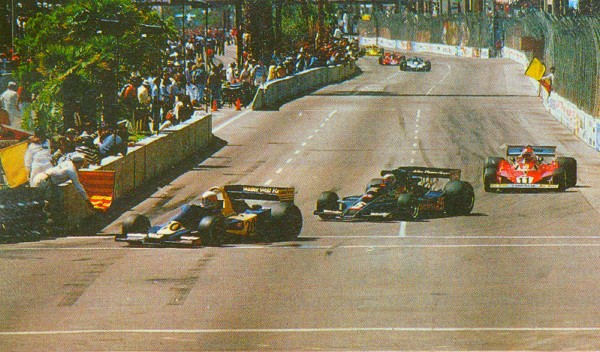 The Long Beach GP was once an F1
03/08/17 IndyCar could lose its 2nd biggest race outside of the Indy 500 starting in 2019. According to this AutoWeek article by Joe Saward, F1 is still very much in the running to win the bid to takeover the Long Beach Grand Prix.
We do not see how an F1 race is financially feasible unless Liberty Media and/or the promoter (led by Chris Pook) can bring in a large sponsor to put up the money that would otherwise be expected from the local government. Pook has said an F1 race won't cost the city anything. In Texas the state puts up about $20 million per year to cover costs for the USGP at COTA.