John Hunter Nemechek Scores Gateway Victory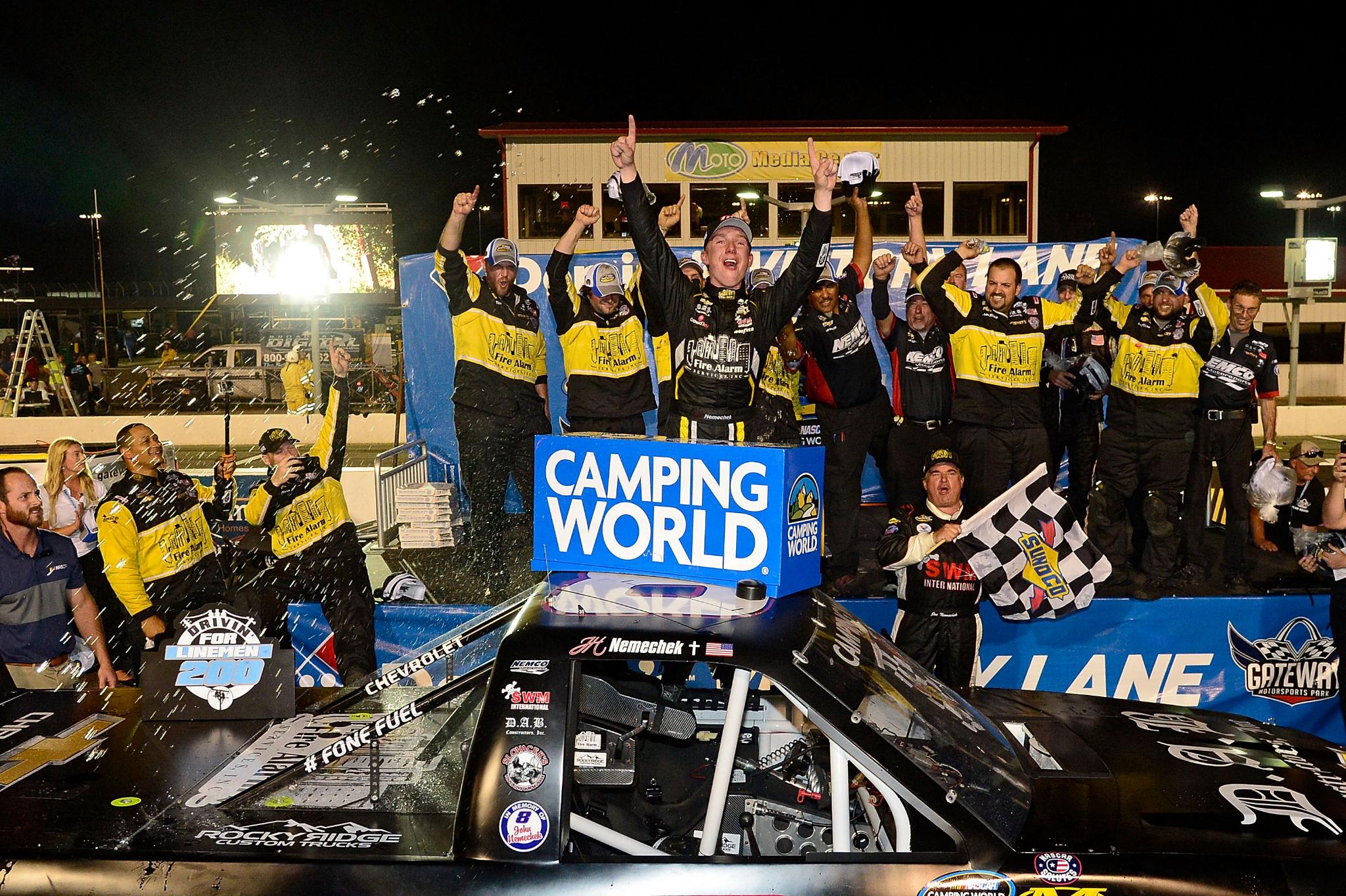 John Hunter Nemechek
Jeff Curry/NASCAR via Getty Images
Matt Crafton gambled and lost on a late-race pit strategy and John Hunter Nemechek took full advantage to collect his first NASCAR Camping World Truck Series victory of the season with a win in Saturday night's Drivin' For Linemen 200 at Gateway Motorsports Park.
Nemechek passed Crafton following a restart with eight laps to go and led the final six laps to score his fourth-career truck series victory in his 61st-career series start.
Chase Briscoe tangled with Christopher Bell in the final laps in a bid to track down Nemechek but fell short for his second-straight runner-up finish. Johnny Sauter finished third followed by Crafton and Grant Enfinger.
Nemechek's victory was just his third top-five of the season and was a welcome respite for his family-owned team, who hadn't tallied finish inside the top 20 since last month's race at Kansas. It also locked him into the playoffs for the 2017 truck series championship.
"It's definitely an emotional win," said Nemchek, the son of NASCAR Cup Series driver Joe Nemechek. "All the hard work that goes in, everyone's worked their tails off. We haven't had the best luck this year. Getting into victory lane when we needed to, God is great, I can't thank him enough. I knew all the hard work would pay off. This is an awesome Father's Day present for dad here and team owner."
Nemechek led 46 laps including a win in the opening 35-stage segment and a third-place in the second stage behind Briscoe and Crafton.
In the final 90-lap segment, Briscoe and Crafton would combine to lead 69 of the next 72 laps including a round of green-flag stops around lap 130 that saw Bell and Nemechek take on two tires while Crafton took fuel only.
Crafton continued to lead after the pit stops with Briscoe running second when the caution flag waved for Josh Reaume's stalled truck with 12 laps to go.
Crafton held the top spot for the restart on lap 152 followed by Bell and Nemechek, but with 75 laps on his tires he was no match for Nemechek, who powered past on the inside of turn two on lap 154 to take over the lead.
After losing the lead, Crafton fell to third behind Bell and soon fell back to fourth as Briscoe – who pitted for two tires under the caution flag – fought his way back to the front and pulled up behind Bell in a battle for second.
With the top three separated by a truck length each on the final lap, Briscoe tried to dive under Bell going through turns one and two and got Bell's truck loose, cutting Bell's left-rear tire. Bell was able to hang onto the truck as Briscoe went past to take the second spot but too far back to mount any kind of challenge on Nemechek.
Bell managed to nurse his truck home to a sixth-place finish, followed by Ryan Truex, Ben Rhodes, Noah Gragson and Justin Haley.
Sauter's third-place finish allowed him to retain the points lead over Bell, Crafton, Briscoe and Rhodes.
RACE RESULTS
| | | | | | | | | | |
| --- | --- | --- | --- | --- | --- | --- | --- | --- | --- |
| Pos. | # | Driver | Make | Start | Laps | Led | Status | Points | Playoff Points |
| 1 | 8 | John Hunter Nemechek | Chevy | 2 | 160 | 46 | Running | 58 | 6 |
| 2 | 29 | Chase Briscoe | Ford | 1 | 160 | 88 | Running | 54 | 1 |
| 3 | 21 | Johnny Sauter | Chevy | 9 | 160 | 0 | Running | 42 | 9 |
| 4 | 88 | Matt Crafton | Toyota | 6 | 160 | 16 | Running | 50 | 1 |
| 5 | 98 | Grant Enfinger | Toyota | 14 | 160 | 0 | Running | 39 | 0 |
| 6 | 4 | Christopher Bell | Toyota | 3 | 160 | 7 | Running | 44 | 13 |
| 7 | 16 | Ryan Truex | Toyota | 11 | 160 | 0 | Running | 38 | 1 |
| 8 | 27 | Ben Rhodes | Toyota | 12 | 160 | 0 | Running | 33 | 0 |
| 9 | 18 | Noah Gragson | Toyota | 7 | 160 | 0 | Running | 28 | 0 |
| 10 | 24 | Justin Haley | Chevy | 8 | 160 | 3 | Running | 29 | 0 |
| 11 | 19 | Austin Cindric | Ford | 5 | 160 | 0 | Running | 34 | 0 |
| 12 | 13 | Cody Coughlin | Toyota | 13 | 160 | 0 | Running | 25 | 0 |
| 13 | 33 | Kaz Grala | Chevy | 10 | 160 | 0 | Running | 24 | 5 |
| 14 | 02 | Austin Hill | Ford | 15 | 159 | 0 | Running | 23 | 0 |
| 15 | 45 | T.J. Bell | Chevy | 17 | 158 | 0 | Running | 22 | 0 |
| 16 | 63 | Kyle Donahue | Chevy | 18 | 158 | 0 | Running | 21 | 0 |
| 17 | 1 | Jordan Anderson | Chevy | 19 | 154 | 0 | Running | 20 | 0 |
| 18 | 49 | Wendell Chavous | Chevy | 22 | 147 | 0 | Running | 19 | 0 |
| 19 | 50 | Josh Reaume | Chevy | 20 | 145 | 0 | Parked | 18 | 0 |
| 20 | 0 | Bryce Napier | Chevy | 28 | 114 | 0 | Brakes | 17 | 0 |
| 21 | 51 | Todd Gilliland | Toyota | 4 | 112 | 0 | Transmission | 22 | 0 |
| 22 | 6 | Norm Benning | Chevy | 25 | 96 | 0 | Brakes | 15 | 0 |
| 23 | 83 | Camden Murphy | Chevy | 26 | 43 | 0 | Brakes | 14 | 0 |
| 24 | 68 | Clay Greenfield | Chevy | 16 | 26 | 0 | Power Steering | 13 | 0 |
| 25 | 44 | Donnie Levister | Chevy | 27 | 17 | 0 | Drive Shaft | 12 | 0 |
| 26 | 36 | Kevin Donahue | Chevy | 24 | 11 | 0 | Brakes | 11 | 0 |
| 27 | 66 | Travis Kvapil | Chevy | 21 | 3 | 0 | Vibration | 10 | 0 |
| 28 | 87 | Joe Nemechek | Chevy | 23 | 2 | 0 | Vibration | 9 | 0 |
| 29 | 57 | Tommy Regan | Chevy | 30 | 1 | 0 | Transmission | 8 | 0 |
| 30 | 10 | Jennifer Jo Cobb | Chevy | 29 | 0 | 0 | Suspension | 7 | 0 |