Austin Dillon Scores First-Career Cup Victory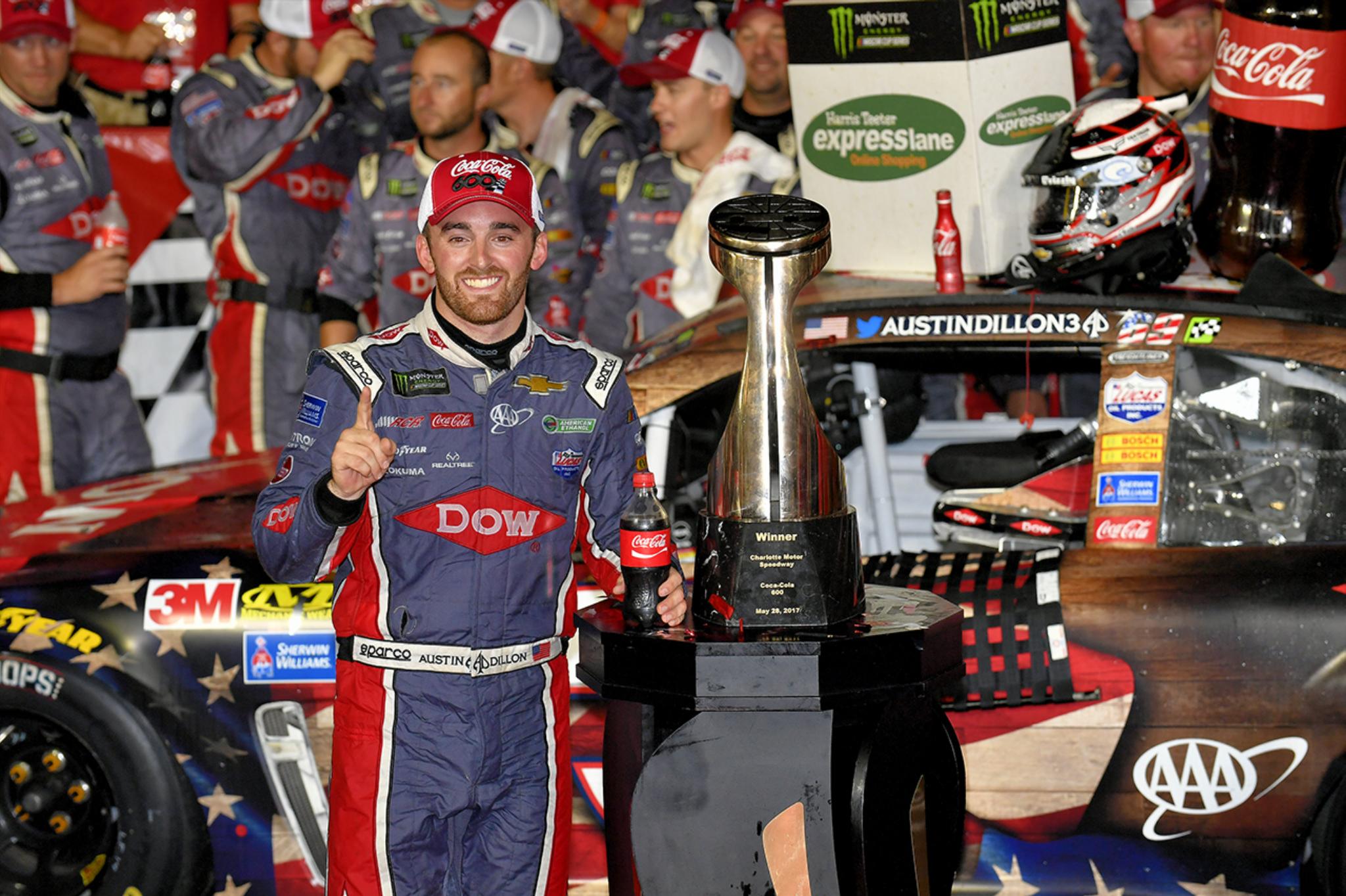 Austin Dillon wins at Charlotte
Mike Mercurio
Austin Dillon played the fuel mileage game to perfection on Sunday night – and into Monday morning – to score his first-career Monster Energy NASCAR Cup Series victory with a win in the Coca Cola 600, becoming the seventh driver to pick up his first victory in NASCAR's longest race.
Dillon passes race leader Jimmie Johnson with two laps to go and stretched his fuel 67 laps to put the famed no. 3 back in Victory Lane for the first time since 2000.
Kyle Busch tried to track down Dillon on the final lap, but came up .835 seconds short.
Martin Truex, Jr. – who led a race high 233 laps – finished third, followed by Matt Kenseth and Denny Hamlin.
[adinserter name="GOOGLE AD"] Dillon, the grandson of championship car owner and former driver Richard Childress, won his first race in his 133rd-career Cup Series start, becoming the second first-time winner this season behind Ricky Stenhouse, Jr.
Dillon joins NASCAR Hall of Famer David Pearson (1961), Jeff Gordon (1994), Bobby Labonte (1995), Matt Kenseth (2000), Casey Mears (2007) and David Reutimann (2009) as drivers who won their first race in the Coca Cola 600.
"It hasn't sunk in yet. I can't believe it," said Dillon. "I was just really focused on those last laps. My fiancé wrote in the car, 'When you keep God in the first place, he will take you places you never imagined.' And, I never imagined to be here at the 600 Victory Lane. We're in the Chase. It's awesome."
"I thought I'd saved enough (fuel) early where I could attack at the end, but I tried to wait as long as possible. And when (Johnson) ran out, I figured I'd go back in and save where I was lifting and it worked out. I ran out at the line and it gurgled all around just to do one little spin and push it back to Victory Lane. I can't thank my grandfather (Richard Childress) enough. He's put a lot into me."
Truex and Kyle Busch waged a classic battle on the track, with the two duking it out for the top spot in the opening 100-lap segment, with Kyle Busch taking the green-checkered flag over Truex.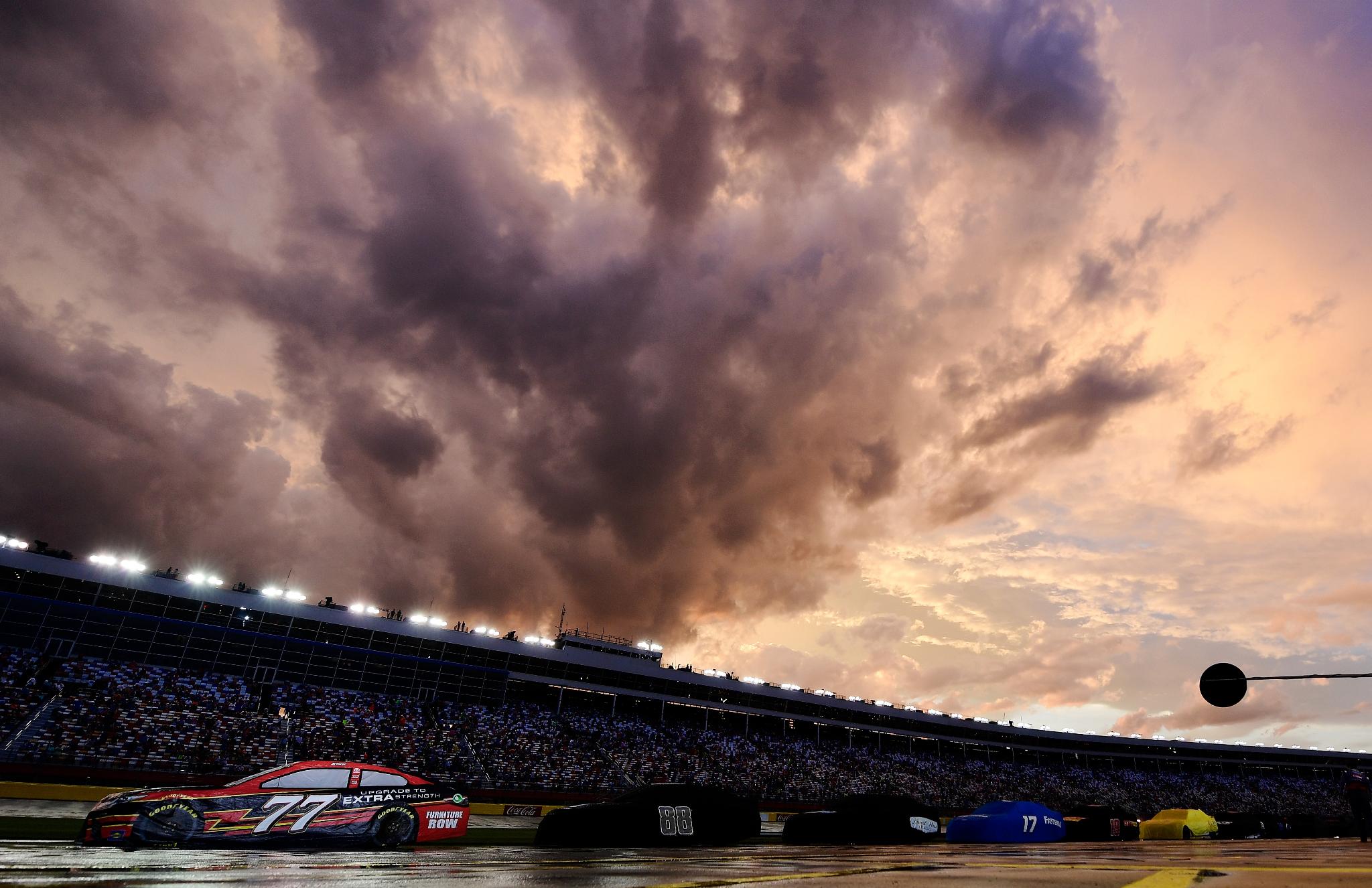 Rain hits Charlotte Motor Speedway
Mike Comer/Getty Images
Truex proved unstoppable on restarts, and blew past Kyle Busch at the start of the second stage and led the next 43 laps before the skies opened up, causing a one hour and 40 minute rain delay.
Truex and Kyle Busch would combine to lead 243 of the next 264 laps, with Truex winning the second stage.
In the final stage, Kyle Busch was again fighting off Truex for the top spot before the caution flag waved with 70 laps to go to bring the field to pit road, with Kyle Busch leading Truex and Kenseth out of the pits while Dillon rolled off eighth just ahead of Johnson.
One the restart, Truex again got a good run and outrun Kyle Busch coming out of turns one and two and back into the lead, quickly moving out to a 1.1 second lead.
Crew chiefs first started making fuel mileage calls with about 70 laps to go, telling their drivers to conserve as much as possible, and despite a huge lead over the field, Truex gave up the lead with 33 laps to go, bringing much of the lead lap cars with him.
[adinserter name="GOOGLE AD"] Out front, Johnson assumed the lead and he and Dillon decided to roll the dice and try to make it to the end on fuel, with Johnson's crew chief Chad Knaus coaching him through every lap.
Despite a 19-second lead over Truex, Johnson continued to pedal his car around the 1.5-mile track, allowing Truex to inch ever closer, cutting the lead to less than seven seconds with 10 laps to go.
With Truex closing, Johnson was told to pick up the pace, but was also told they would run out of fuel on lap 399, and true to their word, Johnson reported he was out of gas with just under two laps to go.
Dillon pulled around Johnson and took over the top spot with a 1.4 second lead over Truex, who had his hands full holding off Kyle Busch for second. Kyle Busch would finally work his way around Truex on the high side of turns one and two on the final lap, but was too far back to catch Dillon, who won by half a straightaway over Kyle Busch.
A visibly angry Kyle Busch had little to say after the race – coming up short yet again of his first points-paying Charlotte victory after winning last weekend's All Star race.
"I don't know. It's a frustrating night, man. I am so so disappointed," said Kyle Busch. "I don't know – there's nothing we could've done different. We just ran our own race and did what we needed to do for what we had going on and come up short."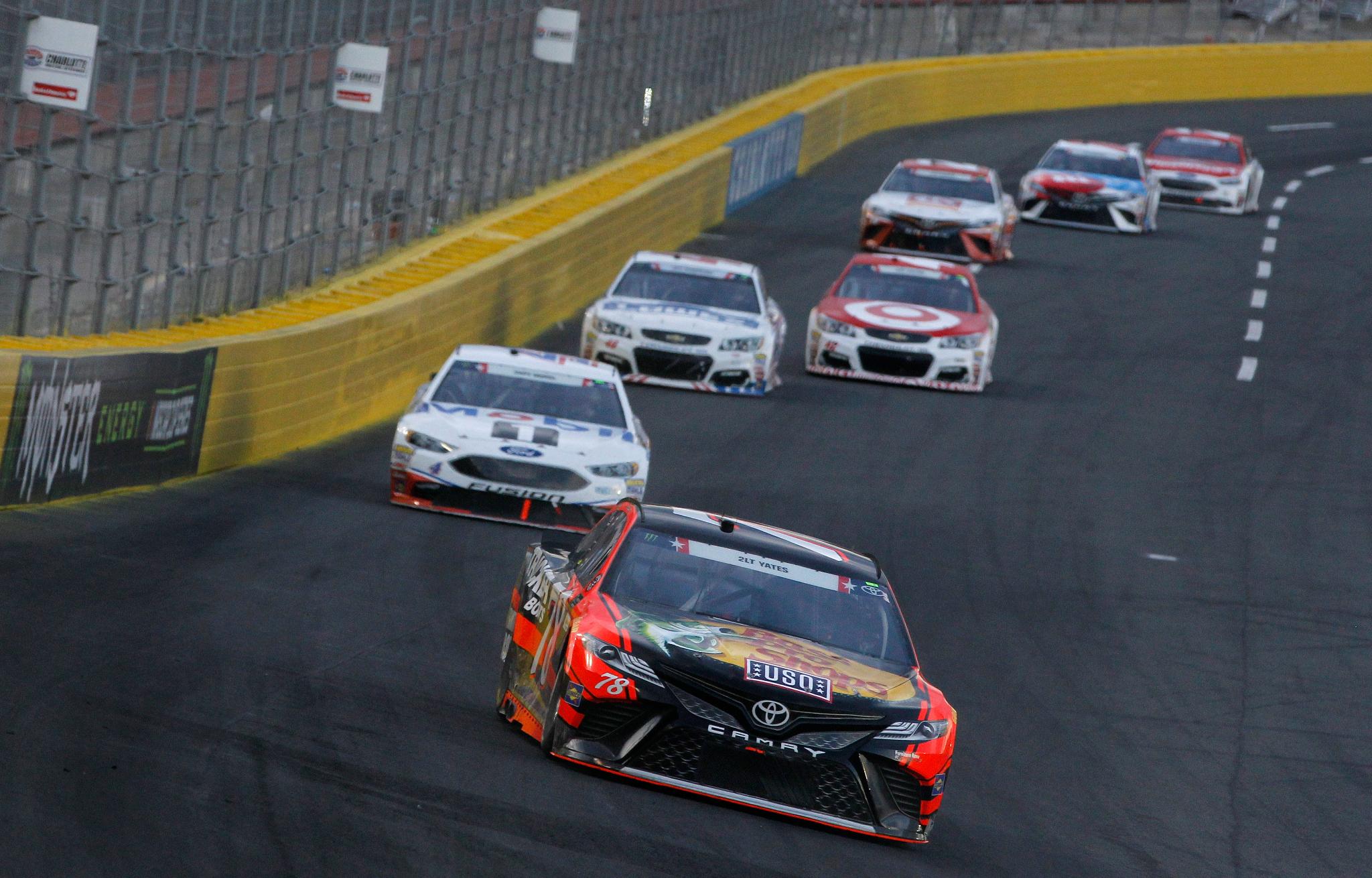 Martin Truex (78) led a race-high 233 laps
Brian Lawdermilk/Getty Images
Truex – who led a record 392 laps to dominate last year's Coca-Cola 600 – marked his third-straight top-five finish in the 600-mile event and his second consecutive top- five finish following his win last weekend at Kansas Speedway, moving him atop the points standings over Kyle Larson.
"I honestly had no idea whether they (Johnson and Dillon) could make it or not," said Truex. "They told me a couple of those guys were going to stretch it. There was no way we could do it. We were kind of on our own agenda, stick to the plan. I just focused on my driving, trying to do the best job I could.
"Last three years, that's two of them we lost on fuel mileage, so that kind of stinks, but big picture-wise it was a good night."
Larson, who started the race in the rear of the field after his car failed to make it through inspection during Thursday night's qualifying, rallied back into the top 10 in just 50 laps but ended up 33rd after hitting the wall on lap 292.
Chase Elliott and Brad Keselowski were the first two cars out of the race along with Jeffrey Earnhardt after Earnhardt lost an engine on lap 19 and Elliott ran over the debris, causing Keselowski to plow into the back of Elliott's Chevrolet.
Race Results
| | | | | | | | | | |
| --- | --- | --- | --- | --- | --- | --- | --- | --- | --- |
| Pos. | # | Driver | Make | Start | Laps | Led | Status | Points | Playoff Points |
| 1 | 3 | Austin Dillon | Chevy | 22 | 400 | 2 | Running | 45 | 5 |
| 2 | 18 | Kyle Busch | Toyota | 2 | 400 | 63 | Running | 61 | 1 |
| 3 | 78 | Martin Truex Jr | Toyota | 8 | 400 | 233 | Running | 60 | 1 |
| 4 | 20 | Matt Kenseth | Toyota | 4 | 400 | 0 | Running | 55 | 0 |
| 5 | 11 | Denny Hamlin | Toyota | 6 | 400 | 10 | Running | 43 | 1 |
| 6 | 41 | Kurt Busch | Ford | 12 | 400 | 1 | Running | 44 | 0 |
| 7 | 77 | Erik Jones | Toyota | 5 | 400 | 0 | Running | 39 | 0 |
| 8 | 4 | Kevin Harvick | Ford | 1 | 400 | 45 | Running | 41 | 0 |
| 9 | 31 | Ryan Newman | Chevy | 17 | 400 | 0 | Running | 28 | 0 |
| 10 | 88 | Dale Earnhardt Jr | Chevy | 19 | 400 | 0 | Running | 29 | 0 |
| 11 | 19 | Daniel Suarez | Toyota | 20 | 400 | 0 | Running | 29 | 0 |
| 12 | 1 | Jamie McMurray | Chevy | 11 | 400 | 0 | Running | 31 | 0 |
| 13 | 27 | Paul Menard | Chevy | 16 | 400 | 2 | Running | 24 | 0 |
| 14 | 14 | Clint Bowyer | Ford | 9 | 400 | 0 | Running | 26 | 0 |
| 15 | 17 | Ricky Stenhouse Jr | Ford | 13 | 400 | 2 | Running | 22 | 0 |
| 16 | 6 | Trevor Bayne | Ford | 18 | 400 | 0 | Running | 21 | 0 |
| 17 | 48 | Jimmie Johnson | Chevy | 14 | 400 | 35 | Running | 36 | 0 |
| 18 | 47 | AJ Allmendinger | Chevy | 26 | 399 | 0 | Running | 19 | 0 |
| 19 | 95 | Michael McDowell | Chevy | 21 | 399 | 0 | Running | 18 | 0 |
| 20 | 37 | Chris Buescher | Chevy | 29 | 399 | 0 | Running | 17 | 0 |
| 21 | 22 | Joey Logano | Ford | 23 | 399 | 0 | Running | 16 | 0 |
| 22 | 43 | Regan Smith | Ford | 25 | 399 | 0 | Running | 0 | 0 |
| 23 | 38 | David Ragan | Ford | 28 | 397 | 0 | Running | 14 | 0 |
| 24 | 21 | Ryan Blaney | Ford | 7 | 396 | 0 | Running | 17 | 3 |
| 25 | 10 | Danica Patrick | Ford | 15 | 396 | 7 | Running | 12 | 0 |
| 26 | 7 | JJ Yeley | Chevy | 33 | 395 | 0 | Running | 0 | 0 |
| 27 | 23 | Gray Gaulding | Toyota | 32 | 393 | 0 | Running | 10 | 0 |
| 28 | 34 | Landon Cassill | Ford | 31 | 393 | 0 | Running | 9 | 0 |
| 29 | 51 | Timmy Hill | Chevy | 36 | 384 | 0 | Running | 0 | 0 |
| 30 | 15 | Reed Sorenson | Chevy | 35 | 375 | 0 | Running | 7 | 0 |
| 31 | 55 | Derrike Cope | Toyota | 37 | 327 | 0 | Running | 6 | 0 |
| 32 | 83 | Corey Lajoie | Toyota | 40 | 315 | 0 | Engine | 5 | 0 |
| 33 | 42 | Kyle Larson | Chevy | 39 | 292 | 0 | Accident | 11 | 0 |
| 34 | 72 | Cole Whitt | Chevy | 34 | 290 | 0 | Engine | 3 | 0 |
| 35 | 5 | Kasey Kahne | Chevy | 24 | 244 | 0 | Accident | 2 | 0 |
| 36 | 13 | Ty Dillon | Chevy | 27 | 242 | 0 | Rear End | 1 | 0 |
| 37 | 32 | Matt DiBenedetto | Ford | 30 | 139 | 0 | Accident | 1 | 0 |
| 38 | 24 | Chase Elliott | Chevy | 3 | 19 | 0 | Accident | 1 | 0 |
| 39 | 2 | Brad Keselowski | Ford | 10 | 19 | 0 | Accident | 1 | 0 |
| 40 | 33 | Jeffrey Earnhardt | Chevy | 38 | 18 | 0 | Rear End | 1 | 0 |
[adinserter name="GOOGLE AD"]