Sato denies 4th win for Castroneves; wins 101st Indy500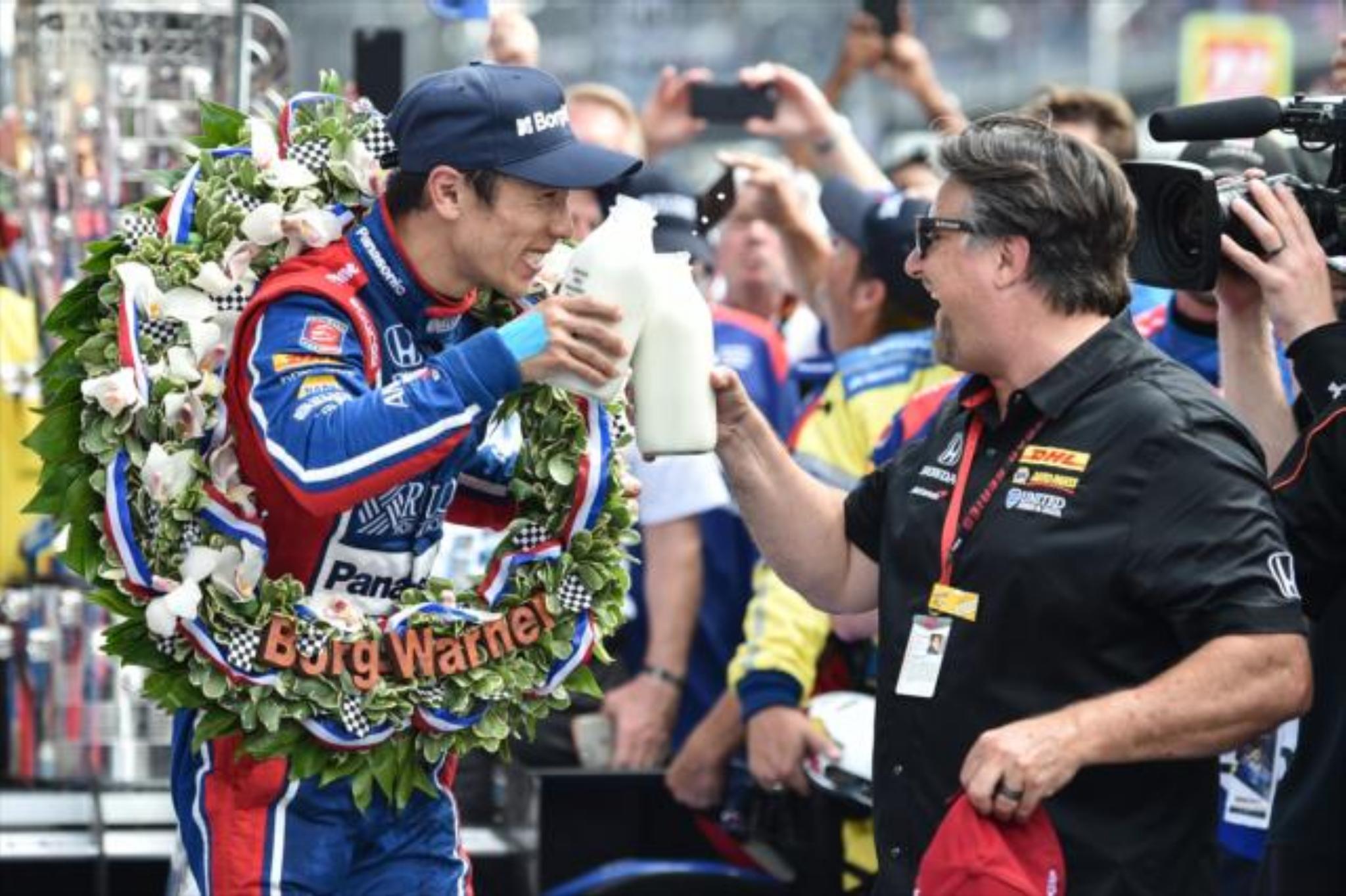 Takuma Sato celebrates a surprise Indy 500 win with team owner Michael Andretti
Some races go to the swift, others to the strong; but once in a while, it goes to the bold. No one ever accused Takuma Sato of not being bold when it comes to winning the Indy 500 – witness his dog fight in 2012 with Dario Franchitti. Today, that boldness paid off.
Early on, it seemed the race seemed to be a Honda-dominated event. In fact, Chevy-powered cars lead a total of only 19 laps all day. Scott Dixon and Tony Kanaan passed the lead between them until pit stops started at lap 28, when the team mates took turns leading a lap. After the pit stops the lead was swapped between Alexander Rossi and Fernando Alonso until the first caution flag at lap 23.
And oh boy, what it caution flag it was. Jay Howard, who hadn't driven a race since 2011 (and that was the ill-fated Vegas finale) got high going into turn two and hit the outside wall. He careened down into traffic, and his rear wheel launched early leader Scott Dixon into the infield fence, just above the overpass (opposite the suites). The car tore down much of the fence there, landed sideways on top of the SAFER barrier before coming to a stop. During the car's flight, Helio Castroneves drove under the airborne Dixon, damaging both front and rear wings in the process.
The race was red flagged until fence repairs were made. One photographer was slightly injured by the debris and was taken to the infield hospital. Both drivers were checked and cleared, but Dixon then returned to the Infield Care Center where he was fitted with a walking boot. Dixon finished 32nd, Jay Howard finished 33rd. In a post-incident interview, Chip Ganassi suggested that perhaps drivers should have a better approval process. Meanwhile, Sebastien Bourdais was being interviewed by IMS Radio, and it was obvious that he was biting his lip. "Perhaps I'm not a good spectator" commented Bourdais.
The race continued some 19 minutes later, lead by Alonso, Rossi, Sato, Carpenter and Hunter-Reay. This Andretti parade was a mainstay of much of the day, as the Andretti-Honda package seemed clearly the strongest.
Yellow flew again when Conor Daly and Charlie Kimball got together in turn 3, pushing Conor into the wall. Jack Harvey spun trying to avoid the crash and he collected the inside wall. The Nobelesville, IN native was clearly disappointed, and marked a fitting end to a miserable month for AJ Foyt Racing. Teammate Carlos Munoz – who finished second last year – finished 10th. The third Foyt entry, Zach Veach, finished on lap 155 with a failed battery, in 26th place. Harvey finished 31st.
The green flag flew again on lap 75, at least for a few laps, until a debris caution on lap 81. Racing resumed a few laps later, with Max Chilton suddenly making his presence known on lap 84 as he passed for the lead. But seemingly coming back the dead was Helio Castroneves, the lone Chevy bright spot for the day. He later commented that the damage to his aero bits seemed to make the car faster.
Helio was then penalized for jumping the restart, but at least it was clear that he was as fast as the Honda teams. And catching a well-timed yellow on lap 81 for more debris (from Marco Andretti's car), Helio took the lead on lap 96 and held it for 8 laps until he pitted.
Alexander Rossi took the lead on lap 105 until team mate Ryan Hunter-Reay took the lead from him on lap 110, and after pit stops concluded, he found himself leading the field by over 3 seconds, perhaps the only comfortable lead for anyone today.
But that too was ended by another yellow flag. On lap 122, Buddy Lazier spun (where else?) in the short chute between 1 and 2, smacking the wall hard on the exit of turn 2. Even though Lazier climbed out of the car w/o assistance, he was later transported to the hospital complaining of chest pain. Word from the Lazier camp after the race was that Buddy should be okay.
Fernando Alonso led laps and ran in the top=5 throughout the race before blowing an engine late
Another restart, another strong showing by the Andretti drivers, until another yellow for debris on lap 131. And the ensuing restart featured a great duel between Fernando Alonso and Hunter-Reay until the latter's Honda engine blew on lap 137.
By one count, Honda blew 11 engines at IMS during May – but the total might be higher. Two engines failed in the Grand Prix race, 6 more failed during practice, and 3 blew today. Michael Andretti refused to blame Honda though, because he said that the Honda teams all asked for more power even at the expense of reliability. It does seem like they got their wish – and then got the consequences.
A quick green on lap 142 saw Max Chilton battle for the lead with Charlie Kimball, only to have the yellow come out a lap later. Traffic stacked up behind a slow-restating car, causing Ed Carpenter to get into Mikhail Aleshin and then Graham Rahal. Aleshin would continue on and finish 13th. Rahal needed lots of racing tape to repair a huge hole in the side pod of his car, and finished 12th. Carpenter finished 11th.
When the green flew on lap 147, Charlie Kimball was leading Max Chilton, and the two put on a duel before James Davison caught up with them. But the fun ended for Kimball on lap 167 when his Honda engine blew. Kimball led 5 laps on the day and ended up 25th.
From this point on, it seemed like Max Chilton's car came to life. He lead a total of 50 laps on the day, easily the largest number of any competitor. He ended up finishing 4th after late-race charges by Sato and Castroneves forced the lead from him.
Fernando Alonso was the most heralded rookie coming into the race. The two-time Formula One champion, who bypassed today's F1 Monaco Grand Prix to fulfill a dream to drive in the Indy 500, started fifth, ran up front most of the day and led 27 laps in the No. 29 McLaren-Honda-Andretti Honda. Alonso's race came to a premature conclusion 24th place with a mechanical issue after 179 laps.
"Obviously disappointed not to finish the race because every race you compete, you want to be at the checkered flag," Alonso said. "Today, (it) was not possible. Anyway, (it) was a great experience, the last two weeks. I came here basically to prove myself, to challenge myself. I know that I can be as quick as anyone in an F1 car. I didn't know if I can be as quick as anyone in an Indy car.
"Thanks to INDYCAR, an amazing experience," the 35-year-old Spaniard added. "Thanks to Indianapolis, thanks to the fans. I felt at home. I'm not American, but I felt really proud to race here."
The last incident of the day happened on lap 184 when several cars crashed in turn 1. James Davison ended a promising run in the melee, finishing 20th, when Oriol Servia got into him. Servia also was working on a top-5 finish, and finished 21st. Also collected where Will power (23rd) and James Hinchcliffe (22nd). Josef Newgarden was also wounded in the incident, and finished 19th.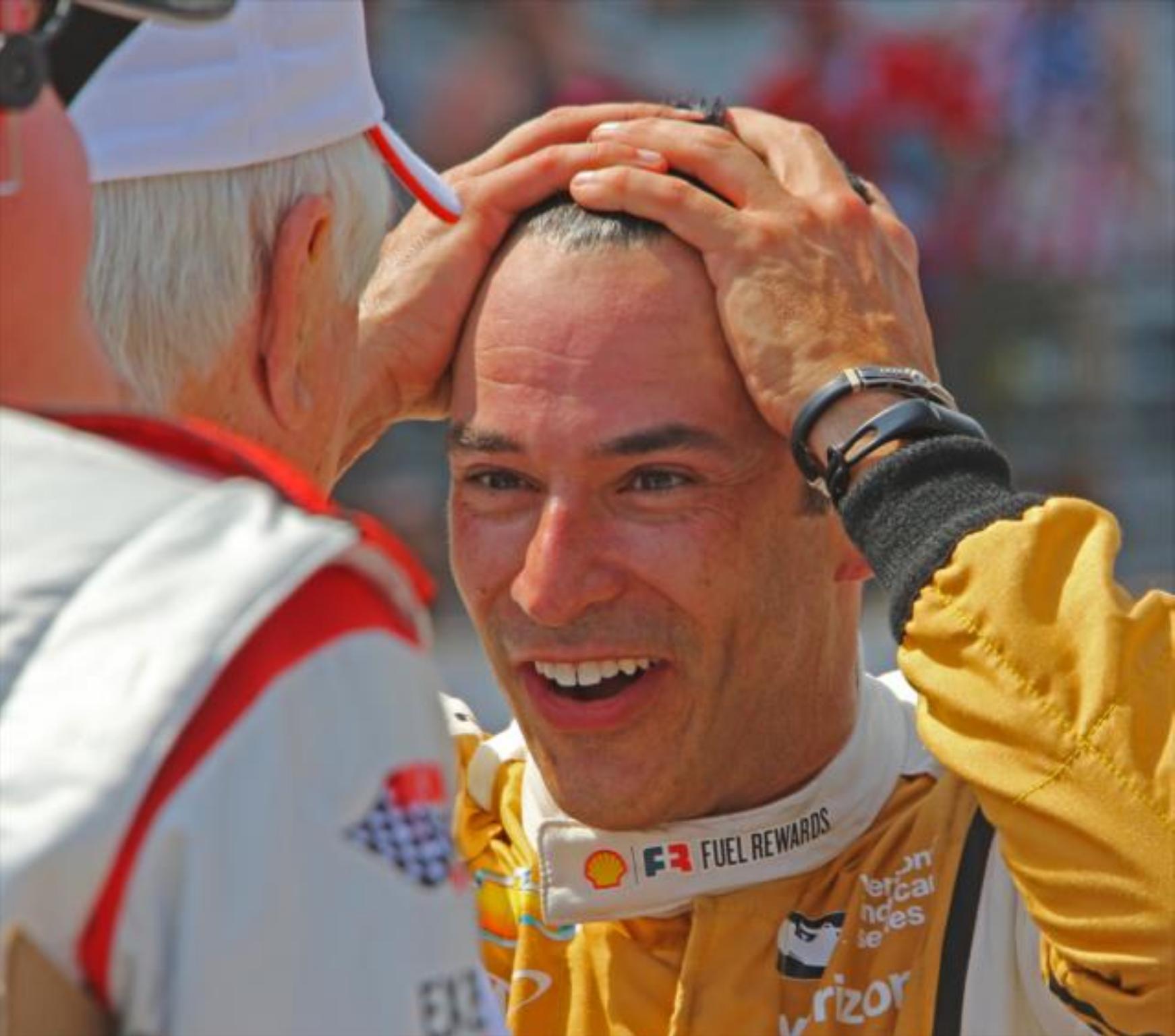 Helio Castroneves saw a potential 4th Indy 500 victory slip away
The green flag flew with 11 laps remaining. The ensuing race to the end was one for the ages, with both Castroneves and Sato showing driving bravery that one only sees with the Indy 500 is at stake. Sato took the lead with 6 laps to go, and held off a hard-charging Castroneves for the win.
IMS officials might be disappointed by the attendance at today's race. Perhaps it was the threatening weather forecast, but the crowd numbers seemed to return to levels that we saw prior to the 100th running.
Certainly if people want a strong IndyCar, there needs to be a strong Indy 500. By any measures, the Indy 500 is half of the IndyCar season – half of the expenses for teams, half of the sponsor dollars, half of the total fan attendance, half of the eyeballs watching TV. IT was also that way in 1995, so the percentages haven't changed – but certainly the totals have.
We got to sit next to the Japanese contingent here in the media center. Certainly there was strong emotion from that long-suffering crowd, who have followed Sato around for many years with scant results. Think of a bunch of race geeks yelling "Bonzai!" and you've got the gist of it.
Sato becomes the sixth different winner in as many Verizon IndyCar Series races this season and jumps to third place in the standings. Castroneves leads with 245 points while reigning series champion Simon Pagenaud, Sato and Dixon each has 234. Alexander Rossi is fifth in points with 190 after finishing seventh today.
The Verizon IndyCar Series travels to the Raceway at Belle Isle Park for next weekend's Chevrolet Detroit Grand Prix, the only doubleheader weekend on the 2017 schedule. The races air at 3:30 p.m. ET June 3 and 4 on ABC and the Advance Auto Parts INDYCAR Radio Network.
Quotes
SIMON PAGENAUD (No. 1 Menards Team Penske Chevrolet): "It wasn't the finish we wanted today for the Menards Chevrolet team. But for the big picture it was a decent day. We're still in that top group in points as we head to Detroit. That's a place that suits us pretty well. The (Indianapolis) 500 remains a goal and we'll take another shot at it next year."
JOSEF NEWGARDEN (No. 2 hum by Verizon Team Penske Chevrolet): "It was an OK day. We just got caught up in that wreck there at the end. That hurt us. When we were up front we were good. We seemed to keep racing ourselves toward the front of the field. Then we would just get dropped back by a couple of issues. If we would have been up front the whole time, I think we could have finished in the top five. We performed really well today, things just didn't go out way."
HELIO CASTRONEVES (No. 3 Shell Fuel Rewards Team Penske Chevrolet): "The Shell Fuel Rewards Chevy team almost got it done today. It was so close. We've got to keep going. I take my hat off to Takuma (Sato) for having a strong car today. He really seemed to be getting better as the race went along. I say, 'great job' to my guys. They worked their tails off. We saw it all today. We were in the back and we led some laps. We avoided disaster and we almost got number four."
CONOR DALY (No. 4 ABC Supply AJ Foyt Racing Chevrolet): "There was a big stack-up in Turn 2 and then we were about five-wide going into the back straight. For some reason, the No. 83 car in front of me got on the brakes a little bit. I had to pop to the outside where I had two cars on either side of me. As soon as I got into the corner, the car just got a little bit loose. We had just adjusted the downforce on the car in the stop before and that was the first time we were in clean air. It pinned the front a little bit. I caught it once, but I couldn't catch it three times. It was a shame. I shouldn't have done that. It just sucks. I don't really think I ever made contact with anyone. It was just very unexpected for them to jump on the brakes and they went into the corner. It's just a shame that we had to lose it like that because the car was quite nice. It was fun up until then, but I am okay."
JAMES HINCHCLIFFE (No. 5 Arrow Schmidt Peterson Motorsports Honda): "Pretty awful end to the day for the Arrow Electronics Schmidt Peterson Motorsports crew. It was such a back and forth day. At some points we had a really quick car and at some points we were struggling a bit. At some points, we were great in the pits and sometimes we lost a bunch of spots. It was just a classic 500 mile ebb and flow sort of race. We found ourselves in the right place at the end, inside the top 10, with just a handful of laps to go. Unfortunately, on a restart, which is where we have been strong the last few times in making up some spots, Oriol (Servia) and James Davison were running hard and got into each other. I slowed up to avoid the wreck and unfortunately, Will (Power) lost control trying to avoid everything and just collected us both. Wrong place wrong time. Gutted for everyone on the team because we didn't have the same pace as last year but we were trucking away and fighting and got ourselves in a good spot at the end, so thank you very much to them for all their hard work all month."
MIKHAIL ALESHIN (No. 7 SMP Racing Schmidt Peterson Motorsports Honda): "It's been a disappointing race for me and for the entire team. Everything was going fine. We had a good pace and a good strategy, and then (Ed) Carpenter crashed into my side on the right and that was it. I lost half of my sidepod, and the Schmidt Peterson Motorsports guys did the best they could with the tape. Obviously, I was losing too much speed on the straights and I couldn't do anything after that. The guys did absolutely zero mistakes in the pit stops and I'm pretty sure we would have been way up there if that hadn't happened."
MAX CHILTON (No. 8 Gallagher Honda): "The Gallagher Honda was struggling a lot early in the race and we even went a lap down. But we kept our heads down, kept going and got a break. I don't think anyone has ever won this race without a little bit of luck. When we did end up getting out front, the car was really quick, and you can see why this place is so special and so electric in that moment. I held (Takuma) Sato off with everything I had, but when the cars gang up behind you, they get a massive run and you can only do so much as the leader. As soon as they got past, I wasn't as confident in the dirty air. To come from a lap down to lead and have a chance to win here at Indy is a massive accomplishment for the whole team."
SCOTT DIXON (No. 9 Camping World Honda): "I just got a little beaten up there. It was a bit of a rough ride. I'm bummed for the team and for Camping World. We got a little loose on the first stint there, but they dialed it in, and we started to make some progress. Overall, I think we were a little bit light on downforce but for later on in the race that would have been the right move to have. I'm just bummed for them and glad everyone is OK. It was definitely a wild ride. Thank you for Dallara and the safety of these cars. It's tough. I was hoping Jay (Howard) would stay against the wall. I'd already picked a way to go and there was nowhere else to go. I'm glad he's OK too. It makes you believe in the safety of these cars and the progress they've made."
TONY KANAAN (No. 10 NTT Data Honda): "It was a survival race as you can see. A lot of cars were either involved in a crash or had a mechanical failure. I knew it was going to be a shootout in the end. That's really all we had in the No. 10 NTT Data Honda. I actually ran over debris at some point during the race and the underwing of the car was broken, so I knew toward the end that I didn't have as good of a car as I did at the beginning of the race. I have to say though that I love to see first-time winners here at the Indianapolis 500 and this guy (Takuma Sato) was huge in Japan already so I can't even imagine now."
SPENCER PIGOT (No. 11 Juncos Racing Chevrolet): "Very long, frustrating race. I think there's still something I'm missing or something's gone away with the car since the (practice) crash. It never really felt right and it was just very difficult to drive, but we fought through a tough day. We didn't give up. The guys kept working hard and I can't thank them enough for the recovery and for putting this all together."
WILL POWER (No. 12 Verizon Team Penske Chevrolet): "I'm not sure what happened out there. All I know that I was sliding backward. It was an up and down day for the Verizon Chevy. We were able to stick our nose in there a few times and we were stuck back in the back other times. Then, we got caught up in that deal at the end that ended our day. We'll move on to Detroit. The thing about this race is that we get to turn the page pretty quickly."
CARLOS MUNOZ (No. 14 ABC Supply AJ Foyt Racing Chevrolet): "A really tough race. It was a really long race for me if I'm honest. I just hung in with the car. We had no sign of this because on Friday we did long runs and it was pretty good. Today we just lost the car completely. At the start of the race, it was pretty good because I was heading to the front, and on each restart, it was good but it seemed that after 10 laps, we just dropped like a stone. We don't know why. We still finished 10th. I think it is the best result for the team in the (Indianapolis) 500 in a long time even though we struggled a lot. We just have to figure out what was going on."
GRAHAM RAHAL (No. 15 Steak 'n Shake Honda): "The car handling was good but we just didn't have the top speeds that the other guys did. We got really unlucky with the flat tire which pretty much killed us. We had the Steak 'n Shake car in the hunt to win up until then. When we got the flat it pretty much ruined the race for us. It's frustrating. It's the second flat tire we've had while in the top five in the closing stages of the race this season. I'm disappointed. You work your butt off to get in the top five and when you finally get there, once again it hits the fan. We got up to the top three and led a lap but that's where we wanted to be at the end and it just didn't work out. We're all pushing hard out here and you could tell that from the very beginning. Guys were blocking like crazy, going nuts, so the tempo was set very high from the beginning."
ORIOL SERVIA (No. 16 Manitowoc Honda): "I had a great car. In the first stint, we went backwards but then we changed the car a little bit and I think the Manitowoc car was a rocket ship. I felt so confident on restarts; we had the pace. To end the race this way is just a shame. Only one person is happy at the end of the day at this place of the 33 drivers. I was aggressive but clean all race. When (James) Davison was outside, he just closed, closed, closed on me and I had nowhere to go. I turned as much as I could. I was off the throttle. It just did one little move and we touched and that was it. It is what it is. You cannot go back in time, unfortunately. I'm just so pleased with the effort of everyone on the team. We never gave up at the beginning and we just had an amazing pace. I'll be back. I'm going to win this race one day. I am."
SEBASTIAN SAAVEDRA (No. 17 AFS Chevrolet): "We accomplished the mission we started less than two months ago. To finish this first Indy 500 with both cars intact is a victory of its own. I'm very proud of the whole organization for putting in such a professional effort. It was rough out there. We were not as competitive as we wanted, but hey, that's something that is expected your first time out. So, kudos to the whole team. I want to thank the AFS/Juncos Racing guys for all the amazing pit stops and David Cripps for a great strategy. Altogether, I'm just looking forward to what's being built here because the future is very bright for this team. I wish them and the whole organization the best."
JAMES DAVISON (No. 18 GEICO Honda): "I am obviously very proud of the team for the strong run that we had. In all honesty, I need to see a replay. I felt I was coming out of my steering and I got hit by (Oriol) Servia. Whether that's the case or not, I need to see a replay. It's very frustrating for all of us, we all had good cars. I was racing those guys, I was ahead of (Takuma) Sato for a while. Yeah, he's gone and won it, and that's awesome for him. I did the best I could with the limited practice I had. I made a couple of mistakes here and there so sorry to any of the drivers that I may have upset. I just got a good restart and felt I got tagged, so I need to see a replay to see if that's indeed the case."
ED JONES (No. 19 Boy Scouts of America Honda): "It was a great race for us. Great car I've had the whole month really. We were running through traffic but the race was so up and down for us. Solid start. We were running in the top 10, 11, for most of the first half. Then when Dixon had his crash, thankfully those guys are OK, but I ran over some debris. It damaged the floor and also the rear wing. We had to change the rear wing. That sent me to the back of the field. We had to claw our way back up again. Then we got some luck back. The last yellow, we actually pitted right before it, so it put us near the front. But then I had some bad luck again. I actually damaged my front wing. We had a big hole in it. My legs got pretty cold, to be honest. I had wind blowing into them like crazy. Also created a lot of drag. That meant I was really good in the corners catching up to other cars, but it was difficult in the straights. I couldn't pull up to them. We lacked that straight line speed for, I'd say, the last 40 laps. It was really hard for me to defend or even attack, which was really frustrating because I think we had the car to win today. Great job to (Takuma) Sato and Helio (Castroneves). But, so frustrating. I don't know how many opportunities you get to be in that battle."
ED CARPENTER (No. 20 Fuzzy's Vodka Chevrolet): "The start of the day, the race was going our way. We were running up front but then we started losing positions, had a couple bad pit stops and got shuffled back. We were running around people we shouldn't even have been running with. On the restart, I got hung out because I didn't see Pippa (Mann) outside, while I was trying to go to the outside. When I saw her, I hit the brakes but tore up the front wing and knocked the toe out. It's a bummer, the result didn't show what type of car we had. We lost track position at the wrong times and made for a disappointing day, but congratulations to Takuma (Sato). He's a great guy and driver who has been close here before. We will be back next year, but we've got some work to do. Our competitors are tough right now, so we have to make ourselves better."
JR HILDEBRAND (No. 21 Preferred Freezer Service Chevrolet): "We were able to run up front when we were there, but I'm not positive we had anything for those guys at the end. We definitely had a fifth or sixth place car. We could keep station and pick guys off when they made mistakes when we were running closer to clean air. I'm just annoyed about the drive-through penalty. I understand the rules, but the entire field went and the car in front of me didn't. I'm not sure what they expect all of us to do. It's a lousy way to end a race where the team did a great job and the Preferred Freezer Car was good enough to hang on up there. We made some great strategy calls to help get us back to the front group of cars. For executing at a high level all day, for it to end like that, leaves you feeling empty inside. That's how this place works and we will come back with another shot next year."
JUAN PABLO MONTOYA (No. 22 Fitzgerald Glider Kits Team Penske Chevrolet): "Our Fitzgerald Glider Kits Chevy was good. We had a problem there in the beginning when we ran out of gas in Turn 3. We should have had another half-gallon in the car. It put is in a tough position because we lost a lot of positions there. From there to come back to where we finished was great. We ran 12th or 13th most of the day and then the car was really good at the end of the race. The balance just wasn't there. Then I told the guys on the last stop, let's take swing and we did and the car came to life. I would have liked to have had some more laps at the end."
SAGE KARAM (No. 24 DRR Mecum Auctions Chevrolet): "Something was wrong since the start of the race. I had no radio communication with my team. I could hear them. They couldn't hear me so we had to work on a code to communicate with each other on the fly. Just keying up for yes or no and turning fuel mixtures for more wing, less wing, rear wing, front wing so it was kind of sketchy out there but we were doing OK. We were running inside the top 15 and the top 10 shortly but something was killing the battery in the car, killed the radio. So, an electrical gremlin pulled us out of this one. The car was really good all month. It's a shame – the Dreyer and Reinbold Racing boys, Mecum Auto Auctions put together a great car this month. It's a shame to see it go down like that. But that's racing. The beauty of this place is it makes you want to come back more and more because you go through all these hard times. You just want to win."
TAKUMA SATO (No. 26 Andretti Autosport Honda, Winner 2017 Indianapolis 500): "It was obviously a very tough race but Helio (Castroneves) really drives fair. I can trust him coming from the outside. It was a fantastic race. Until three laps to go I really didn't know. When Helio came side by side with three to go that was the moment I really had to go for it. And we did it and pulled away and it was fantastic. It is unbelievable. I really have to thank A.J. Foyt because the last four years he gave me this tremendous experience on his team and now Michael Andretti gave me a fantastic opportunity with his team. I want to thank all the 26 car guys and engineers, Honda, everyone. This is really awesome. The organization is unbelievable. I'm so proud of the whole team. It's just a great victory. I'm so proud." (On if he dreamed of winning this race) "I dreamed of something like this since I was 12. You don't just dream about it. Obviously, you prepare for the race. You want to win the race. I had huge ambition and I had to try."
MARCO ANDRETTI (No. 27 United Fiber & Data Honda): "I'm happy for the team. It was a huge win for Honda but not our day. We definitely missed on it. I was sort of hanging on. I had a pretty lucky day, to be honest. I got through some big wrecks. Somebody was looking over us there. This was just one of those salvage kind of days. Unfortunately, we didn't have the car, so we tried to bring home something."
RYAN HUNTER-REAY (No. 28 DHL Honda): It's frustrating to end your day like that, especially when you have a good car like that. It's two years in a row that Andretti Autosport has given me a car to win this race, and it's two years in a row that circumstances outside our control have taken us out. This race is really hard to win, even when you have everything lined up. I had a great car all month; super fast. I knew what I needed from the car today and I knew after the first stint that I had a good shot at it. It's unfortunate. Our season has been one of bad luck. Honda was pushing really hard. We had the speed this month on the big oval and they wanted to win this race like we do. I'll take a fast car any day over one trotting around in the back. There wasn't a car that I came up on that I couldn't get by at will, and there aren't many days like that at the speedway. Hopefully, we'll come back next year and be even stronger."
FERNANDO ALONSO (No. 29 McLaren-Honda-Andretti Honda): "I'm disappointed not to finish the race because obviously, every race you compete in, you want to be at the checkered flag. Today that was not possible. It was a great experience, the last two weeks. I came here basically to prove myself, to challenge myself. I know that I can be as quick as anyone in an F1 car. I didn't know if I can be as quick as anyone in an Indy car. It was nice to have this competitive feeling, even leading the Indy 500, you know. One lap you put on the lead there, it was already a nice feeling. I was passing, watching the tower, saw the 29 on top of it. I was thinking at that moment if Zak (Brown) or someone from the team was taking a picture, because I want that picture at home. Thanks to INDYCAR, amazing experience. Thanks to Indianapolis. Thanks to the fans. I felt at home. I'm not American, but I felt really proud to race here. Congratulations to Sato San, to Andretti. We have been sharing the last two weeks all the meetings in the morning, the meetings in the afternoon. Takuma was a lot of help, coming from F1. The last two laps I was on my knees really pushing Sato. Extremely happy for the final result."
ZACH VEACH (No. 40 Indy Women in Tech Championship Chevrolet): "Today was very up and down. We had a great first stint, picked up a few positions, running in 26th or so. Then I made a rookie mistake getting into my box, locking up my tires. Because of that we started after our first stint 3 laps down. I think we got a couple of those laps back. We were working our way through the field, trying to get back to where we needed to be. Then I had a battery die in the car, which I got lucky and coasted back to pit lane. They replaced the battery and sent me back out. Second battery died, but we got lucky to come back and fix it before we got stuck on track. Finally, our race ended 150 laps in or somewhere around there because the third battery died and we just couldn't make it back to pit lane this time. Extremely heartbroken for my team, so much effort went into this. I'm just proud to showcase the Indy Women in Tech Championship presented by Guggenheim over the past couple of weeks and throughout the race. As far as the rookie learning experience, there's nothing quite like this. We just gotta be happy about the positives and improve on the negatives and focus on when I can get back in an IndyCar."
JACK HARVEY (No. 50 Michael Shank Racing with Andretti Autosport Honda): "There was a whole bunch of debris on the track – I hit some of it and the car spun. It's a super disappointing day because we worked so hard to get here so to have the day end like this is heartbreaking. Everyone is trying to slow down so quickly and trying to then dodge the debris. I was slowing down and trying to avoid everything so I don't know what else I could have done at that point. This was still the best experience I've ever had. The Indianapolis 500 represents so much in the state of Indiana and to the racing world, but it just didn't go the right way for us today. Thank you to my family and friends who supported me on this journey and especially to my partners who came onboard to make this race happen for me. Thank you SiriusXM, Autonation, Gap Guard and so many others for making this dream come true for not only me but the entire Michael Shank Racing with Andretti Autosport team."
PIPPA MANN (No. 63 Susan G. Komen Honda): "Today felt like kind of a messy day out there. We struggled a bit with some things with the car. We struggled a little bit on pit road and we had some issues that were outside of our control. Overall, I am just very proud of the No. 63 Dale Coyne Racing team. They kept digging, and kept after it. With the attrition out there on the race track, we ended up coming home in the top 20 for the second year in a row."
JAY HOWARD (No. 77 Lucas Oil/Team One Cure Honda): "First and foremost, I'm glad Scott (Dixon) is OK. Credit to INDYCAR, Indianapolis Motor Speedway, the Holmatro Safety Team, Dallara. I'm fine, thanks to them. It goes to show how safe these cars are. I'm not happy. Unfortunately, we ran out of fuel on our first stint when we were doing really well, which was unfortunate. I was a few laps down and see (Ryan) Hunter-Reay coming. I just backed off, let him go by. He moves right over on me and puts me on all the gray and all the marbles and that was it. It's over."
CHARLIE KIMBALL (No. 83 Tresiba Honda): "I'm really disappointed honestly – these guys deserved more than that. It's just hard to take when you have a mechanical failure like that so close to the end. We were coming in that lap for our last stop of the day and I knew the Novo Nordisk Chip Ganassi Racing guys were going to crush it in pit lane and then we just had to go out and race for the front. The timing stand called a strategy the last quarter of the race that gave us a chance to win. We'd gone through some big struggles earlier in the race and the car wasn't particularly good, but we got up front and she went like a rabbit. I'm just frustrated. This race means so much to all of us, but at the same time we're just going to have to dig deep and find a whole other level for Detroit. There are just as many points available next weekend as there were this weekend. We'll go out there and try to get the No. 83 Tresiba Honda as many as we can."
GABBY CHAVES (No. 88 Harding Racing Chevrolet): "I think we did our job. We took the race one lap at a time. We let the track and the conditions come to us and we dialed in the No. 88 Harding Racing Chevrolet car every stop. We had a heck of a stint there. I think we were one of the only cars being able to make moves out there and got into a solid top ten for our first go as a team."
ALEXANDER ROSSI (No. 98 NAPA Auto Parts/Curb Honda): "Two years in a row to have fuel problems is pretty tough to swallow. Obviously, it worked last year. You can't rely on not fueling the car every year and getting results; it's difficult. The NAPA Auto Parts Honda was awesome from the get-go. Then we didn't have the downforce to be that far back."
Results
| | | | | | |
| --- | --- | --- | --- | --- | --- |
| P | # | Driver | Nation | Laps | Time/Gap |
| 1 | 26 | Takuma Sato | Japan | 200 | – |
| 2 | 3 | Helio Castroneves | Brazil | 200 | 0.2011 |
| 3 | 19 | Ed Jones | United Arab Emirates | 200 | 0.5278 |
| 4 | 8 | Max Chilton | England | 200 | 1.1365 |
| 5 | 10 | Tony Kanaan | Brazil | 200 | 1.6472 |
| 6 | 22 | Juan Pablo Montoya | Colombia | 200 | 1.7154 |
| 7 | 98 | Alexander Rossi | United States | 200 | 2.4222 |
| 8 | 27 | Marco Andretti | United States | 200 | 2.5410 |
| 9 | 88 | Gabby Chaves | Colombia | 200 | 3.8311 |
| 10 | 14 | Carlos Munoz | Colombia | 200 | 4.5319 |
| 11 | 20 | Ed Carpenter | United States | 200 | 4.6228 |
| 12 | 15 | Graham Rahal | United States | 200 | 5.0310 |
| 13 | 7 | Mikhail Aleshin | Russia | 200 | 5.6993 |
| 14 | 1 | Simon Pagenaud | France | 200 | 6.0513 |
| 15 | 17 | Sebastian Saavedra | Colombia | 200 | 12.6668 |
| 16 | 21 | J.R. Hildebrand | United States | 199 | 1 lap |
| 17 | 63 | Pippa Mann | England | 199 | 1 lap |
| 18 | 11 | Spencer Pigot | United States | 193 | 7 laps |
| 19 | 2 | Josef Newgarden | United States | 185 | 15 laps |
| 20 | 18 | James Davison | Australia | 183 | 17 laps |
| 21 | 16 | Oriol Servia | Spain | 183 | 17 laps |
| 22 | 5 | James Hinchcliffe | Canada | 183 | 12 laps |
| 23 | 12 | Will Power | Australia | 183 | 12 laps |
| 24 | 29 | Fernando Alonso | Spain | 179 | 21 laps |
| 25 | 83 | Charlie Kimball | United States | 166 | 34 laps |
| 26 | 40 | Zach Veach | United States | 155 | 45 laps |
| 27 | 28 | Ryan Hunter-Reay | United States | 136 | 64 laps |
| 28 | 24 | Sage Karam | United States | 125 | 75 laps |
| 29 | 44 | Buddy Lazier | United States | 118 | 82 laps |
| 30 | 4 | Conor Daly | United States | 65 | 135 laps |
| 31 | 50 | Jack Harvey | England | 65 | 135 laps |
| 32 | 9 | Scott Dixon | New Zealand | 52 | 148 laps |
| 33 | 77 | Jay Howard | England | 45 | 155 lap |
Race Statistics
Winners average speed: 155.395 mph
Time of Race: 3:13:03.3584
Margin of victory: 0.2011 of a second
Cautions: 11 for 50 laps
Lead changes: 35 among 15 drivers
Lap Leaders:
Dixon 1-5
Kanaan 6-27
Carpenter 28-29
Hildebrand 30
Montoya 31
Carpenter 32-34
Rossi 35-36
Alonso 37-42
Rossi 43-47
Alonso 48-60
Rossi 61-64
Sato 65-75
Rossi 76-78
Hunter-Reay 79-81
Power 82-83
Chilton 84-86
Hunter-Reay 87-89
Rossi 90-93
Hunter-Reay 94-95
Castroneves 96-103
Hunter-Reay 104
Rossi 105-109
Hunter-Reay 110-112
Rahal 113-114
Hunter-Reay 115-129
Alonso 130-134
Hunter-Reay 135
Alonso 136-138
Chilton 139-142
Kimball 143-147
Chilton 148-150
Davison 166-167
Hildebrand 168
Chilton 169-193
Castroneves 194
Sato 195-200
Verizon IndyCar Series point standings: Castroneves 245, Pagenaud 234, Sato 234, Dixon 234, Rossi 190, Kanaan 188, Power 186, Newgarden 186, Jones 185, Hinchcliffe 170, Chilton 170.