NASCAR Announces Major Changes To 2018 Schedule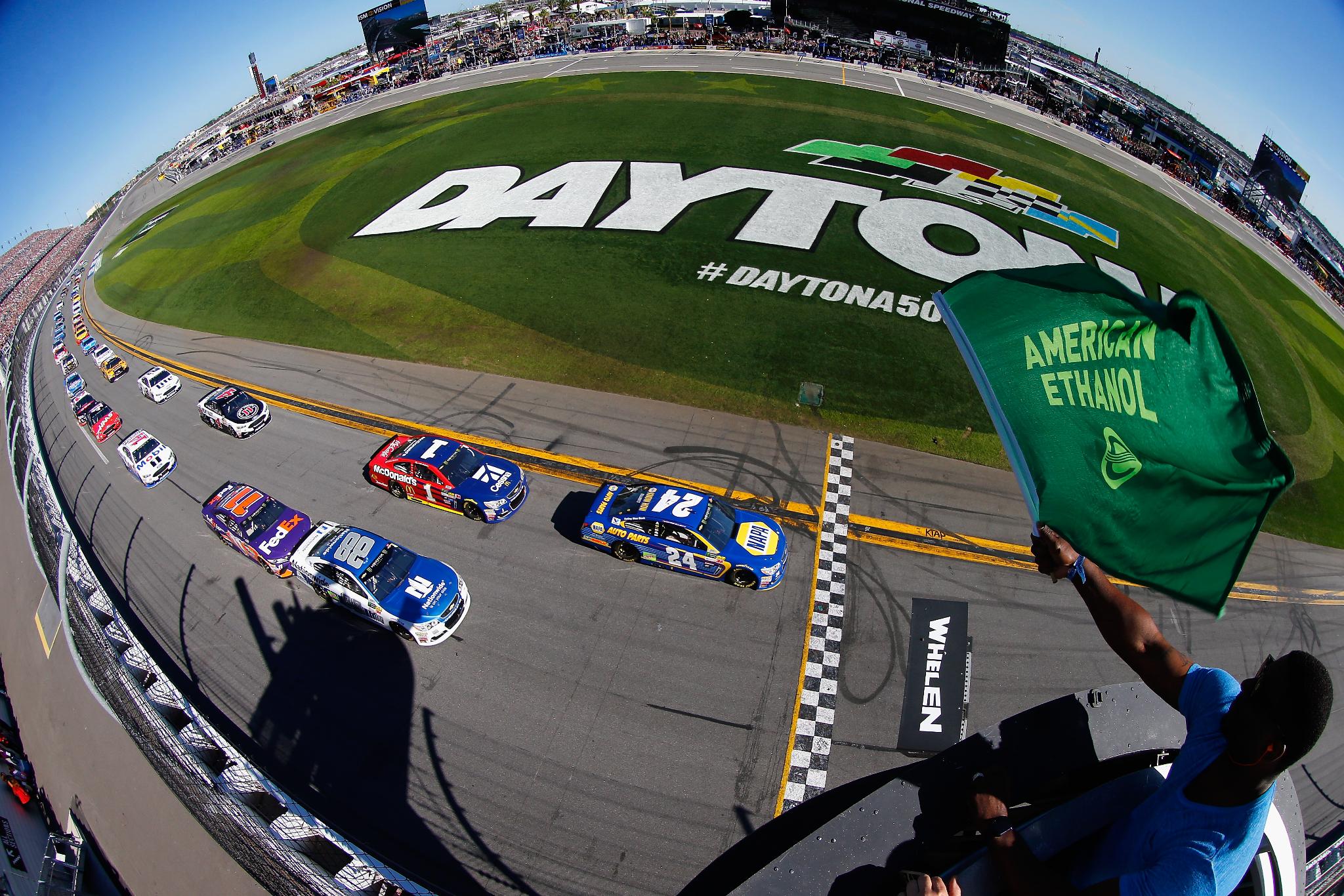 The Daytona 500 will shift back to its traditional Presidents Day weekend in 2018
Jonathan Ferrey/Getty Images
NASCAR has released its 2018 competition schedule for all three of its major touring series, introducing several changes to the track in the Monster Energy NASCAR Cup Series championship including the addition of the first road course in the playoffs.
Several NASCAR tracks have had date swapped around including a second date for Las Vegas Motor Speedway and moving the tradition summer Brickyard 400 at the famed Indianapolis Speedway to September as one of the track in the playoffs.
Among the most notable changes will be the debut of the new infield road course at Charlotte Motor Speedway, which will play host to the final race of Round 1 of the Monster Energy NASCAR Cup Series Playoffs on Sunday, Sept. 30, 2018, marking the first time in the 14-year history of the playoff that a race has been held on a road course.
Charlotte's new road course, dubbed a ROVAL, is a 13-turn, 2.4-mile road course that will also utilize a major part of the 1.5-mile oval much in the same way the infield track at Daytona International Speedway is configured.
NASCAR Cup Series driver AJ Allmendinger tested a stock car on the ROVAL back in January.
"The track has definitely got potential," Allmendinger said. "I had a lot of fun driving it. It's a perfect mix for a race team to set up, whether you go for a full oval setup or somewhat of a road course setup. It'll definitely be a big challenge for the teams."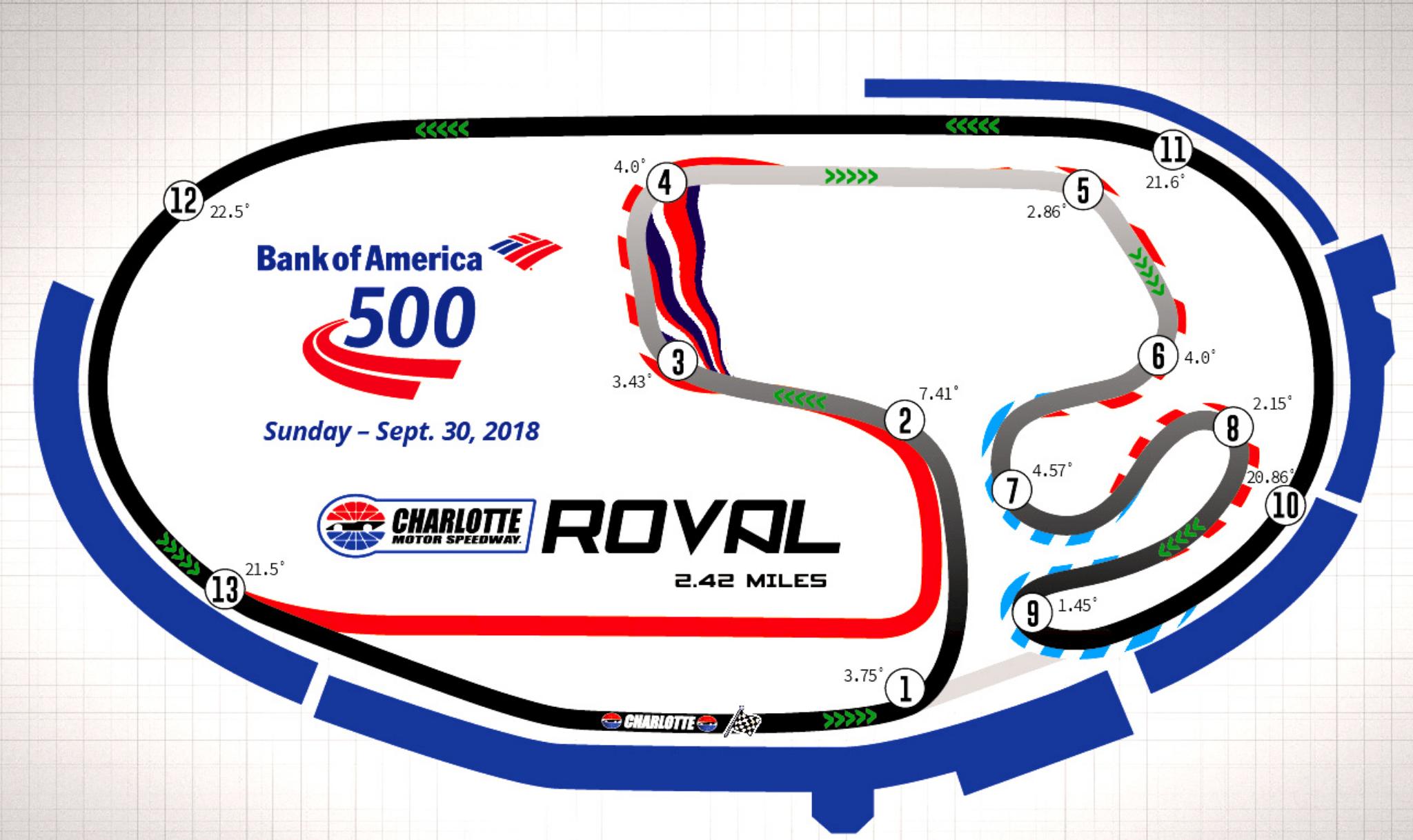 Charlotte Motor Speedway's new "ROVAL" will make it's debut on Sept. 30, 2018
Drivers had been lobbying for a road course to be added to the playoffs for a number if years, owing to the exciting racing that have been generated at NASCAR's other two road courses at Watkins Glen, N.Y. and Sonoma, Calif.
"Road courses are something I look forward to during the season," said Kyle Busch, last week's Monster Energy All-Star Race winner. "Road racing is like a vacation for me, because it's not something we do week-in and week-out so I just try to go out there and have fun with it.
"Now that we have the Charlotte ROVAL on the schedule, we have every type of track in our postseason. It will be interesting to see how it plays out with a completely new challenge for the drivers and teams during the Playoffs."
"The desire was loud and clear from the fans that they wanted a road course in the Playoffs," said Jim Cassidy, NASCAR senior vice president of racing operations. "A lot of people heard that and went to work on how we could accomplish that."
NASCAR has also shuffled several dates among other tracks for next year's playoffs, adding Richmond to the opening round as well as a second date for Las Vegas Speedway, which takes the place of New Hampshire Motor Speedway in the playoffs and will host the opening race of Round 1.
Indianapolis Motor Speedway, which has been a summertime staple on the NASCAR circuit since 1994, will move to September 9, 2018 and will serve as the regular-season finale in place of Richmond.
Chicagoland Speedway, which had hosted the opening race of the playoffs since 2011, will shift its lone NASCAR date to the weekend of July 1.
NASCAR also announced changes to its annual Speedweeks at Daytona in September, moving the season-openging Daytona 500 back to Presidents Day weekend on Sunday, February 18, 2018.
The Clash at Daytona and Daytona 500 qualifying will now be a single-day event held Sunday, Feb. 11, while the ARCA season-opener will now be held on Saturday, Feb. 10.
For the NASCAR Xfinity Series, the series will join the Cup Series teams at Chicagoland on June 30 and Indianapolis on Sept. 8. The Camping World Truck Series will head west with the Cup and Xfinity Series to Las Vegas Motor Speedway for a triple-header weekend on March 2.
2018 MONSTER ENERGY NASCAR CUP SERIES SCHEDULE
Date Site
2/11 Daytona International Speedway (Clash / Daytona 500 Qualifying)
2/15 Daytona International Speedway (Duel)
2/18 Daytona 500
2/25 Atlanta Motor Speedway
3/4 Las Vegas Motor Speedway
3/11 Phoenix International Raceway
3/18 Auto Club Speedway
3/25 Martinsville Speedway
4/8 Texas Motor Speedway
4/15 Bristol Motor Speedway
4/21 Richmond International Raceway
4/29 Talladega Superspeedway
5/6 Dover International Speedway
5/12 Kansas Speedway
5/19 Charlotte Motor Speedway (Monster Energy All-Star Race)
5/27 Charlotte Motor Speedway
6/3 Pocono Raceway
6/10 Michigan International Speedway
6/24 Sonoma Raceway
7/1 Chicagoland Speedway
7/7 Daytona International Speedway
7/14 Kentucky Speedway
7/22 New Hampshire Motor Speedway
7/29 Pocono Raceway
8/5 Watkins Glen International
8/12 Michigan International Speedway
8/18 Bristol Motor Speedway
9/2 Darlington Raceway
9/9 Indianapolis Motor Speedway
9/16 Las Vegas Motor Speedway
9/22 Richmond International Raceway
9/30 Charlotte Motor Speedway
10/7 Dover International Speedway
10/14 Talladega Superspeedway
10/21 Kansas Speedway
10/28 Martinsville Speedway
11/4 Texas Motor Speedway
11/11 Phoenix International Raceway
11/18 Homestead-Miami Speedway
2018 NASCAR XFINITY SERIES SCHEDULE
Date Site
2/17 Daytona International Speedway
2/24 Atlanta Motor Speedway
3/3 Las Vegas Motor Speedway
3/10 Phoenix International Raceway
3/17 Auto Club Speedway
4/7 Texas Motor Speedway
4/14 Bristol Motor Speedway
4/20 Richmond International Raceway
4/28 Talladega Superspeedway
5/5 Dover International Speedway
5/26 Charlotte Motor Speedway
6/2 Pocono Raceway
6/9 Michigan International Speedway
6/17 Iowa Speedway
6/30 Chicagoland Speedway
7/6 Daytona International Speedway
7/13 Kentucky Speedway
7/21 New Hampshire Motor Speedway
7/28 Iowa Speedway
8/4 Watkins Glen International
8/11 Mid-Ohio Sports Car Course
8/17 Bristol Motor Speedway
8/25 Road America
9/1 Darlington Raceway
9/8 Indianapolis Motor Speedway
9/15 Las Vegas Motor Speedway
9/21 Richmond International Raceway
9/29 Charlotte Motor Speedway
10/6 Dover International Speedway
10/20 Kansas Speedway
11/3 Texas Motor Speedway
11/10 Phoenix International Raceway
11/17 Homestead-Miami Speedway
2018 NASCAR CAMPING WORLD TRUCK SERIES SCHEDULE
Date Site
2/16 Daytona International Speedway
2/24 Atlanta Motor Speedway
3/2 Las Vegas Motor Speedway
3/24 Martinsville Speedway
5/4 Dover International Speedway
5/11 Kansas Speedway
5/18 Charlotte Motor Speedway
6/8 Texas Motor Speedway
6/16 Iowa Speedway
6/23 Gateway Motorsports Park
6/29 Chicagoland Speedway
7/12 Kentucky Speedway
7/18 Eldora Speedway
7/28 Pocono Raceway
8/11 Michigan International Speedway
8/15 Bristol Motor Speedway
8/26 Canadian Tire Motorsport Park
9/14 Las Vegas Motor Speedway
10/13 Talladega Superspeedway
10/27 Martinsville Speedway
11/2 Texas Motor Speedway
11/9 Phoenix International Raceway
11/16 Homestead-Miami Speedway