Bowyer, Blaney, Suarez, Elliott Advance To All Star Race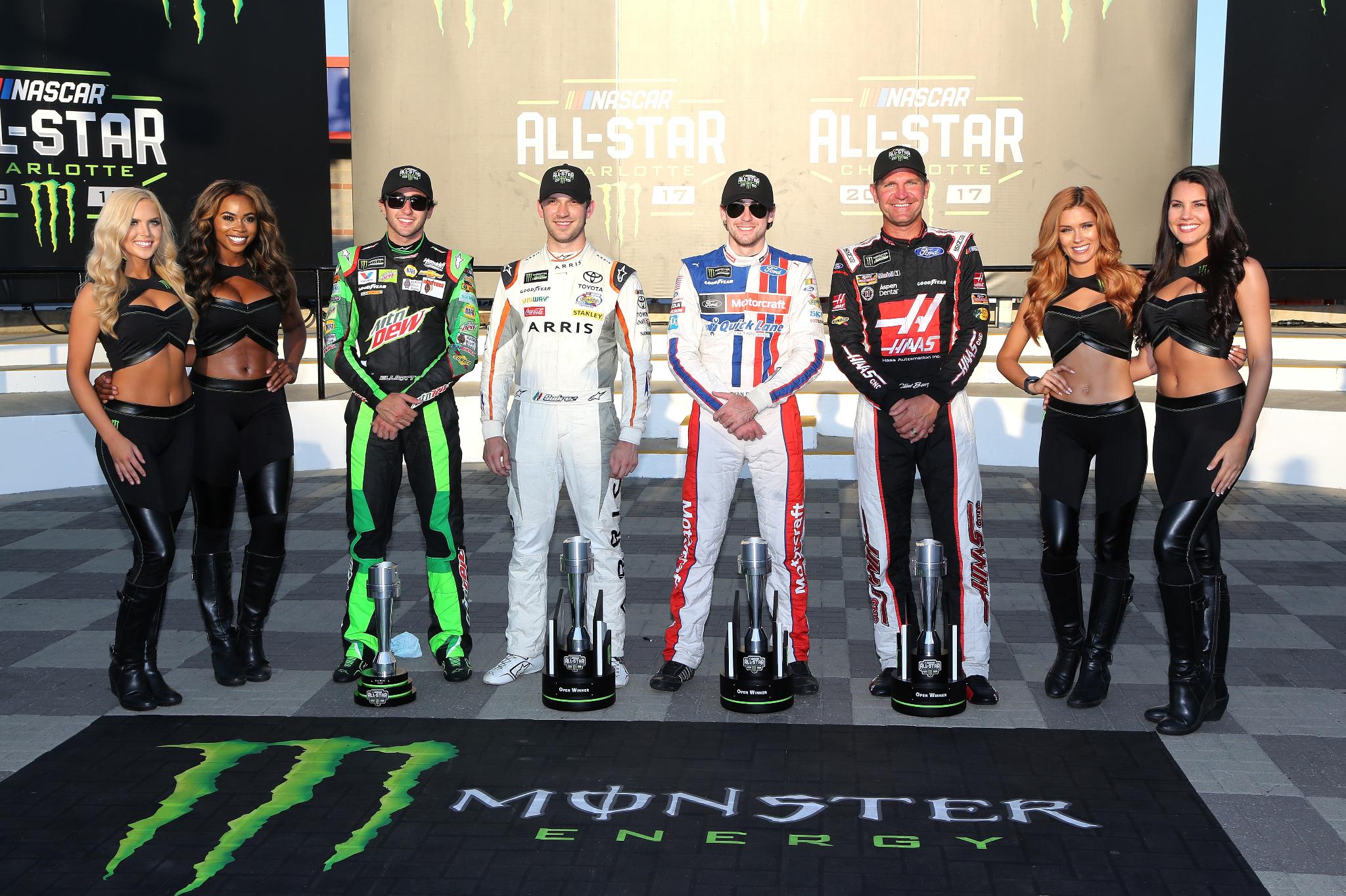 (L-R) Chase Elliott, Daniel Suarez, Ryan Blaney and Clint Bowyer advanced to the All Star race
Jerry Markland/Getty Images
Clint Bowyer, Ryan Blaney and Daniel Suarez picked up stage victories in Saturday night's Monster Energy Open to advance to the 33rd running of the Monster Energy NASCAR All Star Race at Charlotte Motor Speedway.
Chase Elliott won the fan vote and claimed the 20th and final spot in the all star field.
Bowyer led the opening segment from the pole position and briefly faced a side-by-side challenge from second-place qualifier Ryan Blaney before pulling away. AJ Allmendinger went four wide with Chase Elliott, Austin Dillon and Daniel Suarez to move into third place before the field move it to the backstretch.
Once out in front, Bowyer set sail and pulled out the 2.5-second lead, leading all 20 laps of the opening stage to advance to his eighth-career all star event. Blaney held onto second over Erik Jones, who had reeled in Blaney in the closing laps of the stage. Chase Elliott and Allmendinger rounded out the top five.
"This is a big night. A million bucks is a lot of money. We've got a shot at it. We've got a good car, our Haas Automation Ford is strong and I'm just proud to be a part of it. This is without a doubt, I think, the toughest Open. I think this is the third time I've had to run it and when you've got Blaney that qualifies really good, he's always had speed, especially last week. Looking back at Kansas he was one of the cars to beat, so you had Chase in it too. It's a tough crowd, so I'm proud to be in it."
In the second 20-lap segment, Blaney got a good jump on the restart and pulled out in front of Elliott to take the top spot. Blaney quickly pulled away, but lapped traffic in the final laps allowed Elliott to close the gap to within two-tenths of a second.
On lap 34, Austin Dillon went three wide with Allmendinger and Carl Long and slid up the track and into Allmendinger, cutting down a tire on Allmendinger's Chevrolet and sending him to the garage.
Up front, Blaney was on a rail, and continued to lead the rest of the way to win the stage and advance to his first-career All Star Race over Elliott, Daniel Suarez, Jones and Paul Menard.
"I was probably more nervous trying to hold Chase (Elliott) off there than I will be all night trying to get up through the field," said Blaney. "You want to have a chance to race for the money and the Open is our way to do it. I didn't want to do anything to blow that. I think there was more pressure in the Open than the actual All-Star Race, but you never know.
"Once you're in it you're just gonna race hard for a million bucks."
The end of the second stage set up the final 10 lap shootout for the shot to transfer to the All Star Race.
Landon Cassill, who had finished the second segment In tenth, gambled on a two-tire stop to lead the field to the green flag for the third segment, but spun the tires on the restart and got driven into from behind by Elliott. Cassill spun out near the entrance to turn one to bring out the caution.
After gathering the field back up, racing resumed with Suarez back out in front as Elliott and Austin Dillon duked it out side by side for second. Elliott powered under Austin Dillon on the low slide and slid up the track to take the position and get back in the hint for Suarez.
By lap seven, Elliott had reeled in Suarez and looked high coming off turn four before ducking to the inside and getting into the back of Suarez, getting Suarez loose and sending him up the hill as Elliott moved inside in a bid for the lead. Suarez gathered his car back up and fought back on the ensuing lap, looking to the high side in the frontstretch.
Taking full advantage of the battle in front of him, Jones swung down from the high side and tried to stick the nose of his car under Elliott in the frontstretch and wound up catching a piece of the infield grass – tearing up the front splitter on his Toyota.
Elliott and Suarez got away clean while Jones spun out in turn one and two as a result of the damage to his car, bringing out the caution flag with three laps to go with Elliott scored as the leader.
On the final restart, Suarez quickly moved out in front of Elliott to take the lead, while Austin Dillon moved alongside Elliott for second place. Elliott would hold him off and started working on catching Suarez.
Elliott hung his car out as hard as he could to try and started to make up some ground, but got too wide coming through turns one and two in the final lap and lost second place to Austin Dillon as Suarez won the final stage.
"Now we go with the big guys, so it's going to be fun," said Suarez, making his first All Star start. "I felt like we learn quite a bit in the first, the first fifty laps. Definitely we have to make some adjustments to be strong, but the race track is going to change a lot. We'll see, let's see what we got."
Although Elliott was disappointed to finish third in the final segment, he won the fan vote to transfer to the all star field.
"It's awesome to hear that crowd just then. That means a lot to me. I appreciate you guys voting for me," said Elliott. "That is really cool for our team. Obviously, we would have loved to have raced our way in. I feel like every time we run this race we've got some sort of drama with this year and last year, but have had a shot at it tonight. We will try to move forward and give ourselves the best chance we can."