Kyle Busch Wins Second-Straight Truck Series Race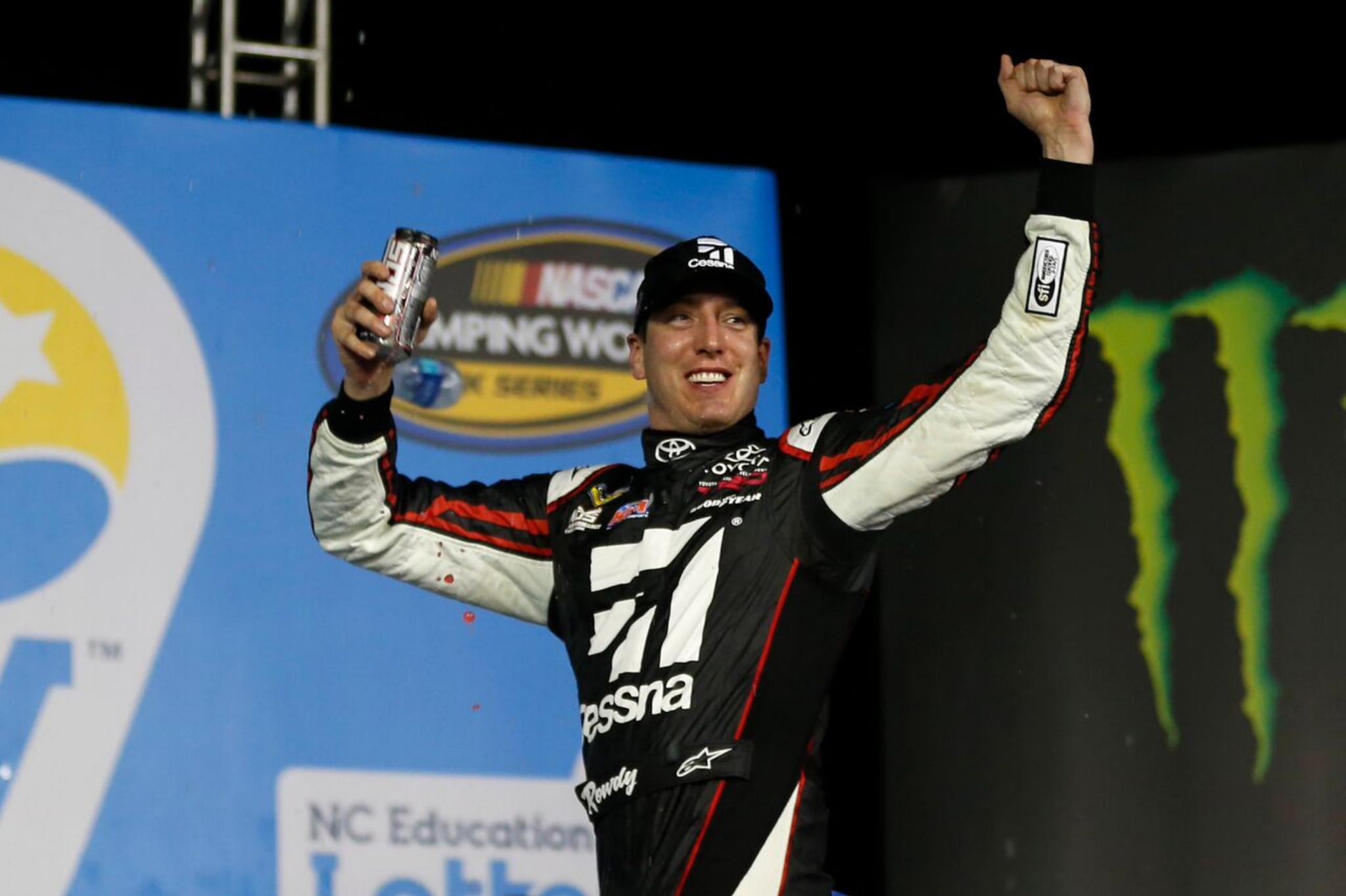 Kyle Busch
Charlotte Motor Speedway/HHP Photo
After stealing a victory last in last weekend's NASCAR Camping World Truck Series race at Kansas Speedway, Kyle Busch opted not to rub it in with a celebratory burnout on the frontstretch.
Friday night at Charlotte Motor Speedway, there was no such restraint from Busch who burned down the tires on his Toyota Tundra after winning the North Carolina Education Lottery 200 in dominating fashion.
Busch led all three segments for the second race in a row and survived a late-race restart to beat out Johnny Sauter and Busch's protégé Christopher Bell to notch his second truck series win of the season and his seventh at Charlotte. Ryan Truex and Timothy Peters rounded out the top five finishers.
"For us to be out front most of the laps tonight, it was fun," said Busch. "It was challenging there that middle section of the race. That was kind of chaotic. I didn't know what was going on half the time. We made it through there and got to the front and was able to win this thing. Just real proud of the whole team effort."
Busch led 90 of the 134 laps was particularly aggressive in the second segment of the race, including a three-wide pass on Sauter and Matt Crafton that allowed him to win the segment.
"Those guys were kind of road blocking it bottom and middle and I'm like well, there's one lane left and that's the top so I better go use it," said Busch. "It was a little dirty up there, but I gave it my everything and got a huge run off the top. When (Matt) Crafton came off the corner, he left the middle open. You know I thought I was gonna have to push the 21 (Johnny Sauter), but he left the middle open so I just squeezed it three-wide and got it right up through the middle there and barreled it off into turn 3 as far as I could. Great race. Lot of fun."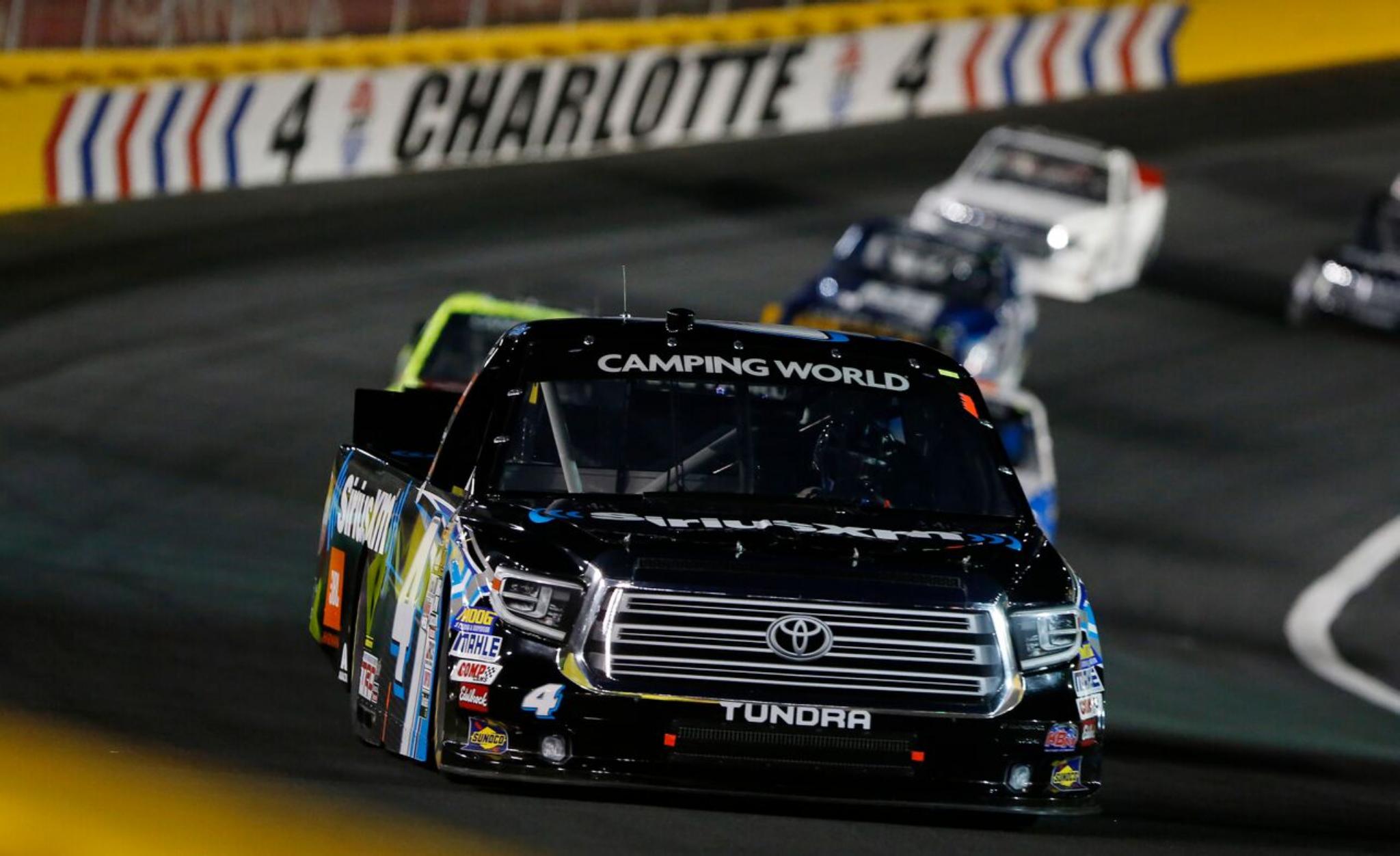 Christopher Bell
Charlotte Motor Speedway/HHP Photo
Christopher Bell – driving the Kyle Busch Motorsports no. 4 Toyota – started on the pole but only lasted two laps at the front of the field before a flat left-rear forced him to pit and sent him one lap down while Busch powered past and into the lead for the first time. Busch would lead the remaining 38 laps of the opening 40-lap stage to take the green-checkered flag over Sauter and John Hunter Nemechek.
In the second segment, Sauter flexed his muscles and fought his way to the lead but late in the segment faced a strong side-by-side challenge from Crafton. The two drivers fought door to door in the closing stages of the segment before Busch shoved his way between them in a three-wide pass for the lead with four lap to go in the segment to win the second stage.
The final stage looked to be a shootout up front with Busch and Ben Rhodes lined up behind Austin Cindric for the restart.
Cindric jumped out to an early lead but running on older tires he was quickly overtaken by Busch, who fought off Rhodes to move back into the top spot with 45 laps to go.
Once back out front, Busch began to pull away – opening up a half-second lead over Rhodes and Christopher Bell, who had battled his way back onto the lead lap. Bell would move into second place and tried to chase down the leader but Busch again pulled away.
Busch looked to have the race all but sewn up when the final caution flag waved for Matt Mills spin with six lap to go to set up a three-lap shootout for the lead.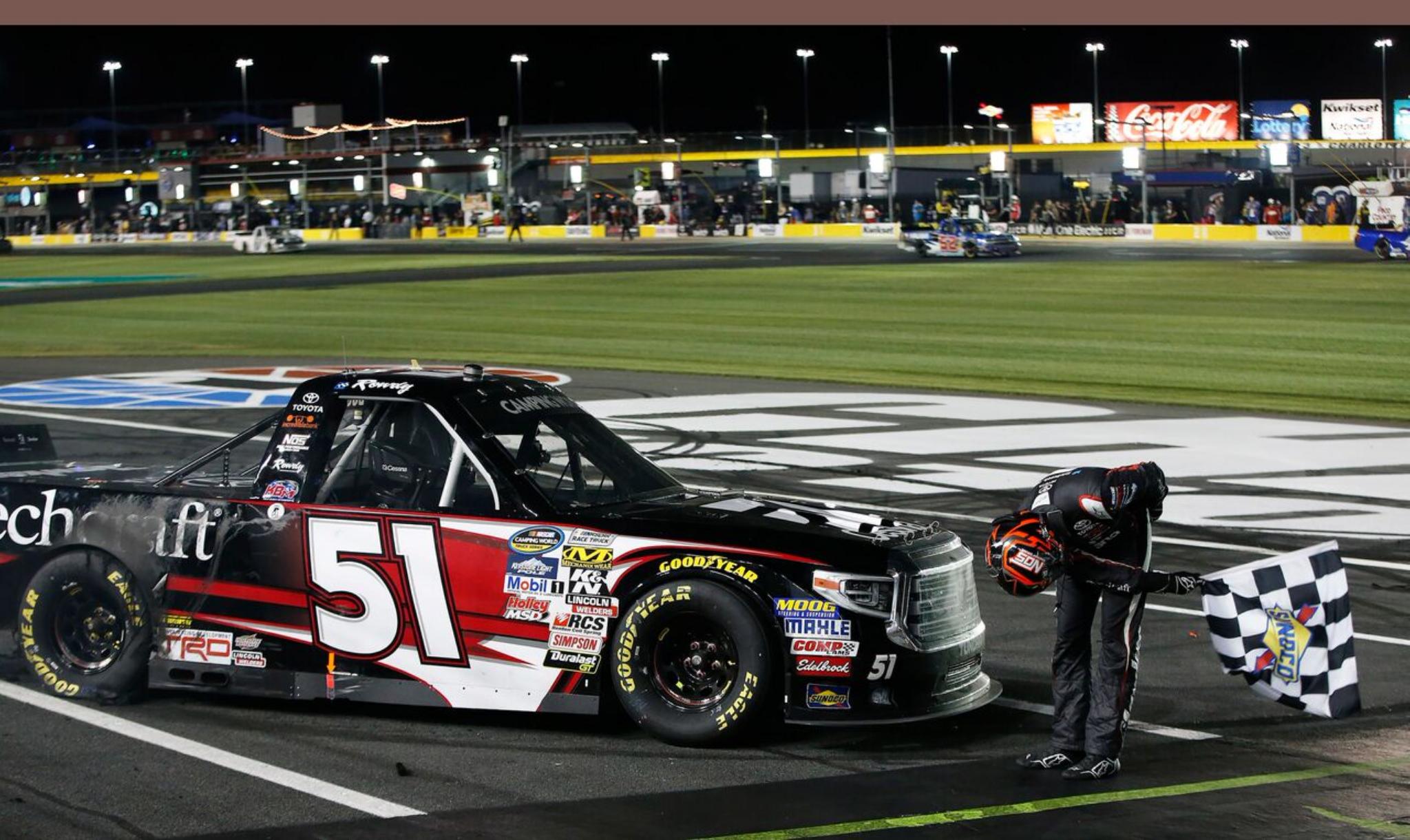 Kyle Busch takes a bow with the checkered flag
Charlotte Motor Speedway/HHP Photo
On the restart, Busch got a big push from Sauter on the inside and then moved down in front of Bell, leaving Sauter high and dry on the outside.
Once clear of Sauter and Bell, Busch set sail and led the final three laps to win by nearly a full second over Sauter, who later lamented having given Busch that final push to the lead.
"I pushed him on that restart obviously, and then when he got cleared he pulled down to try and help Christopher (Bell) and get momentum, which what a teammate should do," said Sauter. "I'm wide open going through (turns) one and two on the gas as best I can and his still squirting away from me. They've got a little bit of extra speed on the initial get-go, and these races it seem like they come down to at the end of the day you've got to have great take-off speed. You can't give anything up, you gotta be good at the beginning of a run and at the end of a run. That 51 (Busch), he was just faster.
"I'm proud of the effort from my team, we just got to get a little better."
Despite his disappointment over the finish, Sauter still managed to hold onto the points lead by 15 points over Bell. Crafton, Chase Briscoe and Rhodes make up the rest of the top five in the standings.
Race Results
| | | | | | | | | | |
| --- | --- | --- | --- | --- | --- | --- | --- | --- | --- |
| Pos. | # | Driver | Make | Start | Laps | Led | Status | Points | Playoff Points |
| 1 | 51 | Kyle Busch | Toyota | 4 | 134 | 90 | Running | 0 | 0 |
| 2 | 21 | Johnny Sauter | Chevy | 3 | 134 | 22 | Running | 53 | 3 |
| 3 | 4 | Christopher Bell | Toyota | 1 | 134 | 2 | Running | 40 | 7 |
| 4 | 16 | Ryan Truex | Toyota | 11 | 134 | 0 | Running | 41 | 0 |
| 5 | 17 | Timothy Peters | Toyota | 10 | 134 | 0 | Running | 36 | 0 |
| 6 | 88 | Matt Crafton | Toyota | 6 | 134 | 1 | Running | 46 | 0 |
| 7 | 98 | Grant Enfinger | Toyota | 16 | 134 | 0 | Running | 30 | 0 |
| 8 | 27 | Ben Rhodes | Toyota | 5 | 134 | 0 | Running | 41 | 0 |
| 9 | 18 | Noah Gragson | Toyota | 15 | 134 | 0 | Running | 32 | 0 |
| 10 | 75 | Parker Kligerman | Toyota | 9 | 134 | 6 | Running | 27 | 0 |
| 11 | 29 | Chase Briscoe | Ford | 2 | 134 | 0 | Running | 36 | 0 |
| 12 | 22 | Austin Wayne Self | Toyota | 19 | 134 | 0 | Running | 25 | 0 |
| 13 | 19 | Austin Cindric | Ford | 8 | 134 | 7 | Running | 24 | 0 |
| 14 | 45 | T.J. Bell | Chevy | 26 | 134 | 0 | Running | 23 | 0 |
| 15 | 83 | JJ Yeley | Chevy | 22 | 134 | 0 | Running | 0 | 0 |
| 16 | 13 | Cody Coughlin | Toyota | 17 | 134 | 0 | Running | 21 | 0 |
| 17 | 24 | Justin Haley | Chevy | 23 | 134 | 0 | Running | 20 | 0 |
| 18 | 7 | Brett Moffitt | Toyota | 7 | 134 | 0 | Running | 19 | 0 |
| 19 | 66 | Ross Chastain | Chevy | 18 | 133 | 3 | Running | 0 | 0 |
| 20 | 50 | Spencer Boyd | Chevy | 27 | 133 | 0 | Running | 17 | 0 |
| 21 | 1 | Jordan Anderson | Chevy | 25 | 133 | 0 | Running | 16 | 0 |
| 22 | 8 | John Hunter Nemechek | Chevy | 13 | 132 | 0 | Running | 23 | 0 |
| 23 | 52 | Stewart Friesen | Chevy | 28 | 132 | 0 | Running | 14 | 0 |
| 24 | 44 | Matt Mills | Chevy | 24 | 132 | 0 | Running | 0 | 0 |
| 25 | 02 | Austin Hill | Ford | 14 | 130 | 0 | Running | 13 | 0 |
| 26 | 6 | Norm Benning | Chevy | 30 | 130 | 0 | Running | 11 | 0 |
| 27 | 10 | Jennifer Jo Cobb | Chevy | 31 | 130 | 0 | Running | 10 | 0 |
| 28 | 49 | Wendell Chavous | Chevy | 29 | 106 | 0 | Oil Pump | 9 | 0 |
| 29 | 92 | Regan Smith | Ford | 20 | 101 | 0 | Accident | 8 | 0 |
| 30 | 33 | Kaz Grala | Chevy | 12 | 70 | 0 | Accident | 7 | 5 |
| 31 | 99 | Brandon Jones | Chevy | 21 | 62 | 3 | Accident | 0 | 0 |
| 32 | 63 | Todd Peck | Chevy | 32 | 4 | 0 | Electrical | 5 | 0 |
[adinserter name="GOOGLE AD"]