Torrence, Capps, McGaha, Tonglet Win At zMax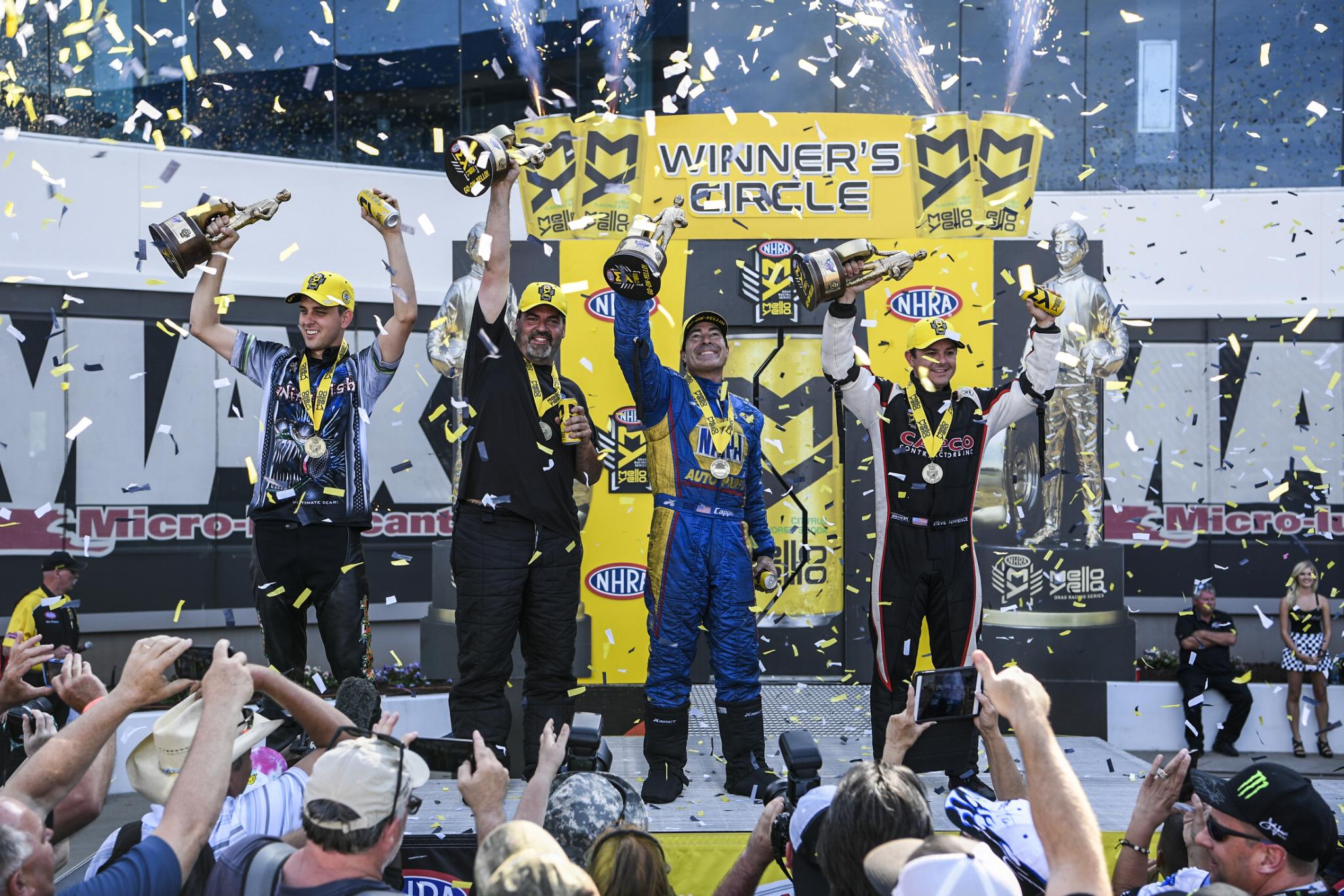 (L-R) LE Tonget, Chris McGaha, Ron Capps and Steve Torrence celebrate at zMax
Steve Torrence broke Don Schumacher Racing's season-long stranglehold on the Top Fuel division with a victory in over DSR drivers Leah Pritchett and Tony Schumacher in the final round of Sunday's eighth-annual Four-Wide Nationals at zMax Dragway.
Ron Capps (Funny Car), Chris McGaha (Pro Stock) and LE Tonglet (Pro Stock Motorcycle) also collected their first-career Four-Wide Nationals victories in their respective divisions in the only four-wide drag race on the NHRA Mello Yello Drag Racing Series schedule.
Just a week after losing out on his first Wally of the season in a final-round loss to Pritchett, Torrence got a measure of revenge, taking down Pritchett and Schumacher as well as Terry McMillen in final round with a pass of 3.783 seconds at 323.89 mph.
Schumacher was first off the line with a .040 light but Torrence tracked him down and powered past to turn on the win light by half a car length over Schumacher, who ran 3.874, 309.13. Pritchett came across the line third at 3.796, 318.84, while McMillen started dropping cylinders right off the line, coming home fourth with a 4.650, 171.23.
Torrence's victory was his first in the Four-Wide and the ninth of his career, moving him to fourth in the points standings.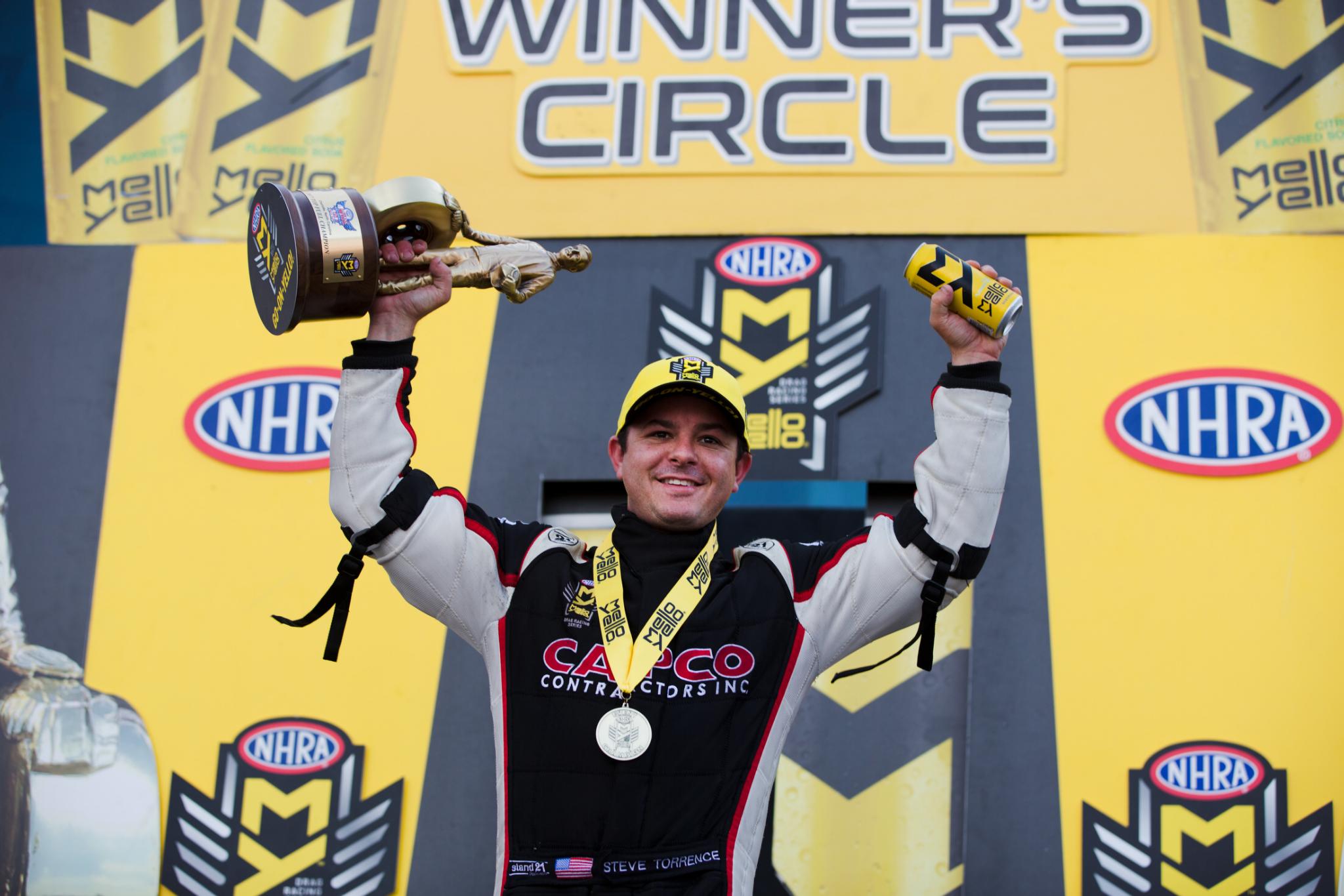 Steve Torrence
"This race is top of the list," Torrence said. "This is the same as winning a race that you had to pedal it every round or you had to win it on holeshots. This is a driver's race. We run 24 races a year and one of them we race four-wide. … It's very gratifying to come here (and win). This is an awesome race.
"I was probably the most relaxed in the final round. I knew that we had a good race car."
Pritchett held onto the lead in the Top Fuel points, but lost 20 points to Schumacher. Brown holds third while Torrence bumps Kalitta to fifth.
Ron Capps won his second national event in a row with a win in the Funny Car final over DSR teammates Jack Beckman and Matt Hagan along with Kalitta Motorsports driver J.R. Todd.
Capps came off the line third in the final, but quickly made up ground and moved past Beckman before they got to the 330-foot mark, crossing the finish line by .0158 seconds ahead of Beckman with a run of 3.933 seconds at 322.65 mph for his 52nd-career victory.
Capps' victory gave Don Schumacher Racing 10 wins in the last 12 final rounds in Top Fuel and Funny Car, and moved him ahead of Hagan in the Funny Car points standings.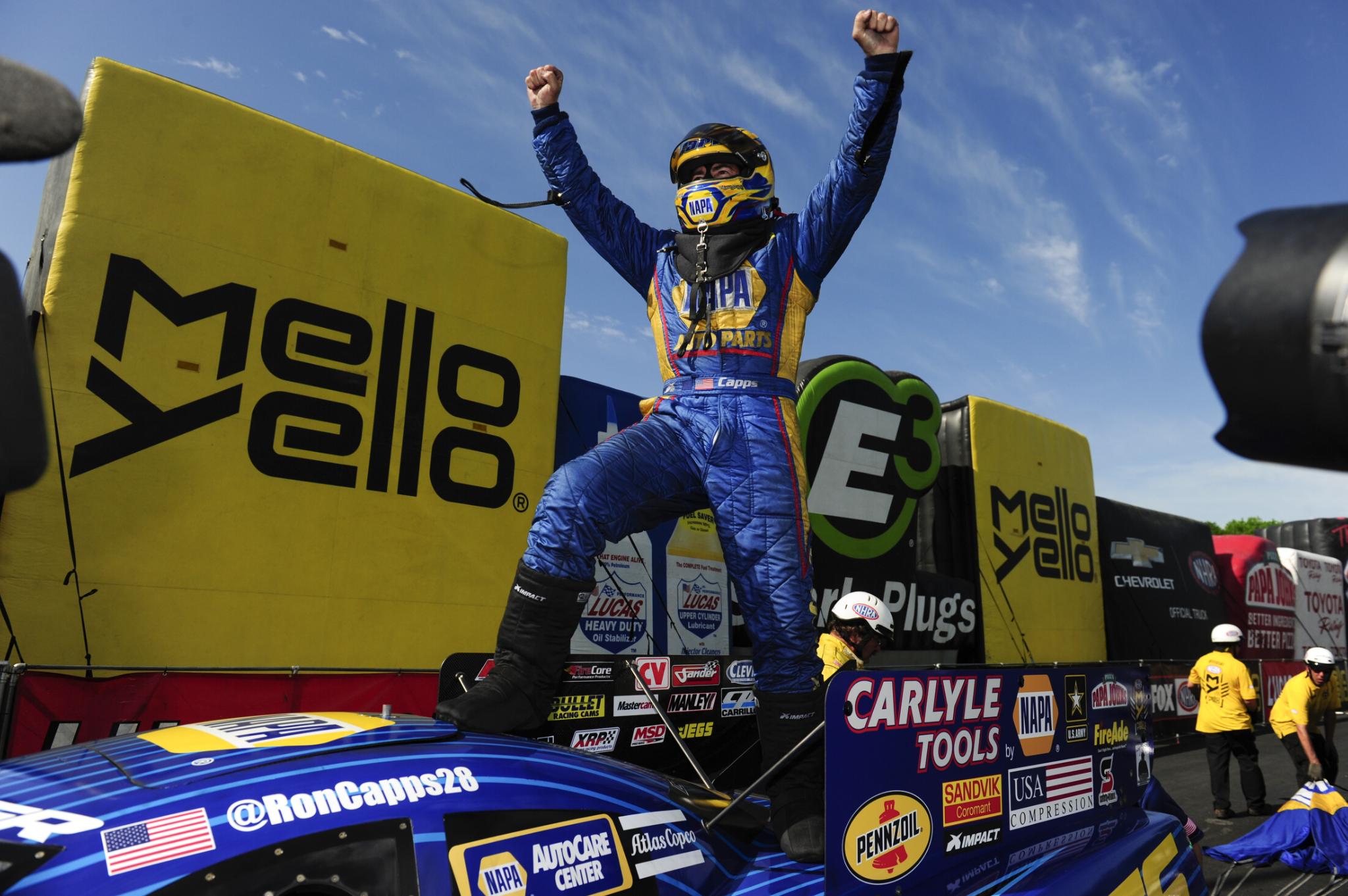 Ron Capps
"This is a fun event," said Capps, whose win gave him the Funny Car points lead. "It changes everything: your mentality, the way you approach each round. There's not that many times you see other drivers pop out of their cars with a smile on their faces, win or lose. It's an exciting race. … It's an amazing feeling (to win a four-wide race) and it's due to the crew chief (Rahn Tobler) crunching the numbers."
Beckman turned in a time of 3.959 at 320.05, followed by Todd at 4.103, 307.72. Hagan was up in smoke at the 50-foot mark and finishes fourth with a 8.820, 93.67.
Chris McGaha became the sixth different winner this season in the Pro Stock division, besting Greg Anderson, Shane Gray and Drew Skillman for his first ever zMax Dragway victory.
Chris McGaha won both of the opening rounds to advance to his first final round of the season, where he was second off the line but Drew Skillman red-lighted and McGaha out-distanced the rest of the field to take the win by a car-length over Anderson, clocking in at 6.591 at 210.44 mph.
McGaha revealed he had not planned to compete next weekend at Atlanta – intending to take a few weeks off – but now is convinced that with momentum on their side, his team will make the trip at Atlanta after all.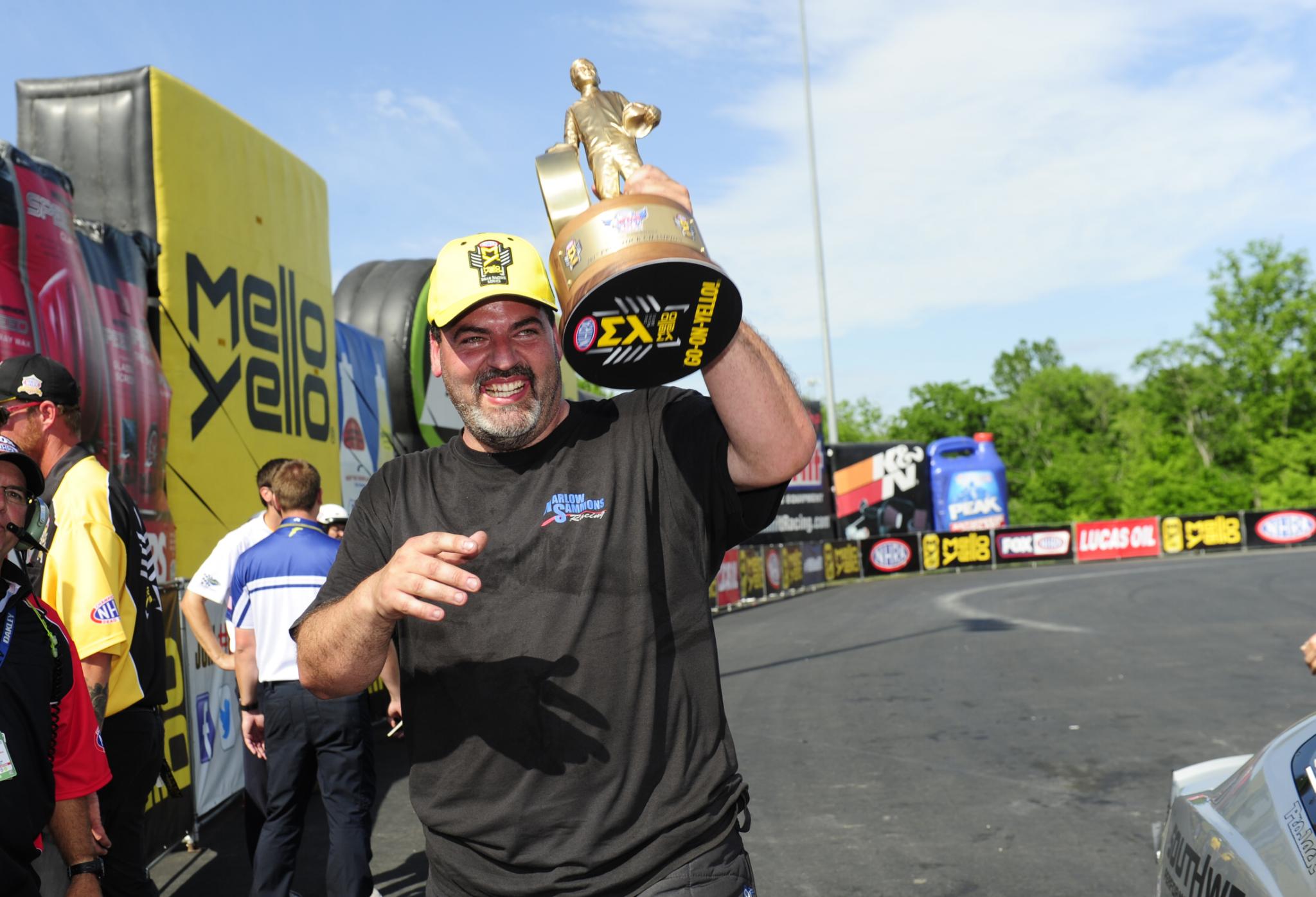 Chris McGaha
"I thought I was going to take a six-week break and not come back until Norwalk. Now everybody is screaming that I have to come to Atlanta," said McGaha, won notched his fifth-career NHRA victory. "I'll have to sleep on it. I just wanted to take time off, work in the shop and hang out with the kids. I was going to take a break. I was going to work on the dyno; that's where I'm most comfortable. Now it looks like we have some momentum."
Anderson ran 6.614, 209.56 in the loss, followed by Gray with a 6.648, 209.23 and Skillman – who fouled out – in fourth. Anderson maintained his lead in the standings over Bo Butner.
In Pro Stock Motorcycle, LE Tonglet nabbed his first Wally since taking the win light last July at Sonoma in a wild final round over Eddie Krawiec, Andrew Hines and Scott Pollachek.
The final got off to a strange start as Pollachek staged and then took off before the tree was activated. Tonglet was first off the line at the start with a big lead over Krawiec and went on to win in a holeshot by more than 50 feet, topping out at 6.864 at 195 mph. Krawiec was second, turning a quicker – but losing – 6.821 at 195.31. Hines was third, running 6.902, 194.16.
LE Tonglet
Sunday's victory was the 11th-career win for the 2010 PSM World Champion and pushed him to third in the Pro Stock Motorcycle points.
"It's just unbelievable what we've come through this weekend alone," Tonglet stated. "With the four-wides you just have to be prepared for anything. You just have to concentrate because if you lose your train of thought it's going to be bad."
Krawiec sits first in points after two events, followed by Hines.
[adinserter name="GOOGLE AD"]