Jimmie Johnson Goes Back To Back With Bristol Win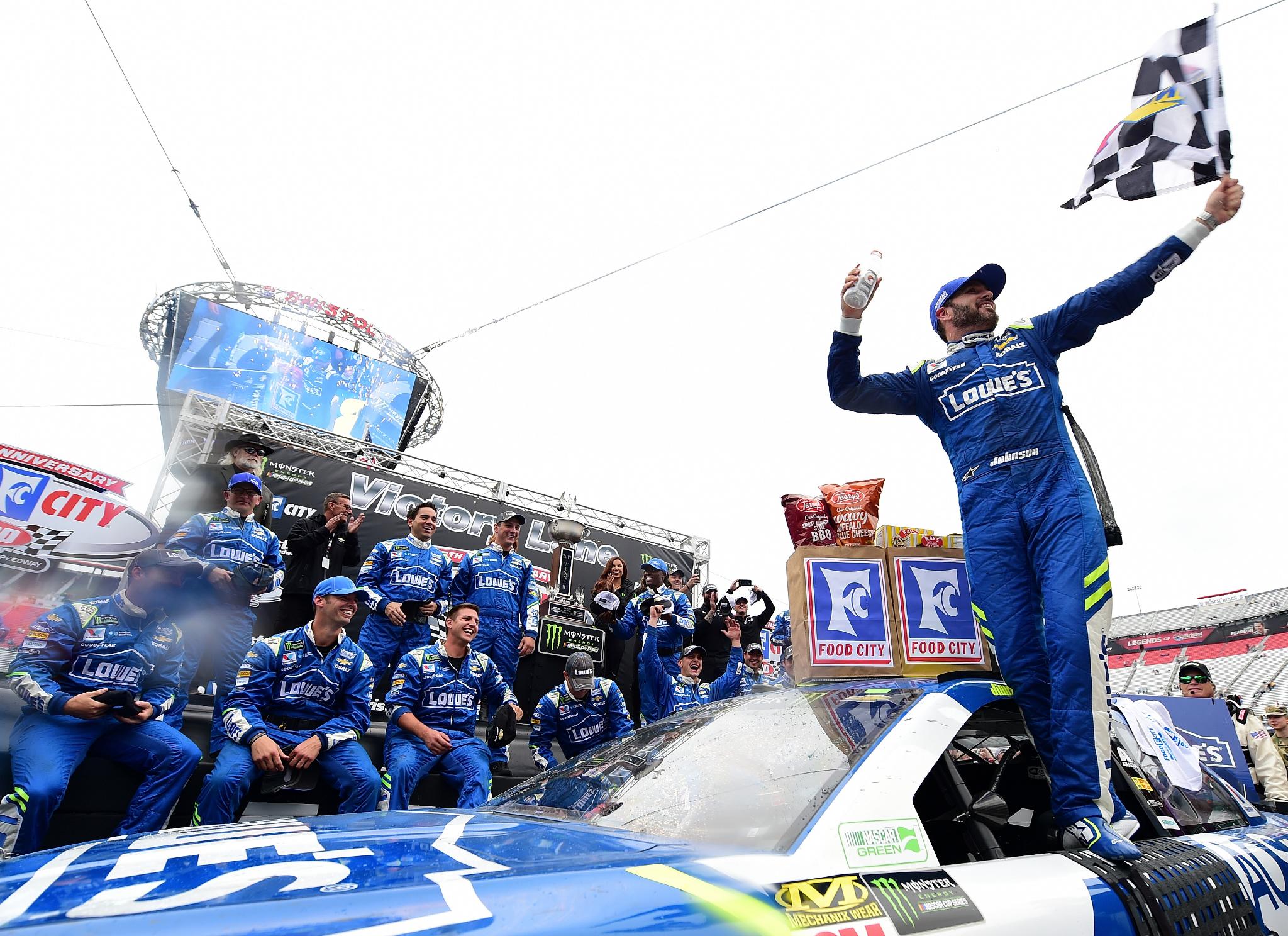 Jimmie Johnson celebrates his 82nd Cup Series victory
Jared C. Tilton/Getty Images
Defending Monster Energy NASCAR Cup Series Champion collected his second victory in the last two races with a win in Monday's rain-delayed Food City 500 at Bristol Motor Speedway.
Johnson passed race leader Kevin Harvick with 19 laps to go and then held off a hard charge from Clint Bowyer to score his 82nd-career Cup Series victory and his second of the season.
Bowyer was second, followed by Harvick, Matt Kenseth and Joey Logano.
Monday's victory was a rare one for Johnson, who has just one victory in 31 starts at the famous half-mile track coming back in this same event in 2010.
Coupled with his win two weeks ago at Texas Motor Speedway, Johnson is now just one victory shy of tying three-time series champion Cale Yarborough for sixth on the career wins list.
"I cannot believe that we're sitting here with 82 wins. To be in this position is quite an honor," said Johnson. "We have been close, we have just been making too many mistakes. Today was another flawless day of execution and a great race car and we got it done."
[adinserter name="GOOGLE AD"]"This track has been difficult over the years and we really hit on something Saturday afternoon in that last practice session around the bottom and honestly, it's what I've been looking for here for 16 years and we finally figured it out. So, I'm very, very happy.
After a one-day delay following a deluge on Sunday, racing finally got underway just after 1pm with Kyle Larson leading the opening lap. Larson would go onto dominate the early running – leading all 125 laps of the opening stage, taking the green-checkered flag over Martin Truex, Jr., Erik Jones, Logano and Johnson.
Larson would continue to hold the point in the second stage before Truex, Jr. took over the top spot on lap 202 and would lead 46 of the remaining 47 laps to win the second stage over Logano, Johnson, Harvick and Jamie McMurray.
Truex, Logano and Larson would duke it out in the third segment before Larson and Truex, Jr. would both be nabbed for speeding on consecutive pit stops late in the race.
Johnson, who first took the lead on lap 394, restarted third for the final restart on lap 468 behind Harvick and Hamlin, who had elected to not to pit. Johnson wasted little time dispatching Hamlin as Larson roared all the way from the back o the field to move to second and challenge Harvick for the lead.
With Harvick holding off Larson on the high side, Johnson saw his opportunity and moved to the low side, and after a five-lap duel finally moved around Harvick on lap 480 to re-gain the lead.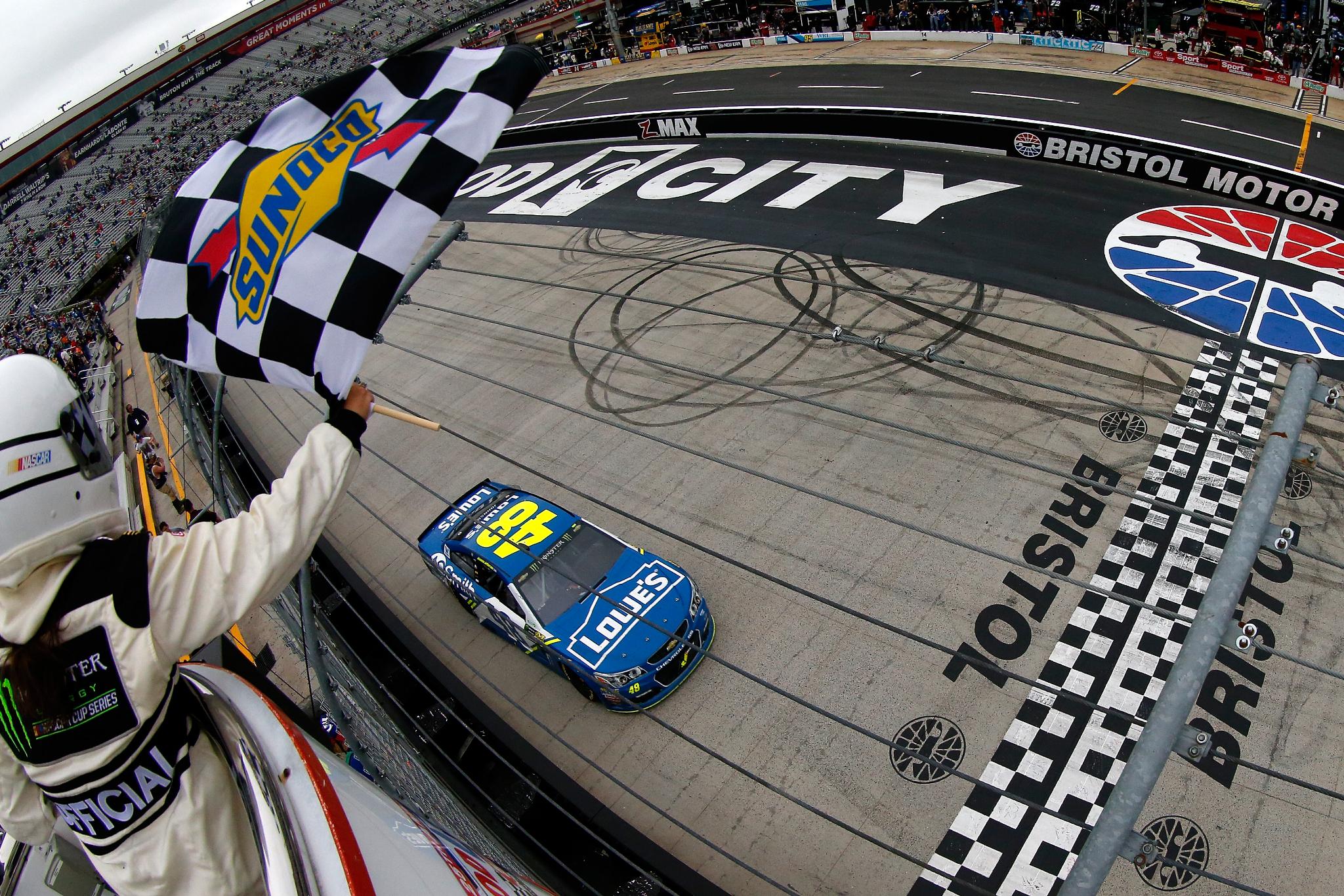 Jimmie Johnson takes the checkered flag at Bristol
Sean Gardner/Getty Images
Bowyer, who fought his way back from a speeding penalty of his own back on lap 326, got past his teammate Harvick with 15 laps to go to capture second, but Johnson had already set sail – taking the checkered flag by nearly 1.2 seconds.
The runner-up finish was the best showing for Bowyer since taking second at Richmond back in April of 2013 and his second-straight top-three finish in the last two races.
Bowyer was disappointed in not being able to track down Johnson in the closing lap, but after several disastrous seasons he was happy to finally be racing at a completive level again.
"It's just been this long since I've won a race, and here is pretty special. It would have been pretty cool to be over there in Victory Lane," said Bowyer. "I made a mistake on pit road and got caught speeding, and we was able to capitalize on that even and get ourselves in position to have a shot at winning the race
"I was starting to do some pretty desperate things with brakes and my line and stuff like that, and then you just realize — your mindset quickly changes, and you're like, all right, let's put it in perspective here, we've come a long ways, it was a long day, and second place is probably a good run for us, and we should be happy with that. We shouldn't hang our head about it."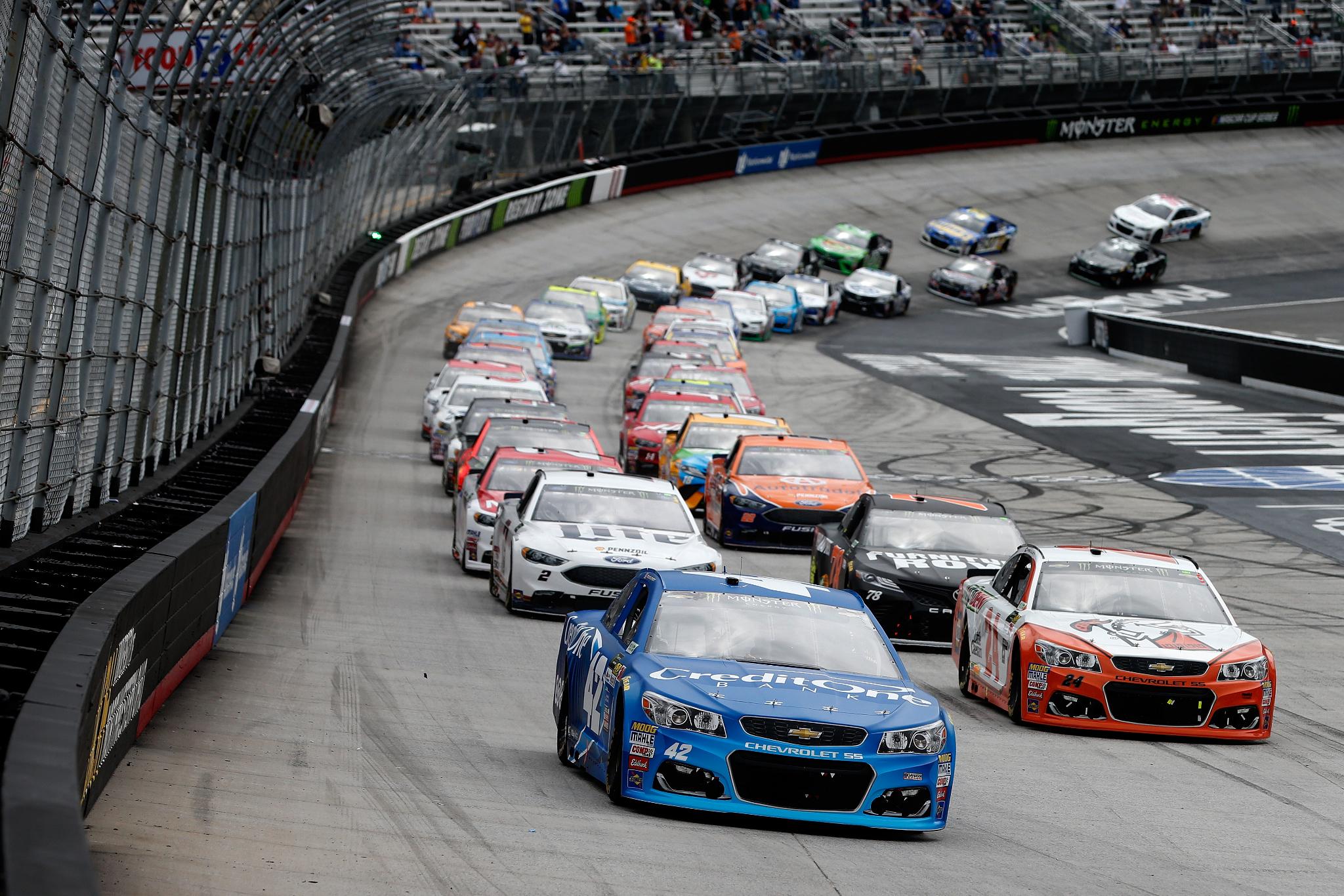 Kyle Larson (front) led a race-high 202 laps on Monday
Brian Lawdermilk/Getty Images
Larson – who led a race-high 202 laps – fought his way back from a speeding penalty thanks to a late two-tire stop but couldn't compete with the cars running on four fresh tires and fell to sixth at the checkered flag, but still held onto the points lead by 27 points over Chase Elliott.
"I knew I gave the race away there," said Larson of his speeding penalty on lap 422. "I was surprised that I was able to line up with an opportunity there at the end. We lucked out taking two, and then the 78 sped and it lined up us fourth.
"I'm a little disappointed, but not bad. I'm more disappointed in myself from getting that speeding penalty. I was just pushing it down pit road and pushed it a little too far. I had a shot there still at the end, but four tires were better than ours."
Dale Earnhardt, Jr. and Kyle Busch were among the first drivers out of the race on Monday – Earnhardt, Jr. after hitting the wall on lap 219 and Busch after cutting down a right front tire twice before finally heading to the garage on lap 385.
Race Results
| | | | | | | | | | |
| --- | --- | --- | --- | --- | --- | --- | --- | --- | --- |
| Pos. | # | Driver | Make | Start | Laps | Led | Status | Points | Playoff Points |
| 1 | 48 | Jimmie Johnson | Chevy | 11 | 500 | 81 | Running | 54 | 10 |
| 2 | 14 | Clint Bowyer | Ford | 9 | 500 | 0 | Running | 35 | 0 |
| 3 | 4 | Kevin Harvick | Ford | 10 | 500 | 14 | Running | 41 | 3 |
| 4 | 20 | Matt Kenseth | Toyota | 22 | 500 | 0 | Running | 33 | 0 |
| 5 | 22 | Joey Logano | Ford | 5 | 500 | 72 | Running | 48 | 1 |
| 6 | 42 | Kyle Larson | Chevy | 1 | 500 | 202 | Running | 45 | 7 |
| 7 | 24 | Chase Elliott | Chevy | 2 | 500 | 0 | Running | 35 | 2 |
| 8 | 78 | Martin Truex Jr | Toyota | 3 | 500 | 116 | Running | 48 | 10 |
| 9 | 17 | Ricky Stenhouse Jr | Ford | 19 | 500 | 0 | Running | 29 | 0 |
| 10 | 11 | Denny Hamlin | Toyota | 16 | 500 | 10 | Running | 33 | 0 |
| 11 | 6 | Trevor Bayne | Ford | 12 | 500 | 0 | Running | 28 | 0 |
| 12 | 1 | Jamie McMurray | Chevy | 8 | 500 | 0 | Running | 35 | 0 |
| 13 | 3 | Austin Dillon | Chevy | 21 | 500 | 0 | Running | 24 | 0 |
| 14 | 31 | Ryan Newman | Chevy | 13 | 500 | 0 | Running | 23 | 5 |
| 15 | 13 | Ty Dillon | Chevy | 24 | 500 | 0 | Running | 22 | 0 |
| 16 | 27 | Paul Menard | Chevy | 26 | 499 | 0 | Running | 21 | 0 |
| 17 | 77 | Erik Jones | Toyota | 14 | 499 | 0 | Running | 33 | 0 |
| 18 | 19 | Daniel Suarez | Toyota | 23 | 498 | 0 | Running | 19 | 0 |
| 19 | 32 | Matt DiBenedetto | Ford | 32 | 498 | 0 | Running | 18 | 0 |
| 20 | 5 | Kasey Kahne | Chevy | 17 | 498 | 0 | Running | 17 | 0 |
| 21 | 72 | Cole Whitt | Chevy | 31 | 498 | 0 | Running | 16 | 0 |
| 22 | 43 | Aric Almirola | Ford | 18 | 497 | 0 | Running | 15 | 0 |
| 23 | 38 | David Ragan | Ford | 33 | 497 | 0 | Running | 14 | 0 |
| 24 | 83 | Corey Lajoie | Toyota | 35 | 497 | 0 | Running | 13 | 0 |
| 25 | 41 | Kurt Busch | Ford | 15 | 494 | 0 | Running | 12 | 5 |
| 26 | 95 | Michael McDowell | Chevy | 28 | 494 | 0 | Running | 11 | 0 |
| 27 | 33 | Jeffrey Earnhardt | Chevy | 37 | 491 | 0 | Running | 10 | 0 |
| 28 | 15 | Reed Sorenson | Chevy | 34 | 490 | 0 | Running | 9 | 0 |
| 29 | 23 | Gray Gaulding | Toyota | 36 | 487 | 0 | Running | 8 | 0 |
| 30 | 47 | AJ Allmendinger | Chevy | 25 | 482 | 0 | Running | 9 | 0 |
| 31 | 55 | Derrike Cope | Toyota | 39 | 465 | 0 | Running | 6 | 0 |
| 32 | 34 | Landon Cassill | Ford | 30 | 458 | 5 | Running | 5 | 0 |
| 33 | 21 | Ryan Blaney | Ford | 6 | 452 | 0 | Running | 4 | 2 |
| 34 | 2 | Brad Keselowski | Ford | 4 | 433 | 0 | Running | 3 | 10 |
| 35 | 18 | Kyle Busch | Toyota | 7 | 383 | 0 | Accident | 3 | 1 |
| 36 | 10 | Danica Patrick | Ford | 29 | 320 | 0 | Accident | 1 | 0 |
| 37 | 51 | Timmy Hill | Chevy | 38 | 234 | 0 | Suspension | 0 | 0 |
| 38 | 88 | Dale Earnhardt Jr | Chevy | 20 | 218 | 0 | Accident | 1 | 0 |
| 39 | 37 | Chris Buescher | Chevy | 27 | 53 | 0 | Accident | 1 | 0 |
[adinserter name="GOOGLE AD"]