Chase Elliott Wins Martinsville Truck Series race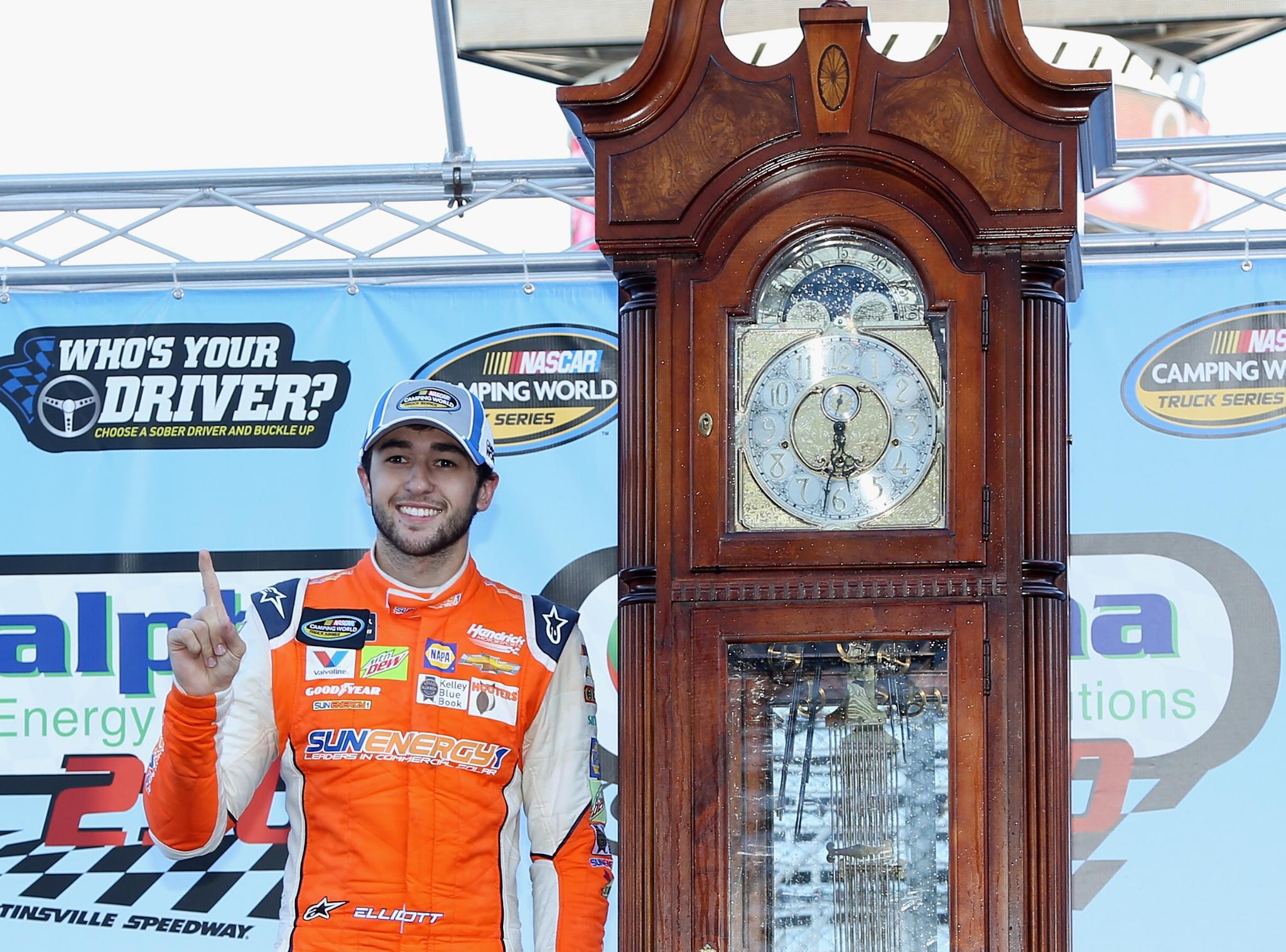 Chase Elliott poses with his Grandfather clock after winning at Martinsville
Sean Gardner/Getty Images
Chase Elliott scored his second-career NASCAR Camping World Truck Series victory in Saturday's Alpha Energy Solutions 250 at Martinsville Speedway.
Elliott powered past Christopher Bell with 18 laps to go and held off a strong charge from teammate Johnny Sauter on a final last-lap restart to take home his first truck series win of the season.
Bell rallied to finish third, followed by rookie Noah Gragson and Cup Series driver Ty Dillon.
Elliott started on the pole and led 92 laps in just his second Truck Series start of the season driving for GMS racing.
"It was fun today," Elliott said. "I had some help there with Christopher's (Bell) misfortune. I was trying all I could to get by him. He was doing a really good job of maintaining my bumper, a good job with me hitting him… His bumper was getting progressively more blue (the color of Elliott's car) as the day went.
"It was a hard-fought battle, for sure."
Elliott, Sauter and Bell traded the lead through the race, with Elliott leading the opening 75 laps after starting on the pole position, winning the opening 70-lap stage over Sauter and Matt Crafton.
[adinserter name="GOOGLE AD"] Bell led briefly to start the second segment before giving up the top spot to Sauter, who would go onto win the second stage followed by Crafton and Chase Briscoe.
Bell would re-gain the lead in the third segment and took command for the next 90 laps before getting hung up behind lapped traffic, including Austin Cindric, who was desperately trying to hold off Bell to stay on the lead lap.
With Elliott closing in from behind, Bell gave Cindric a few love taps on the bumper coming out of turn four to let him know he was there, but rather than give up the spot to Bell, Cindric came down and tried to block Bell down low heading into turn one, leading to Bell smacking into the left rear of Cindric.
Cindric would spin out to bring out the caution, but not before Elliott and Sauter dived under Bell's truck to move into first and second place, respectively.
Bell was able to continue with sheet metal damage to his right front, and restarted third for the final restart with 12 laps to go.
Elliott restarted on the inside of Sauter for the final shootout Bell behind him in third and quickly got shot from behind by Bell, who got into Elliott's left-rear fender trying to push Elliott out of line.
Elliott was able to gather the truck back in just as Sauter tried to take advantage of Elliott's lost momentum and dive to the inside coming off the backstretch, but Elliott moved down to block and held the lead as they field came back around the frontstretch.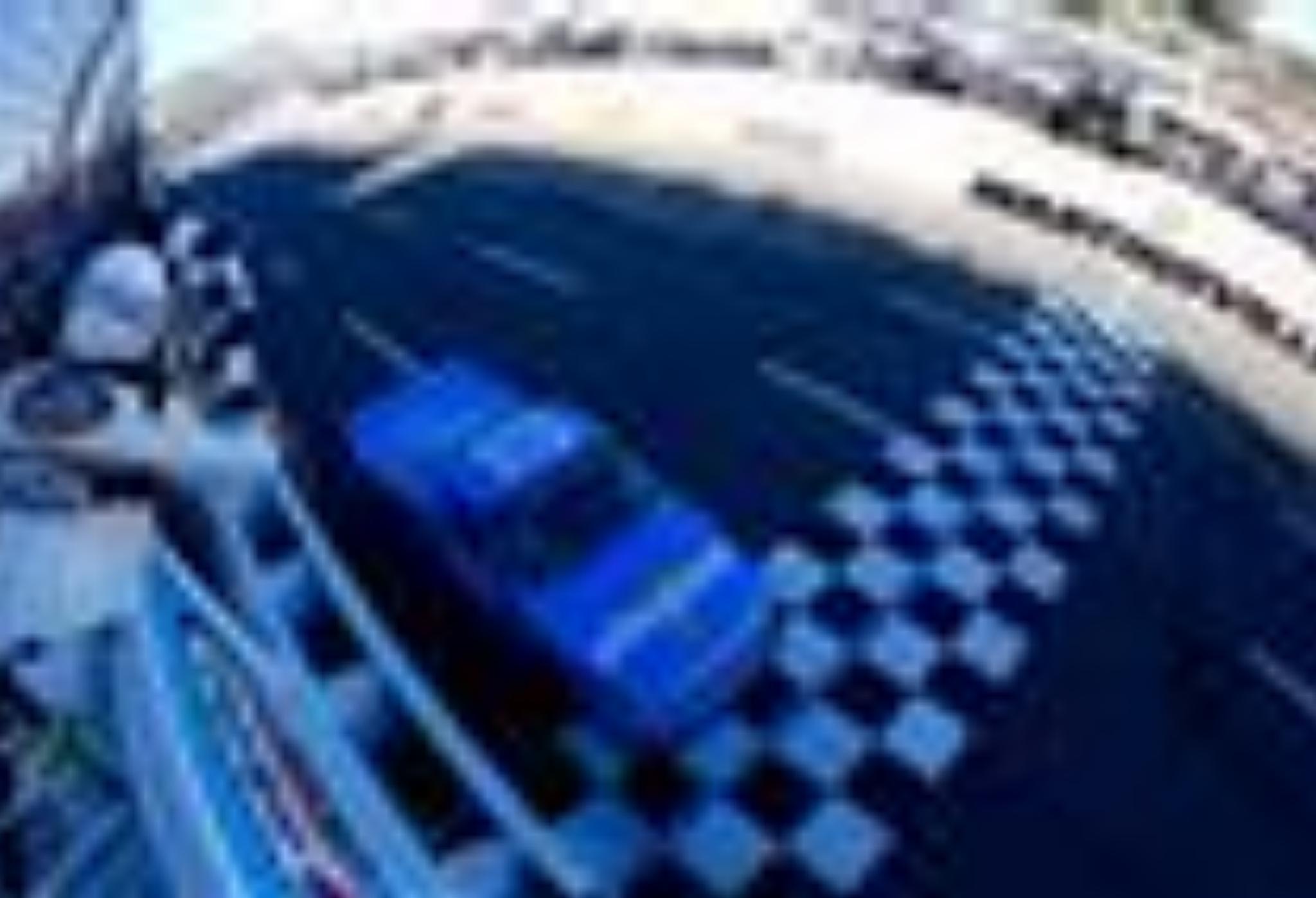 Chase Elliott takes the checkered flag at Martinsville
Sean Gardner/Getty Images
Once safety out in front, Elliott began to open up some distance on Sauter and raced unchallenged for the final laps – beating out Sauter by a half-straightaway.
Sauter earned himself a playoff point thanks to his Stage Two victory and takes over the series points lead by four points over Bell.
"Toward the end there, I just needed traction and didn't have it," said Sauter. "Chase (Elliott) did what he needed to do to win the race, he was very aggressive, and they're in Victory Lane. The pit stops were phenomenal today, we just came up a little bit short. It was a heck of a battle. (Chase) was good when he needed to be."
Bell the most laps for the second race in a row, leading 96 of the 250-lap distance on Saturday, but was frustrated with himself for letting a victory slip away.
"Well lapped traffic just didn't go my way today," said Bell. "We were in really heavy lap traffic and obviously both the GMS trucks were really fast. I got to the 19 (Austin Cindric), got into the back of him in (turns) three and four and then he got all the way up the race track off of four all the way to the wall. At that point I had went down to try and get underneath him getting into (turn) one and he decided he was going to go down with me.
"Looking back at it, I should have given myself another corner (to pass Cindric) and maybe the result would have been different. It's going to take a little bit to get over this one, but we'll be fresh for Kansas."
After getting spun out during the second stage, Gragson rallied back to finish a career-best fourth in his first-ever Truck Series start at Martinsville.
"It's my grandpa's birthday so this is for him," said Gragson. "I wish I would've gotten it done, but fourth place, my first finish here at Martinsville. This place is a lot of fun. My new favorite race track. I'm excited that we get to come back here two times this year and I can't wait for later in the year."
RACE RESULTS
| | | | | | | | | | |
| --- | --- | --- | --- | --- | --- | --- | --- | --- | --- |
| Pos. | # | Driver | Make | Start | Laps | Led | Status | Points | Playoff Points |
| 1 | 23 | Chase Elliott | Chevy | 1 | 250 | 92 | Running | 0 | 0 |
| 2 | 21 | Johnny Sauter | Chevy | 2 | 250 | 62 | Running | 54 | 3 |
| 3 | 4 | Christopher Bell | Toyota | 6 | 250 | 96 | Running | 43 | 7 |
| 4 | 18 | Noah Gragson | Toyota | 9 | 250 | 0 | Running | 36 | 0 |
| 5 | 99 | Ty Dillon | Chevy | 16 | 250 | 0 | Running | 34 | 0 |
| 6 | 7 | Brett Moffitt | Toyota | 15 | 250 | 0 | Running | 31 | 0 |
| 7 | 66 | Ross Chastain | Chevy | 5 | 250 | 0 | Running | 0 | 0 |
| 8 | 17 | Timothy Peters | Toyota | 3 | 250 | 0 | Running | 40 | 0 |
| 9 | 88 | Matt Crafton | Toyota | 4 | 250 | 0 | Running | 45 | 0 |
| 10 | 16 | Ryan Truex | Toyota | 19 | 250 | 0 | Running | 27 | 0 |
| 11 | 29 | Chase Briscoe | Ford | 8 | 250 | 0 | Running | 39 | 0 |
| 12 | 92 | Regan Smith | Ford | 20 | 250 | 0 | Running | 25 | 0 |
| 13 | 51 | Harrison Burton | Toyota | 7 | 250 | 0 | Running | 28 | 0 |
| 14 | 02 | Austin Hill | Ford | 22 | 250 | 0 | Running | 24 | 0 |
| 15 | 33 | Kaz Grala | Chevy | 11 | 250 | 0 | Running | 25 | 5 |
| 16 | 63 | Kyle Donahue | Chevy | 14 | 250 | 0 | Running | 21 | 0 |
| 17 | 98 | Grant Enfinger | Toyota | 10 | 250 | 0 | Running | 32 | 0 |
| 18 | 87 | Joe Nemechek | Chevy | 21 | 250 | 0 | Running | 19 | 0 |
| 19 | 13 | Cody Coughlin | Toyota | 27 | 250 | 0 | Running | 18 | 0 |
| 20 | 27 | Ben Rhodes | Toyota | 17 | 249 | 0 | Running | 17 | 0 |
| 21 | 19 | Austin Cindric | Ford | 13 | 249 | 0 | Running | 16 | 0 |
| 22 | 75 | Caleb Holman | Chevy | 25 | 249 | 0 | Running | 15 | 0 |
| 23 | 49 | Wendell Chavous | Chevy | 31 | 248 | 0 | Running | 14 | 0 |
| 24 | 45 | T.J. Bell | Chevy | 26 | 247 | 0 | Running | 13 | 0 |
| 25 | 52 | Stewart Friesen | Chevy | 18 | 247 | 0 | Running | 12 | 0 |
| 26 | 24 | Justin Haley | Chevy | 24 | 246 | 0 | Running | 16 | 0 |
| 27 | 44 | Brandon Brown | Chevy | 23 | 242 | 0 | Running | 0 | 0 |
| 28 | 8 | John Hunter Nemechek | Chevy | 12 | 226 | 0 | Running | 10 | 0 |
| 29 | 50 | Travis Kvapil | Chevy | 28 | 186 | 0 | Engine | 8 | 0 |
| 30 | 83 | Donnie Levister | Chevy | 30 | 100 | 0 | Brakes | 7 | 0 |
| 31 | 12 | Jordan Anderson | Chevy | 32 | 24 | 0 | Brakes | 6 | 0 |
| 32 | 1 | Bryce Napier | Chevy | 29 | 3 | 0 | Parked | 5 | 0 |
[adinserter name="GOOGLE AD"]