Christopher Bell Takes Atlanta Truck Series Victory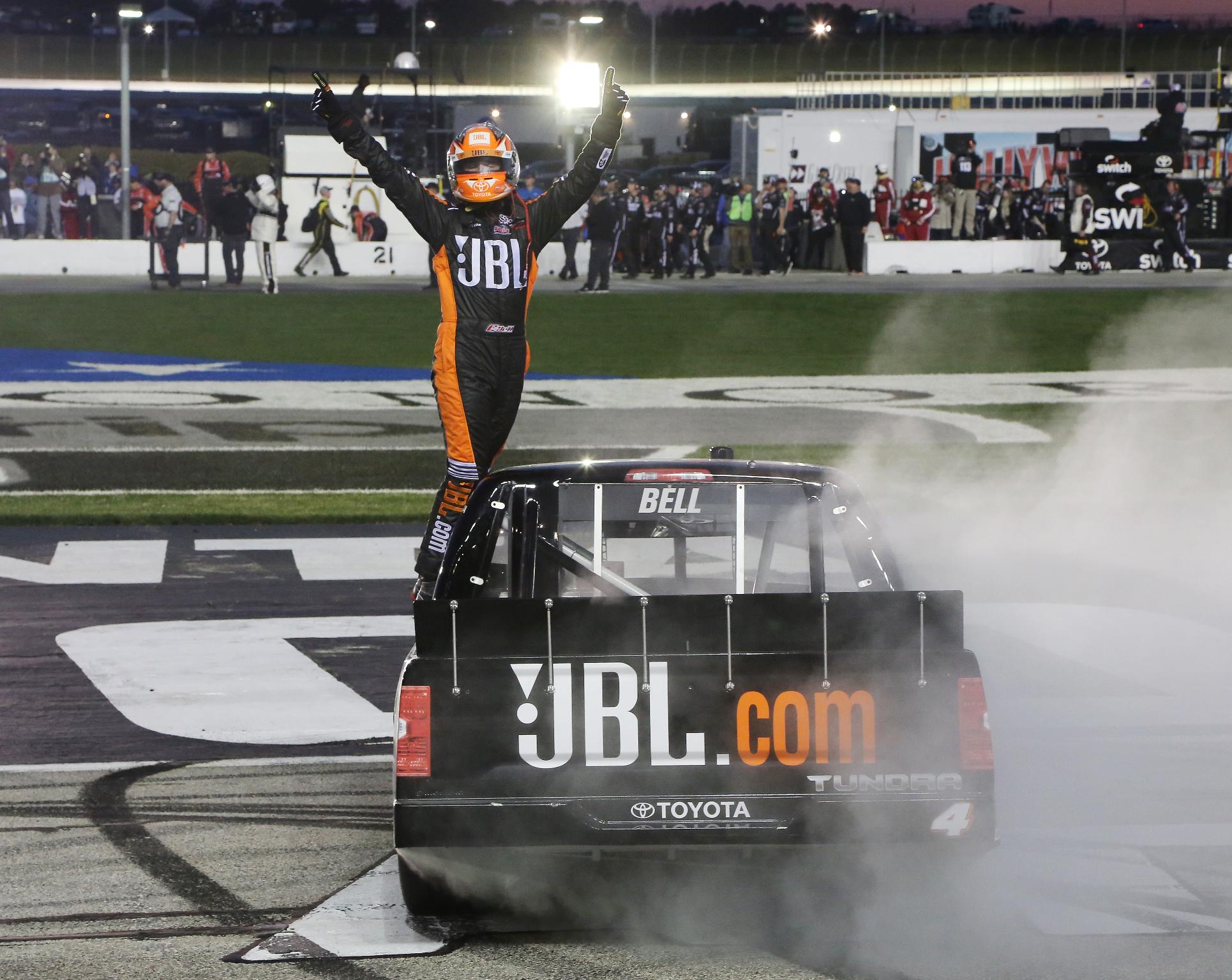 Christopher Bell wins at Atlanta
NASCAR Via Getty Images
Christopher Bell scored his third-career NASCAR Camping World Truck Series race Saturday night at Atlanta Motor Speedway, holding off Matt Crafton on a final three-lap shootout for the victory.
Bell had powered past Matt Crafton following a restart with 18 laps to go, but a late caution 14 laps later set up the final dash to the checkered flag. Bell and Crafton battled side by side an entire lap before Bell was finally able to slide up into the lead coming off turn four.
Bell cruised to the checkered flag by five truck-lengths over Crafton. Johnny Sauter was third, followed by Ben Rhodes and Chase Elliott.
It's the second-straight top five finish for Bell following his fourth-place showing in the season-opening event at Daytona last week.
"I was just trying to do everything I could to get the best restart I could," Bell said of the final restart against Crafton. "I didn't want to get my momentum broken. These Truck races are really tough to get restarts going, because it's so aero-dependent.
"You can get all sorts of momentum or you can get all sorts of momentum taken away from you. That happened to me there in the middle section of the race. The truck was just a dream machine. It was really, really good."
Bell led a race high 99 out of the 130 laps and swept both the first and second segments, earning 20 points and seven playoff points, putting him in the truck series points lead by seven points over Sauter.
Bell started on the pole with his truck owner Kyle Busch on the outside pole with Busch looking to make it two in row following his dominating performance in the earlier NASCAR Xfinity Series race.
Much like last Friday's truck series opener, the field was barely able to make it through a single lap before the caution flag came out after Noah Gragson and Brett Moffitt spun
[adinserter name="GOOGLE AD"] Once back under green, Bell was able to pull away and led to lap 83 before his boss Kyle Busch took over the top spot and led the next 25 laps.
Much like the earlier Xfinity Series race, the outside line had trouble getting going on restarts, with Bell falling victim on a restart against Busch late in the race.
A caution flag on lap 105 brought the field to pit road for the final time, but Grant Enfinger elected to stay out while Austin Dillon took just two tires to win the race off pit road followed by Crafton, Sauter, Bell and Busch.
On the restart, Crafton blew past Enfinger and Dillon, who both dropped through the field like a brick. Bell quickly waded through the mess and pulled up along Crafton on the high side going through turn one and had the lead by the time they cleared turn two.
Bell opened up a three-second lead and looked to be on his way to easy victory when a final caution flag flew for a spin involving Austin Cindric.
Cindric's spin bunched up the field for the last restart with three laps to go, putting Crafton on the outside of Bell for the restart. This time, the outside line got going and Crafton and Bell battled side by side for the entire first lap before Bell was finally able to clear Crafton coming out of turn four.
Crafton held on to take the runner-up spot – his second top-two Atlanta truck series finish in the last three races here.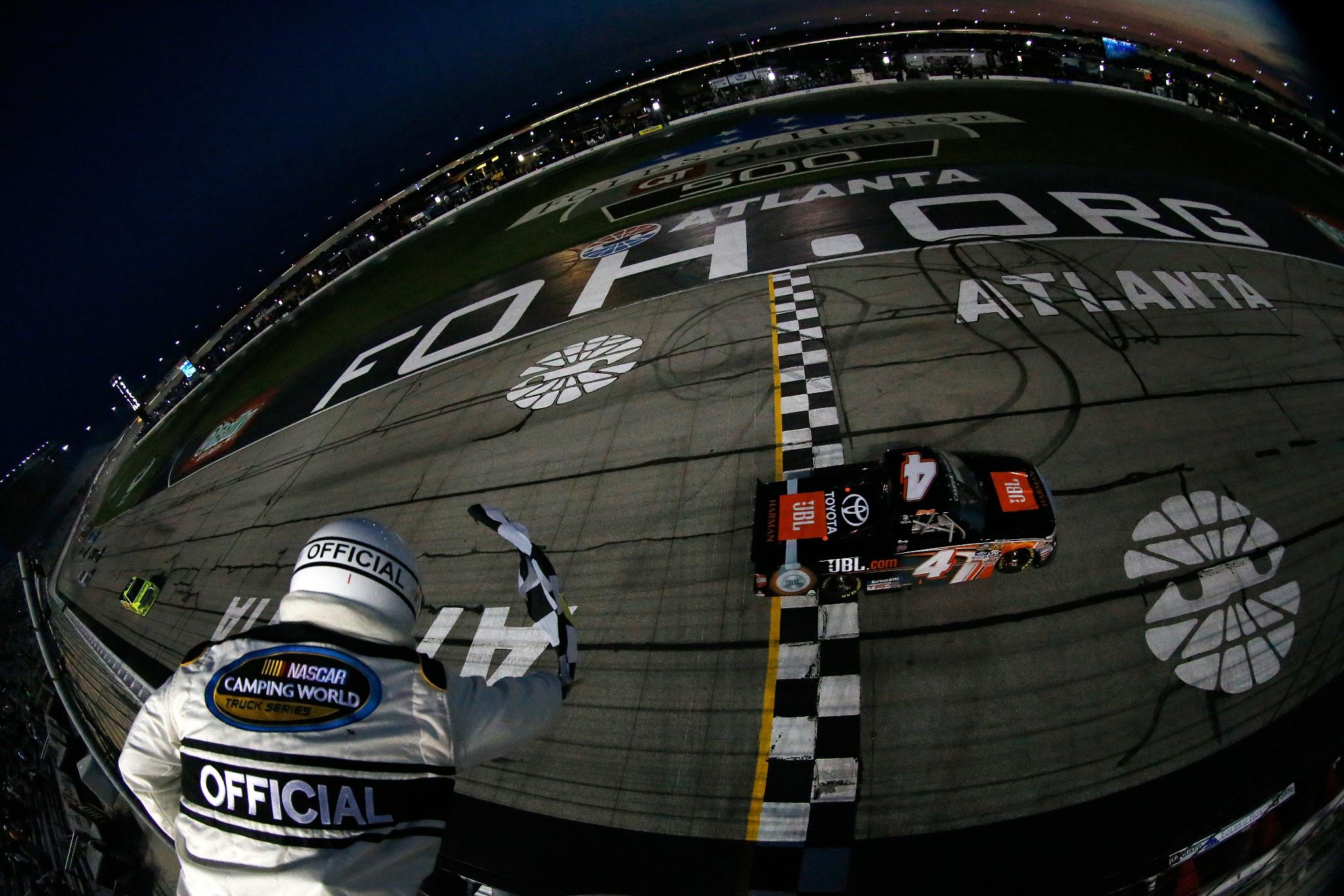 Christopher Bell cruises to the checkered flag at Atlanta
NASCAR Via Getty Images
"I could hear (Bell) down there spinning the tires," said Crafton. "We had a shot. At the end of the day that's what it's all about. We had a shot at them on that last restart and it was close, but this Menards Toyota was good, but it wasn't great. We just lacked on short run speed. The 4 truck definitely had us on that (restart).
"This place is so much fun, just the slipping and sliding. That was some of the greatest racing I've seen in a long time. Everyone was all over that racetrack and that's what it's all about."
Sauter record his first top-five finish in seven starts at Atlanta, besting his previous mark of sixth in 2015. Sauter is now tied with Ben Rhodes for second in the truck series standings, seven points behind Bell.
"That last restart, I think me and Matt (Crafton) probably showed our experience on that last restart," said Sauter. "Both timed it perfectly, in my opinion, because I didn't think the outside lane was the preferred groove, especially on old tires on restarts.
"I saw Matt wiggling a little bit and I was like 'I'm not going to push him. I'll just let him do his deal,' and I think we'd both agree that if we got decent restarts, that momentum would prevail obviously off the exit of turn 2, and that's exactly what happened."
Alex Bowman finished sixth, followed by Dillon, Enfinger, Timothy Peters and Ross Chastain. Kyle Busch finished 26th after cutting a tire on the lap 112 restart.
RACE RESULTS

| | | | | | | | | | |
| --- | --- | --- | --- | --- | --- | --- | --- | --- | --- |
| Pos. | # | Driver | Make | Start | Laps | Led | Status | Points | Playoff Points |
| 1 | 4 | Christopher Bell | Toyota | 1 | 130 | 99 | Running | 60 | 7 |
| 2 | 88 | Matt Crafton | Toyota | 7 | 130 | 2 | Running | 49 | 0 |
| 3 | 21 | Johnny Sauter | Chevy | 6 | 130 | 0 | Running | 44 | 2 |
| 4 | 27 | Ben Rhodes | Toyota | 15 | 130 | 0 | Running | 48 | 0 |
| 5 | 23 | Chase Elliott | Chevy | 9 | 130 | 0 | Running | 0 | 0 |
| 6 | 24 | Alex Bowman | Chevy | 5 | 130 | 0 | Running | 0 | 0 |
| 7 | 99 | Austin Dillon | Chevy | 18 | 130 | 0 | Running | 0 | 0 |
| 8 | 98 | Grant Enfinger | Toyota | 14 | 130 | 4 | Running | 31 | 0 |
| 9 | 17 | Timothy Peters | Toyota | 8 | 130 | 0 | Running | 35 | 0 |
| 10 | 66 | Ross Chastain | Chevy | 24 | 130 | 0 | Running | 0 | 0 |
| 11 | 7 | Brett Moffitt | Toyota | 13 | 130 | 0 | Running | 27 | 0 |
| 12 | 92 | Regan Smith | Ford | 23 | 130 | 0 | Running | 25 | 0 |
| 13 | 16 | Ryan Truex | Toyota | 21 | 130 | 0 | Running | 24 | 0 |
| 14 | 18 | Noah Gragson | Toyota | 10 | 130 | 0 | Running | 23 | 0 |
| 15 | 33 | Kaz Grala | Chevy | 12 | 130 | 0 | Running | 22 | 5 |
| 16 | 13 | Cody Coughlin | Toyota | 16 | 130 | 0 | Running | 21 | 0 |
| 17 | 45 | T.J. Bell | Chevy | 25 | 130 | 0 | Running | 20 | 0 |
| 18 | 02 | Austin Hill | Ford | 27 | 130 | 0 | Running | 19 | 0 |
| 19 | 52 | Stewart Friesen | Chevy | 20 | 130 | 0 | Running | 18 | 0 |
| 20 | 49 | Wendell Chavous | Chevy | 30 | 130 | 0 | Running | 17 | 0 |
| 21 | 19 | Austin Cindric | Ford | 3 | 129 | 0 | Running | 22 | 0 |
| 22 | 5 | Korbin Forrister | Toyota | 17 | 128 | 0 | Running | 15 | 0 |
| 23 | 44 | Tommy Joe Martins | Chevy | 26 | 128 | 0 | Running | 14 | 0 |
| 24 | 87 | Joe Nemechek | Chevy | 22 | 128 | 0 | Running | 13 | 0 |
| 25 | 29 | Chase Briscoe | Ford | 4 | 127 | 0 | Running | 15 | 0 |
| 26 | 51 | Kyle Busch | Toyota | 2 | 127 | 25 | Running | 0 | 0 |
| 27 | 1 | Mike Harmon | Chevy | 31 | 124 | 0 | Running | 0 | 0 |
| 28 | 12 | Jordan Anderson | Chevy | 28 | 102 | 0 | Accident | 9 | 0 |
| 29 | 8 | John Hunter Nemechek | Chevy | 11 | 79 | 0 | Accident | 12 | 0 |
| 30 | 50 | Akinori Ogata | Chevy | 32 | 51 | 0 | Oil Leak | 7 | 0 |
| 31 | 75 | Parker Kligerman | Toyota | 19 | 28 | 0 | Fuel Pump | 6 | 0 |
| 32 | 83 | Todd Peck | Chevy | 29 | 2 | 0 | Overheating | 5 | 0 |
[adinserter name="GOOGLE AD"]