Kyle Busch Wins Back-To-Back At Atlanta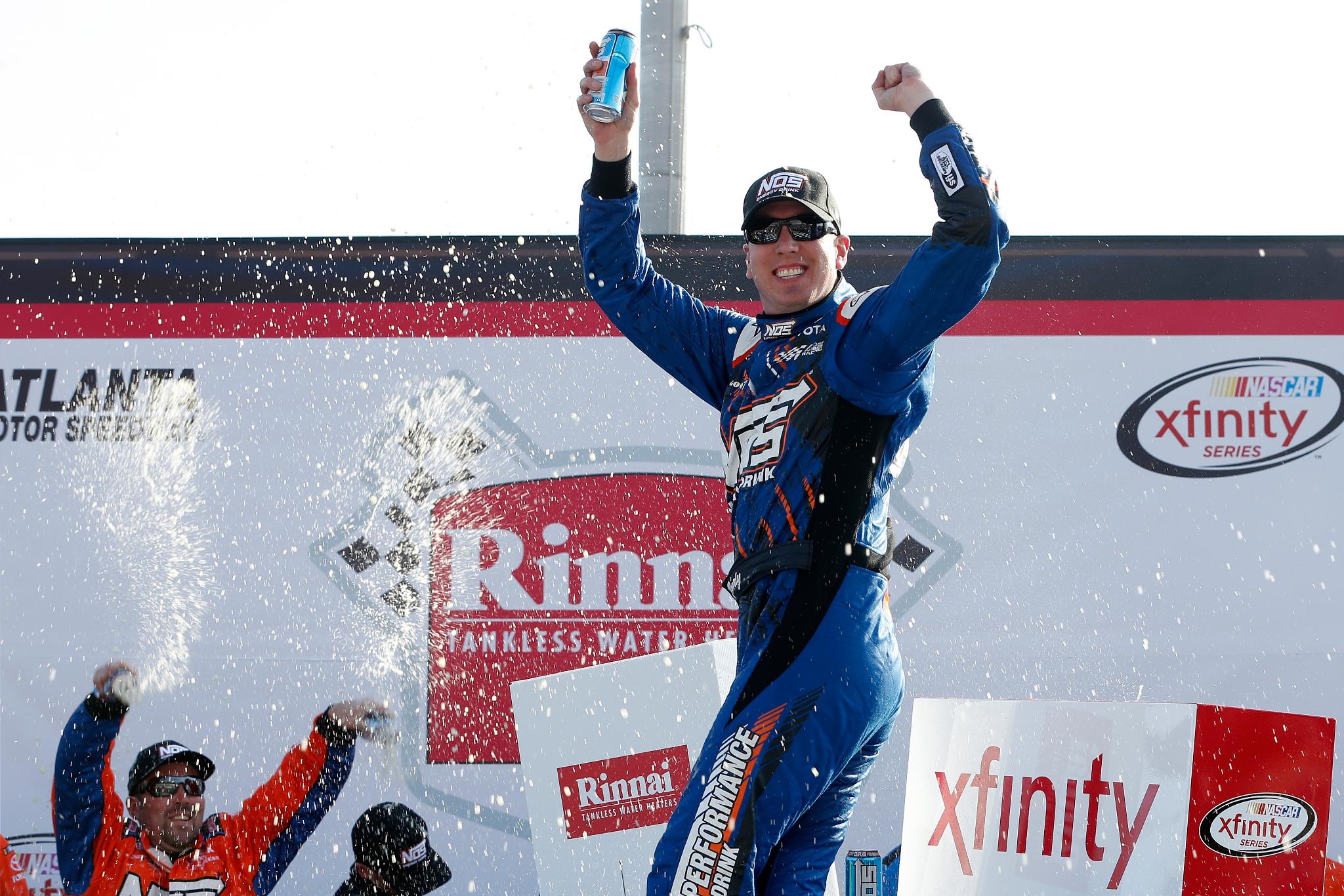 Kyle Busch wins his second straight Atlanta Xfinity race
NASCAR Via Getty Images
Kyle Busch spent most of Saturday's NASCAR Xfinity Series chasing the competition.
But after a late race caution sent the leaders to pit road for fresh tires, Busch's Joe Gibbs Racing pit crew got the No. 18 Toyota out of the pits.
From there, he went on to hold off Brad Keselowski to score the victory in the Rinnai 250.
It marks Busch's second straight and second overall career series win at Atlanta. It's the 87th series victory, adding to his all time Xfinity win record.
"We weren't great early on," said Busch. "We weren't great through the middle and Scott Graves (crew chief) and these guys, they worked on this car all day long. Really brought the NOS ENERGY Drink Toyota to life there at the end. Pretty proud to put ourselves in victory lane here once again. Two years in a row. It took me so long to get here to begin with and now we won two in a row. That feels really good."
Prior to the restart, Kyle Larson appeared to have the car to beat. After taking the lead from Kevin Harvick – who had dominated the middle stages of the event – on lap 124, Larson drove away from the field.
[adinserter name="GOOGLE AD"] But his shot at the win went away when the caution flew with 21 laps when the engine let go in Clint King's Chevrolet. When the leaders hit pit road, Busch's pit crew rose to the occasion, getting him off pit road ahead of Larson.
On the restart, Larson spun his tires, allowing Busch to power away from the field with 16 laps to go.
"We just kept having to get rear grip in the car, but also up front," Busch said. "We were just kind of lacking a little bit overall most of the day, but we kept making it better, kept doing the right changes and got it to where we needed it there at the end for that final run. Can't say enough about my pit crew. These guys did awesome getting me off pit road first for that final run."
Keselowski was able to close on Busch as the leaders negotiated lap traffic with about five laps to go. But with three to go, Busch was again able to move away, leaving Keselowski to finish in second.
Keselowski had looked strong early on, leading 53 laps in the first portion of the race.
"To get second is kissing your sister but it is still better than nothing I guess," Keselowski said. "We had a really good car today and some good adjustments at the end to pick up a little speed. I thought the 41 (Harvick) was class of the field and I don't know what happened there to mix him up.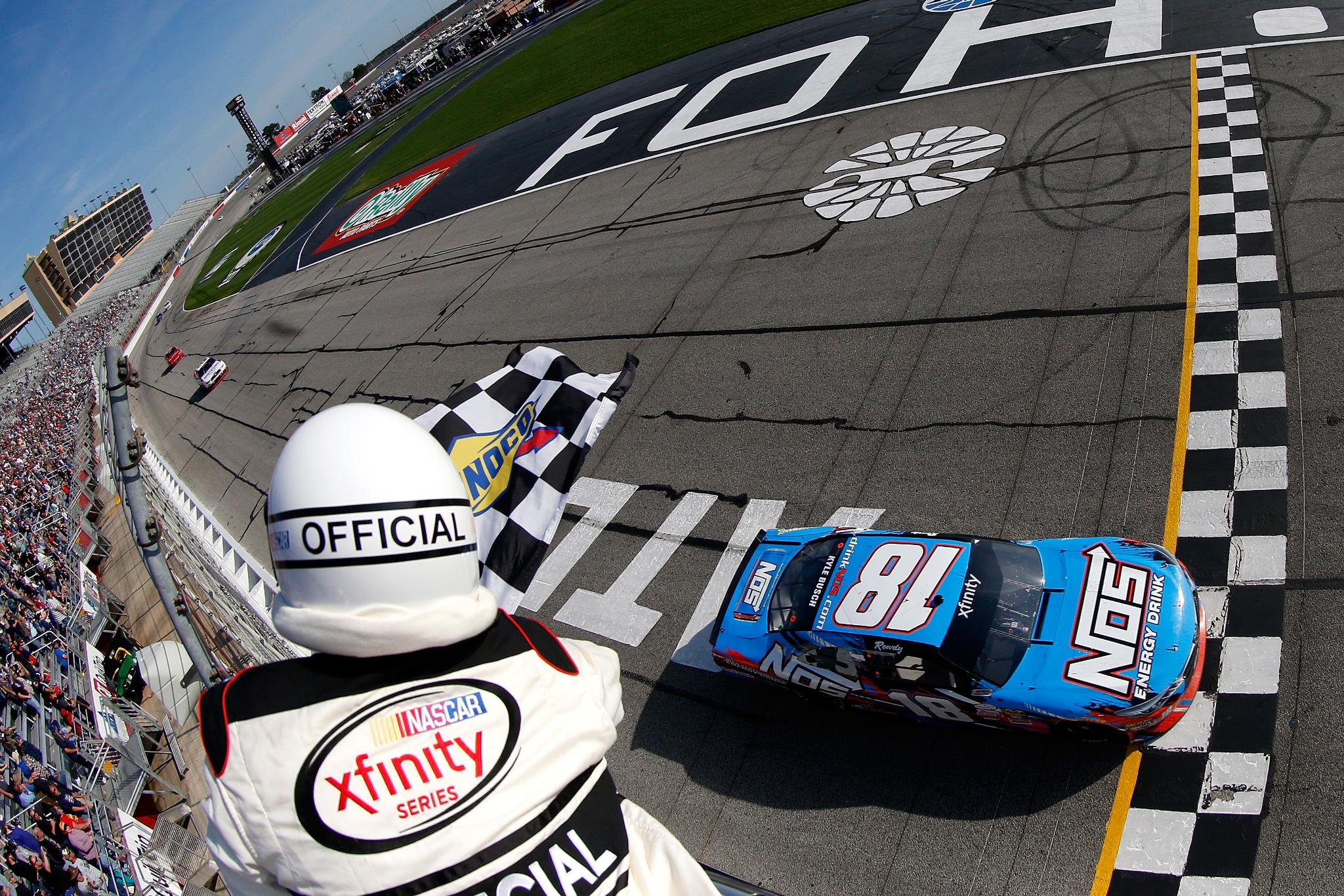 Kyle Busch takes the checkered flag at Atlanta
NASCAR Via Getty Images
"Kyle and I had a great battle there at the end. It was just a matter of kind of catching the breaks in traffic and making the right moves. I thought we were a tiny bit faster than Kyle but I kept catching traffic in the wrong spot. That was a bummer but still a solid effort and a good day and I am proud of my team."
On restarts, several drivers spun their tires on the outside lane. Keselowski said that will be a big concern for Sunday's Monster Energy NASCAR Cup Series race.
"It should be a huge hindrance tomorrow. That is one of the major flaws in the whole double-file restart thing, that there is not a lot of equality there in lane choice. You know that and hope it doesn't affect you at the wrong time."
Larson rebounded from falling back on the restart to finish in third. Harvick, who looked unbeatable in the middle parts of the race by leading 64 laps, had to settle for fourth place in his first Xfinity outing in a Stewart-Haas Racing Ford.
"We got really tight the next to last set of tires," he said. "It was like the race track went away from us and kind of came to everybody else. We made it better the last run."
Xfinity Series regular Elliott Sadler finished in fifth.
Darrell Wallace, Jr., William Byron, Austin Dillon, Daniel Hemric and Cole Custer rounded out the top ten finishers.
Keselowski won the first 60 lap segment of the race, while Harvick won the second segment.
RACE RESULTS
| | | | | | | | | | |
| --- | --- | --- | --- | --- | --- | --- | --- | --- | --- |
| Pos. | # | Driver | Make | Start | Laps | Led | Status | Points | Playoff Points |
| 1 | 18 | Kyle Busch | Toyota | 1 | 163 | 26 | Running | 0 | 0 |
| 2 | 22 | Brad Keselowski | Ford | 3 | 163 | 53 | Running | 0 | 0 |
| 3 | 42 | Kyle Larson | Chevy | 4 | 163 | 20 | Running | 0 | 0 |
| 4 | 41 | Kevin Harvick | Ford | 12 | 163 | 64 | Running | 0 | 0 |
| 5 | 1 | Elliott Sadler | Chevy | 22 | 163 | 0 | Running | 37 | 2 |
| 6 | 6 | Darrell Wallace Jr | Ford | 13 | 163 | 0 | Running | 31 | 0 |
| 7 | 9 | William Byron | Chevy | 2 | 163 | 0 | Running | 39 | 0 |
| 8 | 2 | Austin Dillon | Chevy | 17 | 163 | 0 | Running | 0 | 0 |
| 9 | 21 | Daniel Hemric | Chevy | 6 | 163 | 0 | Running | 36 | 0 |
| 10 | 00 | Cole Custer | Ford | 8 | 163 | 0 | Running | 35 | 0 |
| 11 | 48 | Brennan Poole | Chevy | 11 | 163 | 0 | Running | 26 | 0 |
| 12 | 19 | Matt Tifft | Toyota | 7 | 163 | 0 | Running | 25 | 0 |
| 13 | 62 | Brendan Gaughan | Chevy | 9 | 163 | 0 | Running | 24 | 0 |
| 14 | 33 | Brandon Jones | Chevy | 30 | 163 | 0 | Running | 23 | 0 |
| 15 | 5 | Michael Annett | Chevy | 18 | 163 | 0 | Running | 22 | 0 |
| 16 | 24 | Corey Lajoie | Toyota | 19 | 163 | 0 | Running | 0 | 0 |
| 17 | 3 | Ty Dillon | Chevy | 14 | 163 | 0 | Running | 0 | 0 |
| 18 | 16 | Ryan Reed | Ford | 10 | 163 | 0 | Running | 19 | 0 |
| 19 | 98 | Aric Almirola | Ford | 15 | 163 | 0 | Running | 0 | 0 |
| 20 | 20 | Denny Hamlin | Toyota | 5 | 162 | 0 | Running | 0 | 0 |
| 21 | 28 | Dakoda Armstrong | Toyota | 23 | 162 | 0 | Running | 16 | 0 |
| 22 | 39 | Ryan Sieg | Chevy | 28 | 161 | 0 | Running | 15 | 0 |
| 23 | 90 | Brandon Brown | Chevy | 33 | 161 | 0 | Running | 14 | 0 |
| 24 | 01 | Harrison Rhodes | Chevy | 35 | 160 | 0 | Running | 13 | 0 |
| 25 | 4 | Ross Chastain | Chevy | 24 | 160 | 0 | Running | 12 | 0 |
| 26 | 8 | Jeff Green | Chevy | 32 | 160 | 0 | Running | 11 | 0 |
| 27 | 0 | Garrett Smithley | Chevy | 29 | 160 | 0 | Running | 10 | 0 |
| 28 | 23 | Spencer Gallagher | Chevy | 21 | 160 | 0 | Running | 9 | 0 |
| 29 | 07 | Ray Black Jr | Chevy | 36 | 159 | 0 | Running | 8 | 0 |
| 30 | 7 | Justin Allgaier | Chevy | 16 | 159 | 0 | Running | 7 | 0 |
| 31 | 52 | Joey Gase | Chevy | 37 | 158 | 0 | Running | 6 | 0 |
| 32 | 99 | David Starr | Chevy | 38 | 158 | 0 | Running | 5 | 0 |
| 33 | 40 | Timmy Hill | Toyota | 31 | 156 | 0 | Running | 4 | 0 |
| 34 | 25 | Chris Cockrum | Chevy | 39 | 156 | 0 | Running | 3 | 0 |
| 35 | 78 | Clint King | Chevy | 34 | 139 | 0 | Rear Gear | 2 | 0 |
| 36 | 14 | J.J. Yeley | Toyota | 20 | 128 | 0 | Engine | 1 | 0 |
| 37 | 51 | Jeremy Clements | Chevy | 27 | 76 | 0 | Suspension | 1 | 0 |
| 38 | 97 | Stephen Leicht | Chevy | 40 | 24 | 0 | Brakes | 1 | 0 |
| 39 | 93 | Jordan Anderson | Chevy | 26 | 2 | 0 | Ignition | 0 | 0 |
| 40 | 11 | Blake Koch | Chevy | 25 | 2 | 0 | Accident | 1 | 0 |
[adinserter name="GOOGLE AD"]