Kurt Busch Scores Monster Win In Daytona 500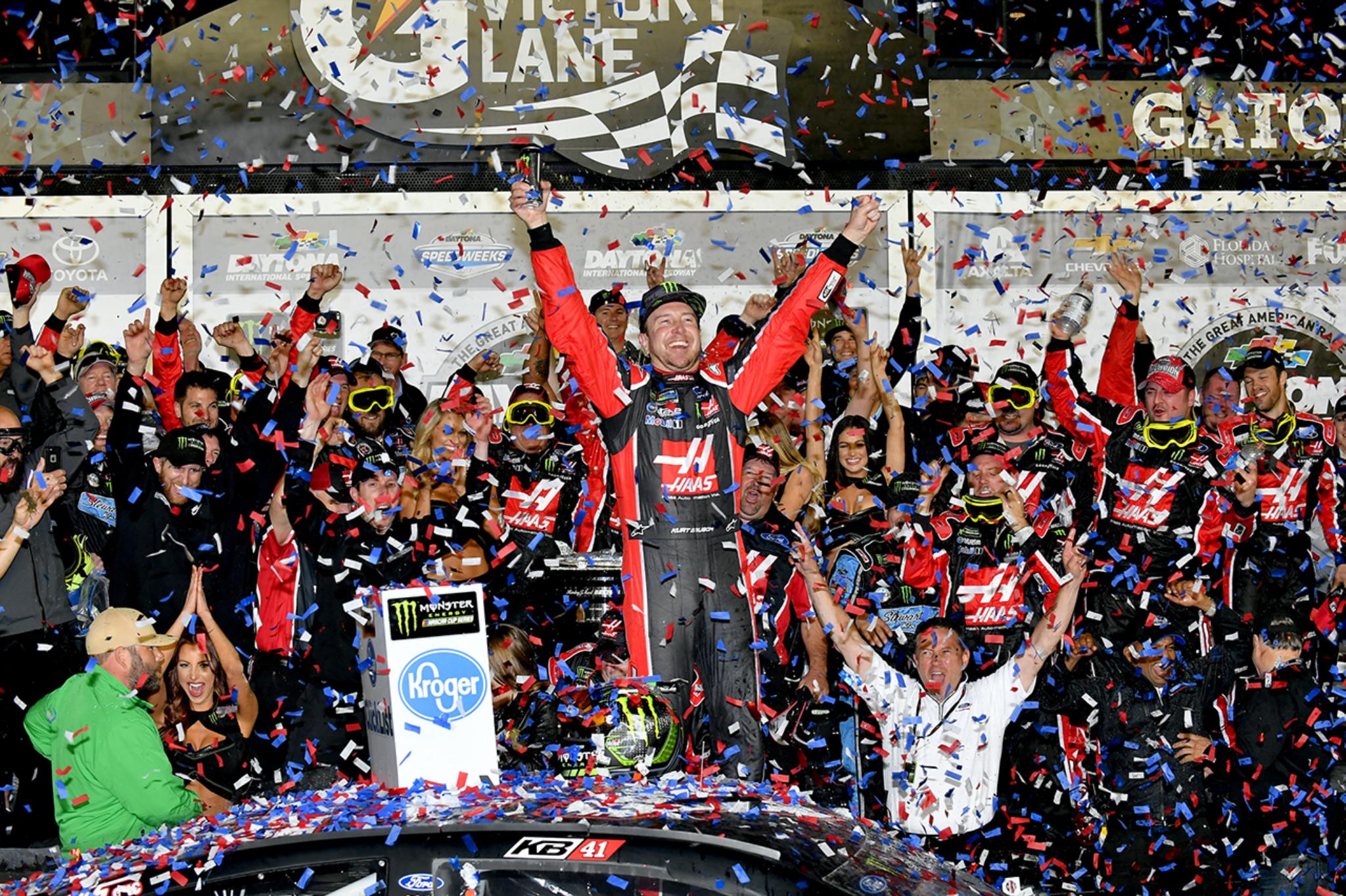 Kurt Busch wins the 59th running of the Daytona 500
Kurt Busch survived a wild race to score his first-career Daytona 500 victory with a last lap pass over a sputtering Kyle Larson to put his Monster Energy-sponsored in Victory Lane in the inaugural event for the Monster Energy NASCAR Cup Series.
Busch recovered from getting caught up in an earlier crash and powered his way back into the top five and was in the right place at the right time as the cars up front one by one started to run out of fuel.
Busch led only one lap – a record for a Daytona 500 winner – but it was the one that counted.
Ryan Blaney finished second, followed by A.J. Allmendinger, Aric Almirola and Paul Menard.
Kurt Busch had finished runner-up in the 500 twice before, and knew to take nothing for granted in the final laps with nothing but fumes in his fuel tank.
"I almost forgot to drive the line I was supposed to drive because I was shutting off all my switches, going to reserve fuel and saying a Hail Mary," said Kurt Busch. "There is nothing predictable about this race anymore and the more years that have gone by that I didn't win I kept trying to go back to patterns that I had seen in the past.
"It all turned out. Here we are in victory lane. I can't believe it."
[adinserter name="GOOGLE AD"] Busch's victory was the first for the Stewart-Haas Racing team since switching to Ford in the offseason, earning Ford their 15th Daytona 500 victory.
"We put on a show for a full fuel run and nobody took each other out and it was one of the smartest chess games I have seen out there," said Kurt Busch. "All the hard work that Ford and SHR put into this — this Ford Fusion is in Daytona's victory lane."
Busch's triumph came at the expense of polesitter Chase Elliott, who found himself all alone out in front of the Daytona 500 with 25 laps to go, but saw his chance for his first Cup victory fade away after running out of fuel less than three laps from the finish.
Elliott wasn't the only one with bad luck in Sunday's race. He was actually one of the lucky few to survive the race with all the fenders on the car.
Much like Friday's Camping World Truck Series race and Saturday's Xfinity Series race, Sunday's Daytona 500 turned into a very expensive wreck-fest that saw five multi-car wrecks that eliminated 15 cars, including perennial favorites Dale Earnhardt, Jr. and Kyle Busch and defending series champion Jimmie Johnson.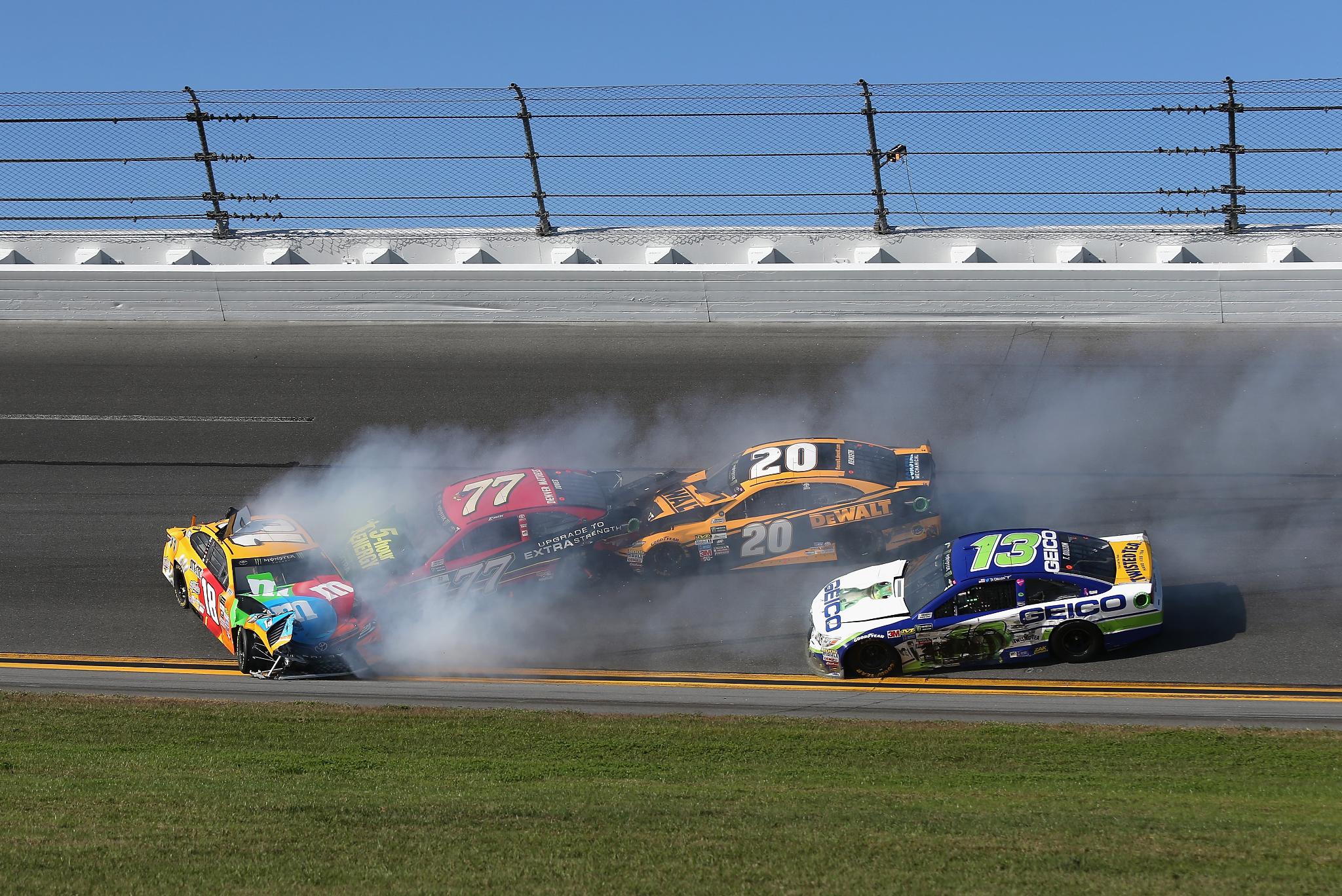 Kyle Busch was among those caught up in a wreck on lap 106
Jerry Markland/Getty Images
The first multi-car crash broke out on lap 106 after a short-pitting strategy by the Joe Gibbs Toyotas blew up in their face when first- segment winner Kyle Busch blew a tire while running on the tail end of the lead lap – directly in front of race leader Earnhardt, Jr.
Kyle Busch wound up in the garage – which under NASCAR's new rules meant he was done – along with teammate Matt Kenseth and "satellite" teammate Erik Jones.
After a 17 minute red flag, the second 60-lap segment came to an end with Kevin Harvick taking the green-checkered flag to win the second segment.
Four laps into the third 80-lap segment, the second big crash unfolded in turn three after Jamie McMurray gave Johnson a push in the wrong spot and turn him, setting off a 17-car pileup that took out Johnson, Clint Bowyer and Danica Patrick while also collecting defending Daytona 500 winner Denny Hamlin, Harvick, Larson, and Kurt Busch.
Following a five-lap caution period, the field barely made it a few laps when Blaney tried to check up to come to pit road, causing a chain-reaction crash involving Roush-Fenway teammates Ricky Stenhouse and 2011 Daytona 500 winner Trevor Bayne.
Five laps later, they were at it again – this time an 11-car incident that finally killed McMurray's car and put Brad Keselowski and rookies Ty Dillon and Daniel Suarez on the hauler.
Two laps after that caution period, we were back under yellow for the eighth time as Elliott, Joey Gase and Brendan Gaughan tangled on the backstretch.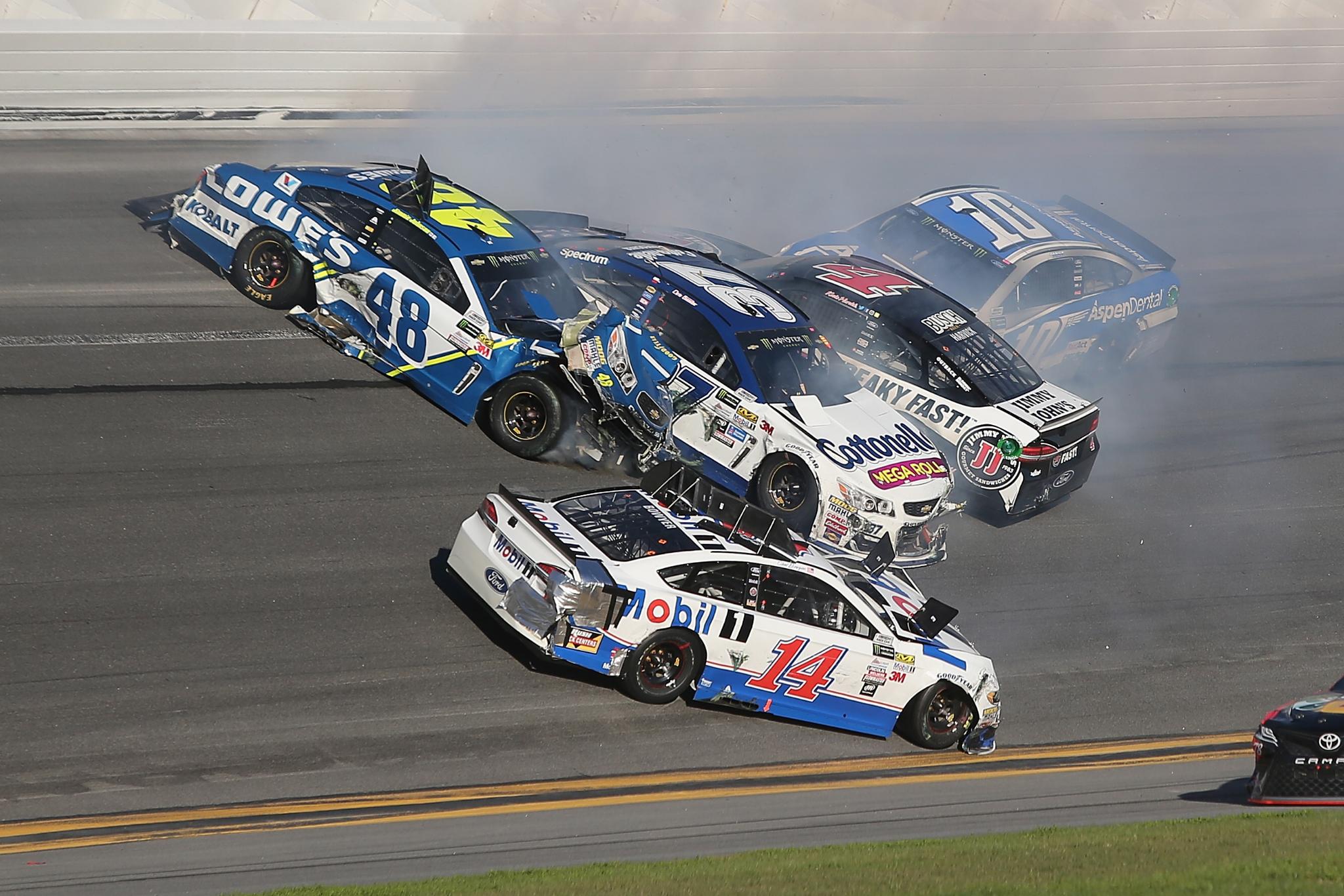 Defending series champion Jimmie Johnson (48) was involved in a wreck on lap 129
Jerry Markland/Getty Images
In all, nearly 30 cars were collect is one calamity or another. A few cars got caught up two times, one car got caught up three times. Even the drivers who led late in the race – Larson, Elliott and Kurt Busch – got damage from earlier crashes.
"This car is completely trashed; there's not a straight panel on it," Busch said in Victory Lane. "Everybody was wrecking as soon as we were done with the second segment. My mirror fell off with 30 laps to go and I couldn't even see out the back. And I thought that was an omen. Throw caution to the wind. The more unpredictability that keeps unfolding at the Daytona 500, I predicted it. It just got crazy and wild."
The field was finally able to log some green flag laps as the race resumed with less than 50 laps to go and Almirola, Larson and Logano taking turns at the head of the field.
With 24 laps to go, Elliott finally powered his way ahead of Logano and was actually able to pull out ahead all alone as Logano and Martin Truex, Jr. jockeyed for second place.
Elliott continued to hold the top spot for the next 20 laps as the field pared down to single file with no one willing to make a move until Larson stepped out of line to the inside with four laps to go, but no one came down to pick up Larson's draft, so he quickly slid back into line but managed knock off Kurt Busch for third.
Coming to three laps to go, Elliott moved down to the high side, out of fuel, as Truex moved into the lead, but less than a lap later, Larson came around Truex on the low side as Truex, too, began to lose power down the backstraight.
With Larson in front and Kurt Busch right behind, it was shaping up to be a drag race to the finish as Larson took the white flag.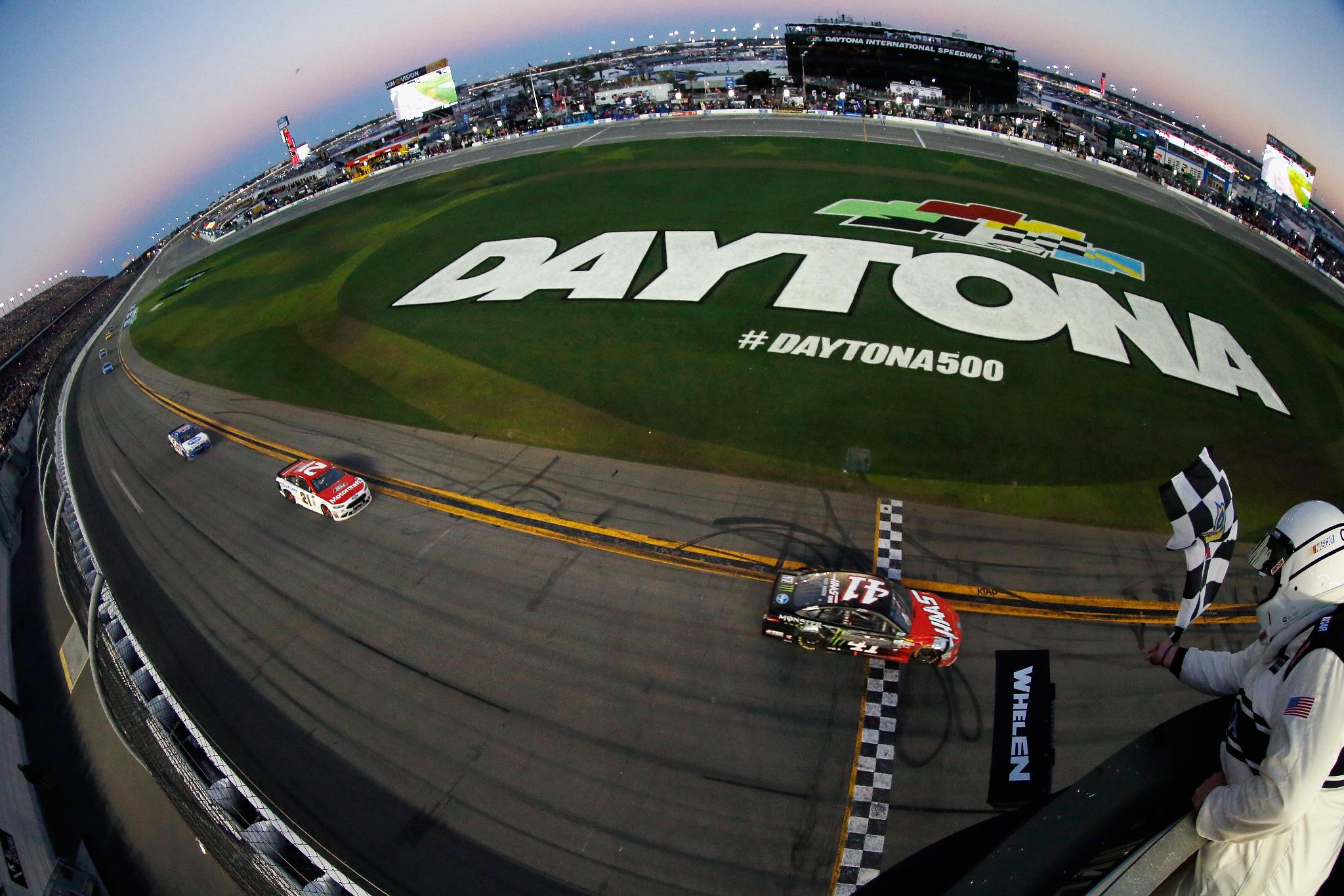 Kurt Busch takes the checkered flag over Ryan Blaney
Jonathan Ferrey/Getty Images
Half a lap later, Busch looked inside of Larson for the lead, but Larson quickly started to fade – out of fuel – as Kurt Busch darted to the high side take over the lead. From there, Kurt Busch opened up a ten-car length lead over Blaney and held on to take win.
Blaney recorded his career-best finish with a runner-up showing in the biggest race of the year after starting the race in a back-up car and getting damage from a crash, but wasn't even in the top five until Elliott ran out of gas.
Everyone's stuff was tore up. Looks like everyone ran a race at Martinsville," said Blaney of the last laps. "I started kind of running out the gas there into three. We started sputtering pretty bad. Luckily made it back to the line.
"(Elliott) ran out of gas, so… there's really no 'what ifs.' If wishes were fishes, the world would be an ocean."
Larson and Elliott both expressed disappointment with having a Daytona 500 victory within reach.
"I knew we would be close on fuel. They had told me to save as much as I could on the cautions and stuff," said Larson. "I had my fingers crossed, but just came up ½ a lap short on fuel."
Elliott left the track with his father, two-time Daytona 500 Champion Bill Elliott, barely stopping to talk to the media.
"It was a disappointing finish to a good day," said Elliott. "Just one of those things you can't do anything about. We are going to learn from it. I'm proud of how hard everyone worked all week. We're looking forward to getting back at it in Atlanta."
Results
| | | | | | | | |
| --- | --- | --- | --- | --- | --- | --- | --- |
| Pos | No. | Driver | Make | Behind | Gap | Laps | Fast Speed |
| 1 | 41 | Kurt Busch | Ford | Leader | Leader | 200 | 199.389 |
| 2 | 21 | Ryan Blaney | Ford | 0.228 | 0.228 | 200 | 199.358 |
| 3 | 47 | AJ Allmendinger | Chevy | 0.419 | 0.191 | 200 | 199.45 |
| 4 | 43 | Aric Almirola | Ford | 1.195 | 0.776 | 200 | 199.062 |
| 5 | 27 | Paul Menard | Chevy | 1.564 | 0.369 | 200 | 198.935 |
| 6 | 22 | Joey Logano | Ford | 2.196 | 0.632 | 200 | 199.208 |
| 7 | 5 | Kasey Kahne | Chevy | 2.288 | 0.092 | 200 | 198.583 |
| 8 | 15 | Michael Waltrip | Toyota | 8.827 | 6.539 | 200 | 199.111 |
| 9 | 32 | Matt Dibenedetto | Ford | 9.452 | 0.625 | 200 | 199.089 |
| 10 | 6 | Trevor Bayne | Ford | 9.582 | 0.130 | 200 | 199.437 |
| 11 | 75 | * Brendan Gaughan(I) | Chevy | 9.67 | 0.088 | 200 | 198.79 |
| 12 | 42 | Kyle Larson | Chevy | 11.268 | 1.598 | 200 | 198.26 |
| 13 | 78 | Martin Truex Jr. | Toyota | 21.738 | 10.470 | 200 | 199.557 |
| 14 | 24 | Chase Elliott | Chevy | 37.854 | 16.116 | 200 | 199.261 |
| 15 | 95 | Michael Mcdowell | Chevy | 9.333 | -28.521 | 200 | 199.137 |
| 16 | 34 | Landon Cassill | Ford | -1 | -10.333 | 199 | 198.847 |
| 17 | 11 | Denny Hamlin | Toyota | -1 | 0.000 | 199 | 198.413 |
| 18 | 72 | Cole Whitt | Ford | -1 | 0.000 | 199 | 199.495 |
| 19 | 3 | Austin Dillon | Chevy | -1 | 0.000 | 199 | 200.027 |
| 20 | 7 | Elliott Sadler(I) | Chevy | -1 | 0.000 | 199 | 199.455 |
| 21 | 31 | Ryan Newman | Chevy | -2 | -1.000 | 198 | 197.728 |
| 22 | 4 | Kevin Harvick | Ford | -3 | -1.000 | 197 | 199.358 |
| 23 | 23 | Joey Gase(I) | Toyota | -4 | -1.000 | 196 | 197.837 |
| 24 | 83 | Corey Lajoie | Toyota | -7 | -3.000 | 193 | 197.472 |
| 25 | 38 | David Ragan | Ford | -12 | -5.000 | 188 | 197.49 |
| 26 | 33 | Jeffrey Earnhardt | Chevy | -55 | -43.000 | 145 | 196.79 |
| 27 | 2 | Brad Keselowski | Ford | -57 | -2.000 | 143 | 199.172 |
| 28 | 1 | Jamie McMurray | Chevy | -59 | -2.000 | 141 | 199.137 |
| 29 | 19 | Daniel Suarez # | Toyota | -59 | 0.000 | 141 | 198.776 |
| 30 | 13 | Ty Dillon # | Chevy | -60 | -1.000 | 140 | 199.552 |
| 31 | 17 | Ricky Stenhouse Jr. | Ford | -67 | -7.000 | 133 | 198.487 |
| 32 | 14 | Clint Bowyer | Ford | -72 | -5.000 | 128 | 199.199 |
| 33 | 10 | Danica Patrick | Ford | -72 | 0.000 | 128 | 197.989 |
| 34 | 48 | Jimmie Johnson | Chevy | -73 | -1.000 | 127 | 199.291 |
| 35 | 37 | Chris Buescher | Chevy | -73 | 0.000 | 127 | 199.751 |
| 36 | 96 | DJ Kennington | Toyota | -73 | 0.000 | 127 | 197.941 |
| 37 | 88 | Dale Earnhardt Jr. | Chevy | -94 | -21.000 | 106 | 198.12 |
| 38 | 18 | Kyle Busch | Toyota | -97 | -3.000 | 103 | 197.65 |
| 39 | 77 | Erik Jones # | Toyota | -97 | 0.000 | 103 | 198.882 |
| 40 | 20 | Matt Kenseth | Toyota | -97 | 0.000 | 103 | 197.985 |
# = Rookie
[adinserter name="GOOGLE AD"]