Championship 4 Have A Lot To Live Up To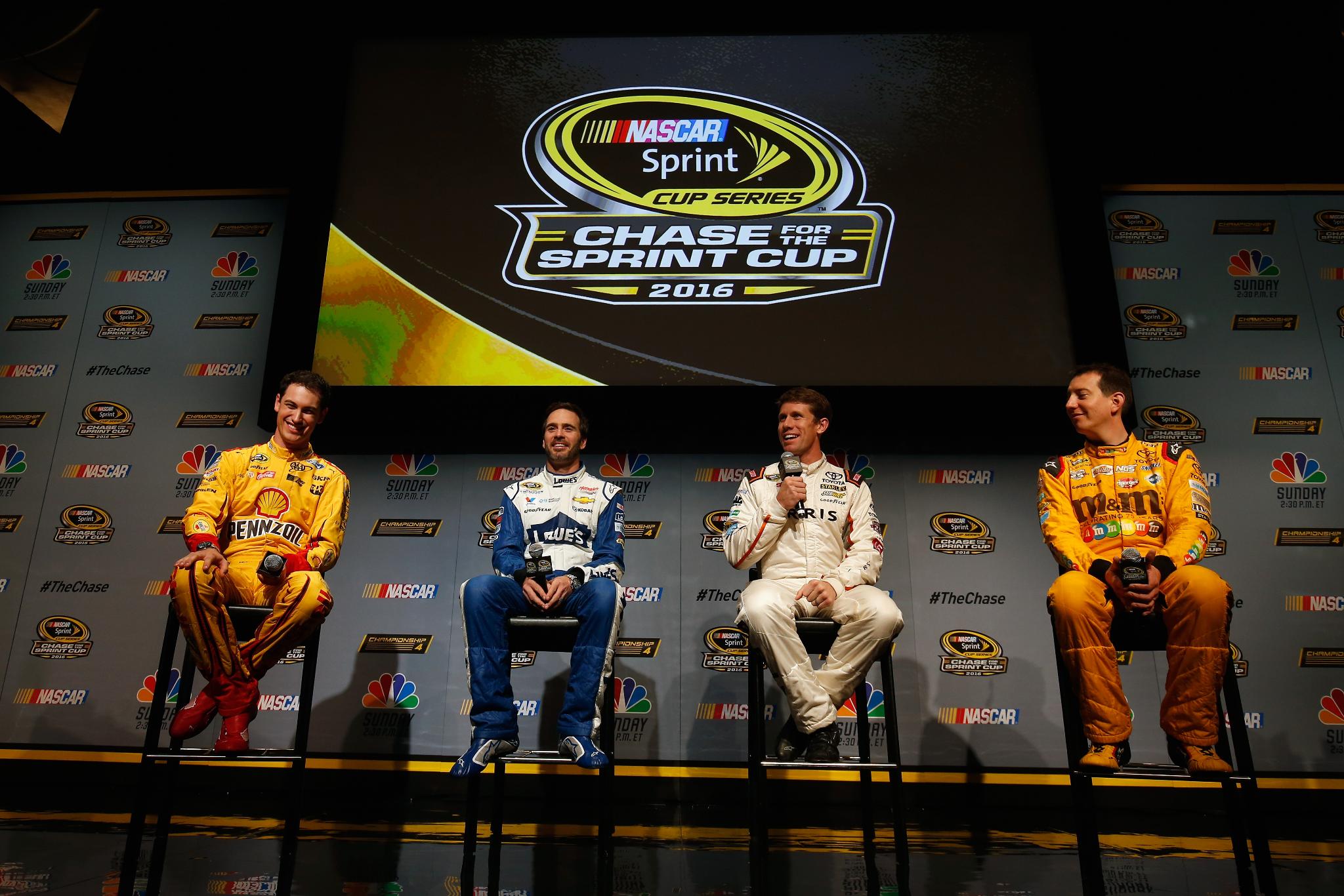 The Championship 4 (L-R) Joey Logano, Jimmie Johnson, Carl Edwards and Kyle Busch
Chris Trotman/Getty Images
The 2016 Sprint Cup Championship will be decided in Sunday's Ford EcoBoost 400 at Homestead-Miami Speedway by four drivers who have a lot to live up to.
Unique among the contenders in the Championship 4 is that they've all been here before. All four have rolled into Homestead with a chance at a title on the line, and each one of them have experienced the disappointment of leaving empty-handed.
For Jimmie Johnson, I chance to make history. For Busch, a change to show that last season was no fluke after he battled back from injuries to win his first-career Sprint Cup title. For Logano, a chance to make up for a season that was lost after being eliminated in the Round of eight last season, and for Carl Edwards, a chance at redemption for a title that slipped through his fingers.
The elder statesman among the four is Jimmie Johnson, the current six-time Sprint Cup Champion who now has an opportunity to add his name among the two biggest names in all of motorsports.
Since first coming onto the scene in Sprint Cup in 2001, Johnson has proven to be an elite driver worthy of a future induction into the NASCAR Hall of Fame. A protegee of Jeff Gordon, Johnson won his first race in just his 13th series start and finished his rookie year in the top five in points.
After two runner-up finishes in the points battle and another top-five finish in 2005, Johnson collected his first Sprint Cup championship in 2006 and went onto score a record five straight titles, and now in 2016 stands poised to do what only two other drivers have done in this sport – win seven titles.
The other two drivers, of course, are Hall of Famers Richard Petty and Dale Earnhardt. Long-time fans hold them up almost as deities, like Gods with no equals.
Now, along comes Johnson – an outsider from California who has never been a favorite among grassroots fans – looking to add his name among two legends in the sport.
Jimmie Johnson will be looking for his seventh Sprint Cup title on Sunday
Sean Gardner/NASCAR via Getty Images
"The way I experience things with our fans, the great articles I see written, the way people talk about me, I feel like I've received a lot of respect," said Johnson. "I don't know what Petty and Earnhardt experienced during their moments in time.
"I think anybody that's winning gets booed. I watched Earnhardt get booed. I watched Gordon get booed. When you get older and don't win as much, you get cheered a bit more. I watched that for both of those guys. I get more cheers now, so I hope that doesn't mean I'm running out of wins and championships."
As far as comparing himself to two of the greatest of all time? Johnson said that's not for him to decide.
"I don't think that is the individual's place," said Johnson. "If somebody was to write an article on it or make that comparison, I'd be proud to be in that pick, but I don't think it's for the individual to state that, at least not my style."
For defending series champion Kyle Busch, winning a second title on Sunday will be more than just a validation that his 2015 title run was no fluke, it will be an historical achievement that only ten other drivers have accomplished – to repeat as a the series champion.
This same time one year ago, the fact Busch was even in the final four was an achievement in itself.
After suffering serious injuries in the season-opening Xfinity Series race at Daytona, Busch sat out the first 11 races of the season and was in danger of not even making the Chase, but NASCAR gave Busch a medical waiver to make his eligible for the Chase – if he could score a victory and fight his way into the top 30 in points.
Busch did both, handily, and earned a spot among the 16 drivers in the Chase field. 10 races later, Busch took the checkered flag at Homestead to win his first-career Sprint Cup championship.
Busch's ascension to the title in 2015 was made even more remarkable by the fact he didn't win a single race during the Chase – advancing all the way to the Championship 4 solely on points. Now, one year later, he's done it again – surviving each round to put himself in a position to show everyone that, yes, he can do it. Again.
Defending champion Kyle Busch hopes to make it two in a row on Sunday
Sean Gardner/NASCAR via Getty Images
"I certainly would think that it's different from last year for sure," said Busch. "Last year I was just a part-time champion, so this year I hope to become a full-time champion. It's a whole different circumstance, it's a whole different race. I don't think past success you can look at or necessarily reference because it's a new day on Sunday and new challenges persist.
"I think winning the championship last year definitely impacted us. It just gave us a greater sense of belief in ourselves and our team and confidence in being able to go out there and do it again. You know, there's no reason to think that what we accomplished last year is a one-time thing. We feel we're just as good last year if not better and performed better throughout this Chase in order to get ourselves in the position we're in.
You know, there's going to be plenty of reasons as to why we can be beat and plenty of reasons as to why we can beat the rest of them. It's just a matter of how it all comes down to performance on Sunday and being able to be right on top of things as the race goes on and all the way to the end.
Logano has seen the final race in the Chase from both sides of the fence.
In the first season under the current Chase format in 2014, Logano advanced to the Championship 4 but finished last among the four contenders in the final race, losing the title to Kevin Harvick.
Then last year, Logano was pegged at the start of the Chase as a favorite to win the title, until he got walled by Kenseth at Martinsville which effectively eliminated him.
Now, Logano is going back to Homestead with a chance to clinch a title, while Kenseth is the one on the outside looking in.
It was a strange change in fortune for both of them.
[adinserter name="GOOGLE AD"] "It kind of sucks," Logano said of coming so close to a title like he did in 2014. "When I was up here a couple of years ago and I got a question about the people that say you have to lose one to win one and I thought that was the biggest line of b.s. I've ever heard in my life and I didn't like that statement. I don't believe that you have to lose one to win one, but I do believe you learn a lot by going through the experience once and going through this actual format once — through this whole weekend.
"So after going through that once and then going through that a few times throughout this Chase, this Chase presents a lot of opportunities.
"You have to do that multiple times throughout this last 10 weeks, so for me I feel a lot more prepared. I feel ready for this weekend and I was actually talking to a few of my team guys and I said, 'Man, I feel so much different than I did a couple years ago.' My whole team feels that way. We feel a lot more relaxed because we're confident and we know what the challenge is ahead of us."
Carl Edwards is no stranger to the pressure of a season-finale with a title on the line, he's been there before – three times.
For Edwards, Sunday's race will be another shot at redemption at the title that slipped away from him in what was the closest finish Sprint Cup history.
In 2005 in his just his second Sprint Cup season, Edwards headed into the final race at Homestead with the championship within reach, but despite a fourth-place finish ended up third in points behind eventual champion Tony Stewart.
Carl Edwards has finished runner-up in the championship twice
Sean Gardner/NASCAR via Getty Images
Three years later, Edwards was back at Homestead again, and again with a mathematical shot at the title, sitting 141 points behind Johnson, who needed to only finish 36th or better to win his third straight title.
Johnson finished 15th, winning the title. Edwards ended the year runner-up in points.
Then came 2011, and like 2005, the title came down to Stewart and Edwards.
Despite all he could do, he and Stewart ended up tied in points – the closest points finish in NASCAR history – but Stewart claimed the title on a tie-breaker to win his third series title.
One point. One single point was all Edwards would have needed.
"I would love to have won that more than just about anything, but it really was a good experience, and I think….it's just good to go through that. It kind of galvanizes you, and I think it makes it easier to do it again," said Edwards.
"The last time I had this opportunity, it was just against two guys. This is much more dynamic and probably in a lot of ways going to be tougher. It's different, but I feel like that experience was very good. I wouldn't trade it for anything. It was a lot of fun."