Phoenix Post-Race Press Conference
Joey Logano
Ralph Garcia/AR1.com
THE MODERATOR: We are now joined by race-winning owner Roger Penske. Can you just go ahead and talk about the 50th anniversary, talk about what it means to be having a championship contender in Joey next week at Homestead.
ROGER PENSKE: Well, I guess we can say we're going to Homestead. You wanted to say it many races ago. You know, for me, to come here – I came here when you had to come across the water to get to the track. Things have sure changed, and certainly with the new architecture that's going to take place here over the next couple years, it's an amazing place.
But I'd have to say that today the team really was disciplined. It executed the pit stops. I think you saw that almost at every stop we picked up two or three spots, and Joey's restarts were classic Logano. I mean, no one was able to be as cool as he was and take the position.
For me here on our 50th year to have this success, it's pretty special, with IndyCar under our belt, now having a chance to race with four guys or three other guys that were representing Gibbs and Hendrick, I'm just glad to be in that class.
Maybe it's a little deja-vu. I certainly didn't like to see the 20 car get knocked out really quite honestly. I think he raced us clean today. I think they both – in fact, everybody if you looked at the race there, there was really no – I think everyone, when a guy was better than him let a guy go by.
I think the outcome was not outcome until the last green-white-checker as I call it, certainly the overtime. Big day for Team Penske, great day for Logano. I think this proves just how good he is, continually, to get the job done for us, and Todd Gordon, obviously his ability to keep our crew together and continue to make that car better at every race and see the finishes is amazing. That's what we're in this business for.
THE MODERATOR: We are now joined by race-winning crew chief Todd Gordon. Talk about Joey's performance today and what it means to be in the Championship Four next weekend going to Homestead.
TODD GORDON: Yeah, it's pretty special. Race-winning crew chief, that's a great thing to hear. We had a good car early in the race, probably adjusted our way out of it a little bit, but we had enough speed to kind of hang in the top 5 and put Joey where he could take advantage of things.
The restart when we restarted fourth, when you look back, it's putting him in an opportunity position. Took advantage of what happened with the 88 and 20 and then gave him a restart to get it done.
Joey is phenomenal about elevating. There's very few professional athletes that can elevate to that level when the pressure comes on, and Joey has done it time and time again. I think kudos to him.
Q. If each of you would answer this question: Do you consider this somewhat redemption for how last season ended, or have you looked at it more as just the combination of another strong season?
ROGER PENSKE: Well, I think we put last season to bed at the end of 2015, and I think we look out the windshield every day at our business and certainly at our race team, and we've raced with the 20 car all year long, good racing, hard racing, but to me it was just great to see a step up. Logano showed how good he was the last few races, and to me, that makes a big difference to me, and I'm sure it does to Todd.
TODD GORDON: Yeah, I'd say likewise. I wouldn't – there's no reflection on 2015. We're focused on '16. You know, middle of the season we were a little off on speed and everybody at Team Penske dug in and got ourselves focused forward, and we've been focused forward, to Roger's point looking out the front windshield. Just trying to make sure that we're right at the right time, and we were strong last week at Texas and felt like we could be strong here. Joey outperformed what we gave him, but we were definitely a top-5 car and put ourselves in position to take it forward to Homestead.
Q. Roger, obviously you guys always want to perform your best for Ford, but is it any more special that you guys can put a Ford in the Ford finale?
Joey Logano crosses the finish line for his third win of the season
Ralph Garcia/AR1.com
ROGER PENSKE: Well, we had the opportunity to move from Dodge to Ford, and I think that the commitment that Bill Ford and Joe Hinrichs, Raj Nair and Pericak and the whole team, there's no question that we want to perform for them. Our OEM partnerships that we have in the automobile business, a lot of those have been spawned because of our racing activities.
It's pretty special when you can sit here and say, hey, we got Ford in the last race at Homestead, and that's what they pay us for, and that's what we were able to accomplish today.
Q. 29 times in 49 years you've had an opportunity to talk to your team and prepare them for a championship effort. Do you have a set formula for that? Will you do this week what you've done so many times over the years, or somehow or other will this week be different?
ROGER PENSKE: Well, I think the main thing would be to talk to the guys about car preparation. We don't need to have small things happen, and we need to – as we did today, say this is another race, let's run it like the race that we had last week and the week before, and that's what we have to do going into Homestead, realizing we're only really racing three other people, which is a huge benefit versus the whole field.
Q. I know you wouldn't want to see it next week, but if Jimmie Johnson were to win a seventh title what would it mean to the sport, and where would you place him in history if he would accomplish it?
ROGER PENSKE: Well, if it's not us, certainly Jimmie is deserving. Being a seven-time winner and driving probably for the greatest car owner in the car, Rick Hendrick. I take my hat off, and really I respect him as a driver and I certainly respect Rick as a team owner, and to me, what he's done, he's a class guy, he represents the industry, the garage area, the driver area in such a great way. To me, if he gets it, he sure deserves it.
Q. Todd, drivers get asked all the time what did you learn the last time, or what did you learn the last time you raced for a championship. What did you learn the last time you guys were in Homestead and were in this position?
TODD GORDON: Well, I think the biggest thing you learn out of it is it's no different race than any other race. To Roger's point, you've still get yourselves to that point. We've been successful getting here, and we've got to take that formula and just apply it forward, not let the outside things distract you and focus on the things you can control and not let the things you can't control distract you from accomplishing your goals.
I think this team has done a great job of elevating when they needed to, and we just need to focus on doing our things. I think if we do our things, we're in as good a position as anybody.
Q. Roger, next week is Tony's last NASCAR race. I know you had offered him the Indy 500 ride. You think pretty highly of him. What will NASCAR miss with him no longer being a driver?
ROGER PENSKE: Well, I think Tony is one of the drivers like Jeff Gordon that came over from open wheel and set such a high standard. His notoriety and personality is just plastered across this country on short tracks, big tracks, certainly in NASCAR, and Tony is going to be around. He's got a great team, and certainly he's hooked up with Gene Haas and with the driver lineup he has going into next year, we're going to see a lot of him.
The only disappointment I have is that he never took me up on a ride at Indy. I think that's what happened. He is a true racer, true grit, and he tells it as it is.
[adinserter name="GOOGLE AD"] Q. Early in the year you won the IndyCar title with Simon Pagenaud, now there's a chance to win the Sprint Cup title with Joey. It's maybe a culmination of your history, 50th anniversary of your motor racing business. Is there anything left in motor racing and any kind of championship which is unfinished business for you? I don't want to mention Formula 1.
ROGER PENSKE: I'm not sure if I'm ready for Formula 1.
No, I think this is something that we have got our eye on, and to get this close, we have to execute.
To me, I've always wanted to race a team at Le Mans under the current circumstances, so that would be something that's high on my list from the standpoint of maybe competing in. But we've got so much racing going on right now, and I think what we need to do is we have in our business stay focused.
Q. Your team, IndyCar and Sprint Cup team in one building, totally different cars, nevertheless, is there any transition engineering wise from your IndyCar concerning preparation for Joey's car next weekend in Homestead?
ROGER PENSKE: Well, I would say many of you have come to our shop. One of the things when we combined IndyCar operations and our NASCAR operations was to have cross-pollination, not only from an engineering standpoint but also about people, that we move the people around, and to me people who have made their lower level can move to one of the other cars or one of the other series.
You know, Todd is the one to tell you what he's got for next week. He probably won't give you all the secrets, but I can guarantee you we're not going to run this car there next week.
TODD GORDON: Copy that. It's definitely a new car, and we do talk back and forth, especially from an engineering standpoint between the IndyCar Series and our side. There's a couple engineers that have come from our side and actually over to the IndyCar side.
There's a lot of cross-pollination of at least ideas, not a lot that applies car to car, but at least philosophies.
ROGER PENSKE: I think our wind tunnel would be in our seven post, where we have these cars, and the same people that are gathering the data for us in our scale model both for NASCAR and for IndyCar are the same people that are driving certainly the advancements.
Q. Roger, what's the progress on adding a third team to Sprint Cup next season?
ROGER PENSKE: Well, I think we've got the relationship with the Wood Brothers, and that seems to be working out – really liked what I saw today with Ryan. He ran up there. He was in the top 10 or 12. I didn't see the finish to be honest with you. I was so excited about the 22 car.
But yeah, we want to continue growing him. We feel that that's kind of like a brother-in-law over there. We've got some of our people working with the Woods, and Leonard and Glen and these guys have been my friends as we worked back when Pearson drove. We like the challenge we have with that. We like the partnership, and I think Ford is 100 percent behind us again next year.
Q. You had to be watching that final incident that gave you the lead and gave you the move into the final run at Homestead. Describe the incident. Describe what it meant to you as you saw it.
ROGER PENSKE: It happened so fast, it was right down in front of me, and the next thing I saw the 20 spinning and I saw Joey in P1, it was like someone just opened a shade on us and here we were in the lead. It happened so fast, and it was ironic, as we said earlier, that the 20 would have been involved in that accident.
Joey Logano
Ralph Garcia/AR1.com
TODD GORDON: Yeah, I think it's just a culmination of putting a team in a position and Joey taking advantage of it. I thought fourth at least on that restart was a good ready place to be. It seemed like the car that was in fourth could roll off second because they could make momentum off of Turn 2, and ended up being that we could take advantage of some other situations. It happened so quick, and I really couldn't see it. Our pit box was on around the corner so where it happened on corner entry was making sure he was clear, and pretty excited with that.
ROGER PENSKE: You could see there was going to be trouble when everybody dove down getting into 1, and I'm not sure what happened, but it looked like there were two or three people going for the same area.
Q. Mr. Penske, I know you move on from previous seasons, but how much did last season weigh on you when Joey was so dominant and then circumstances take him out?
ROGER PENSKE: You know, I think that as an organization, we talked about it. It's a little bit like going to Indy in '95 and not qualifying walking down to pit lane with 100,000 people watching you go back to your garage a non-qualifier. Those things make your team stronger, and I think based on last year we moved on, and quite honestly, I think Joey and Matt have worked it out on the racetrack, and hopefully personally and professionally they know how to do their jobs.
Q. Roger, you said your biggest disappointment with Smoke was that he didn't run the Indy 500 for you. Does that offer still stand?
ROGER PENSKE: I've got so many drivers I'm looking forward to getting enough cars for them. I think we've got a full house right now, five of them this year. I said I'd never run more than two. I guess you never know.
Q. You've never won the NASCAR and IndyCar championships obviously in the same year. How big a deal would that be?
ROGER PENSKE: Well, that would be a record, which would be amazing for the team. That's quite honestly – when we start and you get into the season and you have success in one series and you see you're competitive in another, believe me, it crosses my mind, but at the end of the day, it's a lot tougher to make it happen, to really execute that.
To be there next week, remember, we're racing against three cars. I think we have as good a chance as anybody unloading there next Friday at Homestead.
Q. Roger, obviously you saw something in Joey which was the reason why you brought him into your organization, but what has impressed you the most since he's joined your organization?
ROGER PENSKE: Well, I can tell you that he's a quality young man. He listens. He motivates his team. I mean, he's there at the shop day in and day out, and there's never been a time we've asked him to do something on or off the track he hasn't done it with a smile. What he's been able to do from a driver perspective, there was quite a bit of noise around his driving style, but you look at how tight he's been running here the last year and a half or two years, he really pretty much stayed out of trouble, and I think he's earned a reputation in the garage area you can race hard with him, and to me that's important.
But more important, I think the person himself, he represents us in a first-class manner, and he can be with us a long time and working together with Brad. I've got to give Brad a shout out here because he's the one that said, look, if we can get Logano, we've got to put our arms around him, and I think Brad had a lot to do with that.
But he's matured, and you have to say that if you go up and down the garage area, at his age, we've got a real winner.
Q. Todd, you guys were one rough pit stop away from maybe having a shot at Miami two years ago. How much better do you feel like is the team in terms of execution? Do you feel like you go into Miami a lot more solid?
TODD GORDON: I do. I thought we were in a good position in '14. Actually I guess the analogy I used right after the fact, and I'll use it again, but we ask pit crew guys to perform at elite levels, and it's no different than LeBron James taking a three-point shot with the buzzer going off. He's not going to make every one, and that's what happened there. We had a situation where the jack man didn't make a three-point shot with the buzzer going off.
[adinserter name="GOOGLE AD"] We're in a great position. We've got great leadership in the whole pit crew. We've got a lot of continuity of guys. They've been together for a while, good experience, and they're clicking. We had a great weekend last weekend on pit road. I think our worst stop was 11.3, and we had a good day on pit road again today.
Momentum drives all of sports, so I look forward to where the momentum of our pit stops have gone and where our race team is. I think we've had speed, we're building speed as the Chase has gone on, and I felt like last week at Texas we had the best car. We didn't perform and execute the middle of the race – I probably called him with a green flag pit stop cycle that I got beat on, honestly. I got beat on. Our car was better. We just need to get back to it.
I love that we've got speed. I love that our pit crew has got confidence, and our race team has got confidence. On top of that, we've got a guy that's a closer. I think Joey elevates when pressure gets put on him. A lot of those things, you look at it, and it makes it very optimistic about what we can do next week
THE MODERATOR: We are now joined by Joey Logano, driver of the No. 22 Shell-Pennzoil Ford for Team Penske, who not only won today's Can-Am 500, but he punched his ticket to Miami in the Championship Four. How sweet is that feeling?
JOEY LOGANO: I don't think I can put it into words. I'm still excited about it. I'm still yelling and screaming down in victory lane. This isn't just a race. This is a championship. We raced today like it was Homestead because we had to, and what an amazing feeling to be able to succeed under that amount of pressure and to have a race team that is truly better under pressure. I couldn't be more proud of that, and to have the opportunity to have the pressure on us.
Think about that. There's not many race teams who have the opportunity to feel that weight on their shoulders, and that's special to have that and to be able to execute under that. A lot of people crack in those situations, and this team doesn't.
You think about this race and the way it was turning out there, the first part of it, I was like, we're doing really good. We're in good shape here, and then next thing I know, all the cars that weren't super fast in the beginning have passed me. I'm like, oh, shoot, we're out, and it was going to be so close there at the end racing Kevin with two to go to try to get ourselves through, and next thing you know the caution comes out and the whole game changes and next thing you know we find ourselves as the leader and we win the race. That's NASCAR racing at its finest. You never know what's going to happen. It's so exciting. You've always got to head your keep in it because it's unbelievable. It's crazy.
Q. What was going through your mind as you kept going back one spot after the next? I think it was about lap 305, Kevin has got to your inside, and it's like getting really dicey there and Kyle is ahead of you and you've got to know where the points are. What are you thinking?
Joey Logano with the winners trophy
Ralph Garcia/AR1.com
JOEY LOGANO: Oh, no. You know, it was just really push as hard as I possibly can. That's where I was. I was trying so hard not to make a mistake. The intensity level is so high. Our car, we didn't get faster the last run and other cars did, and we may have actually gotten a little bit slower. At that point, it's just, you've got to hold them off, and there's so much going through your mind on where everybody is at and what the situations are. Okay, am I racing this guy, and is he fast enough to go past the guy that I need to. The 88 is coming, and I'm thinking, oh, man, he can go past the 18, do I need to let him go to make sure that happens, is the 4 fast enough to pass the 18 up there and do I just hold him off, and I was in that position. And it's not a fun position to be in, I can promise you that. I went to the spot and said, I've got to take matters into my own hands and not expect somebody to go up there and make a pass. I can't affect that.
It was push as hard you can and go and hold off the 4, which was awesome how clean Kevin raced me. That was a lot of fun with that much on the line that we can race like that. That's special. Kevin and I have, I guess, been through our stuff, but it's cool to see how we race each other now, and it goes back and forth every single weekend. It's not a surprise, but it is cool to see that.
Man, we're going to Miami now. How about that? I'm still stoked.
Q. Talk to me about that second-to-last restart when Alex and Matt got together. What was going through your mind when they just started spinning going into 1?
JOEY LOGANO: I kind of seen it coming. The 88 or – who was in front of me, the 20 there, we had a decent restart, and so did the 88, but he spun his tires a little bit, and I saw Kyle getting a run on him, and I was like, oh, boy, and I knew Kyle was going to go three wide. He had to. He's racing for a championship. That's the desperation that sets in.
I saw him go for the block, and then I saw how hard he drove in, and I said, this ain't going to work, so I started checking up really early because I seen it coming, and I just made sure, I was like, man, I just got to make sure I get underneath it because they're going to come washing up the racetrack pretty quick here, and I was able to get up underneath him and be able to clear him and ultimately take the lead in that moment.
Q. You guys were so good last year throughout the whole season and then didn't, obviously, end the way you wanted it to. This year you guys were competitive, but you didn't put up the stats like you did last year. Now all of a sudden you guys, you looked like you did last year again. What's been the difference in recent weeks that's enabled you guys to do that?
JOEY LOGANO: You know, this sport just goes through cycles. You know, there's times that you're really fast, and there's times that you just don't have it, and other cars get faster, and it goes through these cycles. Well, we're peaking at the right time, which is a good sign. We've had some speed the last three races.
You know, Texas being one of our best races of the year and going to a racetrack that's very similar to that makes me excited that we know what it takes to go down there to make it happen this week, to go fast at least, and I feel like as a race team, this team knows what to do to win a championship.
We've been through it once before. We've been able to take a lot, and I've been saying this throughout the whole Chase, that I hope that we're in that same situation again because I know how to handle it. Today we were in that situation, and we won the race. Talladega, we were in that situation, and we won the race. I can't wait to put my team in that situation again.
Q. I was actually going to ask you about the wedding ring. How does this keep happening, and is it time to –
JOEY LOGANO: Hey, this has almost lasted two years. This one has lasted pretty long. It's a survivor today.
I don't know, I know I had it before I got out of the car, and I don't know, after that, I was so excited, my hands were wet, and it just kind of slipped, I guess. I don't know. I was actually sitting down doing an interview with Claire, and I sat down, and I usually play with my ring a lot, and I looked and I said, oh, no, my ring is gone. Not again. And it's that same feeling when I lost it the first time. I was like, oh, no, my ring is gone. But at least we found it this time. That's really cool. That's good. Good thing she doesn't lose her ring. My ring don't cost that much.
Q. Coming down to the end of the race, Kevin Harvick was breathing down your neck. You guys have had a history in the past. Did you have a feeling in the back of your mind that "Harvicking" was going to come into play?
JOEY LOGANO: Uh-uh. No, as I talked about earlier that we raced each other so clean, and I thought it was so cool how we were able to do that. It's been like that all year. It's really been like that for years at this point. We've raced each other with a lot of respect back and forth.
Not a surprise, but really cool to be able to race like that with so much on the line.
Q. Does winning today give you the upper hand going into Homestead next weekend with all that momentum, all that excitement?
[adinserter name="GOOGLE AD"] JOEY LOGANO: We've got momentum. There's a lot of excitement. It gives you that feeling, I remember when we got through a couple years ago to Miami, and I remember standing out here, and I think we finished third or fourth that day, and I was like, you know, I wasn't as excited. I was immediately nervous right after the race here.
This is not that feeling. This is that feeling that, hey, we've got confidence. I know we can do it. It wasn't the, I don't feel like it's a long shot like it was last time. It was my first time there, I'm racing for a championship, oh, my God, what's going to happen. This time I feel like we've been here before. We've been in these situations.
Q. Will you sleep, relax, go to the beach early? What will you do to prepare yourself for Sunday?
JOEY LOGANO: Well, I know they have a heck of a media tour, so being home is probably not going to be part of it by the time I get home tonight. I'll get some sleep and some rest for sure, but I make sure we enjoy this moment, and I've got to be able to still have a life outside of this. It's an amazing opportunity, yes, but you can also stress yourself out and be whipped before the race starts.
My wife Brittany helps me a lot with that. She's more happy go lucky than I am, so we have some fun together, and we'll be able to enjoy this week.
Q. Talking about that experience from a couple years ago, what did you learn in going through this, the championship week, the championship weekend? Looking back, what can you do better than what you did two years ago and learn from?
JOEY LOGANO: Yeah, I don't think it's just me. I think the whole race team. You know, I remember last time I was calling Todd, what else can we do, is there anything else, and you get so – I guess you're looking at every little detail, as you should, but you've also got to be able to turn it off, and that's where I didn't do that before. We didn't do a bad job last time we were down there. We had a fast car and it wasn't awful. We were doing what we had to do.
But I think it's approaching it like it's a normal weekend, know what I mean? We race to win every week; why should we race differently for a championship, right? We're racing to win that race, and that's ultimately going to have a championship attached to that. We've just got to do the same thing we did this weekend. We've got momentum. We've won multiple races. We've got on rolls before where you've got that momentum and that confidence and it just keeps stacking up like it did last year, and we're in good position to do that again.
Q. Were people telling you two years ago to just treat it like every week, but were you thinking, no, you can't?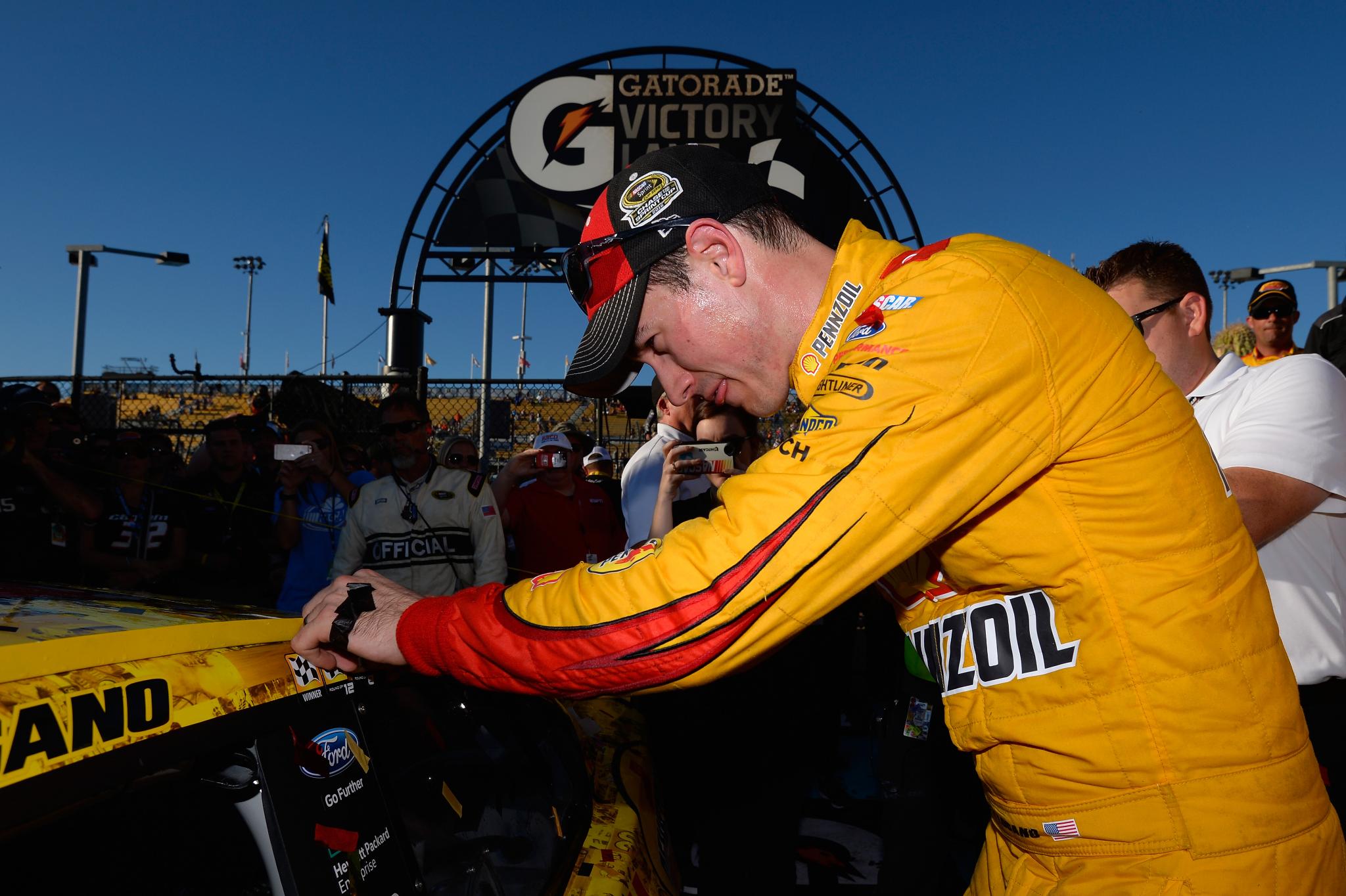 Joey Logano adds a winners decal to his No. 22 Ford
Robert Laberge/NASCAR via Getty Images
JOEY LOGANO: I heard that, and I said, yeah, okay. Yeah, sometimes you've just got to live through things once. And then after the race, everyone told me, you've got to lose one to win one, and I thought that was the biggest crock of crap I've ever heard in my life, but you know what, it's not the fact that you have to lose one to win one, it's the fact that maybe it really helped me to just live through it once, and since then, we've been in those situations. We raced today for a championship. We raced in Talladega for a championship. We've done this before.
After Homestead was the first time we ever had to do that. You think about the way that Chase went, you know, we've won races in each round, where we never really had our back against the wall or anything. These last few years we've been in the position that we've had our back up against the wall and had to win, and we've been able to do that this year a couple times, so it's really cool.
Q. Someone asked your crew chief earlier how he thought this team was compared to a couple years ago, and I just wondered what your take is. He seemed to think that you're a much different, better team than you were a couple years ago.
JOEY LOGANO: Yeah, we are. We have experience now. We've been together for four years or so. We've gone through hard situations together as a team, and not much has changed. And our pit crew has been really on it the last few weeks, and that's a lot of fun to be able to come down pit road and have that confidence that you're going to gain spots. That's pretty fun to be a part of it, as well.
Our team does a good job of keeping their head straight, and that comes a lot from Todd. Todd is really good at that. The intensity picks up and usually I can get a little bit more emotional inside the car, not that I feel like I'm one of the most emotional guys, but I think obviously through situations my intensity picks up when it comes to Chase time because I want to find that next level, and I feel like our whole team wants to find that next level, but we're able to find that mode inside you to find that level, but also be able to execute and not overdo it.
A lot of times you can search so hard to try to get into that beast mode or whatever you want to call it, and you can overdo it. Our team is able to I feel like reach that ultimate peace of mind that you need to be able to go out there and execute at a high intensity level, and they were able to do that, which is really cool.
Q. Joey, Team Penske won a championship a couple years ago with Brad when you guys were driving Dodges or when those guys were driving Dodges. But Ford hasn't had a championship since 2004; is that something you guys talk about or think about?
JOEY LOGANO: Yeah, we want to win it for everybody, not just for Ford. We want to win it for Roger and his 50th anniversary. The IndyCar guys already did it, and it would be really cool if we can do it. The XFINITY car has got a shot. This car has got a shot. We can have an amazing 50th anniversary of Team Penske if we have a good Miami next week, which how cool would that be. Winning anything for the Captain is special, especially when you see today Edsel is here and Pericak and all the Ford execs and how excited they are to make sure they have a car in the Ford Championship Weekend next week. That's important to have a Ford in that, and the guys need to be able to come through and give them that opportunity, and it may be even more special to be hoisting that trophy up. It's hard to keep your mind from wandering a little bit even as I'm sitting up here and wondering what that moment can be like, but we've got to stay focused on the prize right now.
Q. Have you and your crew chief already picked the car that you want for Homestead, and how comfortable do you feel with what you may have picked?
JOEY LOGANO: I don't know. In all honesty, it doesn't matter to me. In all honesty, Todd probably doesn't know where that car has raced before. It's just the way these Team Penske cars are built. They're all the same. They're all the same. There's not a special car for Miami. There's not a special car for today or three weeks ago. We bring the best we can possibly build. We're going to have that. But I don't know the history of the car or anything like that. They all start the same. Brad may have raced it or Blaney may have raced it at some point for all I know.
I don't get in the middle of that conversation. That doesn't help my team any bit at all really because that doesn't – if I'm thinking about that, I'm going to not be as good of a race car driver, thinking about bringing the best car to the racetrack and it should be this one or that one. That's Travis and Todd and Mike and Tim, everyone coming together and making those decisions. I've just got to drive the piece they give me.
[adinserter name="GOOGLE AD"]