Joey Logano Wins at Phoenix to Advance in the Chase
Joey Logano wins at Phoenix
Ralph Garcia/AR1.com
Two corners.
Two corners were all that separated Matt Kenseth from the checked flag and an automatic bid into the Championship 4 next Sunday at Homestead-Miami Speedway.
Instead, it was Joey Logano securing the victory and advancing to the final round while Kenseth saw his title hopes flattened after getting walled during an overtime restart, denying him a chance a second Sprint Cup title.
Logano held off Kyle Busch on the second overtime restart and collected his third win of the season in a wild finish that saw Logano and Busch fight it out for the final spot, and in the end – they both advanced anyway. Kyle Busch finished second to earn the last spot in the Championship 4, joining Logano, Jimmie Johnson and Carl Edwards.
Two years after making his first Championship 4 and just a year after his title hopes ended with a crash in the fourth-to-last race at Martinsville, Logano is back in the final four looking for a shot at his first-career Sprint Cup championship.
"It was incredible. What a fun race. That last restart was crazy," said Logano. "I knew it was going to be and there were a ton of scenarios playing out with the 4 (Harvick) and 18 (Kyle Busch) and myself and the restart before that with the 20 (Kenseth) up there.
[adinserter name="GOOGLE AD"] "Everyone was racing for a championship. This wasn't just a race. This was for a shot at the championship next week. The 22 car is going there and we have a hell of a shot at it. I couldn't be more proud of the team executing today under pressure. There is no way you could put more pressure on them then they had today. I couldn't be prouder of them for giving me the opportunity to do what I can on that last restart.
"This feels so good. I've never felt this good about a win before. There was so much on the line and everyone brings their A-game when it comes to winning championships and this team did it."
With five laps to go, Logano was hanging onto his championship hopes for dear life. 15 minutes later, he was in Victory Lane.
But what a crazy 15 minutes it was.
Logano and Kyle Busch had fought door to door for almost the entire final 30 laps of the race looking to stay ahead of the other one for the final transfer spot. Logano was ahead of Busch in the standings and held a tie-breaker, but it was all moot if Busch finished ahead of Logano.
With 13 laps to go, Busch worked his way around Logano while Bowman made his way to second, putting Busch and Logano into a tie for the final spot.
While Logano held a tiebreaker over Busch, he was in danger of losing fourth spot to Harvick who was closing in from fifth place, which would knock Logano from the Chase.
But good luck smiled on Logano and Kyle Busch – at Matt Kenseth's expense.
Having led the last 54 laps, Kenseth was on the backstretch looking for the white flag – which would have clinched the victory – when the yellow flag came out for Michael McDowell's crash in turn three, setting up an overtime finish.
Kenseth chose the outside line while Alex Bowman – driving the no. 88 Chevy on place of Dale Earnhardt, Jr. – chose the inside. Behind them – Logano and Kyle Busch, tied in points for the last spot in the Championship 4.
On the restart, Bowman didn't get as good a jump as Kenseth and Kyle Busch tried to take advantage, diving inside to challenge him for the second spot.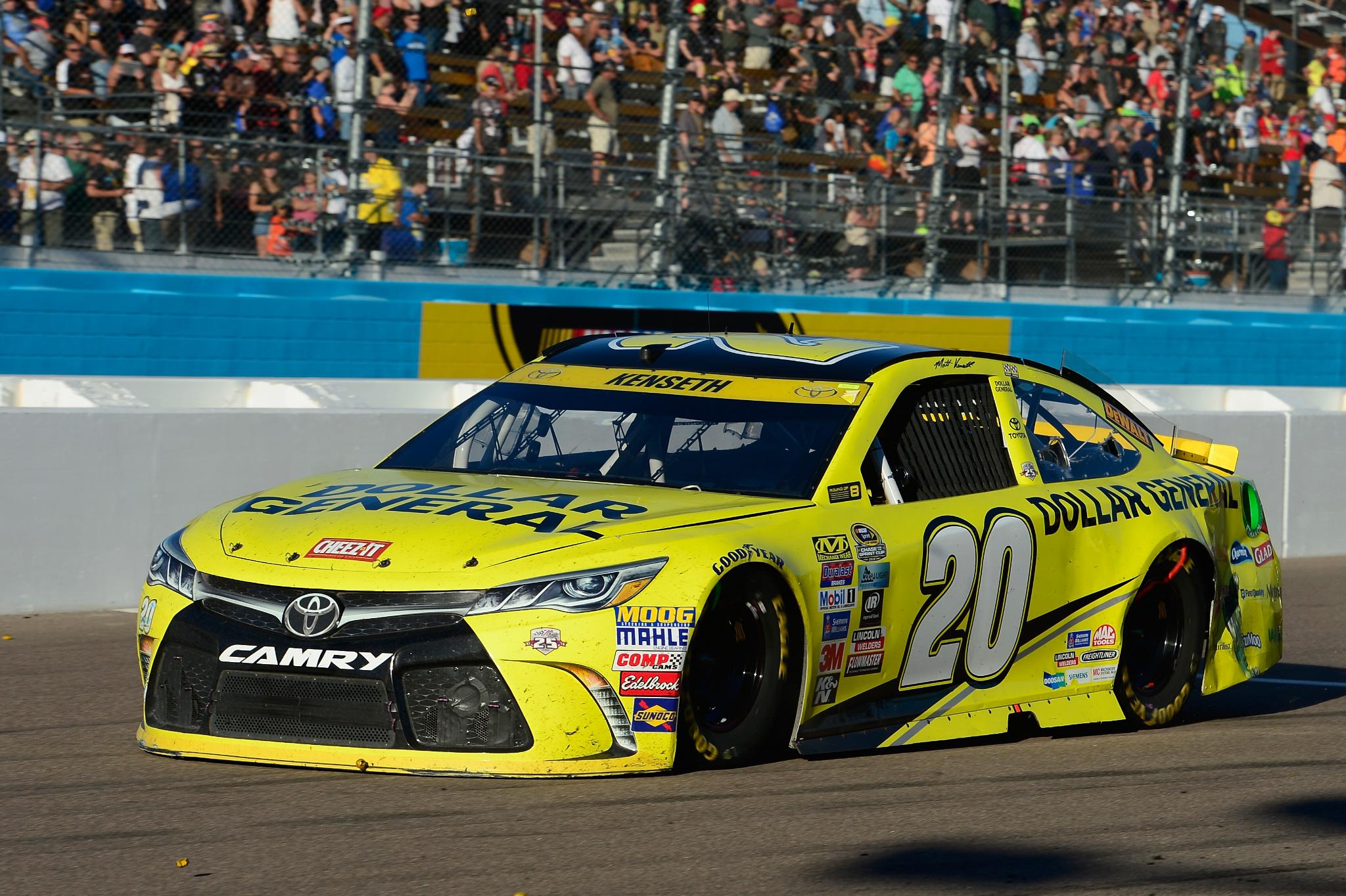 Matt Kenseth was eliminated after a crash on a late restart
Robert Laberge/NASCAR via Getty Images
Bowman saw the move coming and came down to block, got loose of the nose of Busch's car, and got into the left rear of Kenseth, sending the race leader into the wall.
Logano inherited the top spot with Kyle Busch in second followed by Harvick and Larson.
On the restart, Logano dived down in front of Kyle Busch as the field entered turn one, and that was all he needed as he held off Busch to win by more than six car-lengths.
Logano and Kyle Busch had raced their way into the Championship 4, but for Kenseth, the Chase was over.
"I don't really know what happened," Kenseth said of the crash. "I just got through the gears and it was the last restart of the day and I knew they had more than a car length behind me so I just got going and tried to get going early. The spotter said I was clear and I came to the bottom in turn one because I certainly wanted to be at the bottom and be in front of him going into turn two and then I was in the wall. I don't really know any more than that."
"It's really disappointing that we don't get to go to Homestead and race for a championship, but the guys did everything perfect today – it's the best car I've had at Phoenix probably ever. They had good pit stops today and we were competitive. We all as a group did the job that we needed to do to be in position to win that thing. It's unfortunate the way it worked out."
Kyle Busch, who famously side earlier in the week he would take out a teammate to advance to the final four, took some of the blame for the crash that took out Kenseth.
"It's really unfortunate and devastating to have the race come down like that," said Busch. "I got a little bit better restart than the 88 (Bowman) did and I felt like I had a run on him and had enough that I got to the inside and if he chopped me he was going to get wrecked and that's what happened, but it carried on into the 20 (Kenseth) and essentially I guess I wrecked a teammate. It's so frustrating and aggravating and I feel horrible about it. It's a shame to see it come down like that."
Kenseth joins teammate Denny Hamlin among the four drivers who were eliminated from title contention, along with Harvick and Kurt Busch. Harvick's end to his championship run marks the first time he's been eliminated under the new Chase format.
Race Results
| | | | | | | | | |
| --- | --- | --- | --- | --- | --- | --- | --- | --- |
| Pos. | # | Driver | Make | Start | Laps | Led | Status | Points |
| 1 | 22 | Joey Logano | Ford | 4 | 324 | 58 | Running | 44 |
| 2 | 18 | Kyle Busch | Toyota | 19 | 324 | 0 | Running | 39 |
| 3 | 42 | Kyle Larson | Chevy | 2 | 324 | 0 | Running | 38 |
| 4 | 4 | Kevin Harvick | Chevy | 6 | 324 | 0 | Running | 37 |
| 5 | 41 | Kurt Busch | Chevy | 12 | 324 | 0 | Running | 36 |
| 6 | 88 | Alex Bowman | Chevy | 1 | 324 | 194 | Running | 0 |
| 7 | 11 | Denny Hamlin | Toyota | 5 | 324 | 4 | Running | 35 |
| 8 | 21 | Ryan Blaney | Ford | 8 | 324 | 0 | Running | 33 |
| 9 | 24 | Chase Elliott | Chevy | 3 | 324 | 0 | Running | 32 |
| 10 | 27 | Paul Menard | Chevy | 20 | 324 | 0 | Running | 31 |
| 11 | 1 | Jamie McMurray | Chevy | 9 | 324 | 0 | Running | 30 |
| 12 | 31 | Ryan Newman | Chevy | 15 | 324 | 0 | Running | 29 |
| 13 | 5 | Kasey Kahne | Chevy | 13 | 324 | 0 | Running | 28 |
| 14 | 2 | Brad Keselowski | Ford | 14 | 324 | 0 | Running | 27 |
| 15 | 14 | Tony Stewart | Chevy | 25 | 324 | 0 | Running | 26 |
| 16 | 16 | Greg Biffle | Ford | 24 | 324 | 0 | Running | 25 |
| 17 | 47 | AJ Allmendinger | Chevy | 18 | 324 | 0 | Running | 24 |
| 18 | 13 | Casey Mears | Chevy | 22 | 324 | 0 | Running | 23 |
| 19 | 19 | Carl Edwards | Toyota | 11 | 324 | 0 | Running | 22 |
| 20 | 38 | Landon Cassill | Ford | 28 | 324 | 0 | Running | 21 |
| 21 | 20 | Matt Kenseth | Toyota | 10 | 324 | 55 | Running | 21 |
| 22 | 43 | Aric Almirola | Ford | 27 | 322 | 0 | Running | 19 |
| 23 | 17 | Ricky Stenhouse Jr | Ford | 21 | 322 | 0 | Running | 18 |
| 24 | 15 | Clint Bowyer | Chevy | 34 | 322 | 0 | Running | 17 |
| 25 | 83 | Matt DiBenedetto | Toyota | 32 | 322 | 0 | Running | 16 |
| 26 | 46 | Michael Annett | Chevy | 36 | 321 | 0 | Running | 15 |
| 27 | 7 | Regan Smith | Chevy | 29 | 321 | 0 | Running | 14 |
| 28 | 6 | Trevor Bayne | Ford | 23 | 321 | 0 | Running | 13 |
| 29 | 10 | Danica Patrick | Chevy | 16 | 320 | 0 | Running | 12 |
| 30 | 44 | Brian Scott | Ford | 33 | 319 | 0 | Running | 11 |
| 31 | 23 | David Ragan | Toyota | 31 | 319 | 0 | Running | 10 |
| 32 | 34 | Chris Buescher | Ford | 30 | 318 | 0 | Running | 9 |
| 33 | 32 | Jeffrey Earnhardt | Ford | 35 | 318 | 0 | Running | 8 |
| 34 | 95 | Michael McDowell | Chevy | 26 | 318 | 0 | Running | 7 |
| 35 | 55 | D.J. Kennington | Chevy | 39 | 316 | 0 | Running | 0 |
| 36 | 98 | Reed Sorenson | Chevy | 38 | 315 | 0 | Running | 5 |
| 37 | 30 | Gray Gaulding | Chevy | 37 | 296 | 0 | Fuel Pump | 4 |
| 38 | 48 | Jimmie Johnson | Chevy | 17 | 296 | 13 | Running | 4 |
| 39 | 3 | Austin Dillon | Chevy | 7 | 289 | 0 | Running | 2 |
| 40 | 78 | Martin Truex Jr | Toyota | 40 | 258 | 0 | Accident | 1 |
[adinserter name="GOOGLE AD"]