Kyle Busch Wins Again In Phoenix Xfinity Race
Kyle Busch
Ralph Garcia/AR1.com
It was just another routine Saturday at Phoenix International Raceway for Kyle Busch.
But nothing else in the Ticket Galaxy 200 was at all ordinary.
All the drama unfolded behind Busch, as eight drivers scrambled for four positions in the NASCAR XFINITY Series Chase's Championship 4 Round at Homestead-Miami Speedway.
Busch led 190 of 200 laps on the way to his 10th NASCAR XFINITY Series victory of the season, his 10th at the one-mile track and the 86th of his career, extending his own series record.
Busch beat runner-up Austin Dillon to the finish line by 6.115 seconds. Ricky Stenhouse Jr. ran third in his first XFINITY Series start since 2013.
"It means a lot," said Busch, who won his 170th race across NASCAR's top three touring series. "That's what we set out to do tonight, and we've been really fast here at Phoenix.
"We've had some great race cars and Chris Gayle (crew chief) and all these guys do such a great job each and every week preparing these things – and it's fun to win here."
Justin Allgaier and Daniel Suarez secured spots in the Championship 4 with respective fourth and fifth-place finishes, as did Erik Jones, who recovered from a pit road mistake on Lap 93 to finish 10th.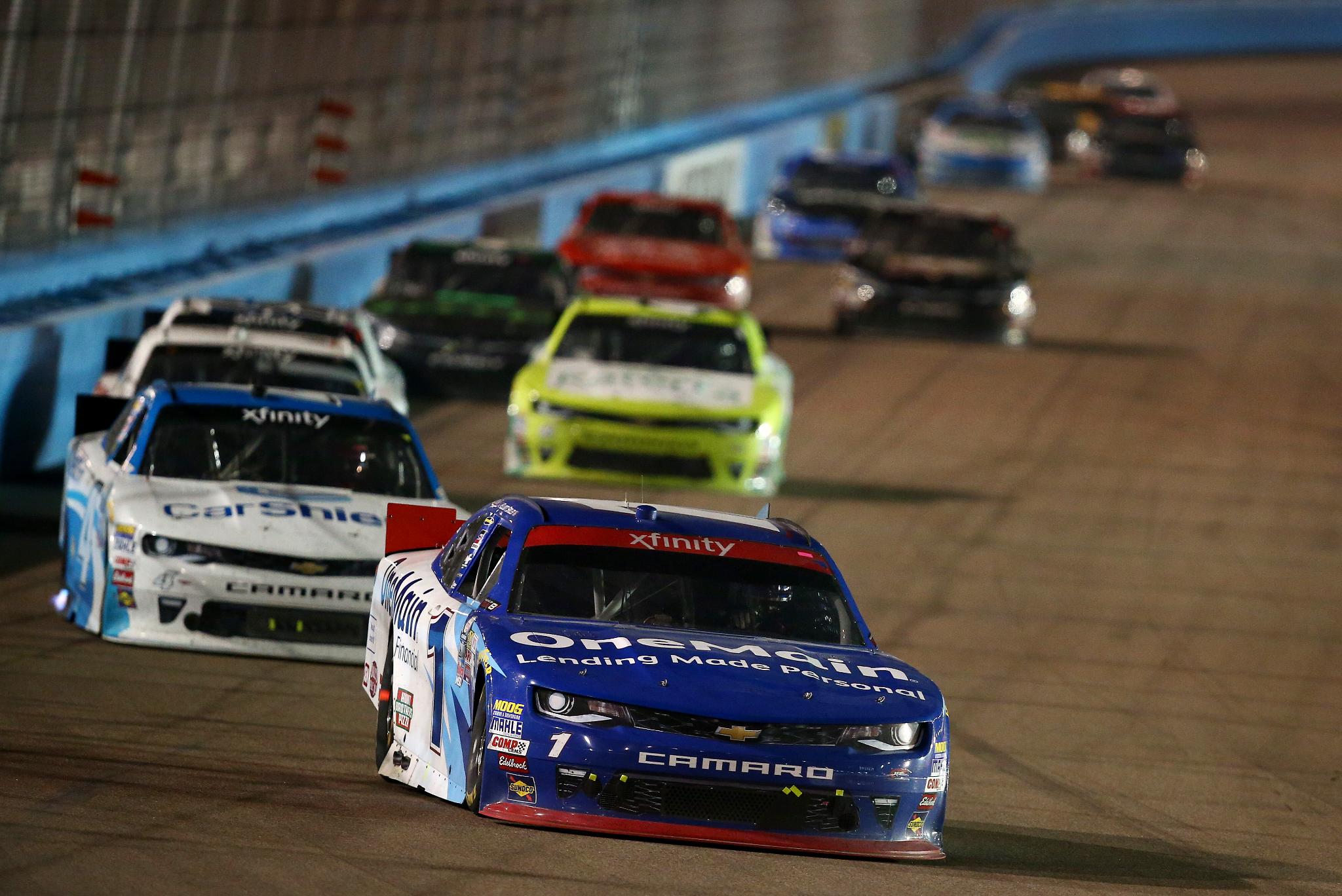 Sadler advanced to the final four at Homestead, but loose lugnuts will cost him his crew chief
Sarah Crabill/Getty Images
But the real tension waited until after the race, when Elliott Sadler sat anxiously on pit road as NASCAR officials decided whether loose lug nuts would cost Sadler, the 13th-place finisher, the services of his crew chief, Kevin Meendering, in the season finale.
NASCAR found two loose lug nuts, and that means Meendering will serve a suspension next week. Sadler did not know who his crew chief will be at Homestead – though he was lobbying, somewhat facetiously, for team owner Dale Earnhardt Jr. to take over the pit box.
"The emotions of the last 30 minutes have been tough," Sadler said. "We knew one was loose, and one was in question. Kevin's pretty much become my best friend, and Kevin's made me a race car driver again this year…
"We've saved our Darlington car – our best car – for Homestead. We've put all our eggs in that car. We've done everything right as a race team to go to Homestead with a legitimate shot of walking away a champion… Now that we know he's going to be suspended, it's going to be tough."
[adinserter name="GOOGLE AD"] NASCAR XFINITY Series Managing Director Wayne Auton said there was never a possibility of Sadler losing his spot in the Championship 4.
"At the end of the race, we bring all the cars down to the entrance of pit road for inspection of the wheels and the lug nuts," Auton said. "We observed that the No. 1 car had two lug nuts not secured to the wheel. With that being said, all the teams were very much aware at the start of the Chase of the violations that could come about.
"We've advised the team that they're going to be looking for a crew chief for next week and a monetary fine of about $10,000. It's clearly in the 2016 NASCAR Xfinity Series rule book."
Blake Koch finished eighth and lost the final Championship 4 position to Sadler by four points. Joining Koch on the Chase sidelines were Ryan Reed, who finished sixth, and Brendan Gaughan and Darrell Wallace Jr., who were wrecked and eliminated before the race was 150 laps old.
Gaughan, who needed a victory to advance to Homestead, was playing fuel strategy when his right front tire went flat on the frontstretch on Lap 138. Gaughan pounded the Turn 1 wall and retired in 35th place.
"It was about to play out the way we wanted," Gaughan said after exiting the infield care center. "Did not want to be the caution. Did not want to hit that hard – but we took a shot."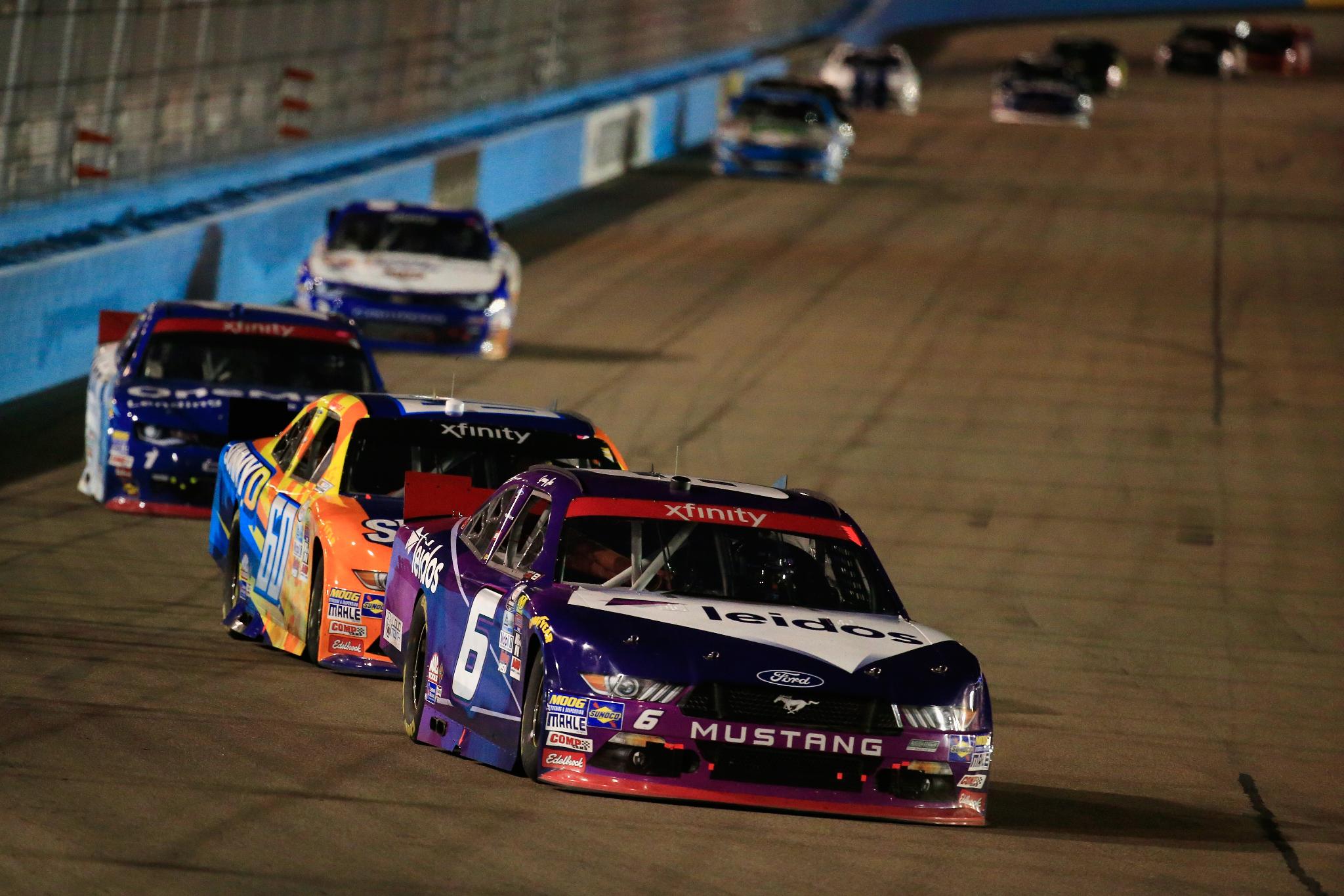 Darrell Wallace, Jr. was eliminated from the Chase after crashing on lap 148
Chris Trotman/NASCAR via Getty Images
Wallace's grandmother had passed away during the week before the race, and the No. 6 Ford carried her name, "Granny Jan," above the driver's door. On Lap 148, Koch ducked to the inside off Turn 4 and knocked Wallace's Mustang into the inside frontstretch wall.
"My grandmother was giving me the ride of my life," Wallace said, his voice breaking with emotion. "That was the most fun I have had all year. Just circumstances took us out. It's just hard. Thanks, Granny, I love you. We will go on to Homestead and let her ride again."
KYLE BUSCH, No. 18 NOS Energy Drink Toyota Camry, Joe Gibbs Racing
Finishing Position: 1st
What does it mean to you to win tonight with Chris Gayle?
"It means a lot. That's what we set out to do tonight and we've been really fast here at Phoenix. We've had some great race cars and Chris Gayle (crew chief) and all these guys do such a great job each and every week preparing these things and it's fun to win here. We appreciate XFINITY and everything that they do for the NASCAR Series here and all the fans and all their support, but this NOS Energy Drink Camry was awesome tonight. I mean, I just can't say enough. We adjusted on it on some pit stops and tried to make it a little bit better there, but this Toyota Camry was really, really fast, so we didn't have to do much to it and great Joe Gibbs Racing power under the hood. I can't say enough about that and DVX Sunglasses – appreciate them – and the XFINITY 1 app. I use that all the time when I'm out eating actually, so used it last night watching the truck race and had some fun with that, so good to see that we've got a truck going to Homestead. Good to see our JGR (Joe Gibbs Racing) boys (Erik Jones and Daniel Suarez) did a great job here and were able to transfer through, so looking forward to watching one of them go win a championship next week."
Does this help you sleep easier before tomorrow's race with a win tonight?
"Yeah, definitely. I mean, it just gives you that confidence and then the tire was definitely way different than I had imagined it was going to be, so I've got some things that I want to talk to Adam (Stevens, crew chief) about and work on some things for our Cup car for tomorrow, but we got a lot better, you know? The weekend didn't start off very well on the Cup side with our M&M's Camry, but we got a lot better as the weekend went. I feel like we're at least at a ballpark now – we've got top-five car, so we'll go race them from there."
What did it mean to win tonight in your last NXS race of the season?
"Our win was pretty good, we certainly set that out to do and accomplish and we were able to do that. Certainly I have to thank Chris Gayle (crew chief) and all my guys at Joe Gibbs Racing and everybody that does such a great job for our cars and for our team. It's cool to see us get a win and it's cool to see the other two being Chase eligible. We've got nothing to really race for next week at Homestead and it's going to be fun sitting back and watching that on the couch and cheering those boys on. I'm looking forward to next year though. It's disappointing to see Chris moving on, but on the other hand it's obviously exciting too so pumped for him, but we definitely accomplished what we wanted to accomplish tonight as if it was our last hoorah together for a while and had some fun."
Why are you so strong in NXS at Phoenix?
"I don't know, I just enjoy coming out west and I really love it out here and this is a really fun race track for me. I've always enjoyed it and the old asphalt and layout and of course the new one as well too for the XFINITY side has really been great. I've taken to it really well. I certainly wish we would be able to figure out why exactly we're so good on Saturdays and be able to apply it to Sundays. Somebody else is doing that right now – certainly have it figured out with (Kevin) Harvick. We've gained on it a lot over the past few years and we've gotten a lot better. I think the JGR cars are top-five capable, but not domination capable like we were here today."
How is your car for tomorrow's race?
"We've gotten a lot better. As (Jeff) Gluck's (USA Today reporter) isn't here to defend himself, he was calling me salty the other day and I was a bit salty – we qualified and we were looking like we would qualify bad and we just didn't have a very good piece. I can't say enough about Adam (Stevens, crew chief), this is the farthest we've ever come in a weekend as far as being so far off to being so good. Really pumped about that and it just goes to show you that you can throw the kitchen sink at it and sometimes it will work and they've certainly done that."
Kyle Busch
Ralph Garcia/AR1.com
What advice will you give Erik Jones and Daniel Suarez for Homestead?
"That's a good thing to talk about with those guys is just what to do next week. That's kind of how I took it last year in what we needed to do at Homestead. We were championship eligible, but of course not a lot of people expected us to be championship eligible so we were just kind of taking it and going with the flow and whatever happens, happens. We'll take what we get and we'll leave everything else and we'll go home. Certainly those guys need to look at the same mindset and they have the same opportunity here and they can't get to psyched out or jewked up or whatever you want to call it and take themselves out of the race. A lot of things can happen and transpire through an XFINITY race at Homestead especially being right up on the wall with these cars. It's a challenging part of the race for those guys and Kyle Larson is in the race so he's going to be a force to be reckoned with for sure and I imagine he will be really, really fast and those guys will be chasing him. And you can't chase that guy that's just a rabbit, he doesn't mean anything in a points race."
Are you aiming for the 200 win number and do you pay attention to that?
"That's what we're shooting for. At the rate that I've kind of had going on for the last few years, I feel pretty good about over shooting that 200 number. It's a goal and it's just a number, it's not a comparison to anybody else, it's just what I've always wanted to do. I've got a lot of trophies at home from racing at the Bullring and everything else and those don't count. It's been fun though to be as successful as I've been with all the different people that I've been with so you can't just say I've had a Chad Knaus that's made me who I am, I've done it with a bunch of different people. It's been Chris Gayle, it's been Adam Stevens, it's been Jason Ratcliff on the XFINITY side and Alan Gustafson, Mike Bumgarner and Chad Walter, Lance McGrew and as time goes on and you start remembering those names. I've been here too long and then you look at the Cup side too and I've won races with every crew chief I've been with so that's been really important for me as well. We'll just keep doing it and keep going and run as many races as they'll let me run until they kick me completely out and we'll just try to take home some trophies."
What do you think of Christopher Bell's chances at the NCWTS championship next weekend?
"It's going to be tough man. I'll tell you what, Homestead is an intimidating place. Christopher (Bell) loves the high side and he loves running the top, but you cannot get in the fence. That's the biggest thing, some of these sprint car guys, they don't know any better, they just want to run it on the cushion as hard as they can and they don't know the consequences of dragging the wall. We'll have our talks and we'll have our debrief and stuff like that from this race on Monday or Tuesday and then we'll plan ahead for Homestead as well in that same meeting. I think Christopher has a great shot and I think we've got great stuff, it's just a matter of getting his head right, keeping it right and not letting him get too jewkey throughout the race for him and (Kyle) Larson is in that one too so we don't have to worry about him going for the win, again he's just a rabbit and you do what you need to do to win your championship whether that's finishing second or whatever it takes."
What does it mean to have Daniel Suarez in the championship hunt as he represents another country?
"It's exciting to see someone like Daniel (Suarez) from another country be successful and have a great opportunity here. He's with a good team with good stuff and he's done a really good job in it. He's won races this year and he flat out beat me and then he went out and won Dover so he's been plenty good to keep himself in contention all year long. I want to take some credit in helping him out, but I won't take it all. Certainly he has to be able to get the job done behind the wheel and I can only tell him what to do, but he has to be able to go out there and do it. It's been fun to watch those guys though and he certainly learned a lot last year and this year and he's been really good at maturing and keeping the car under him and getting better from what he does in practice all the way through the race. He's going to be a really good threat next week and I know (Erik) Jones will be a good threat, but there's two other really good cars too that they have to race for the championship in the XFINITY Series."
CHRIS GAYLE, crew chief, No. 18 NOS Energy Toyota Camry, Joe Gibbs Racing
What did it mean to get this victory tonight?
"Just reflecting on the whole season in general, it's great to go out and we talked about it earlier in the shop this week that we wanted to go sit on the pole, lead the most laps and win the race. It was important to the team with the last time with Kyle (Busch) driving the car, we just wanted to kind of set that statement and when we started out we were pretty dominant this year and there were two or three races that we left on the table with things swinging one way or the other and we could have had two or three more wins so it was good to finalize everything. My last race with him is just an awesome experience, I've enjoyed the last two years."
Race Results
| | | | | | | | | |
| --- | --- | --- | --- | --- | --- | --- | --- | --- |
| Pos. | # | Driver | Make | Start | Laps | Led | Status | Points |
| 1 | 18 | Kyle Busch | Toyota | 1 | 200 | 190 | Running | 0 |
| 2 | 2 | Austin Dillon | Chevy | 8 | 200 | 0 | Running | 0 |
| 3 | 60 | Ricky Stenhouse Jr | Ford | 13 | 200 | 0 | Running | 0 |
| 4 | 7 | Justin Allgaier | Chevy | 9 | 200 | 2 | Running | 38 |
| 5 | 19 | Daniel Suarez | Toyota | 6 | 200 | 0 | Running | 36 |
| 6 | 16 | Ryan Reed | Ford | 3 | 200 | 0 | Running | 35 |
| 7 | 3 | Ty Dillon | Chevy | 22 | 200 | 5 | Running | 35 |
| 8 | 11 | Blake Koch | Chevy | 4 | 200 | 0 | Running | 33 |
| 9 | 22 | Brad Keselowski | Ford | 11 | 200 | 0 | Running | 0 |
| 10 | 20 | Erik Jones | Toyota | 2 | 200 | 3 | Running | 32 |
| 11 | 48 | Brennan Poole | Chevy | 14 | 200 | 0 | Running | 30 |
| 12 | 98 | Aric Almirola | Ford | 17 | 200 | 0 | Running | 0 |
| 13 | 1 | Elliott Sadler | Chevy | 10 | 200 | 0 | Running | 28 |
| 14 | 39 | Ryan Sieg | Chevy | 15 | 200 | 0 | Running | 27 |
| 15 | 42 | Justin Marks | Chevy | 19 | 200 | 0 | Running | 26 |
| 16 | 14 | Cole Whitt | Toyota | 20 | 200 | 0 | Running | 0 |
| 17 | 44 | J.J. Yeley | Toyota | 24 | 199 | 0 | Running | 24 |
| 18 | 33 | Brandon Jones | Chevy | 16 | 199 | 0 | Running | 23 |
| 19 | 28 | Dakoda Armstrong | Toyota | 12 | 199 | 0 | Running | 22 |
| 20 | 4 | Ross Chastain | Chevy | 21 | 199 | 0 | Running | 21 |
| 21 | 46 | Brandon Gdovic | Chevy | 30 | 199 | 0 | Running | 20 |
| 22 | 01 | Ryan Preece | Chevy | 26 | 199 | 0 | Running | 19 |
| 23 | 90 | Alex Labbe | Chevy | 33 | 197 | 0 | Running | 18 |
| 24 | 52 | Joey Gase | Chevy | 32 | 197 | 0 | Running | 17 |
| 25 | 78 | B J McLeod | Ford | 36 | 197 | 0 | Running | 16 |
| 26 | 13 | Brandon Hightower | Dodge | 37 | 196 | 0 | Running | 15 |
| 27 | 25 | Austin Theriault | Chevy | 35 | 196 | 0 | Running | 0 |
| 28 | 97 | Josh Bilicki | Chevy | 40 | 191 | 0 | Running | 13 |
| 29 | 74 | Mike Harmon | Dodge | 39 | 190 | 0 | Running | 12 |
| 30 | 15 | D.J. Kennington | Ford | 38 | 165 | 0 | Engine | 11 |
| 31 | 51 | Jeremy Clements | Chevy | 23 | 150 | 0 | Accident | 10 |
| 32 | 6 | Darrell Wallace Jr | Ford | 5 | 148 | 0 | Accident | 9 |
| 33 | 24 | Corey Lajoie | Toyota | 18 | 148 | 0 | Accident | 8 |
| 34 | 0 | Garrett Smithley | Chevy | 34 | 145 | 0 | Accident | 7 |
| 35 | 62 | Brendan Gaughan | Chevy | 25 | 136 | 0 | Accident | 6 |
| 36 | 07 | Ray Black Jr | Chevy | 27 | 103 | 0 | Accident | 5 |
| 37 | 99 | Jeff Green | Ford | 28 | 90 | 0 | Accident | 4 |
| 38 | 88 | Alex Bowman | Chevy | 7 | 54 | 0 | Accident | 3 |
| 39 | 40 | Timmy Hill | Toyota | 31 | 14 | 0 | Brakes | 0 |
| 40 | 10 | Matt DiBenedetto | Toyota | 29 | 3 | 0 | Vibration | 0 |
[adinserter name="GOOGLE AD"]