Todd, Beckman, Line, Savoie On Pole at Pomona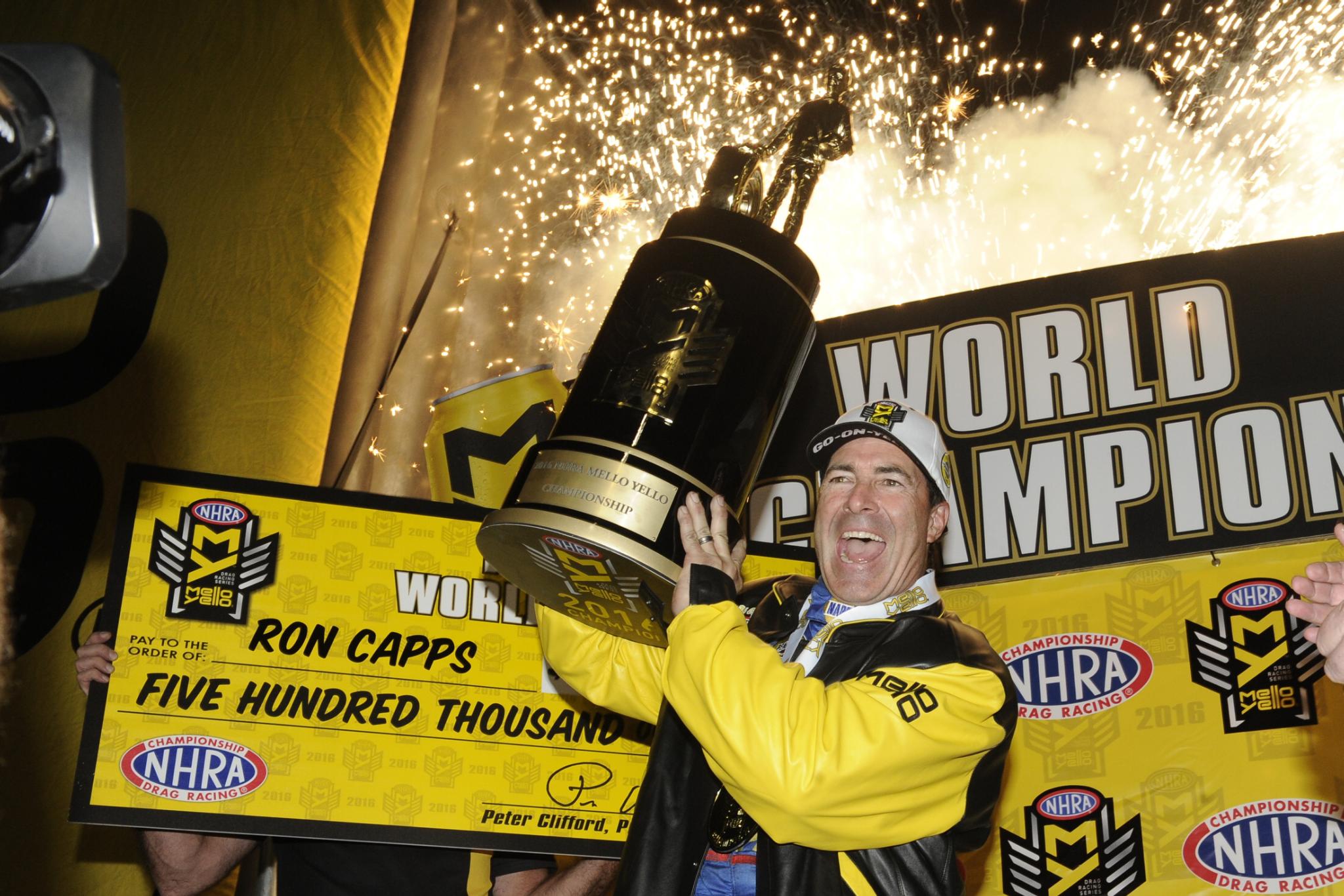 Ron Capps celebrates his first NHRA title
Funny Car racer Ron Capps clinched his first NHRA Mello Yello Drag Racing Series world championship on Saturday at the Auto Club NHRA Finals at Auto Club Raceway at Pomona.
Capps had a 92-point lead over second-place Matt Hagan when qualifying concluded and needed an 81-point lead to clinch. Before being crowned, Capps was the winningest driver, with 50 victories, to have not won a championship.
"I can't even tell you how focused [crew chief] Rahn Tobler has been this year," said Capps, who was the series runner-up in 1998, 2000, 2005 and 2012. "I almost gave up the chance of trying so hard and wishing so hard and just focused on winning races. With all the accolades I got this year – my 50th career win, passing some people I really looked up to in the sport with wins – that's mind-boggling for me. This was the toughest Funny Car class ever and the 50th anniversary of the Funny Car, which was awesome. What a great, great season."
Capps started his quest for the world championship with a win at the season-opening event in Pomona when he defeated 2015 world champ Del Worsham.
He and his NAPA team were a dominate force during a seven race span which began in Epping, N.H., and ended in Sonoma, Calif. During that time he posted victories at Epping, Englishtown, N.J., and Norwalk, Ohio; runner-up finishes at Chicago and Sonoma; and a semi-final appearance in Bristol, Tenn.
In other racing action, J.R. Todd (Top Fuel), Jack Beckman (Funny Car), Jason Line (Pro Stock) and Jerry Savoie (Pro Stock Motorcycle) were No. 1 qualifiers in their respective categories at the 24th and final event of the 2016 NHRA Mello Yello Drag Racing Series season. The Auto Club NHRA Finals marks the conclusion of the six-race NHRA Mello Yello Countdown to the Championship playoffs. Antron Brown clinched the Top Fuel world title two weeks ago in Las Vegas while the Pro Stock and Pro Stock Motorcycle championships are still up for grabs.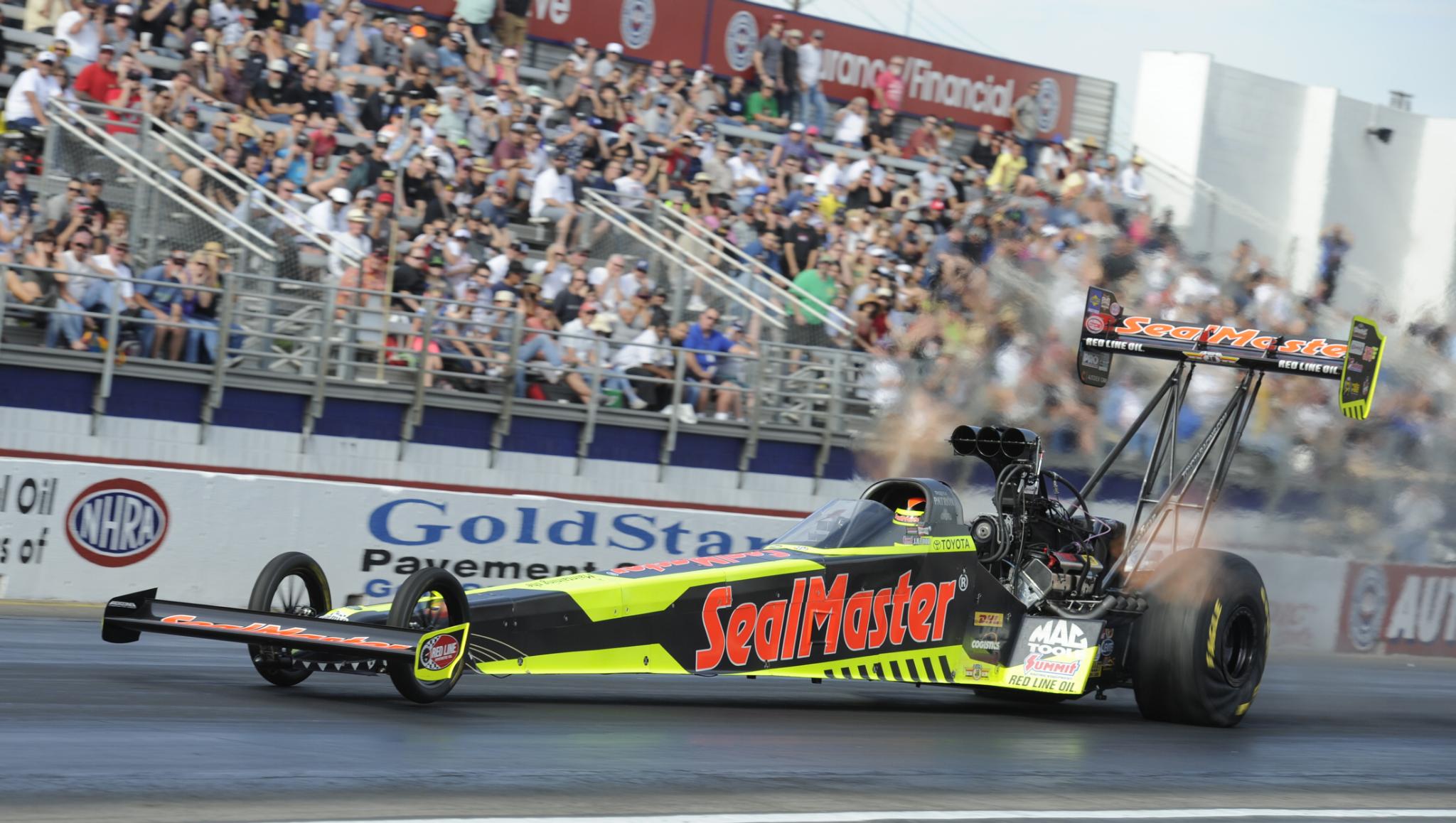 JR Todd
Top Fuel's Todd navigated the track in 3.680-seconds at 327.82 mph to take the No. 1 spot. This is his first top qualifier of the season, ninth of his career and first at Auto Club Raceway at Pomona.
"I thought maybe we would see a run like that last night or in tonight's session, but not in the middle of the day like that with the sun on the track and the temperature up," said Todd, who will look to earn his 10th career victory on Sunday. "It surprised me when I looked up and saw the scoreboard. This thing has been trying to run really well for a long time and here at the last handful of races it's really come together. Hopefully we are going in the right direction for 2017."
Doug Kalitta, Todd's Kalitta Motorsports teammate, qualified second with a 3.709 at 327.90 mph. Defending event winner Shawn Langdon is third and paired with Tripp Tatum while world champion Brown is fourth and matched against Morgan Lucas.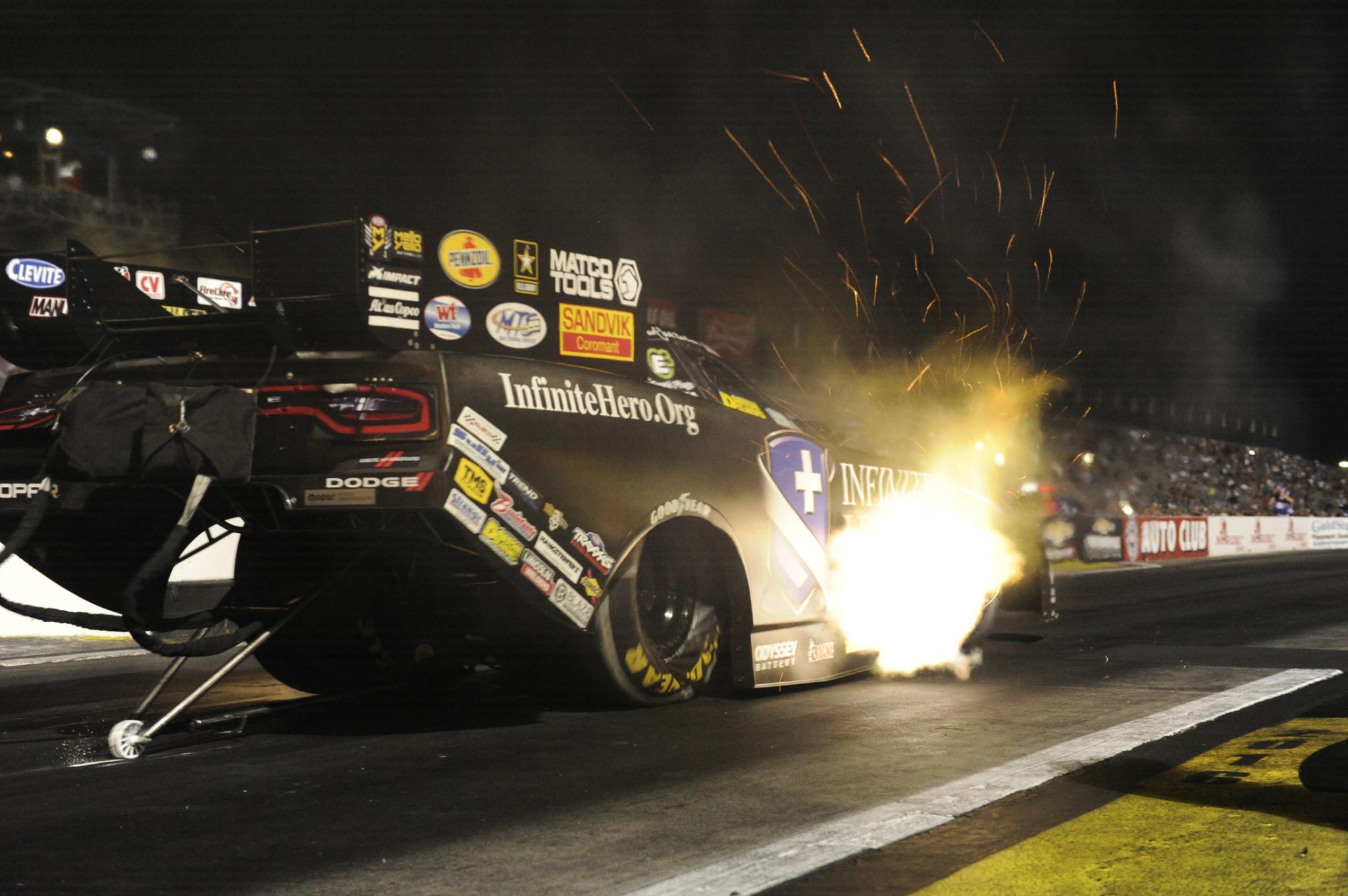 Jack Beckman
Beckman posted the second-quickest Funny Car pass in history when he raced to a 3.825 at 332.10 mph to claim the No. 1 qualifier. Beckman has six No. 1 qualifiers this year and 21 in his career. He will face John Bojec in the first round of eliminations.
"We were the last car down the track but you heard how fanatical the people were who stuck around," said Beckman, the 2012 Funny Car world champion. "I think what made it really special was when we pulled back into our pits, the fans were six deep there and cheering and going crazy because they knew we did something really special. I was just one-tenth of a team that did something really special here."
Courtney Force is second with a 3.869 at 324.83. Tommy Johnson Jr. is third and paired with Dave Richards while 16-time world champion John Force is fourth and set to battle Cruz Pedregon.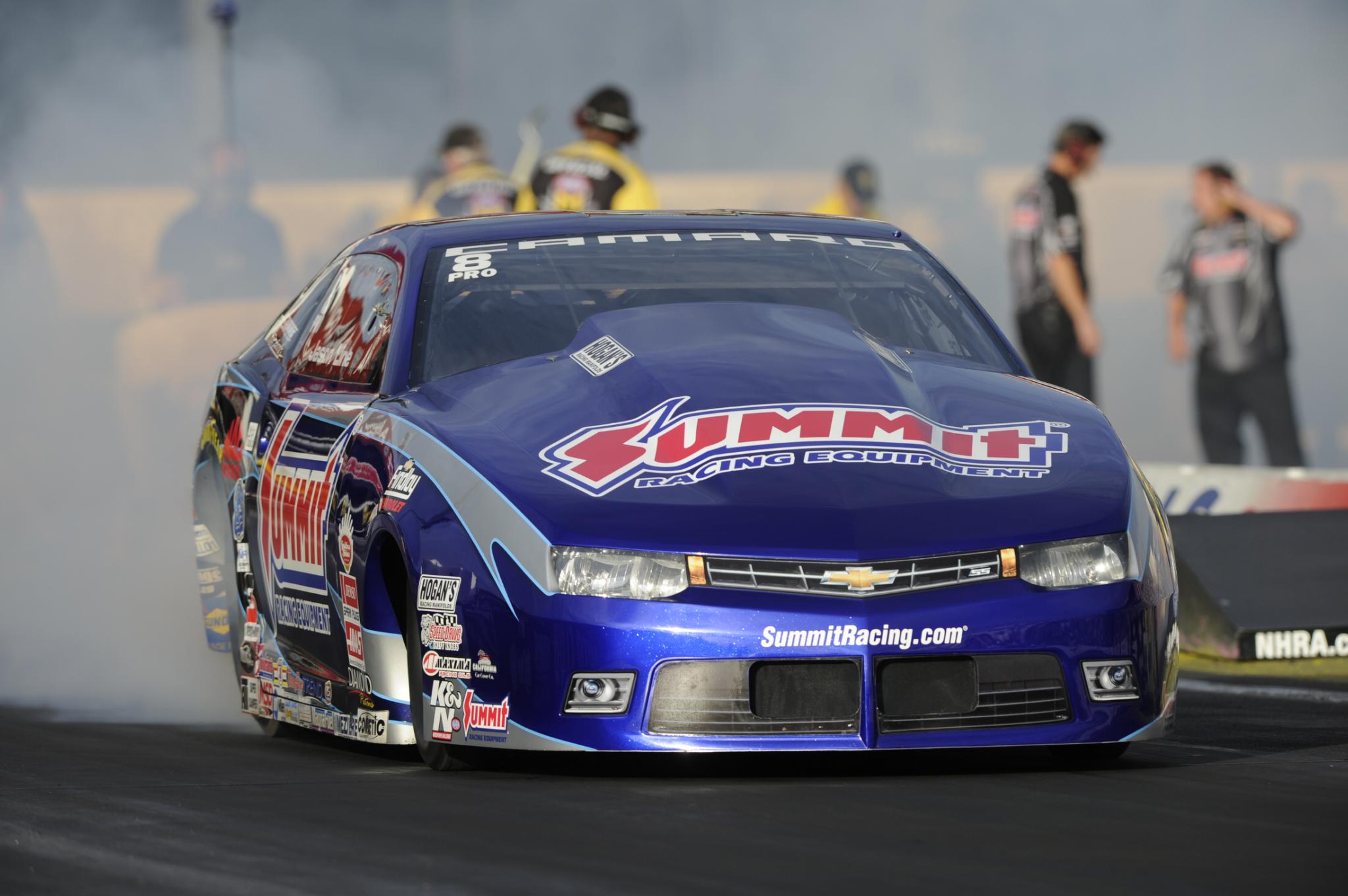 Jason Line
In Pro Stock, Line pushed his Summit Racing Equipment Chevy Camaro to a 6.545 at 211.33 to claim the No. 1 qualifier. This is Line's eighth top spot of the year, 49th of his career and fifth at the Finals. He will begin Sunday's eliminations with a 23-point advantage over teammate and second-place Greg Anderson. Line will race Alan Prusiensky in the first round.
"I'd rather be up 23 points than 19 points," said Line, a two-time world champion and eight-time 2016 event winner. "The runs were nice. My first run this morning was very good and it was actually faster than we thought it could go. I think the track is going to be even better tomorrow. We're pretty happy with everything. [Greg and I] are one and three in the two Summit cars and we have a chance to meet in the final. That'd be a storybook ending and it would be really fun to duke it out in the final."
Bo Butner, teammate to Line and Anderson, is second with a 6.553 at 210.57. Anderson is third with a 6.555 at 210.80 in his Summit Racing Equipment Chevy Camaro and will go heads-up with Seattle winner Aaron Strong. Reading, Pa., winner Vincent Nobile is fourth and St. Louis winner Alex Laughlin is fifth.
Savoie sprinted to his third consecutive No. 1 spot in Pro Stock Motorcycle with a 6.825 at 194.97 on his White Alligator Racing Suzuki. This is the eighth No. 1 of his career and second consecutive at the Auto Club NHRA Finals. Savoie, who raced to victory in Las Vegas two weeks, will open eliminations against Angie Smith. The Louisiana alligator farmer has a four-point lead over competitor Eddie Krawiec and an 11-point lead over Andrew Hines.
Krawiec qualified second with a 6.828 at 196.70. Hector Arana Jr. is third with a 6.856 at 195.51 on his Lucas Oil Buell and will race Fred Camarena, while Hines is fourth and matched up against Cory Reed.
Eliminations for the Auto Club NHRA Finals are scheduled to begin at 11 a.m. on Sunday.
[adinserter name="GOOGLE AD"]