Daniel Suarez Wins First Career NASCAR Truck Race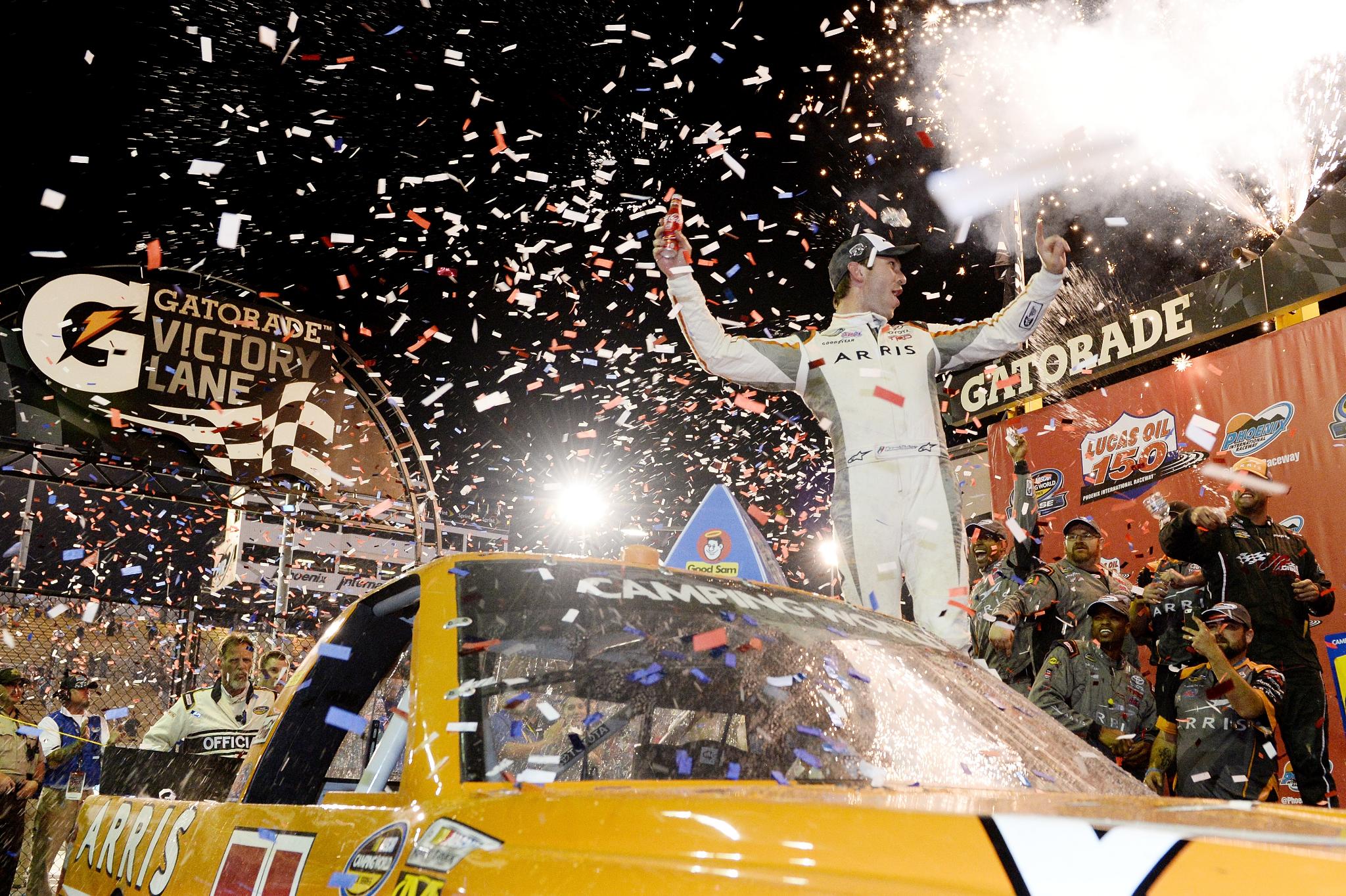 Daniel Suarez
Photo by Blaine Ohigashi/Getty Images
William Byron's bitter disappointment proved a boon for two of his Kyle Busch Motorsports teammates in Friday night's Lucas Oil 150 NASCAR Camping World Truck Series race at Phoenix International Raceway.
When the engine in Byron's No. 9 Toyota expired on Lap 141 of 150 – ending the championship run for the series' most prolific winner this year – Kyle Busch Motorsports teammate Daniel Suarez took over the race lead and went on to score the first NCWTS victory of his career.
Byron's elimination from the inaugural Camping World Truck Series Chase also helped teammate Christopher Bell, who claimed the last berth in the Championship 4 with a seventh-place finish. Bell joins second-place finisher Johnny Sauter, third-place Matt Crafton and fifth-place Timothy Peters with a chance to win the title next Friday at Homestead-Miami Speedway.
Suarez pulled ahead of Sauter after a restart with four laps left and led by .510 seconds when he crossed the finish line for the final time.
"He was running a perfect race and things like this happen," Suarez said of the demise of his teammate, who had led 112 of the first 137 laps before his engine began to fail. "The first victory in any series is always the most difficult to get.
"I'm just very proud of this team for their effort. They've done a really good job all year. I'm very happy that we were able to get the win for KBM and Toyota."
[adinserter name="GOOGLE AD"] Byron's engine issue was sudden and unexpected.
"We had been running hot a little bit the last run – kind of all night," Byron said. "It stayed within 10 (degree) range, but it started to vibrate, maybe the lap before… but it didn't seem like a big deal, then it sputtered and flames came out from underneath the truck."
Saurez Leads
Ralph Garcia/AR1.com
And now Bell will race for the championship instead of the 18-year-old Byron, who has posted a series-best six victories in his rookie season.
Seeking a sweep of the Round of 6 after victories at Martinsville and Texas, Sauter couldn't catch Suarez in the four-lap run to the finish.
"We had a great truck, especially on the long runs," said Sauter, whose No. 21 Silverado is the only Chevrolet in the Championship 4. "Unfortunately, I just could not get going in the short run. I was just extremely loose…
"I knew at the end there I needed to get a really, really good restart, and I didn't get the restart I needed. I've got nobody to blame but myself for that. But I'm just proud of everybody's effort. We just needed to keep pushing. Even though everybody says there's no pressure, there's always pressure – this is racing."
Crafton and Peters were one point apart entering the race and battled in close quarters for most of the race. Until Byron's engine blew, they were contesting the final position at Homestead until Bell fell back on a late restart.
"There wasn't a lap that wasn't tense," Crafton said. "We just raced hard from the beginning to the end."
DANIEL SUAREZ, No. 51 ARRIS Toyota Tundra, Kyle Busch Motorsports
Finishing Position: 1st
How does it feel to win your first NCWTS championship and clinch the series manufacturer's championship for Toyota?
"I guess it was about time to get a little bit of luck. We had a lot of second-place finishes and this team, KBM (Kyle Busch Motorsports) works very hard. What a better way to clinch the Toyota manufacturer's championship with this victory. I'm very proud of my team, proud of Toyota and proud to be a part of this family. Very proud to be talking to you right now."
Saurez in the press conference
Ralph Garcia/AR1.com
How were you able to take over the lead to earn the victory and did you know William Byron had issues?
"I didn't have any idea about the 9 (William Byron), I feel very bad for Byron because he had the best truck out there and did an amazing job. He was running a perfect race and things like this happen in racing I guess. I feel bad for him, but I'm glad at the end of the day we were able to get the win for KBM (Kyle Busch Motorsports), Toyota and for everyone that helps this program to be here right now – ARRIS and those that have helped me."
How were you able to win the race?
"The first victory is always the most difficult to get and it seems like we keep getting them more and more and that's what is happening. I'm proud of this team for the great effort. They've built very fast trucks and William Byron has had a lot of wins and things like this are unfortunate. I'm very happy that we were able to get the win and clinch the manufacturer's championship for Toyota."
Were you concerned about your tire strategy as the race came to a close?
"I feel like my truck was really good in the middle of the run, like after three laps it was really good and then in the very long run it was good, but not great. The 21 (Johnny Sauter) was better. I knew that if we're going to have a restart that it would be on the point."
Will you be somewhat conservative tomorrow knowing a 15th place finish will get you to Homestead in NXS?
"I'm not that kind of driver, I want to go out there and try to be competitive and try to do exactly the same thing we've been doing in the last month and a half. Somebody told me today that our average finish since we started the Chase is 2.9, which is something really good and I didn't know that. I will try to keep it up and try to do the same thing. We don't have to step back for any reason, we just have to keep pushing and continue our momentum because that is the way to do it for tomorrow and for next weekend."
KEVIN 'BONO' MANION, crew chief, No. 51 ARRIS Toyota Tundra, Kyle Busch Motorsports
Is it tough knowing that your teammate's misfortune somewhat led to this victory?
"Sometimes you need a little help and the 9 (William Byron) with Rudy (Fugle, 9 crew chief) and those guys are a great team and great teammates and champions for sure. Tonight was our night and we were really close this year, Bristol we thought was real close and we had a tire go down. It's a good win and proud to support Toyota and ARRIS and good to hear that they wrapped up the manufacturer's championship tonight – that's pretty cool being part of that and helping. Like Daniel (Suarez), this is also my first Truck Series win so that's pretty cool. I talked to Kyle (Busch) last year about some things and he offered me the job and just the opportunity to make it back to victory lane with a competitive team, manufacturer and everything is my sole decision on why I chose to come here and I'm really happy about that."
Race Results
| | | | | | | | | |
| --- | --- | --- | --- | --- | --- | --- | --- | --- |
| Pos. | # | Driver | Make | Start | Laps | Led | Status | Points |
| 1 | 51 | Daniel Suarez | Toyota | 2 | 150 | 34 | Running | 0 |
| 2 | 21 | Johnny Sauter | Chevy | 4 | 150 | 0 | Running | 31 |
| 3 | 88 | Matt Crafton | Toyota | 10 | 150 | 0 | Running | 30 |
| 4 | 13 | Cameron Hayley | Toyota | 7 | 150 | 0 | Running | 29 |
| 5 | 17 | Timothy Peters | Toyota | 8 | 150 | 0 | Running | 28 |
| 6 | 8 | John Hunter Nemechek | Chevy | 6 | 150 | 0 | Running | 27 |
| 7 | 4 | Christopher Bell | Toyota | 5 | 150 | 0 | Running | 26 |
| 8 | 11 | Matt Tifft | Toyota | 17 | 150 | 0 | Running | 25 |
| 9 | 33 | Ben Kennedy | Chevy | 18 | 150 | 0 | Running | 24 |
| 10 | 00 | Cole Custer | Chevy | 12 | 150 | 0 | Running | 23 |
| 11 | 98 | Rico Abreu | Toyota | 3 | 150 | 0 | Running | 22 |
| 12 | 29 | Tyler Reddick | Ford | 13 | 150 | 4 | Running | 22 |
| 13 | 19 | Daniel Hemric | Ford | 15 | 150 | 0 | Running | 20 |
| 14 | 41 | Ben Rhodes | Toyota | 9 | 150 | 0 | Running | 19 |
| 15 | 2 | Austin Cindric | Ford | 21 | 150 | 0 | Running | 18 |
| 16 | 18 | Noah Gragson | Toyota | 14 | 150 | 0 | Running | 17 |
| 17 | 22 | Myatt Snider | Toyota | 19 | 150 | 0 | Running | 16 |
| 18 | 16 | Stewart Friesen | Chevy | 20 | 150 | 0 | Running | 15 |
| 19 | 05 | Dylan Lupton | Chevy | 23 | 150 | 0 | Running | 0 |
| 20 | 71 | Kevin Donahue | Chevy | 26 | 149 | 0 | Running | 13 |
| 21 | 07 | Matt Mills | Chevy | 27 | 148 | 0 | Running | 12 |
| 22 | 66 | Austin Wayne Self | Toyota | 29 | 147 | 0 | Running | 11 |
| 23 | 50 | Travis Kvapil | Chevy | 28 | 147 | 0 | Running | 10 |
| 24 | 1 | Jennifer Jo Cobb | Chevy | 32 | 146 | 0 | Running | 9 |
| 25 | 49 | Bryce Napier | Chevy | 30 | 146 | 0 | Running | 8 |
| 26 | 63 | Norm Benning | Chevy | 31 | 145 | 0 | Running | 7 |
| 27 | 9 | William Byron | Toyota | 1 | 141 | 112 | Engine | 8 |
| 28 | 24 | Kaz Grala | Chevy | 11 | 76 | 0 | Accident | 5 |
| 29 | 74 | Jordan Anderson | Chevy | 25 | 62 | 0 | Engine | 4 |
| 30 | 44 | Tommy Joe Martins | Chevy | 22 | 36 | 0 | Accident | 3 |
| 31 | 02 | Dominique Van Wieringen | Ford | 24 | 26 | 0 | Accident | 2 |
| 32 | 23 | Spencer Gallagher | Chevy | 16 | 11 | 0 | Accident | 1 |
Scoring Pylon