Field Is Set For The 2016 Chase for the Sprint Cup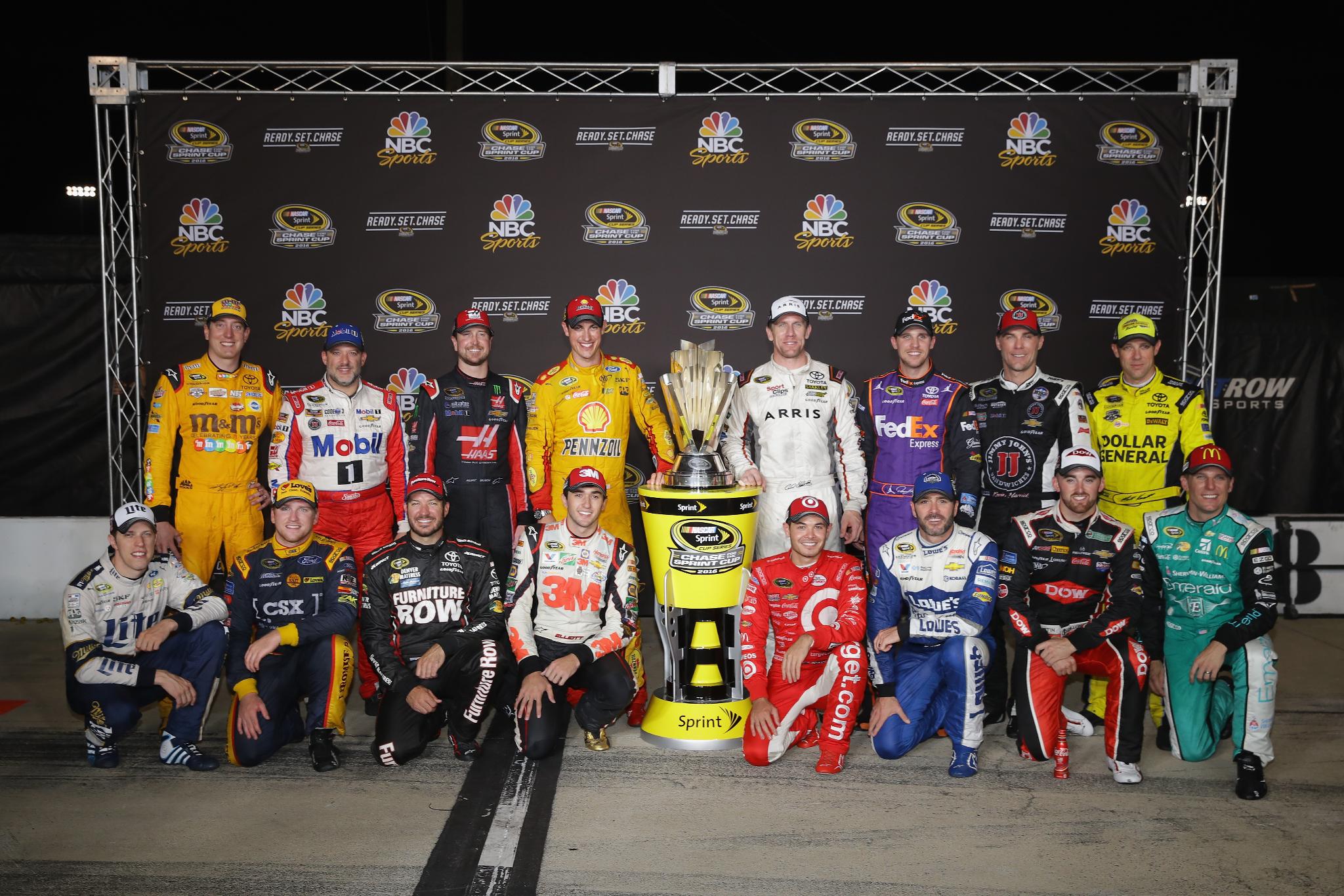 The 16 drivers who will race for the title
Chris Graythen/NASCAR via Getty Images
The field for the 2016 edition of the Chase for the NASCAR Sprint Cup was finally set after Saturday night's chaotic Federated Auto Parts 400 at Richmond International Raceway, and whole several drivers were celebrating their first-time runs for the title, others were left scratching their head at what could have been.
This year's Chase field will feature seven former champions, four first timers, and – for the first time since 2006 – two rookies, who will all battle it out over the next ten races to decide the 2016 Sprint Cup Champion.
Brad Keselowski will enter as the top seed with four wins while Kyle Busch – also with four wins – will be seeded second due to be lower in points than Keselowski.
Race winner Denny Hamlin earned his third win to take sole possession of the third seed, followed by Kevin Harvick, Carl Edwards, Martin Truex, Jr., Jimmie Johnson and Matt Kenseth seeded fourth through eighth – each with two wins.
Joey Logano, Kurt Busch, Kyle Larson, Tony Stewart and rookie Chris Buescher make up spots nine through 13 with one victory each. Rounding out the 16-driver field will be rookie Chase Elliott, Austin Dillon and Jamie McMurray, all of whom made the field on points. Larson, Buescher, Elliott and Dillon will be making their first start in the Chase.
For each driver that made the Chase, there were just as many who ended the night on the outside looking in, including Kasey Kahne and 2015 Chase participant Ryan Newman.
Newman entered Saturday night's race 17th in the Chase standings and still reeling from a 15-point penalty after failing post-race inspection last weekend at Darlington, putting him in need of a finish of 22nd or better to even have a shot at making the cut.
For much of the night, Newman was exactly where he needed to be – running in the top 20, trying to stay out of trouble.
Unfortunately, trouble found him.
Battling Tony Stewart for position with 38 laps to go, Newman got under Stewart coming out of turn two looking to take the spot away.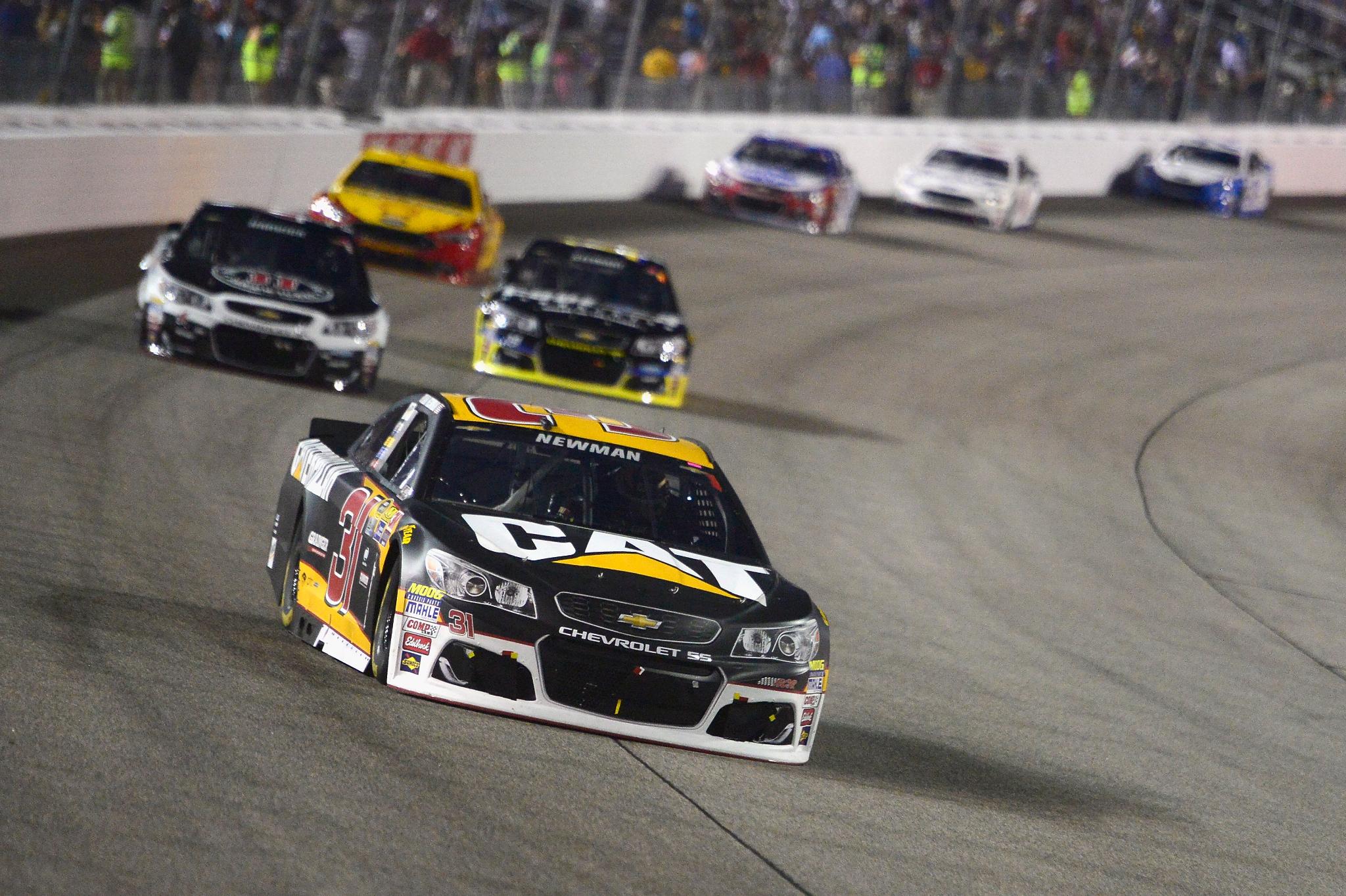 Ryan Newman lost out on a Chase spot after crashing out with 38 laps left
Robert Laberge/Getty Images
The two continued to make contact going down the backstretch until Stewart finally spun going into turn three, collecting Newman in the process. Newman slid up the banking and back into traffic, trigging an eight-car pileup the resulted in Dylan Lupton's car winding up on top of Newman's No. 31 Chevrolet.
David Ragan, Brian Scott and Carl Edwards also got caught up in the wreck.
The crash ended any chance of Newman making the post-season, and he had none to kind word for his former employer, Tony Stewart.
"The No. 14 (Tony Stewart) cut across my nose into Turn 1 and I got into him after that, but he'd already chopped into me and messed up my line and I clipped him a little bit coming off of (Turn) 2; but he just cut across my nose," said Newman. "Going down the back straightaway there, I guess he thought he was in a Sprint Car again; did not know how to control his anger.
It's just unfortunate not to end the way we wanted to. It's just disappointing that you've got somebody old like that, that should be retired the way he drives. It's just ridiculous."
While the wreck eliminated Newman for contention, it also knocked out David Ragan, and all but locked Buescher into the show.
Buescher was in the unique position of having to race the points despite having a victory in his back pocket, sitting just 10 points inside the 30th spot in the points – the official cutoff in order to be eligible to make the field.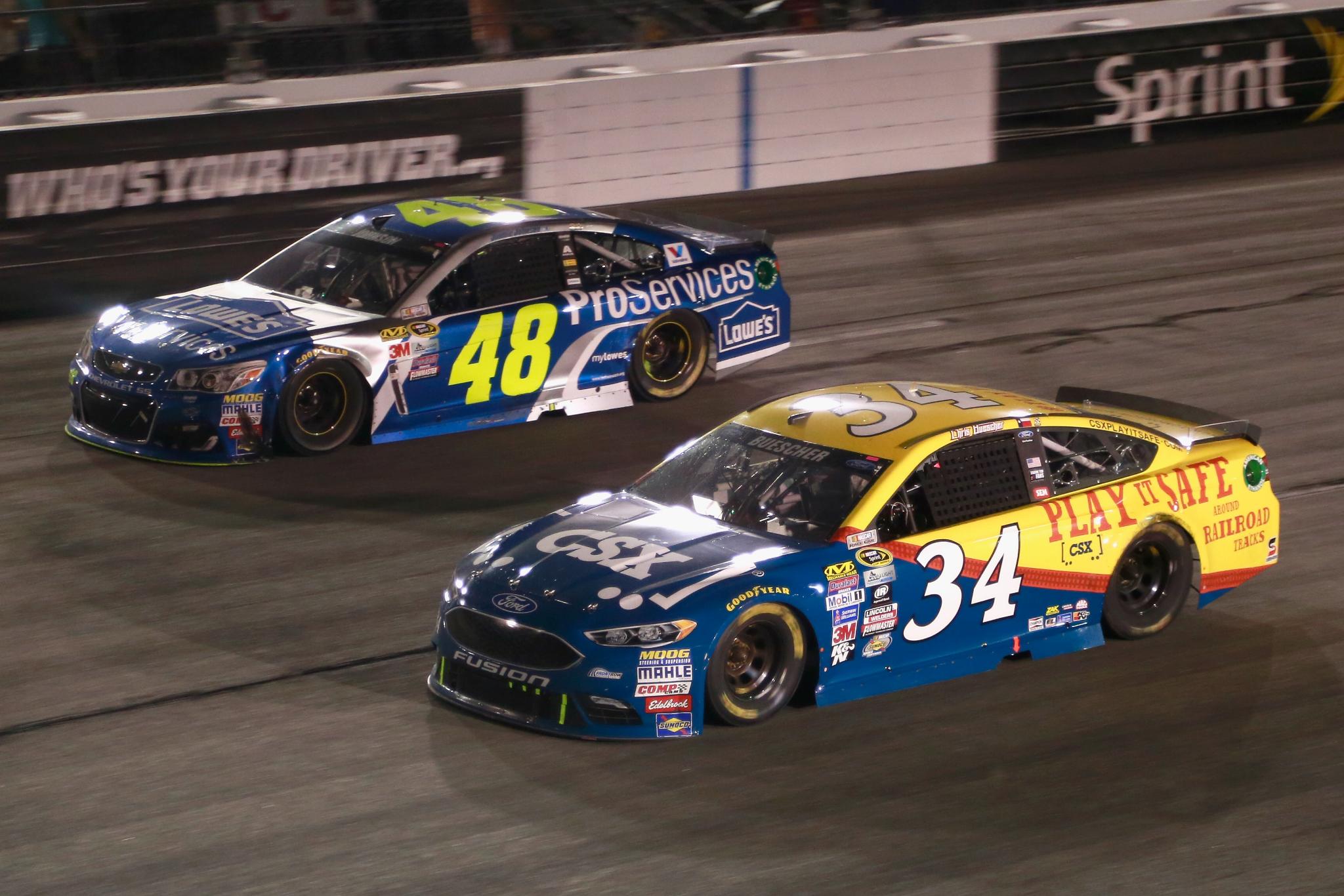 Chris Buescher (34) had to race his way into the top 30 in points to qualify for the Chase
Matt Sullivan/NASCAR via Getty Images
In order to make the championship field, Buescher needed a finish of at least seven of better or hope that someone behind him in points had trouble – namely Ragan, who was 31st in points.
With Ragan out, Buescher ended the night 29th in points and made the cutoff to qualify himself for the Chase, joining fellow rookie Chase Elliott.
"This is awesome. All the cheers we got after we got out of the car. They were cheering like we won a race or something. It wasn't anything like winning a race but it is just as big in a difference sense," said Buescher. "I know David (Ragan) is bummed to get caught up in a wreck and that isn't how we wanted to clinch it but it made it easier in that sense. The second part was trying to get to the top-30 in owners points and that wasn't easy either."
Kasey Kahne was in a battle of a different sort to try to advance himself into the Chase, needing nothing short of a victory in order to make the Chase for the sixth time in his career.
After getting shuffled back out of the top-20 due to a speeding penalty, Kahne managed to fight his way back up to the top-10, gaining track position through pit strategy by staying out following a caution flag on lap 295.
Kahne tried to hang on over the final 100 laps, but ultimately couldn't make it to the front of the field and ended the night sixth – missing the Chase by 43 points.
"Yeah, we gave it a good shot. The guys did a pretty nice job. We fought hard," said Kahne. "I was just out there racing doing everything I can. I was never really going for the win. I don't ever remember challenging for the win there at the end, but I was trying to get the best result we could. If we could get to first then great, but we couldn't."
While Kahne didn't make it, his teammate Chase Elliott did, as did Johnson, giving Hendrick Motorsports two shots at the title.
Joe Gibbs Racing put all four of its teams in the Chase – the only team to put up four entries. Stewart-Haas Racing has three of its four teams in the Chase while Team Penske and Chip Ganassi Racing both have two drivers in the Chase field.
2016 Chase for the NASCAR Sprint Cup Lineup
* – Qualified on points
| | | | | | |
| --- | --- | --- | --- | --- | --- |
| Pos. | # | Driver | Make | Sponsor | Wins |
| 1 | 2 | Brad Keselowski | Ford | Miller Lite | 4 |
| 2 | 18 | Kyle Busch | Toyota | M&M's | 4 |
| 3 | 11 | Denny Hamlin | Toyota | FedEx | 3 |
| 4 | 4 | Kevin Harvick | Chevy | Busch Beer | 2 |
| 5 | 19 | Carl Edwards | Toyota | ARRIS | 2 |
| 6 | 78 | Martin Truex Jr | Toyota | Furniture Row | 2 |
| 7 | 48 | Jimmie Johnson | Chevy | Lowe's | 2 |
| 8 | 20 | Matt Kenseth | Toyota | Dollar General | 2 |
| 9 | 22 | Joey Logano | Ford | Shell Pennzoil | 1 |
| 10 | 41 | Kurt Busch | Chevy | Haas/Monster Energy | 1 |
| 11 | 42 | Kyle Larson | Chevy | Target | 1 |
| 12 | 14 | Tony Stewart | Chevy | Mobile 1 | 1 |
| 13 | 34 | Chris Buescher | Ford | Love's | 1 |
| 14 | 24 | Chase Elliott | Chevy | 3M | * |
| 15 | 3 | Austin Dillon | Chevy | Dow | * |
| 16 | 1 | Jamie McMurray | Chevy | McDonald's/Cessna | * |
[adinserter name="GOOGLE AD"]Chevy Drivers
The first 26 regular season NASCAR Sprint Cup Series races are in the books. After 400-laps/300-miles of racing at Richmond International Raceway, the 2016 NASCAR Chase for the Sprint Cup field has now been set. Chevrolet will have eight drivers, the most of any manufacturer, competing for the championship – Jimmie Johnson, Kevin Harvick, Kurt Busch, Kyle Larson, Tony Stewart, Austin Dillon, Chase Elliott, and Jamie McMurray – will all vie to take the 2016 championship honors in the season-finale at Homestead-Miami Speedway.
"We are proud to have eight of the 16 drivers in the Chase, said Jim Campbell, Chevrolet U.S. Vice President of Performance Vehicles and Motorsports. "This is the tenth time in eleven years that Chevy drivers and teams have comprised fifty percent of the Chase field. We appreciate their hard work and determination to clinch a position and look forward to the start of the Chase next week."
Six-time NASCAR Sprint Cup Series champion, Jimmie Johnson, has made the Chase for a record 13th time; the only driver who has advanced to the championship playoffs every single season since its inception in 2004. Johnson and his No. 48 Lowe's Pro Services Chevrolet SS team earned early season wins at Atlanta Motor Speedway and Auto Club Speedway to give them an opportunity to win a seventh Sprint Cup title.
Stewart-Haas Racing enters the Chase with three Chevy teams represented as championship contenders. Kevin Harvick, No. 4 Jimmy John's Chevrolet SS, made the Chase for the 10th time in his career with wins at Phoenix International Raceway and Bristol Motor Speedway. Kurt Busch, piloting the No. 41 Monster Energy/Haas Automation Chevrolet SS, locked himself into the playoffs by virtue of a win at Pocono Raceway in June. Team co-owner, Tony Stewart enters his ninth and final Chase for the NASCAR Sprint Cup as he walks away from full-time competition at season's end. The three-time Sprint Cup champion missed the first nine races of the season due to a back injury, but a strong return and a third career victory at Sonoma Raceway earned him a place in the Chase.
Three Chevrolet SS-powered drivers will be making their first career Chase appearances – Austin Dillon, No. 3 Dow Chevrolet SS, Chase Elliott, No. 24 NAPA Auto Parts Chevrolet SS and Kyle Larson, No. 42 Target Chevrolet SS. Both Dillon and Elliott have been models of consistency in 2016, which allowed them to secure their first career Chase appearances.
Larson earned his first career NASCAR Sprint Cup Series win at Michigan International Speedway, which secured his place in the Chase. The 24-year-old driver brought the Michigan Heritage Trophy back to Detroit and to Chevrolet for the fourth time since the award's inception in the fall of 2013.
Larson's teammate, Jamie McMurray, earned the 16th and final spot in the Chase following a seventh place finish at Richmond in his No. 1 Sherwin Williams Emerald Chevy SS. This season marks the first time that both Chip Ganassi Racing teams have made the season-ending playoffs.
The top 10 finishers at the conclusion of the Federated Auto Parts 400 were: Denny Hamlin (Toyota) race winner, Kyle Larson (Chevrolet) second, Martin Truex, Jr. (Toyota), third, Brad Keselowski (Ford) fourth, Kevin Harvick (Chevrolet) fifth, Kasey Kahne (Chevrolet) sixth, Jamie McMurray (Chevrolet) sixth, Kurt Busch (Chevrolet) seventh, Kurt Busch (Chevrolet) eighth, Kyle Busch (Toyota) ninth and Joey Logano (Ford) 10th.
The Chase for the NASCAR Sprint Cup Series officially starts next Sunday, September 25 at Chicagoland Speedway. The format will feature 10 races consisting of three elimination rounds and a final four-driver battle for the title in the final round of competition. Since the inception of the Chase in 2004, Chevrolet has powered nine drivers to season-ending championships and earned 12 consecutive Manufacturer titles.
POST RACE NOTES AND QUOTES:
KYLE LARSON, NO. 42 TARGET CHEVROLET SS – FINISHED 2ND
HOW DO YOU FEEL HEADING INTO THE CHASE WITH THE RACE CARS YOU HAVE RIGHT NOW:
"It's good especially on the 1.5-mile intermediate tracks is where Chip Ganassi Racing excels right now. That is my favorite type of track too. There are a lot of those in the Chase, which is good. Just like I said, hopefully, we can keep this momentum rolling and keep these good finishes going."
TALK ABOUT MAKING YOUR FIRST CHASE AND HAVING YOUR TEAMMATE IN IT WITH YOU:
"It was a long road to get to where we are at. We didn't start the year off good and midway through the season we got going good. Jamie (McMurray) has been pretty consistent all year. We were up and down and able to get that win there at Michigan and lock ourselves in. Jamie was extremely strong today. He was super consistently in the top five to nine. Definitely out ran those guys he needed to and did a really good job. To have two cars in the Chase, both Chip Ganassi Racing cars in the Chase it's awesome. It's great for our little team. I think we are probably considered underdogs, but for Jamie and I those are both really good tracks for us."
CHIP GANASSI, CO-OWNER, CHIP GANASSI RACING:
"We have been really lucky to have some great people and that is what it's all about these days. You know everybody has all the stuff. It's on to your people, it's pit stops, it's the guys that work Monday through Friday. It's the guys that bust their ass on the weekends here. It's the wives of all the guys and the girlfriends and the significant others that put up with everything and get us in this spot. It's people on a team making the team bigger than themselves. That is when you have success like this. It's individuals making the team more important than themselves."
IT'S CLEAR SOMETHING IS CLICKING WITH YOUR RACE TEAMS:
"It's people, people, people. That is all it is. It is all the people on the team. It's guys and it's everybody pushing everybody else. It is people helping others. It's people working a long side others and mentoring. It is a lot of things in these teams and it's good drivers that helps. You would be surprised how good drivers help."
KEVIN HARVICK, NO. 4 JIMMY JOHN'S CHEVROLET SS – FINISHED 5TH
ON MAKING THE CHASE AND THE RACE TONIGHT:
"I'm especially excited about the last month that we are coming off of with the performance. I am probably most excited about tonight because pit road was awesome. They did a great job on pit road. This is probably the worst car that we've had all year, all weekend and they just kept fighting and kept punching numbers in the computer and kept changing things. I got a speeding penalty there trying to get too much and got us behind even more and then still came back to get a top five. Just really proud of the effort that we had tonight, but you look at Michigan and then you look at the Bristol win and Darlington, everything just seems to be clicking at the right time. Just really happy with everybody on our team.
KASEY KAHNE, NO. 5 FARMERS INSURANCE CHEVROLET SS – FINISHED 6TH
HECK OF A SHOT TRYING TO MAKE IT INTO THE CHASE WITH A WIN. TELL US ABOUT YOUR NIGHT:
"Yeah, we gave it a good shot. The guys did a pretty nice job. We fought hard. We got too loose to run with those guys up front. Even where I finished it was tough right there just because we would get so loose after a few laps. It made it tough on exit of the corner, but we had a pretty competitive car. Not as competitive as I thought it was yesterday, but it was still pretty competitive and we tried hard."
HOW HARD WAS IT TO KEEP GOING FOR THE WIN WITH ALL THE CAUTIONS?
"I mean I'm just out there racing doing everything I can. I was never really going for the win. I don't ever remember challenging for the win there at the end, but I was trying to get the best result we could. If we could get to first then great, but we couldn't."
JAMIE MCMURRAY, NO. 1 SHERWIN WILLIAMS EMERALD CHEVROLET SS – FINISHED 7th
HOW DOES IT FEEL TO ACCOMPLISH WHAT YOU CAME HERE TO DO?
"It's awesome. Being able to make the Chase is one of those goals that everybody sets at the beginning of the year. When Stewart won at Sonoma and then Buescher won the fog out race or whatever at Pocono and then my teammate, as happy as I was at Michigan, I'm like 'crap' that is another spot. It was harder this year to make it. I was top 10 in points most of the year last year and then when I got to Richmond we were locked in. Tonight was pretty stressful. I mean honestly I was more concerned with the No. 5 (Kasey Kahne) after looking at practice. I thought he had a really good car and he showed that he did and they had good pit strategy. I'm glad it worked out. It's certainly a relieving feeling."
HOW DO YOU FEEL ABOUT YOUR CHANCES NOW THAT YOU ARE IN THE CHASE?
"I feel really good about that. The fact that both of our cars have really been top five cars the last four to five weeks that is so important. Especially, last year I was pretty consistent and solid the first three races. I think I finished like 11, 12, 13 or something, no, I finished better than that because I finished fourth at Dover and I still didn't advance to the next round because of Harvick winning and Kyle Busch finishing second. It was crazy. I would have bet a lot of money that I would have made it with those three finishes. But the fact that our cars are faster right now I feel so good about heading into the first few races. I feel good about heading into the first round and we will evaluate I think Talladega might be in the second round, so there are some unknowns."
KURT BUSCH, NO. 41 HAAS AUTOMATION/MONSTER ENERGY CHEVROLET SS – 8TH
TAKE US THROUGH THE FINAL RESTART AND WHAT THAT FINISH DOES FOR THIS TEAM GOING INTO THE CHASE:
"Just lots of fun all night long with the way we got to lead a little bit. We were off sequence a little early on and then it seemed like how are we supposed to balance out how many sets of tires do we have left? What do the other guys have for tires? That is really what created the excitement of the guys passing, the guys trying to preserve their position. It felt great to race three-wide at a short track and everybody gave each other room. I was impressed with the show from inside the cockpit. I hope the fans were as well."
WHAT WERE YOU TALKING WITH YOUR CREW CHIEF ABOUT POST RACE?
"Well it was our Chase effort. A car that we know real well, a set-up we know real well. We qualified fifth, finished eighth. Where we struggled tonight was on restarts, we would lose one spot here, one spot there and that took us from a top five to a top 10. Kept losing a few spots here or there isn't big, but you want to attack during the Chase."
WHAT IS THE BIGGEST THING YOU NEED TO WORK ON THIS WEEK AS YOU GET READY FOR CHICAGO?
"Just play it cool. Let the race come to us. It's a long 10 weeks."
JIMMIE JOHNSON, NO. 48 LOWE'S PRO SERVICES CHEVROLET SS – FINISHED 11TH
ON THE RACE TONIGHT AND BEING THE ONLY DRIVER TO HAVE MADE EVERY SINGLE CHASE:
"That is a really cool stat, something that I'm definitely proud of and I'm proud of this team for accomplishing. Tonight was a scrappy race. We had trouble early and it seemed like everybody in the field started having trouble. I think we had two run in's with the wall, damage on the left side from some racing incidents and kept it straight and somehow finished 11th. It was a long night. I'm glad our guys kept our heads in the game and were able to almost get a top 10 out of it."
YOU HAVE MORE EXPERIENCE IN THE CHASE THAN ANYBODY TALK ABOUT WHAT YOU GUYS ARE LOOKING FOR AND WHAT YOU ARE LOOKING FORWARD TO NEXT WEEK:
"Yeah, the format is much different than the way I won it last. We are still trying to learn this new format. It's obvious if you win then each bracket you get to move on, but we had a great start to the Chase last year and had a simple mechanical failure that knocked us out. I don't know what the secret sauce is, but I know we need to be consistent and I know we need to be running in the top five, so that is our goal to start.
AUSTIN DILLON, NO. 3 DOW CHEVROLET SS – FINISHED 13TH
FIRST TIME MAKING THE CHASE TALK ABOUT HOW EXCITED YOU ARE:
"I'm just proud of our effort, our team, everything we went through this year. We shouldn't have been in this situation. We had good enough cars to not have to be in this situation, but, hey, we were in a tight situation down to the end. Especially, with the No. 5 (Kasey Kahne) up there near the end, but we were racing the No. 1 (Jamie McMurray) all night, we did our job, we stayed in that buffer. I'm proud to be here. I'm just excited. The stress level is off of me. I'm not going to take stress into the Chase. I'm going to go have fun and try to win, look at it with no pressure situation."
CHICAGO IS A GREAT TRACK FOR YOU TALK ABOUT YOUR OUTLOOK FOR THE FIRST THREE RACES:
"You said it, Chicago is one of my favorite tracks and we are going to win. That is all we are doing. We are going to win and see what happens after that."
CHASE ELLIOTT, NO. 24 3M/ AMERICAN RED CROSS CHEVROLET SS – FINISHED 19TH
WHAT ARE YOUR THOUGHTS LEAVING HERE IN THE CHASE?
"It is definitely exciting. It is a heck of an opportunity. I'm very happy that we were able to squeak through tonight. I had to overcome a lot of adversity, a lot of wrecking, a lot of problems. It was a wild race for sure. Lucky that some of the stuff worked out the way it did and we were able to get in this thing."
PRESSURES OF A ROOKIE YEAR ARE HIGH CAN YOU REFLECT ON YOUR YEAR SO FAR NOW THAT YOU ARE IN THE CHASE?
"Getting in is the first very small step of these last 10 races. Obviously, you would rather have won your way in and have a win at this point, but I would much rather win in these last 10 races if I had a choice. We will take it a week at a time. I think we have to leave here with the mentality that we could go to Homestead and give ourselves a chance. I think if we don't have that mentality as a team and as a group and as an organization we should have just let the guy behind us get in. We are going to give it our best effort and we are going to fight as hard as we can and give it the best shot we can."
IN YOUR OPINION HOW FAR AWAY IS THAT WIN?
"As I've said I can't speculate on that. It's one of those things it either happens or it doesn't and it hasn't. The way I view it there are no what if's in this deal. It's just a fact of life. It hasn't happened I hope it does, but we are working hard to try to get there. I think we have a team that can do it and we have to keep that mentality moving forward."
TONY STEWART, NO. 14 CODE 3 ASSOCIATES CHEVROLET SS – FINISHED 33RD
WHAT YOU HAVE DONE IS INCREDIBLE. YOU MISSED NINE RACES AND STILL MADE THE CHASE, PLUS YOU HAVE TWO TEAMMATES IN WITH YOU:
"I'm pretty proud as an owner to have… that's the first time we've had three cars in the Chase. I am very proud of that. I'm excited that my last year I was able to make the Chase. We definitely got a slow start. I'm really proud of Mike (Bugarewicz, crew chief) and the team. To be able to switch drivers back and forth for the first nine weeks and get me in the car and have to go through the learning curve all over again, while everyone else has got nine solid weeks under their belt I'm excited about the effort and the composure that Mike has had throughout all this. He got thrown in probably the worst case scenario possible and he has come through with flying colors."
NOW WE GO TO CHICAGO AND START ALL OVER AGAIN. WHAT IS YOUR OUTLOOK FOR THAT FIRST BRACKET?
"You just got to take it a week at a time. In 2011 I said I was wasting a spot. Obviously, I was wrong with that and I obviously don't know what I'm talking about. So I think the one safe thing is to say we just have to take it a week at a time."
RYAN NEWMAN, NO. 31 CATERPILLAR CHEVROLET SS – Involved in a multi-car accident on lap 363
ARE YOU OKAY? WHAT HAPPENED OUT THERE?
"I'm fine I just got Tony Stewarted. It's unfortunate we were rebounding from a tough day and then he cut across my nose in Turn 1. I had a good run on him and then I bumped him a little bit in Turn 2, but that is because he took both of us loose. And then he just drove across my nose on the back straightaway I don't know other than him having anger management issues what the deal was."
OBVIOUSLY THIS ENDS YOUR CHASE CHANCES HOW DO YOU REFOCUS OF THE FINAL 10 RACES?
"Try to win. That is what we've been trying to do. Tried to tonight. Didn't have a great race car, but we tried to make the best of it."
WHAT HAPPENED FROM YOUR PERSPECTIVE?
"Tony Stewart ran across my nose twice in one lap. The second one cost him and me. It's unfortunate. He has got issues. We all know he's got issues. He proved it again tonight. I was clearly inside of him getting into Turn 1, he cut across my nose, I was on the brakes, on the apron and I hit him coming off of Turn 2, but only because I got loose, I was on the apron. The next thing I know he is driving across my nose on the back straightaway because he's Tony Stewart and he thinks he owns everything. It's unfortunate, but shouldn't expect anything less from him."
YOU HAD A LOT ON THE LINE TONIGHT…
"Yeah he seemed to forget that. I remember when he has had a lot of stuff on the line and he gets the give and take, but he has never been really one to give back much."
HOW MUCH DOES THIS HURT FOR YOU KNOWING YOU WON'T MAKE THE CHASE?
"It's tough. I mean we went through a lot of drama in the past week. Everybody knows what's going on there, but nobody really knows why. We will see. We will keep fighting for a victory that is what we are here for."